American University in Switzerland Experience
At the American University in Switzerland, students can connect through sports and events. AUS's student body comprises more than 40 nationalities that speak on average 3.5 languages, which creates an international environment where cultures worldwide meet, connect, and grow together.
The American University in Switzerland prepares students with skills needed for the future. Interlaced with AUS courses, classroom discussions, and projects, guest speakers and networking events regularly enhance the learning experience. AUS hosts monthly lectures and events given by different leading experts who share their experiences, insights, and advice with students and alumni.
AUS Campus is located amongst the beautiful scenery of the Swiss Riviera. Thus they organize trips for students to explore the rich cultural heritage and beautiful architecture. Additionally, students can also visit local festivals.
American University in Switzerland offers an open and inclusive sports environment for students. Via AUS sports clubs such as Eagles, Sharks, and Tigers, students have the chance to engage in friendly competitions through various sports and activities. Offering plenty of nearby attractions and destinations, Switzerland is ideal for students to learn skiing, snowboarding, hiking, or other alpine experiences.
Accommodation
There are many great living options around La Tour-de-Peilz. The American University in Switzerland administration team assists students in finding the right accommodation provision making sure to suit students' budgets and needs. AUS accommodation is available on a first-come-first-served basis. Once you have accepted your offer to study at AUS, the administration team will support your accommodation requests.
AUS Accommodation
AUS has several fully furnished single and shared rooms within a five-kilometer radius. Rental costs range from CHF 750.- to CHF 1'500.- per month, depending on your choice and room availability. All charges are included in the university accommodations.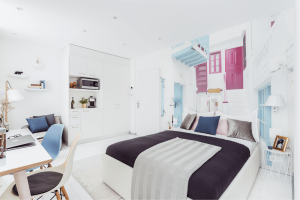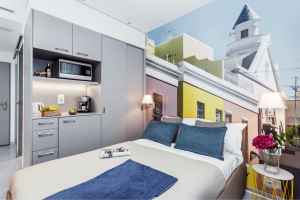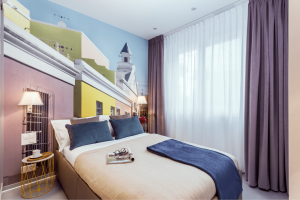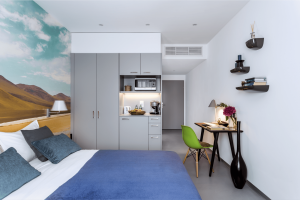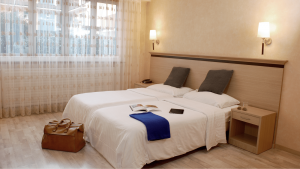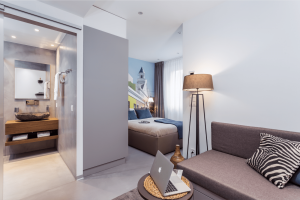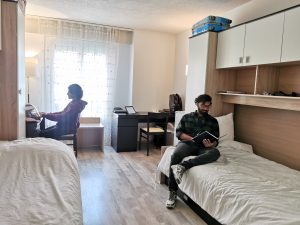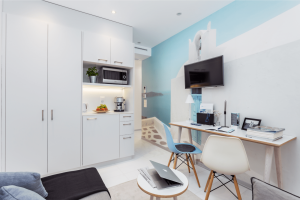 Private Renting
Students are not required to stay in AUS accommodation, and they are welcome to look for alternative accommodation providers around the local area. There are plenty of options available in La Tour-de-Peilz, or nearby in Montreux and Vevey. For more information, AUS encourages students to contact the administration team.
Private Rental Requirements
Rental agencies in Switzerland require all persons who rent an apartment to make a security deposit in advance, equaling three month's rent. Each month's rent must be paid at the beginning of the month, within the first five days. At the end of the leasing period, the security deposit is returned if there has been no apartment damage.
Students under the age of 21 who wish to rent an apartment may do so with a parent or guardian's signature on the lease. Charges for electricity and telephone are not included in these estimates. Leases, payment of leases, deposits, etc., fall entirely under the student's responsibility and parents or guardians.
Career Support
AUS students have the chance to network and seek career openings with a wide variety of business organizations through industry visits taking place during the year, while AUS's partners can also help with internships. AUS is also a member of the Swiss American Chamber of Commerce.
Career Guidance
The American University in Switzerland is highly focused on career-pathways. Through a combination of theory with practical experience, they are committed to the training and development of students, empowering them to discover their career paths and succeed in all aspects of professional life. AUS staff and administration work closely with students on a one-to-one basis to help them achieve their career objectives.
The AUS Career Support team helps students with CV-preparation and development, career guidance, networking, and potential placing on internships. Moreover, Students at AUS benefit from personalized guidance from both academic and careers staff. This support allows students to engage in meaningful discussions to discover opportunities and develop a plan of action to make the most of these opportunities.
Internships
AUS strongly encourages its students to undertake numerous internships during their studies and throughout the summer months. As part of each program, the mandatory internship helps students gain invaluable opportunities to put into practice their theoretical knowledge and enhance their learning experience through real-world application.
Thanks to key partnerships with Paragon, the International Association for the Exchange of Students for Technical Experience in Zurich, and other key partners, the American University in Switzerland Careers team can help students find internships, both in Switzerland and abroad.
Gallery
CLOSE THIS
Your message has been sent. You will soon by contacted by Oxfod University.
CLOSE THIS PAGE