Switzerland has a reputation for its secure banking system and the high levels of privacy that it offers to its clients. With customers moving towards digital banking, most Swiss banks now offer their services online so that customers can easily access them through their smartphones. If you want to use online banking, keep reading because this article will show you how it works.
Swiss Online Banks
Most Swiss banks now offer online banking and payment services that you can access 24/7, all at a touch of a button on your smartphone. Online banking in Switzerland is on the rise mainly because it saves customer's effort, time, and money.
According to Eurostat, Switzerland's customers have been quick to adapt to online banking through the last years. In 2021, 77% of residents used online banking, which shows an increase of 4% in usage since the last statistics in 2019.
A 2020 research found that mobile-only banking is used more than conventional banking. Although online banking doesn't offer the same services as traditional banking, people consider it a better option and use it more because it is cheaper and more convenient.
Banks with mobile banking apps in Switzerland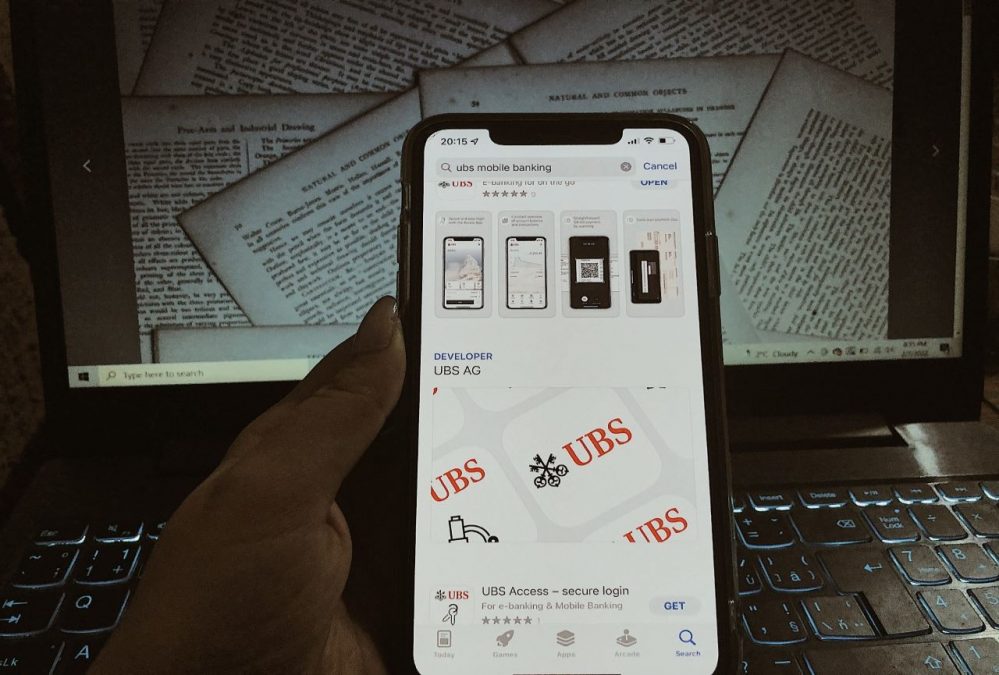 Most Swiss banks now offer their services with mobile banking apps that you can download on your smartphone. Here are some of the most popular ones:
You can also find many other similar apps to download at Similarweb.
Features of mobile banking apps in Switzerland
Mobile banking apps offer broadly the same services as traditional banks. However, they do try to add one or two more features to their mobile banking. Make sure to always check for different mobile bankings since there may be a twist to new features.
Some of the typical features that mobile banking provide:
Quick and secure mobile payments so you can easily transfer money or pay bills.
Some apps provide the option to pay only by scanning invoices or payment slips.
Budgeting tools allow you to plan your monthly incomes and expenses, including the option to set a daily or monthly spend limit on cards or mobile.
Investment tools allow you to keep track of global markets, manage portfolios, and even invest in different fields.
The opportunity to make quick and easy money transfers across Europe.
The possibility to track your finances on your smartphone when your card has been credited or debited.
The option to access your finances 24/7.
However, not all banking services are included within mobile banking apps. For instance, you usually cannot transfer money to a foreign country without paying some hidden fees. Additionally, borrowing money from others is also limited in mobile banking apps.
Mobile banking app fees in Switzerland
If you want to manage your finances through mobile banking apps, you will still need to pay the same or fewer fees you pay every month or year to traditional banks. You may be able to save money by switching to paperless e-statements and e-notifications. You may also spend less by using mobile payments and online money transfers. You can check and compare the costs of Swiss accounts in Moneyland.
Basic mobile banking accounts are free to open and have no monthly payment. However, you're expected to pay around 15 € per month if you want extra services. Usually, mobile payments and ATM withdrawals are free, but with a limited amount per month, whereas an international money transfer will cost you around 3€. Other costs of features such as loans and overdrafts can vary between providers.
How to open a mobile bank account in Switzerland?
In order to open a mobile bank account, you need to be a resident in a country that the bank operates in. Another criterion some banks have is that you need to be at least 18 years old. You can open a mobile bank account on your smartphone or smart device from anywhere following these simple steps:
Download the mobile banking app on your smartphone.
Set up your account using personal information such as your name, phone number, address, and email address.
Confirm your identity by scanning a photo of your ID and proof of address.
Set up security measures to protect your accounts, such as password, fingerprint ID, or voice recognition.
How to use a mobile banking app in Switzerland?
To use a mobile banking app for the first time, you'll need to download the app on your mobile phone first, activate the access app for simple and secure login, and finally, log in and set up the app. The mobile banking app provides:
Convenient payments — All online payment options; handy payment templates; international transfers, pay contactless option.
The option to pay bills in seconds — "Scan & Pay" option for QR bills and payment slips; you can check and approve eBill invoices directly in the app or pay them automatically.
The opportunity to keep an eye on your accounts and cards — You can check account balances and credit card spending, set limits for payments, block debit or credit cards directly in the app.
The opportunity to personalize the app — You can give accounts and cards a name of your choice; add your favorite functions to the home screen.
Stay informed — Receive notifications directly on your smartphone.
Mobile Payments in Switzerland
The main feature of most mobile bank accounts is mobile payment. Mobile payment services come as apps that you install on your smartphone or smart device then link to your bank account. You can pay bills or transfer money abroad by contactless payment using Near Field Communication (NFC) or QR code scanning. Mobile payment also provides mobile wallets where you can store money transferred from your bank account or the other way around.
According to the Swiss Payments Survey, conducted in 2021, 43 % of customers are using Twint as a mobile payment. Other popular forms of mobile payment in Switzerland are Apple Pay, Samsung Pay, Google Pay, PayPal, Swatch Pay, and Garmin.
Online Banking Security in Switzerland
Switzerland is known for its high level of security on its banks. Online banking is one of the most secure ways to manage your finances. However, security risks remain, so beware of frauds and hackers. Mobile banking accounts in Switzerland offer high levels of security protection such as biometric ID capabilities, immediate transaction notifications, auto disconnect features, and instant blocking of lost or stolen cards. Banks with a European banking license will pay compensation up to 100,000€ if you have lost money due to fraud or hackers. Take measures to protect your mobile banking following these steps:
Use a strong password or set biometric ID security such as fingerprint, voice, or face recognition.
Avoid using public networks when you log into your account.
Log out of your account immediately after you have finished using the services.
Don't reply to an email, text, or phone call that asks for your personal information.
Link your mobile bank account with only one smartphone or a smart device.
Bottom Line
As you can see, banking in Switzerland has become easier thanks to mobile banking services. Mobile banking is designed to help you in all kinds of ways — you can have access to your finances 24/7, make payments, or transfer money with just a touch. But remember, digital banking is not an all-or-nothing situation; you can use mobile banking and take advantage of its benefits and still visit an ATM or visit a branch for other needs as a banking customer.