Switzerland is one of the genuinely international countries of the world; consequently, it's an ideal place to study international relations and political science. The country is also host to numerous international organizations, such as the World Health Organization, the World Intellectual Property Organization, the International Committee for the Red Cross, the United Nations, and many others.
Switzerland is often regarded as the capital of peace and diplomacy. It has been chosen as the headquarters for both The International Telecommunication Union and Reuters' European communication center.
Just outside of Geneva in Switzerland, in CERN, the World Wide Web was invented. Additionally, Switzerland is known as one of the major global financial centers, especially for private capital management.
Due to the constant and rapid change in today's global environment, international cooperation is vital since its main goal is to facilitate the mobility of resources and people between countries.
A diplomat has a strategic role (now, more than ever) since they are a dialogue bridge with other cultures. They promote mutual relations and attempt to resolve existing controversies peacefully. They should have the economic sensibility and managerial skills to easily identify the potential risks and benefits of any initiative. Negotiations are the center of diplomacy; we need them to face planetary interest matters (security issues, crisis management, energetic efficiency, climate change, international aid organizations, etc.).
Switzerland is on top of the best countries to study international relations abroad list. Apart from being the Geneva Convention site, it is also home to many international, political, and economic organizations. Many Swiss businesses also cater to international audiences, and political awareness is very pronounced throughout the country's institutions.
When picking a university in Switzerland, a student should look at how well the university ranks on world lists', accreditations, admission requirements (if there is any they don't meet or need to work on), the language of instruction, etc.
Here's a list of the best schools offering international relations, diplomacy, and political science degrees in Switzerland.
Please note: The following list of higher education institutions is ordered at random, hence why it doesn't represent a ranking.
With a diverse curriculum, small-size classes, and English as a language of instruction, the EU Business School programs encourage students to get exposed to the international business world. Sessions called 'Learning From Leaders' help deliver detailed information on modern business practices to interested students.
By connecting with the vast network of real businesses and business professionals, students have the opportunity to visit companies and interact with experts, allowing them to get business insights.
According to EU Business School, it has been certified by eduQua quality label, and its programs are accredited by ACBSP and IACBE, both CHEA-recognized program accrediting bodies. Furthermore, the school has partnerships with universities such as the University of Derby and the University of Roehampton to offer accredited degrees.
The bachelor's programs are designed for students eager to gain the knowledge and insights essential to start a career in international business.
| | |
| --- | --- |
| Degree program | Program description |
| Bachelor of Arts in International Relations | This program targets students who wish to study, analyze, and evaluate the role of major players, structures, and processes in business and politics. |
Geneva School of Diplomacy and International Relations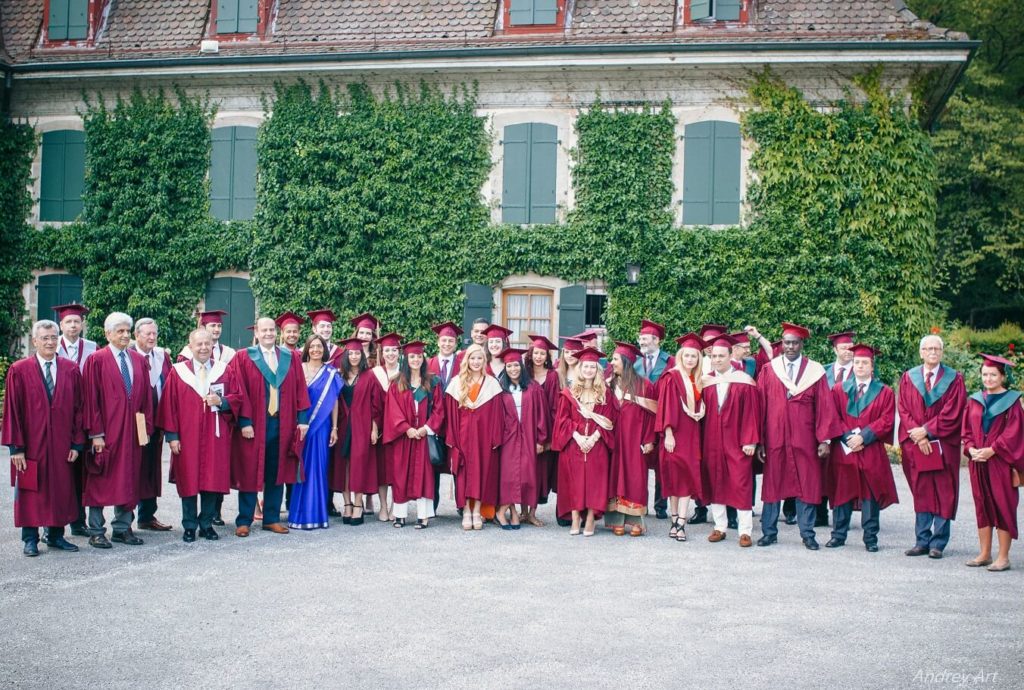 As an institution located in beautiful Geneva, The Geneva School of Diplomacy and International Relations is an exclusive university that provides its students with networking opportunities through interactive classes, lectures with distinguished guest speakers, and connections with international establishments.
Their programs are taught by a selected highly renowned faculty of professors, ambassadors, and alike. The teaching methods applied (theory and practice-based) aim to give students international relations and analytical skills they can utilize once faced with real-life challenges.
According to the official site, the school is certified by Swiss quality label eduQua* and is recognized for its high education quality by several organizations and associations, such as FSEP.*
Geneva School of Diplomacy and International Relations programs
The GSD curriculum is based on three main pillars: International Relations, International Law, and International Economics. All programs are taught in English.
Additionally, bachelor and master students are required to do internships as part of their curriculum in order to gain practical experience and apply theoretical knowledge.
Degree program
Program description
Bachelor of Arts in International Relations
This program offers a combination of conceptual international relations and diplomacy bachelor courses that focus on theory and the development of necessary diplomatic skills.
Master of International Relations
The MIR degree program aims to prepare graduates for a career in government, politics, international relations, international affairs, and alike, through a research-active learning environment.
Dual Master in International Relations and Business
This MA-IR program is a recognized degree program in International Relations and Diplomacy with a focus on business. The GSD Dual Master's degree program is offered in collaboration with partner universities.
Executive Master in International Relations
The E-MIR is a program designed for busy professionals who wish to earn a graduate degree in International Relations to hone their diplomatic skills.
Doctor Of International Relations (DIR) By Research
These programs offer an in-depth and interdisciplinary study of International Relations and Diplomacy through independent research.
Doctor Of International Relations (DIR) By Dossier
The Graduate Institute of International and Development Studies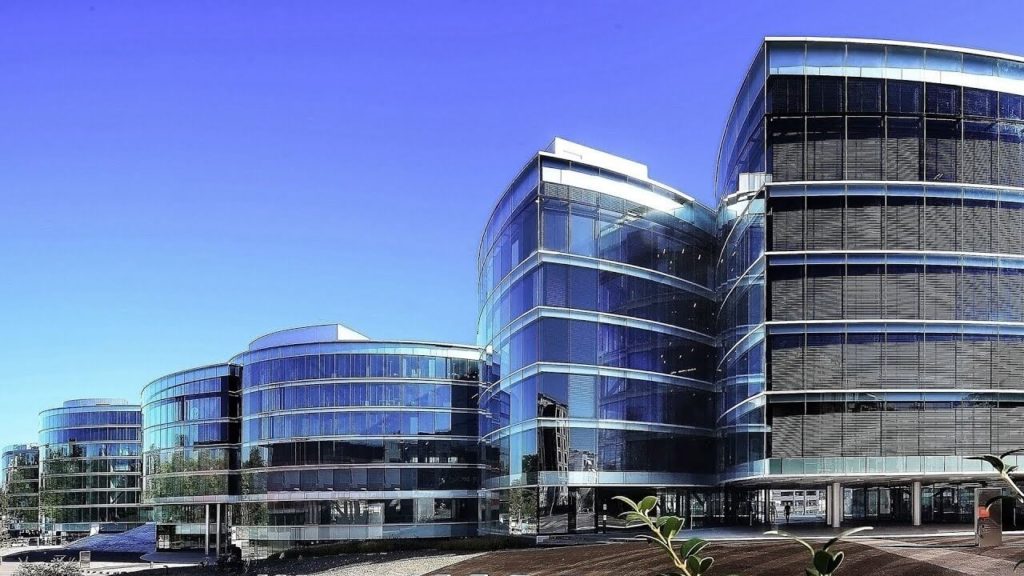 The Graduate Institute of International and Development Studies is an institution of research and higher education dedicated to the study of world affairs, with a particular emphasis on the cross-cutting fields of international relations and development issues.
Through core activities, IHEID aims to promote international cooperation and contribute to the progress of developing societies. The institution aspires to develop creative thinking on our time's significant challenges, to foster global responsibility, and advance respect for diversity.
The Graduate Institute is a federally accredited higher education institution in accordance with the Federal Higher Education Act, HEdA, receiving subsidies from the Swiss Confederation and the Canton of Geneva.
Graduate Institute Geneva Programs
The International Relations/Political Science department is designed for students wishing to develop expertise in international relations. Students are equipped with the analytical tools and substantive background to understand a wide range of political topics.
| | |
| --- | --- |
| Degree programs | Program description |
| Master In International Relations/Political Science | This department offers students the possibility of completing a master's degree through two programs: a stand-alone two-year master's program and a fast-track master's program, which transfers advanced students into doctoral research after three semesters. |
| Interdisciplinary Master in International Affairs | This is an intensive two-year program that offers an interdisciplinary approach to the study of global governance. The program aims to provide an understanding of the actors, policies, and processes that are shaping global governance today. |
| PhD In International Relations/ Political Science | Students can complete the PhD degree in two structured programs: a stand-alone four-year PhD program (8 semesters); or a fast-track doctoral program (7 semesters). The latter is designed for advanced master students transitioned to doctoral research after three semesters of master studies. |
University of St. Gallen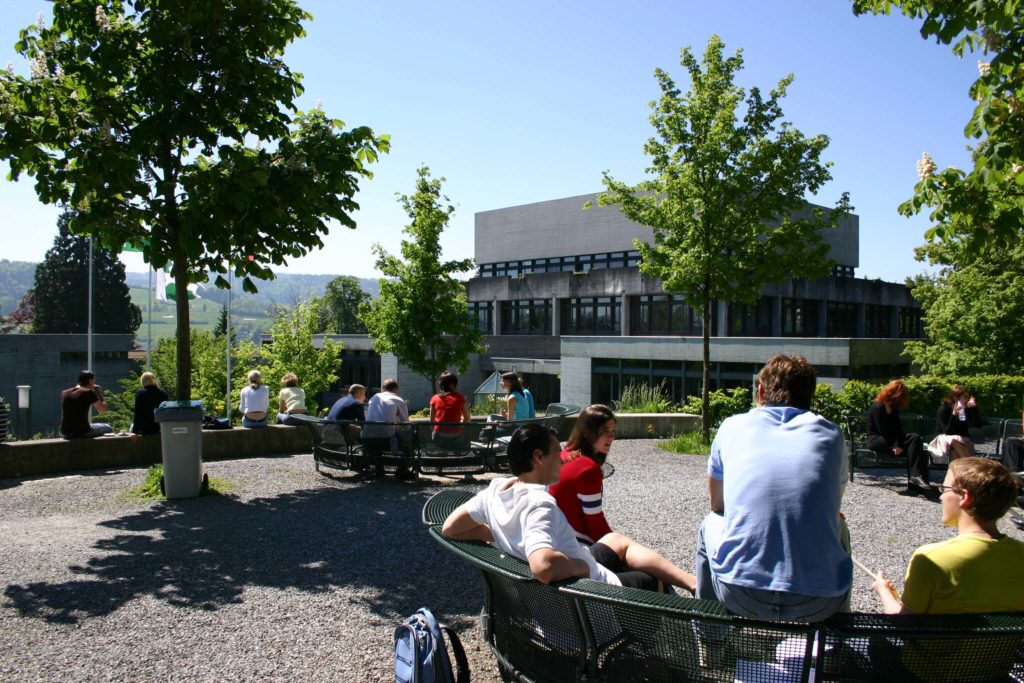 From a business academy to a university, The University of St. Gallen (HSG) specializes in business administration, economics, law, and international affairs. HSG offers its students the opportunity to profit from an ideal mix of research and practical experience.
The University of St. Gallen allows students to plan their courses autonomously, offering contextual studies options in addition to multiple specialist elective studies. Students can take part in an exchange program with worldwide partner universities and also join mentoring programs.
According to its official page, the University of St.Gallen earned the seal of approval for Tripe Crown accreditation from EQUIS, AACSB, and the AMBA.* It also fulfills the requirements of the Federal Act on Funding and Coordination of the Swiss Higher Education Sector (HEdA).
University of St. Gallen programs
Through internships, practice credits, and special courses, students have the opportunity to acquire professional and practical experience.
The University of St. Gallen also offers double degree programs. Upon completing four semesters, students are awarded both the Master of International Affairs and Governance from the University of St. Gallen and a master's degree from the partner university.
Degree program
Program description
Major in International Affairs (BIA)
This degree program addresses the central societal challenges. Students acquire solid foundations in political science, economics, business administration, and legal studies.
Master of International Affairs and Governance (MIA)
Students of The MIA program may pursue one of four clusters of specialization:

Security and Conflict
Democracy and Governance
Business and Public Policy
Sustainability and Development
Geneva Business School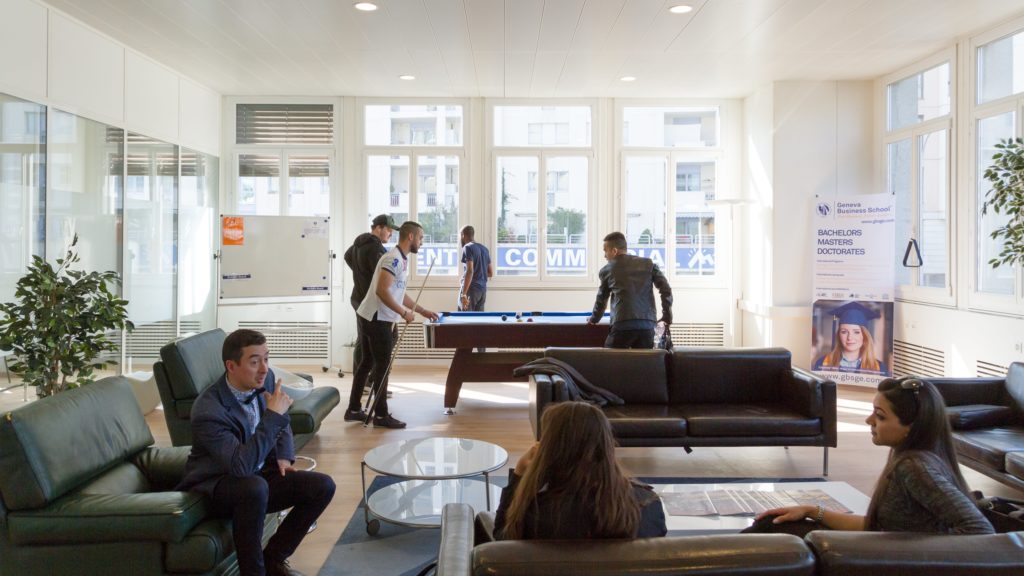 The Geneva Business School offers quality Swiss education intending to contribute to the academic and business world through research collaboration and teaching. The school emphasizes the importance of a diverse environment, be it the student body, faculty, or staff.
With the aim to prepare students for the global business world, the school teaches through project-based learning and interactive classes to increase confidence and help hone skills.
As stated by the school, they are certified by Swiss quality label eduQua, and its business programs have received accreditation by IACBE.*
Geneva Business School programs
The project-based learning environment at Geneva Business School prepares students for the global business settings of the 21st century. Students can begin careers in diplomacy, politics, and public service for governments worldwide through the programs offered.
| | |
| --- | --- |
| Degree program | Program description |
| Bachelor of International Management with a Specialization in International Relations | Through this program, students will study the principal factors that influence global politics and foreign affairs in order to develop diplomatic strategies, build contacts with diplomatic organizations, and more. |
| Master of International Management with a specialization in International Relation | This program will help students identify potential threats and opportunities to create a worldwide business and diplomatic network and build a solid diplomatic strategy. |
Franklin University Switzerland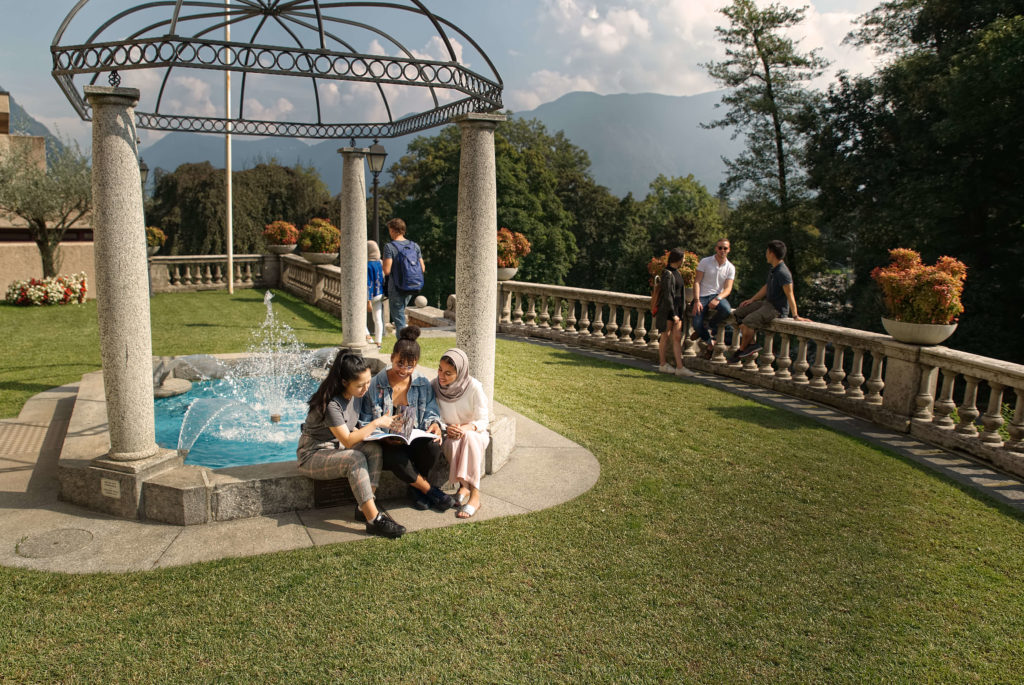 Franklin University Switzerland is an international university located in Lugano, which offers rigorous and demanding degree programs with a learning method that incorporates travel and interdisciplinary study into the core of the curriculum.
This university is the only liberal arts university in the world accredited in the United States and Switzerland. It offers interdisciplinary, experiential learning, with Academic Travel at the core of its curriculum. With the Academic Travel element of the curriculum, travel is used as an experiential learning tool completely integrated into a series of course offerings in disciplines applicable to all majors.
This university stands for the belief that exposure to many different cultures and academic disciplines gives their graduates an edge as they forge their career paths. At such an institution, you'll learn how to face and overcome challenges with a problem-solving mindset and cooperation with others.
As the university reports, Franklin University Switzerland is crowned with dual accreditation by both the Swiss Accreditation Council (Switzerland) and the Middle States Commission on Higher Education (the US). In 2018, Franklin was recognized
by the Chinese Ministry of Education 中华人民共和国教育部 as an accredited foreign
university. This approval not only gives students coming from China the opportunity
to have an international experience at Franklin and earn a degree that is recognized
at home, but it also opens doors for any Franklin graduate considering a career in
China.
Franklin University Switzerland programs
Franklin initially offers a focused interdisciplinary curriculum leading to the Bachelor of Arts (BA) degree. Apart from the core, each major provides a focused path toward advanced knowledge and competency in a certain study field.
| | |
| --- | --- |
| Degree program | Program description |
| International Relations Major | Through this major, students will gain foundational knowledge for various careers in areas such as diplomatic and government service, international organizations, and more. |
| Political Science Major | This major pushes students to look at political issues to prepare them for careers in law, journalism, consulting, development assistance, or education. |
International University in Geneva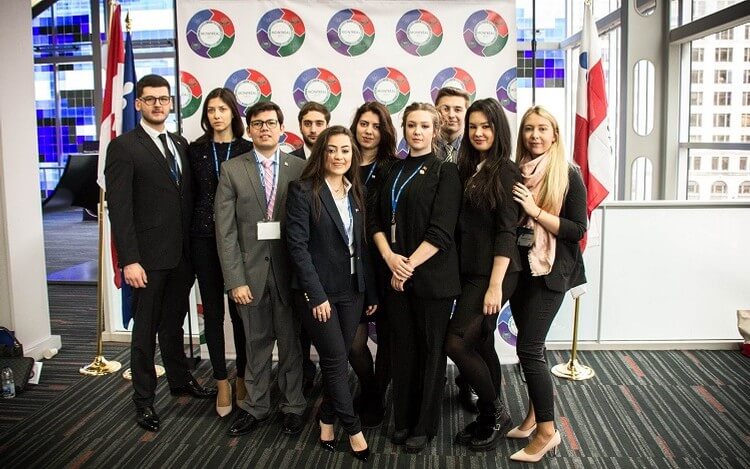 The International University in Geneva (IUG) is an accredited academic institution specializing in business education. The University is a non-profit Swiss Foundation of Higher Education founded in 1997. Today, students from more than 60 countries attend it.
Students at a master's level have the opportunity to graduate after one year with two degrees in International Relations and Diplomacy: from the International University in Geneva and the University of Plymouth (UK).
According to the official site, IUG is accredited by the British Accreditation Council (BAC), an accreditation agency referenced with EQAR; furthermore, its programs are accredited by the ACBSP.
International University in Geneva programs
The University offers undergraduate and graduate programs in Business Administration, International Relations, Digital Media, Computer Science, and International Trade.
The curriculum at this university includes a unique combination of theoretical and practical studies, focusing on international business practices. The international exchange program allows students to learn and hone their skills at renowned universities worldwide.
| | |
| --- | --- |
| Degree program | Program description |
| Bachelor of Arts in International Relations | With this degree, students will make a career in global governance and diplomatic services, international organizations, corporate business, and non-profit organizations. |
| Master of International Relations and Diplomacy | This program leads to managerial positions in international organizations, diplomatic services, and the private sector. |
If a student wishes to complete a school of diplomacy and international relations or a political science one, Switzerland is one of their best options. With years-long experience, a vibrant culture, and often being referred to as the world's peace center, it's surely clear why such a country would be the perfect fit for someone with diplomacy aspirations.
Additionally, numerous world-renowned Swiss universities offer both international relations and political science programs. We hope this list helped anyone with questions regarding such programs, and feel free to contact us about anything unclear.
*Acronyms of quality labels
eduQua – Swiss quality label for further education
ACBSP – the Accreditation Council for Business Schools and Programs
IACBE – the International Assembly for Collegiate Business Education
IQA – Internal Quality Assurance
EQUIS – EFMD Quality Improvement System
AMBA – Association of MBAs
BAC – British Accreditation Council
FSEP – Swiss Federation of Private Schools.