Lugano is one of the best cities you can visit in Switzerland. It is part of the Italian-speaking Ticino Canton and is the biggest city in that region. But, what is Lugano known for? This place has it all, starting from Lake Lugano, together with San Salvatore and Brè Mountains, as well as different museums and buildings. The spectacular views you can find here used to be an inspiration for the famous Nobel prize-winning author Herman Hesse.
If you're wondering, "Is Lugano Switzerland worth visiting?", know that you get to experience the combination between Italian and Swiss architecture and cuisine, its lively squares, lakeside walks, fun shopping streets, and colorful parks in the city. In this article, we have listed 16 top places to visit in Lugano. Keep reading if you're interested in knowing more things to do in Lugano, Switzerland.
Monte San Salvatore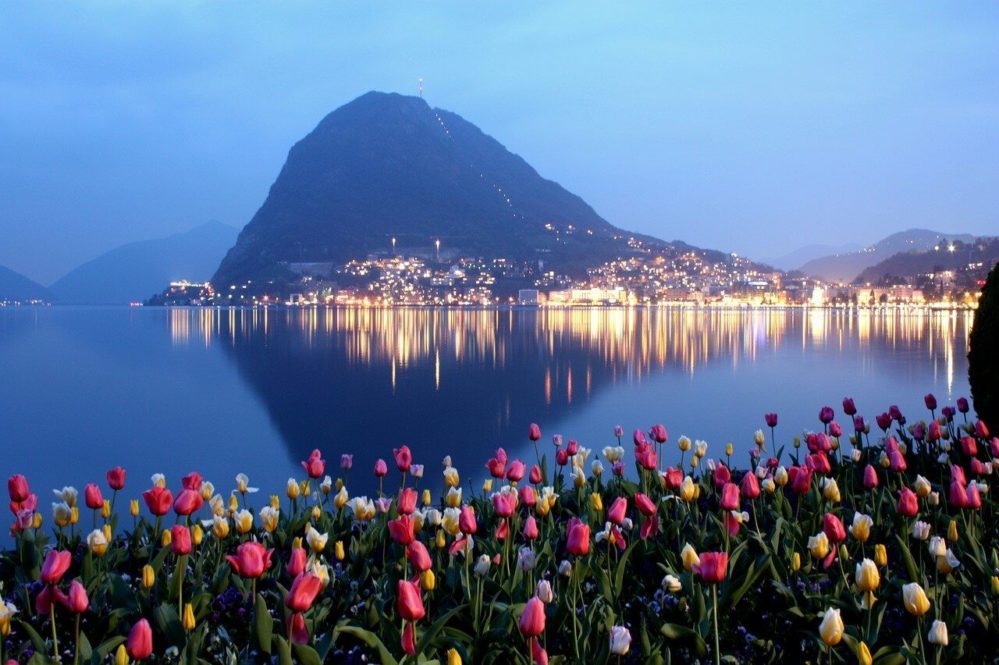 Monte San Salvatore is a mountain you must not miss whenever you are in Lugano. It is relatively low, with an altitude of just over 900m; however, the San Salvatore stands out when considering the mid-sized mountains filling its surroundings. This mountain offers plenty of stunning panoramic views that enhance with each meter you climb. At the top, there are multiple viewing points.
If you are into hiking, there are various trails you can follow, such as the one that starts at Paradiso and takes about two hours. However, if you are not a hiking enthusiast, you can avoid the steep slopes and use the funicular to get to the top.
In addition to the stunning view that awaits you at the mountain's peak, there is also a restaurant with a playground to enjoy a nice meal with your friends, family, or yourself. Furthermore, you can also visit the Chiesa Vetta church with an observation platform located at the top of the mountain, about 10 minutes away from the funicular station.
Monte Brè
Close to Monte San Salvatore, divided by Lake Lugano, is another mountain worth climbing and enjoying its views—Monte Brè. This mountain peaks at 925m and is known as one of the sunniest mountains in Switzerland where the rare Christmas rose grows.
Like the previous destination, you can hike to the top or use the funicular railways that run in two sections starting from the edge of Lugano to the top of Monte Brè. Once you reach the top, there are two restaurants you can go to and enjoy a meal with a view or plenty of pleasant spaces with excellent scenery to have small picnics.
Lake Lugano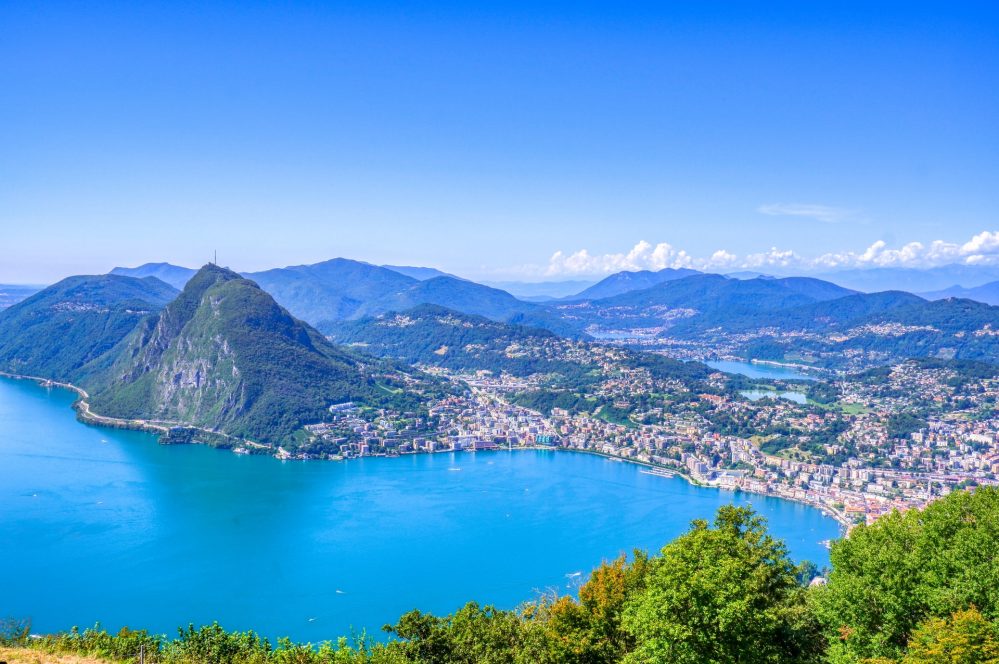 A must on the list of things to do in Lugano, Switzerland, is to visit Lake Lugano. This glacial lake is surrounded by beautiful Swiss mountains, including the two listed above, and reaches into Italy lands. This lake has a Mediterranean climate, making it a perfect location for sunbathing in the summer as the lake provides some cooling from the scorching sun.
It is perfectly safe to swim in Lake Lugano, and we would suggest taking a boat ride to enjoy the beautiful sights that this lake offers. And, if you were wondering, 'Is Lugano Switzerland expensive?', do not worry. There are plenty of group tours and boat cruise tickets for less than $20.
Parco Civico
While seeing Lake Lugano, you can visit another excellent destination on its shores—Parco Civico. This park is around 63,000 square meters and represents the city's lungs, as the many trees and greenery help you escape the noise and crowds of the more modern part of Lugano. It is filled with statues, fountains, flowers, and charming areas with neatly cut lawns where you can sit and enjoy the view.
Parco Civico is divided into two areas. The first one begins at the main entrance and is a more meticulously maintained area that blends the style of English gardens with features of the Italian ones. In contrast, the second area is more hectic as it is filled with massive oak, maple, lime, and other trees. You can find numerous buildings in these two areas, such as the Villa Civico, the Natural Museum, Cantonal Library, a Convention Center, etc.
Parco Scherrer
Another park worth visiting on the shores of Lake Lugano is Parco Scherrer. This park is known as the Garden of Wonders and is located at the base of Mount Arbostora. It was created by Arturo Scherrer, a passionate gardener and lover of art who purchased the little house that is still part of the park and the land above it. Scherrer dedicated his life to turning the ground into the park that it is today—full of camellias, eucalyptus trees, palms, bamboo wood, cards, and many oriental plants.
Upon visiting this park, you can see the Mediterranean and Asian architectural and garden styles blend. The grassland, full of statues, is in the Renaissance and Baroque style, whereas the vegetation hints at the presence of Arab, Indian, and Siamese flora. And if the magnificent park was not enough to convince you to visit it, the location presents an excellent viewpoint of the Italian side of Lake Lugano, Varese hills, and the Po Valley. You will be blown away by the beauty of this park and Lugano itself.
Parco delle Gole della Breggia
Continuing the list with yet another park worth visiting in Lugano, we have Parco delle Gole della Breggia. A trip to this location will be an unforgettable experience as you will see some unusual geological formations created through erosion millions of years ago. In addition to the unique rock formations, you will be surrounded by special plants and animals, some of which are endangered.
If geology is not part of your interest, you might be more intrigued by the historical aspect of the park. You can learn more about the region by walking through the historic streets and visiting the Rote Kirche Church and Castel San Pietro nearby. Whichever path you follow, a trip to Parco delle Gole della Breggia is sure to impress you.
Parco San Grato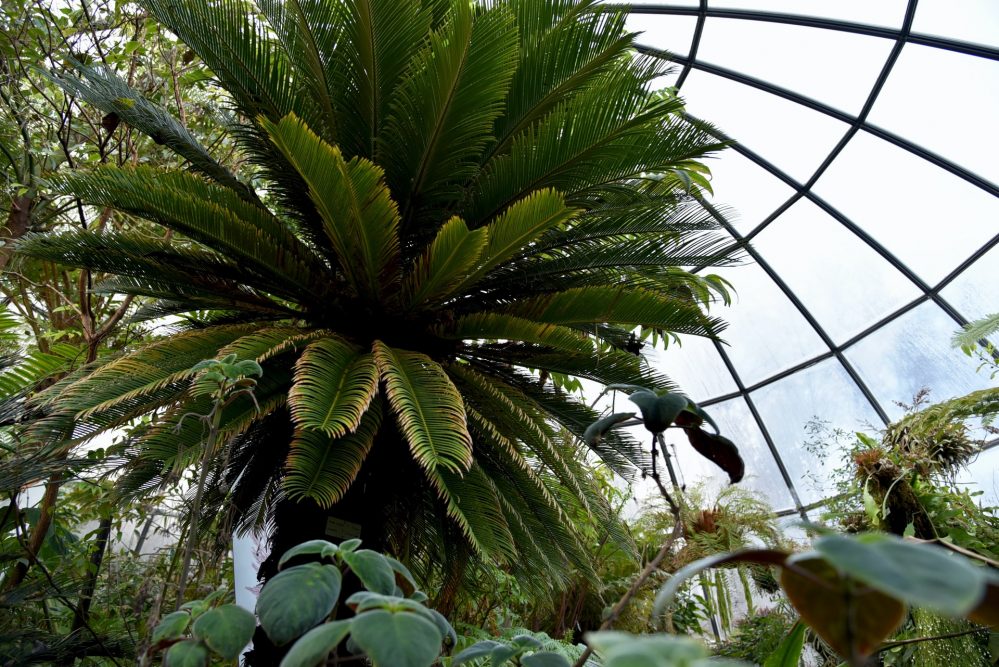 Another park that earned a spot on our list of the top places to visit in Lugano is Parco San Grato. It is located between Monte San Salvatore and Monte Arbostora and covers around 62,000 square meters. If you are a lover of plants and botanical gardens, you will surely adore this place.
The park consists of five themed trails, and you can choose the one that suits your mood best. The first trail is the Fairytale Trail, generally preferred by children who enjoy exploring the park through this path. The Relaxation Trail, which, as the name suggests, is easy, fun, and offers a peaceful route to the gardens. Then, the Art Trail, where you can see pieces by various artists, and the Botanical Trail, which is filled with information boards about the flora present in the park. Lastly, you can also choose the Panoramic Trail, through which you will end up at some excellent lookout points.
Parco San Grato is home to one of the largest and most diverse displays of rhododendrons, azaleas, and conifers. Although there is plenty to see all year round, we would advise you to visit the park in April or May, if possible, so you witness the blooming of the azaleas and rhododendrons.
Via Nassa
We have established that Lugano is a traveler's paradise if you want to witness stunning natural landscapes. However, sometimes, you might need to rest from the hiking and do another form of exercise—walking from one shop to the other. Via Nassa is the perfect location for the shopaholic in you as this historical street is filled with shops for jewelry, souvenirs, clothing, books, antiques, and much more.
The 270 meters of covered arcades will help you march on hot summer days, and the delicious food served in this street's restaurants will ensure you are energetic. Most shops in the area are open from mornings until 6:30 pm every day except Sunday. So, make sure you get your travel memorabilia on those days.
Gandria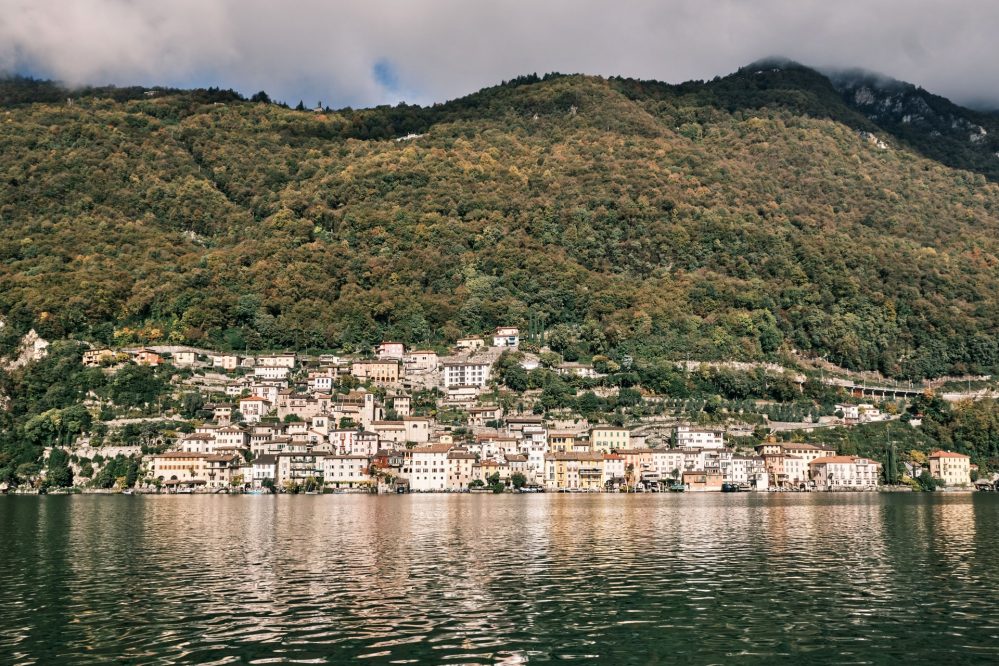 Gandria is a quarter of the city of Lugano and simultaneously a remote village that lies at the base of Monte Brè. Contrary to most streets in the heart of Lugano, which can be crammed with people, this fishing village provides a more calm and serene atmosphere. Filled with steep staircases, angular lanes, various courtyards, old walls, and arcades—Gandria looks like something out of a fantasy book.
Although small, Gandria has a lot to offer in addition to the lovely sights. One of the main tourist attractions of this area is the Swiss Customs and Smuggler Museum, which is filled with exhibitions that provide information on border sentries of today and the past. Furthermore, some of the houses, embellished with frescoes and stucco decorations, date back to the 16th century. So, if you are interested in architecture, you sure have plenty to see.
Swissminiatur
If you would like to feel like the King Kong of Switzerland, consider visiting the Swissminiatur park. First opened in 1959, the Swissminiatur park is Switzerland's only one of its kind. This 14,000 square meter park is home to 128 highly detailed models of Switzerland's various houses, castles, and monuments.
The miniature pieces are built with a 1:25 scale and include the Federal Parliament, Heidi Village, Castles of Chillon, and Burgdorf. Furthermore, eighteen model trains travel between the buildings, and around 15,000 flower species fill the spaces to enhance the visual delight.
Centro Storico
The Centro Storico, denoting the old center of the town, is a treat to go through as it represents the jewel in the city's crown. This area is filled with beautiful historical streets and many architecturally attractive buildings.
A simple walk through the Centro Storico or sitting in one of the small cafes surrounded by locals going about their day will make you feel the city's heart as you witness and learn more about their history, culture, and customs, as well as just their ordinary lives.
Cattedrale San Lorenzo
The next destination on our list is Cattedrale San Lorenzo—a phenomenal building that blends the Renaissance design with the Baroque era. Regardless if you are interested in architecture or not, you will surely be impressed by the exterior of this cathedral which has a renaissance facade. In contrast, the interior is filled with Baroque frescoes and other decorations.
The architecture is not the only reason you should visit Cattedrale San Lorenzo. Another interesting aspect of the cathedral is its history. The building was founded in the early Middle Ages and became a Parish Church sometime in the 800, then a Collegiata by 1078. Since 1888 it has been a Cathedral. Visiting a building as old as Cattedrale San Lorenzo will make you feel like you have traveled back in time and make for an excellent travel memory.
Olive Tree Trail
Lugano is filled with exciting trails worth visiting, many of which we have already mentioned. However, when you are there, also see the Olive Tree Trail. This 3.5-kilometer-long route is filled with remains of ancient olive trees and newly planted ones, which will help you learn more about the history and scientific nature of their growth and oil.
You can access the trail from either Castagnola or Gandria. The first one begins near the old community center, whereas if you are journeying from Gandria, look for the parking area above the village.
Hesse Museum
Hermann Hesse is a famous German author who moved to the village of Montagnola (in Lugano) in 1919 and lived there until he died 43 years later. Here he got inspired and wrote some of his most famous works, including Siddhartha and Steppenwolf. He won a Nobel Prize in 1946.
After his death, Hesse's house was turned into a museum. You can visit the Hesse Museum to learn more about this author and his life in Lugano. During your visit, you get to see some of the author's belongings, like his typewriter, watercolor paintings, books, photographs, correspondence letters with T.S. Eliot and Freud, etc.
The Alprose Chocolate Museum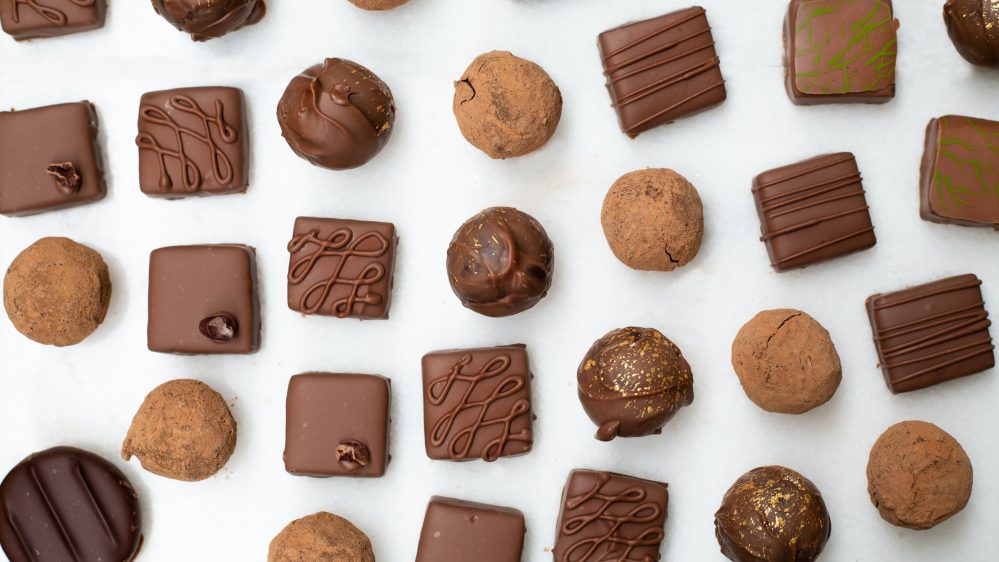 Did you expect us to tell you about a Swiss city and not mention chocolate? Well, if you are interested in knowing the history of chocolate, from its origins to the present day, you must visit the Alprose Chocolate Museum. The Alprose Chocolate company offers guided tours. You can learn more about every aspect of the delicious treat, starting from the historical background to the first production facilities and the many varieties of chocolate made today.
While you are there, do not forget to visit the "Nostalgia" shop where you can taste some of the chocolate produced by the Alprose company.
Museo d'Arte della Svizzera Italiana
If you are an art lover, Museo d'Arte della Svizzera Italiana is where you can find some of the best art collections of Lugano and Ticino Canton. There are two locations you can check: the first one in the Palazzo Reali in the center part of the city, featuring collections from the 15th to the 20th century, and the other in the south of the city (near the Via Nassa), with modern and contemporary art. In addition, there are many temporary exhibitions you can check as you visit this place.
Bottom Line
By visiting the city of Lugano in Switzerland, you get to learn many new things about the place and its culture, enjoy its magical views, and most importantly, have great fun! Whether you're someone needing an escape, a student looking to study abroad, or just a visitor, you will find what you need in Lugano. So go ahead and take relaxing walks beside lake Lugano, read a book in one of the many parks, observe the miniatures in Swissminiatur, and feel the sun in Monte Brè.