It doesn't matter much if you are a winter or a spring person. When Switzerland gets covered in white, its views are mesmerizing, and you'd think nature has concentrated all of its good features out there in the Swiss Alps.
What to Do
There is so much to do in Switzerland during winter, starting from snow activities and winter sports to relaxing and simply enjoying the picturesque mountains. Many destinations and tourist centers are easily approachable thanks to the trains, cable cars and ferries as the most efficient means of the Swiss public transport system.
So if you're planning to head to Switzerland this winter, take a look at our list of 10 most extraordinary places to visit in Switzerland in this beautiful season.
10 of The Best Places to Visit in Switzerland during Winter
1. The Jungfrau region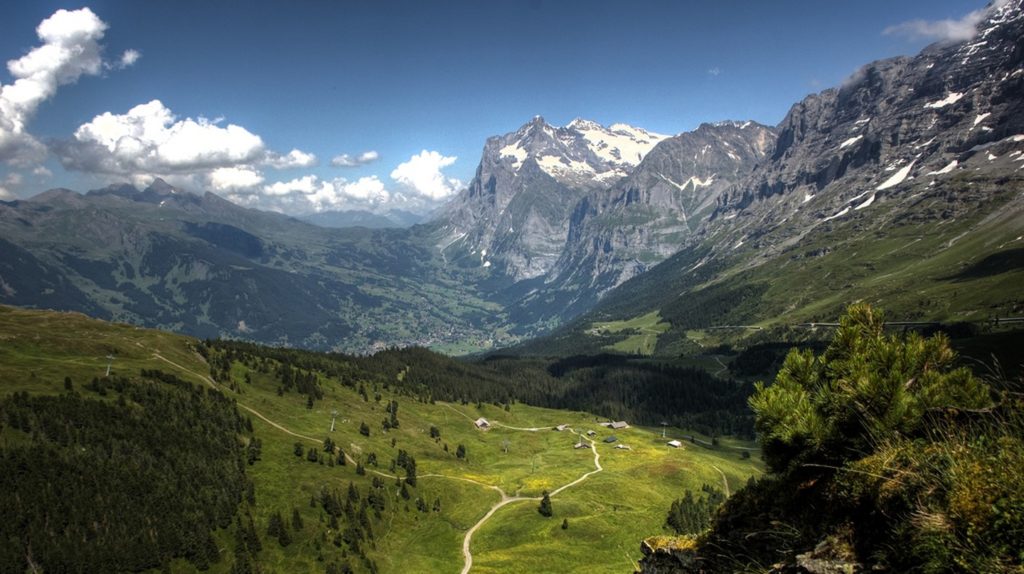 You've heard about the glory of the Jungfrau massif, compiled of three famous peaks – the Jungfrau at 4,158 meters, the Mönch at 4,099 meters, and the 3,970-meter Eiger. These three are the world's major ski areas, which draw winter sports enthusiasts from all around the globe.
Sightseers can easily access mountains and enjoy the views through lifts and existing cableways, whereas those who like to ski can find fields convenient for beginners near Wengen or challenging ones in Murren's slopes. The whole region is characterized by postcard-like towns and splendid natural attractions, which you cannot go by not visiting if you happen to be in Switzerland.
Fact: The rack-railroad to the Jungfraujoch opened in 1912, and its upper station is the highest railroad station in Europe at 3,454 meters, as we've mentioned among fun facts about Switzerland.
2. Zermatt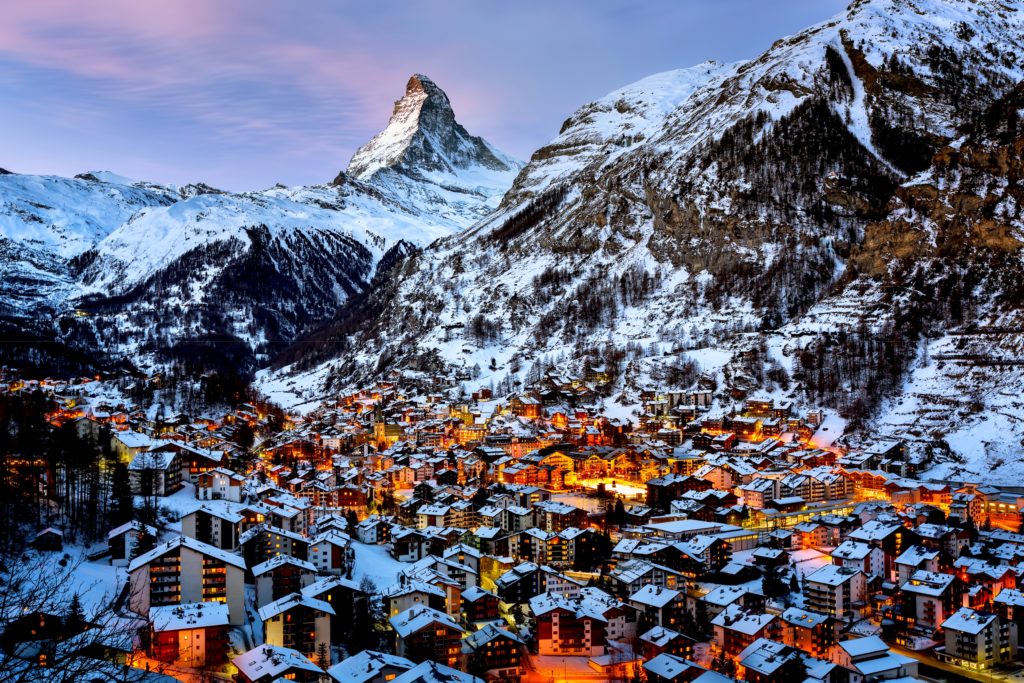 The petite place called Zermatt lies in southern Switzerland, in Valais canton, to be more exact. This beautiful mountain resort lies right below the iconic Matterhorn peak, which provides visitors with fantastic scenery and many, many things to do. Zermatt is well known as a great place for skiing, climbing, and hiking, whereas its main street called Bahnhofstrasse is filled with boutique shops, hotels, and restaurants for the people who like to stay in one place and contemplate the goods of Switzerland. Or, you can choose to visit the public outdoor rinks for ice-skating and curling. The town is a perfect pitch, if you're looking for your next Christmas postcard.
3. St. Moritz
This luxury alpine resort town in Switzerland is known for having hosted the Winter Olympics twice and for organizing the Cresta Run – a world championship bobsled run that consists of natural ice. St.Moritz is also home to numerous frozen lakes; thus, polo, cricket, and horse racing on ice are some interesting winter activities to engage while you pay a visit. St. Moritz first became famous thanks to its mineral springs, which were discovered 3,000 years ago. Whereas nowadays, this town is known worldwide for its modern Alpine lifestyle, and top-class restaurants.
4. St.Gallen
If there is one epithet that could mostly suit this magnificent town, it would be – a winter wonderland. In case you're dreaming about a white Christmas, with trees covered in heavy snow and with no cars roaming around, then you should certainly visit St.Gallen. The old town is jaw-dropping, as it offers views of houses that have been there for centuries. It is most famous for the lively festive atmosphere during Christmas time.
5. Arosa
A place mostly behind the shades and slightly underrated in Switzerland is Arosa. People who seem to visit it, have amazing feedback, and say this place is a delight of its own. Arosa has fascinating mountain peaks and snowy landscapes that attract hiking enthusiasts. Hence, the town is home to numerous wonderful snow sports and activities like ice-skating, ice-stick throwing, and curling. Arosa lies at the ends of the dreamy Schanfigg Valley, and it is certainly one of the best places in Switzerland in winter, where you should stay for a little while.
6. Interlaken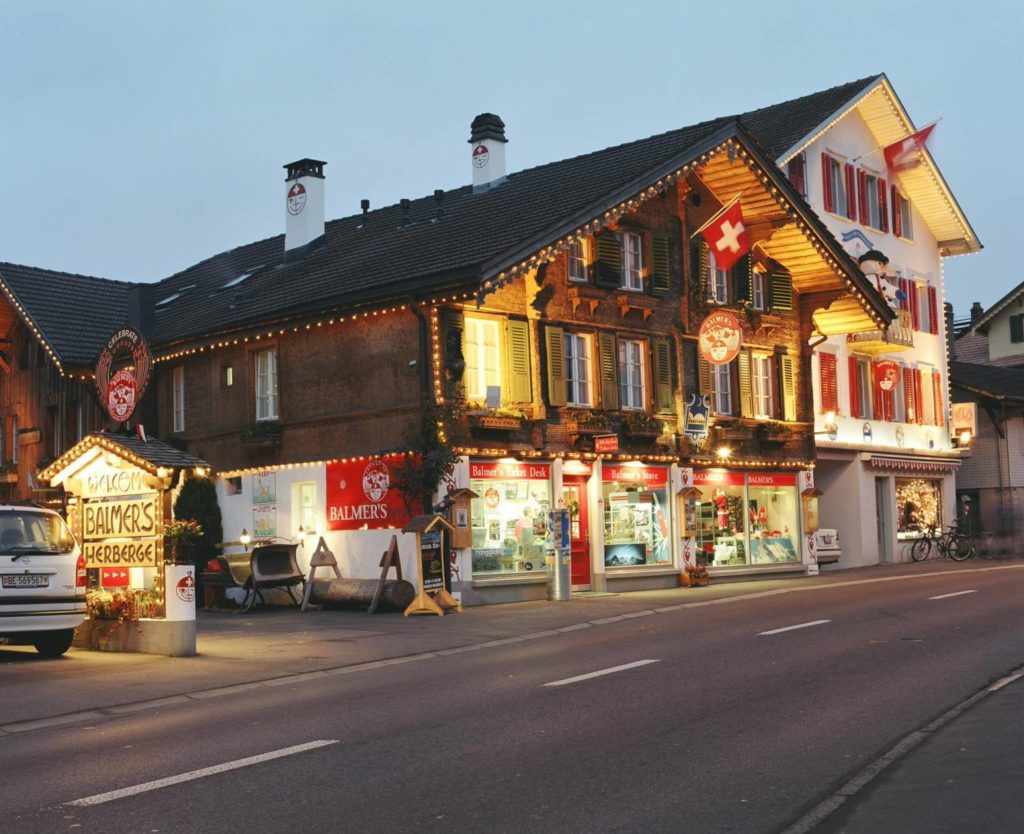 This cute Swiss village is located in between two lakes in the middle of the Swiss Alps, presided by three mighty mountains such as the Eiger, Mönch, and Jungfrau. You can imagine why it has some of the best views and many winter activities to offer. You will basically find all sorts of things to do, from relaxing in an outside hot tub with top-quality beers to sky-diving, paragliding, or other adrenaline-filled activities.
This traditional resort town is home to 45 mountain railways, cable cars, glaciers, and alpine meadows. It is therefore called the adventure capital of Switzerland and should definitely be on your list of top Swiss destinations to visit.
7. Lucerne
The city of Lucerne is considered to be one of the best cities to visit in Switzerland during winter. The main reason is the pretty scenery of buildings that are beautifully sprinkled in snow, and the Christmas market that makes you experience the city with an additional touch of magic.
Christmas lights will be in the city during early December and January, so make sure you get there just in time because the view in the night-time is impressive; Especially if you're standing anywhere near the Chapel Bridge. The Lake of Lucerne offers a lovely panorama of the Alps, so it is certainly a must-visit city of the Swiss country.
Note: Wintertime is considered the best time of the year to fully enjoy Lucerne, as there are fewer tourists and there is a perfect atmosphere for relaxing holidays.
8. Davos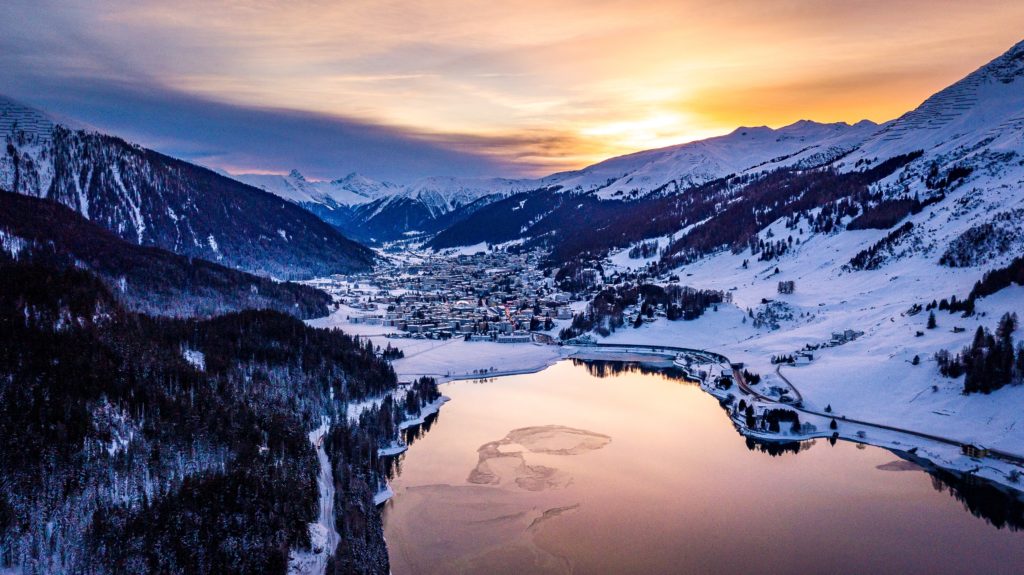 Davos is known as the highest town in the Alps, which lies within the canton of Graubünden. Its reputation consists of three main tourist attractions: The Glacier Express, the scenic train ride, and the road that connects Davos to the Matterhorn. This town offers multiple opportunities to enjoy winter activities, bragging about its cross-country ski areas that include Jakobshorn, Pischa, Rinerhorn, and Parsenn. Tourists can also get caught in many shopping choices, refined dining, or high-class accommodation choices. Day-light activities or night-life ones, everything can be found in the town of Davos.
9. Lake Geneva

We weren't really sure whether Lake Geneva is more suitable for summer or winter times, so we just decided that it can be both. With beautiful scenery in summer, Lake Geneva should definitely be paid a visit in winter as well. The best time in winter to visit Lake Geneva is during the annual Winterfest when the packed itinerary of fun also includes the U.S. Snow Sculpting Championship. The lake is stunningly beautiful during the winter, and it is far from deserted. In December, Lake Geneva is full of ice fishers, ice boaters, ice coasters, and skaters, all fun activities you can try, along with skiing, snowshoeing, or sledding.
10. Oberalp Pass Via Glacier Express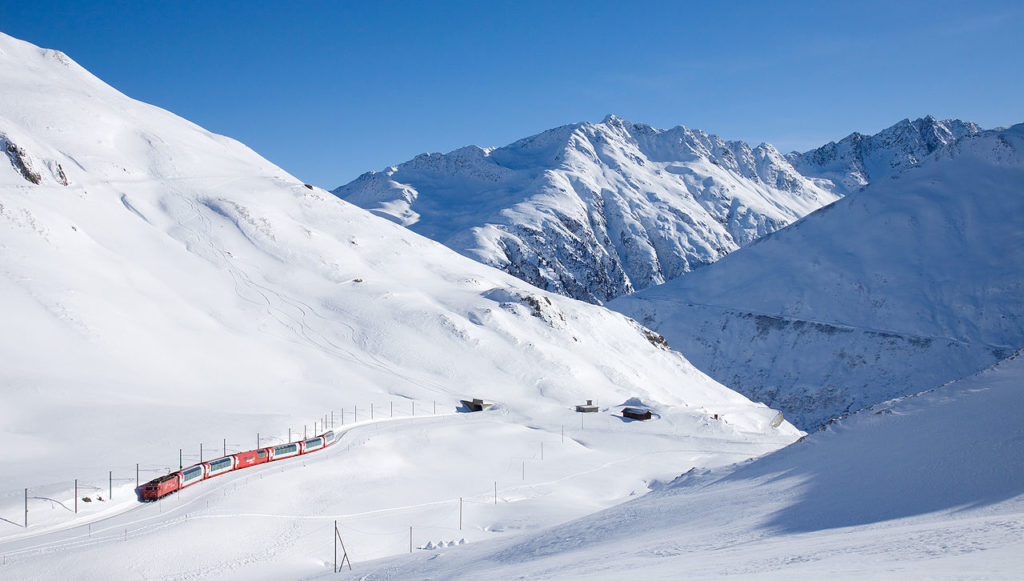 One can't simply visit Switzerland and not take the special trip to Oberalp Pass. Considering the name of the train, you might think that you'll be seeing glaciers one after the other while enjoying the ride. However, you will only see the glaciers once you are up in the mountains. And you'll see just how much the trip is worth it, and what a shame it is that the glaciers are getting smaller and smaller due to global warming. Still, the scenery remains beautiful with impressive rock formations, fierce streams, and tons of snow.
The route consists of four sections, each with its own unique scenery. You can ride the Furka-Oberalp railway that operates throughout the year and provides limited access through the reservation. Or you can simply ditch the hassles and enjoy its view while riding the Glacier Express—a direct train that takes you from Zermatt to St. Moritz.