Switzerland in winter transforms into a wonderland with snow-capped Alps, vibrant Christmas markets, and exciting winter sports like skiing and snowboarding, making it a must-visit destination for winter enthusiasts.
Imagine a world where the land merges seamlessly with the sky, a place where every glance holds the promise of a breathtaking vista – this is Switzerland in winter. Steeped in snow, Switzerland offers a winter experience unparalleled anywhere else in the world.
From the frosted peaks of the Alps to the charming streets of Zurich draped in festive lights, this guide provides an all-encompassing look into the magic of Switzerland in the colder months.
So, whether you're a thrill-seeker aiming to conquer snow-covered slopes or a tranquility lover seeking cozy evenings by the fire, you'll find something to love about winter in Switzerland.
What to Do
There is so much to do in Switzerland during winter, starting from snow activities and winter sports to relaxing and simply enjoying the picturesque mountains. Many destinations and tourist centers are easily approachable thanks to the trains, cable cars and ferries as the most efficient means of the Swiss public transport system.
So if you're planning to head to Switzerland this winter, take a look at our list of 10 most extraordinary places to visit in Switzerland in this beautiful season.
19 of The Best Places to Visit in Switzerland during Winter
Switzerland truly shines in the winter, transforming into a snow-covered wonderland that offers a plethora of breathtaking sights and activities. Whether you're drawn to the charm of its medieval towns, the magnificence of its alpine peaks, or the thrill of its world-class winter sports, there is something for every type of traveler.
In this section, we're going to take a closer look at 19 of the best places to visit in Switzerland during winter. From the sparkling streets of Zurich to the majestic beauty of the Swiss National Park, these destinations promise to make your Swiss winter holiday an unforgettable experience. Join us as we explore the diverse attractions of this enchanting winter destination.
1. The Jungfrau region
You've heard about the glory of the Jungfrau massif, compiled of three famous peaks – the Jungfrau at 4,158 meters, the Mönch at 4,099 meters, and the 3,970-meter Eiger. These three are the world's major ski areas, which draw winter sports enthusiasts from all around the globe.
Sightseers can easily access mountains and enjoy the views through lifts and existing cableways, whereas those who like to ski can find fields convenient for beginners near Wengen or challenging ones in Murren's slopes. The whole region is characterized by postcard-like towns and splendid natural attractions, which you cannot go by not visiting if you happen to be in Switzerland.
Fact: The rack-railroad to the Jungfraujoch opened in 1912, and its upper station is the highest railroad station in Europe at 3,454 meters, as we've mentioned among fun facts about Switzerland.
2. Zermatt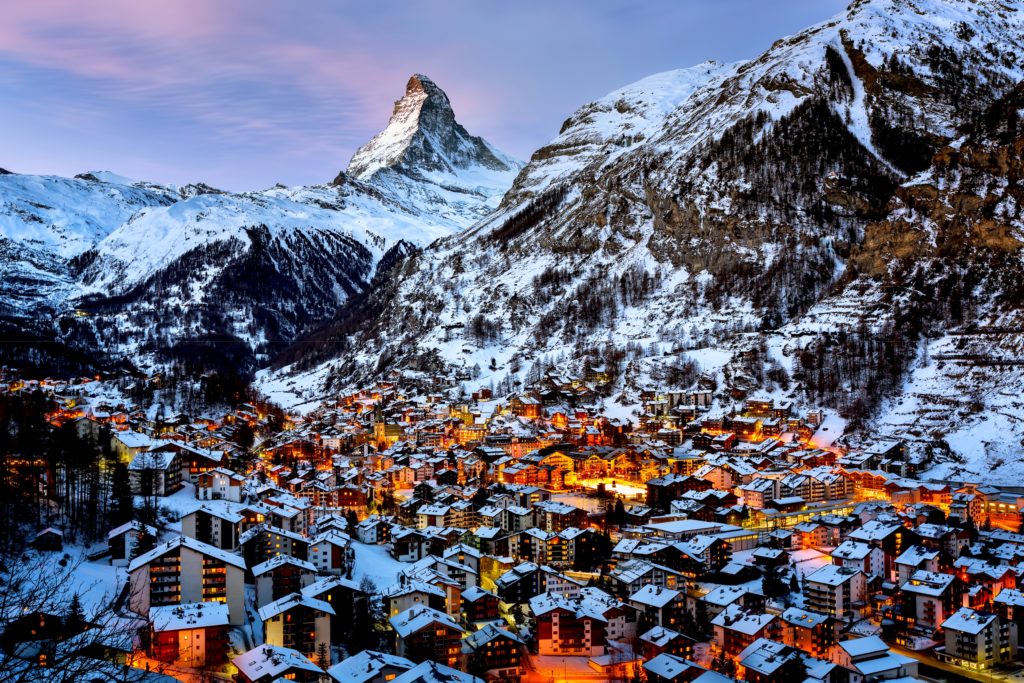 The petite place called Zermatt lies in southern Switzerland, in Valais canton, to be more exact. This beautiful mountain resort lies right below the iconic Matterhorn peak, which provides visitors with fantastic scenery and many, many things to do.
Zermatt is well known as a great place for skiing, climbing, and hiking, whereas its main street called Bahnhofstrasse is filled with boutique shops, hotels, and restaurants for the people who like to stay in one place and contemplate the goods of Switzerland. Or, you can choose to visit the public outdoor rinks for ice-skating and curling. The town is a perfect pitch, if you're looking for your next Christmas postcard.
3. St. Moritz
This luxury alpine resort town in Switzerland is known for having hosted the Winter Olympics twice and for organizing the Cresta Run – a world championship bobsled run that consists of natural ice.
St.Moritz is also home to numerous frozen lakes; thus, polo, cricket, and horse racing on ice are some interesting winter activities to engage while you pay a visit. St. Moritz first became famous thanks to its mineral springs, which were discovered 3,000 years ago. Whereas nowadays, this town is known worldwide for its modern Alpine lifestyle and top-class restaurants.
4. St.Gallen
If there is one epithet that could mostly suit this magnificent town, it would be – a winter wonderland. In case you're dreaming about a white Christmas, with trees covered in heavy snow and with no cars roaming around, then you should certainly visit St.Gallen. The old town is jaw-dropping, as it offers views of houses that have been there for centuries. It is most famous for the lively festive atmosphere during Christmas time.
5. Arosa
A place mostly behind the shades and slightly underrated in Switzerland is Arosa. People who seem to visit it, have amazing feedback, and say this place is a delight of its own. Arosa has fascinating mountain peaks and snowy landscapes that attract hiking enthusiasts. Hence, the town is home to numerous wonderful snow sports and activities like ice-skating, ice-stick throwing, and curling.
Arosa lies at the ends of the dreamy Schanfigg Valley, and it is certainly one of the best places in Switzerland in winter, where you should stay for a little while.
6. Interlaken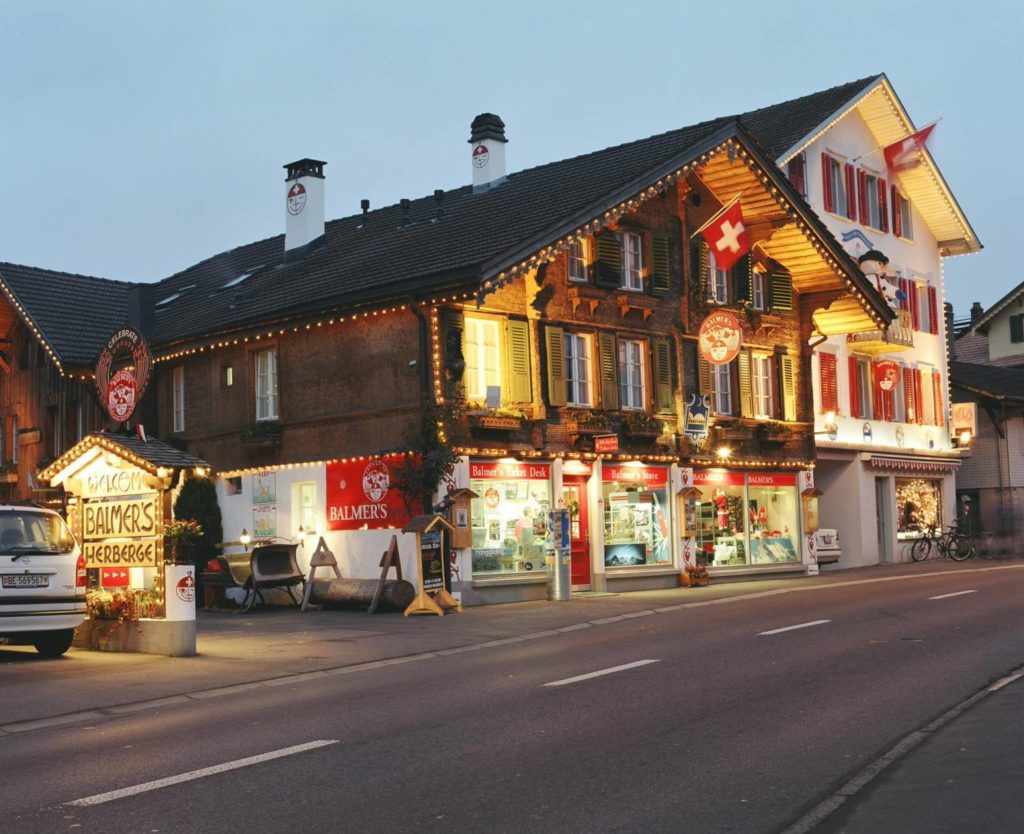 This cute Swiss village is located in between two lakes in the middle of the Swiss Alps, presided by three mighty mountains such as the Eiger, Mönch, and Jungfrau. You can imagine why it has some of the best views and many winter activities to offer. You will basically find all sorts of things to do, from relaxing in an outside hot tub with top-quality beers to sky-diving, paragliding, or other adrenaline-filled activities.
This traditional resort town is home to 45 mountain railways, cable cars, glaciers, and alpine meadows. It is therefore called the adventure capital of Switzerland and should definitely be on your list of top Swiss destinations to visit.
7. Lucerne
The city of Lucerne is considered to be one of the best cities to visit in Switzerland during winter. The main reason is the pretty scenery of buildings that are beautifully sprinkled in snow and the Christmas market that makes you experience the city with an additional touch of magic.
Christmas lights will be in the city during early December and January, so make sure you get there just in time because the view in the night-time is impressive; Especially if you're standing anywhere near the Chapel Bridge. The Lake of Lucerne offers a lovely panorama of the Alps, so it is certainly a must-visit city of the Swiss country.
Note: Wintertime is considered the best time of the year to fully enjoy Lucerne, as there are fewer tourists and there is a perfect atmosphere for relaxing holidays.
8. Davos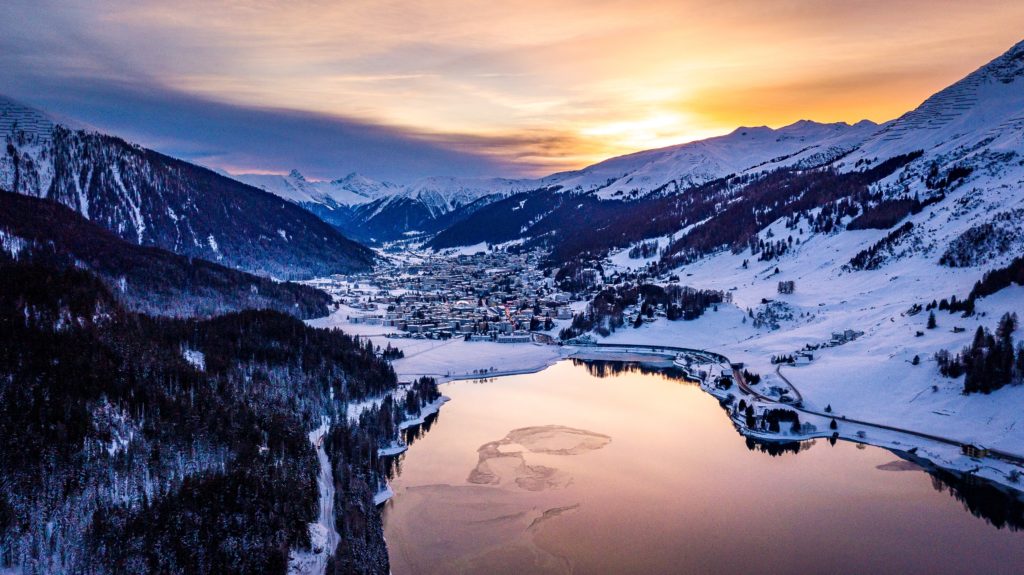 Davos is known as the highest town in the Alps, which lies within the canton of Graubünden. Its reputation consists of three main tourist attractions: The Glacier Express, the scenic train ride, and the road that connects Davos to the Matterhorn. This town offers multiple opportunities to enjoy winter activities, bragging about its cross-country ski areas that include Jakobshorn, Pischa, Rinerhorn, and Parsenn.
Tourists can also get caught in many shopping choices, refined dining, or high-class accommodation choices. Day-light activities or night-life ones, everything can be found in the town of Davos.
9. Lake Geneva
We weren't really sure whether Lake Geneva is more suitable for summer or winter times, so we just decided that it can be both. With beautiful scenery in summer, Lake Geneva should definitely be paid a visit in winter as well. The best time in winter to visit Lake Geneva is during the annual Winterfest when the packed itinerary of fun also includes the U.S. Snow Sculpting Championship.
The lake is stunningly beautiful during the winter, and it is far from deserted. In December, Lake Geneva is full of ice fishers, ice boaters, ice coasters, and skaters, all fun activities you can try, along with skiing, snowshoeing, or sledding.
10. Oberalp Pass Via Glacier Express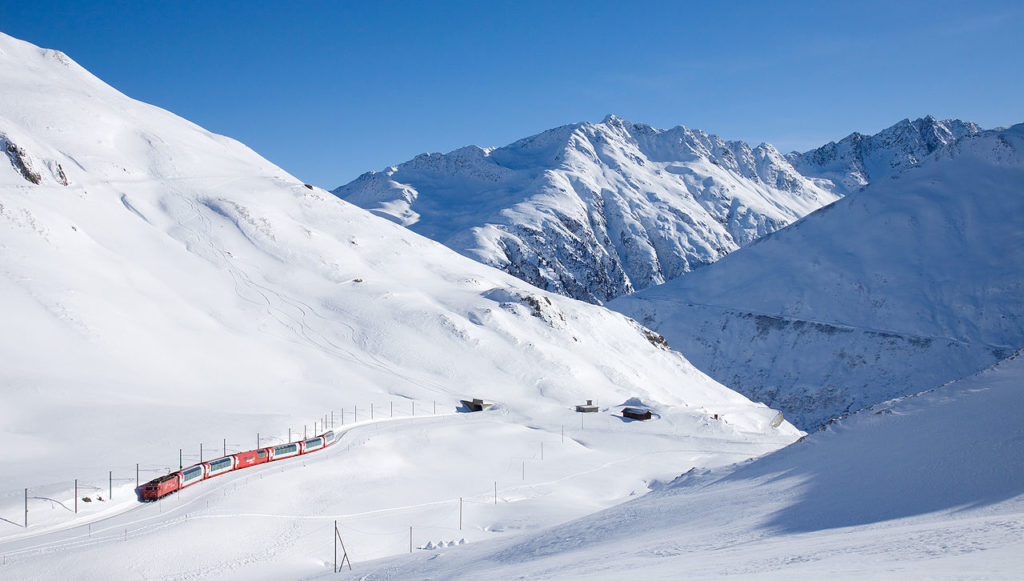 One can't simply visit Switzerland and not take the special trip to Oberalp Pass. Considering the name of the train, you might think that you'll be seeing glaciers one after the other while enjoying the ride. However, you will only see the glaciers once you are up in the mountains. And you'll see just how much the trip is worth it, and what a shame it is that the glaciers are getting smaller and smaller due to global warming. Still, the scenery remains beautiful with impressive rock formations, fierce streams, and tons of snow.
The route consists of four sections, each with its own unique scenery. You can ride the Furka-Oberalp railway that operates throughout the year and provides limited access through the reservation. Or you can simply ditch the hassles and enjoy its view while riding the Glacier Express—a direct train that takes you from Zermatt to St. Moritz.
11. Mt. Pilatus
If you're seeking an immersive experience in Switzerland's majestic winter landscapes, a trip to Mt. Pilatus is a must. Towering over the region of Lucerne, this 2,128-meter-high mountain offers some of the most enchanting views of Switzerland in winter.
From the summit, visitors can enjoy panoramic views of snow-laden forests, frozen lakes, and undulating mountain ranges, forming a spectacle that will leave you breathless. On clear days, the vista extends to 73 Alpine peaks, a sight that is sure to remain etched in your memory forever.
Apart from the stunning scenery, Mt. Pilatus offers an array of winter activities. You can explore the area via the network of winter hiking trails or try sledging down the local slopes for a more adventurous experience. If you're interested in wildlife, keep an eye out for alpine ibex and chamois that roam these heights during the colder months.
Accessing Mt. Pilatus in winter is an adventure in itself. A ride on the Pilatus Bahn, the world's steepest cogwheel railway, from Alpnachstad is an experience that you will not want to miss. However, it's important to note that the cogwheel railway operates from May to November. During the winter months, the mountain can be reached by cable cars and gondolas from Kriens, which provide a scenic ascent to the mountain's summit.
Once you're on the mountain, the Pilatus-Kulm Mountain Hotel offers warm meals and cozy accommodation, allowing you to fully embrace the Swiss mountain experience. From dining with unparalleled mountain views to waking up to a pristine snowy landscape, staying here makes your visit to Mt. Pilatus even more unforgettable.
In conclusion, a visit to Mt. Pilatus adds a touch of enchantment to your experience of Switzerland in winter, combining stunning panoramas, exciting activities, and a unique travel journey. Whether you're a nature lover, an adventure enthusiast, or a tranquility seeker, Mt. Pilatus promises a fulfilling and memorable winter experience.
12. St. Gallen
Steeped in history and culture, St. Gallen is another destination that should be on your list when visiting Switzerland in winter. Situated in northeastern Switzerland, this charming city is renowned for its well-preserved old town, world-class museums, and the famous Abbey of St. Gall, a UNESCO World Heritage Site.
The Abbey's library, Stiftsbibliothek, is one of the oldest and most beautiful in the world, housing thousands of priceless medieval manuscripts. A visit here is like stepping back in time, making it a must-see for any history enthusiast.
In winter, St. Gallen transforms into a festive wonderland. The Christmas market is a highlight, with its beautifully illuminated stalls selling local crafts, traditional Swiss foods, and festive goods. The city's Baroque-style buildings are adorned with lights, adding to the enchanting ambiance.
But St. Gallen isn't just about culture and history. For outdoor enthusiasts, there's the nearby Appenzellerland region, offering picturesque hiking trails and cross-country skiing routes. The three nearby mountains, Hoher Kasten, Säntis, and Kronberg, are popular for winter sports activities and provide stunning views of the surrounding snowy landscapes.
Dining in St. Gallen is another treat, with a plethora of restaurants offering everything from traditional Swiss cuisine to international dishes. Don't miss out on trying the local specialty, St. Gallen bratwurst, a delicacy that's best enjoyed with a crusty roll and a dollop of mustard.
In conclusion, St. Gallen presents a unique blend of cultural richness, festive cheer, and outdoor activities, making it a compelling stop on your tour of Switzerland in winter. Whether you're exploring the historic Abbey, browsing the Christmas market, or venturing into the nearby mountains, St. Gallen ensures a delightful and diverse winter experience.
13. Chateau de Chillon
Nestled on the shores of Lake Geneva, Chateau de Chillon offers a unique blend of history, architecture, and stunning natural beauty, making it a must-visit during your trip to Switzerland in winter.
Chillon Castle, as it's also known, is a historic marvel. With its roots dating back to Roman times, the castle served as a strategic water fortress, a vibrant summer house for the Counts of Savoy, and even a prison. Today, it stands as one of the most visited historic sites in Switzerland.
In winter, the castle takes on a new charm. The snow-covered turrets against the backdrop of the frozen lake and alpine landscapes create a picture-perfect setting. The interior of the castle is equally mesmerizing, with grand halls, underground vaults, and 14th-century wall paintings, all waiting to be explored.
The castle is home to four great halls, three courtyards, and a series of bedrooms open to the public. As you wander through the rooms, you'll get a glimpse into the lives of the dukes of Savoy and the Bernese bailiffs who once lived here. Be sure to take a guided tour to fully appreciate the rich history of this castle.
After exploring the castle, take some time to walk along the lakeshore. The panoramic view of Lake Geneva, with the snow-capped Dents du Midi in the background, is truly a sight to behold.
Whether you're a history buff, an architecture enthusiast, or simply a lover of beautiful landscapes, Chateau de Chillon offers a memorable addition to your Switzerland in winter itinerary. Immerse yourself in the castle's captivating history, marvel at its architectural splendor, and soak up the breathtaking views for a truly enriching Swiss experience.
14. Swiss Grand Canyon
While the name may conjure images of the famous American landmark, the Swiss Grand Canyon, also known as the Ruinaulta, offers a unique natural spectacle in the heart of Switzerland. Formed over 10,000 years ago by a massive landslide, the Ruinaulta is a deep gorge cut through by the Rhine River, and it's a must-visit for nature enthusiasts exploring Switzerland in winter.
In winter, the Swiss Grand Canyon transforms into a breathtaking landscape of snow-covered peaks, icy-blue waters, and frost-dusted forests. This is a fantastic location for winter hiking, as numerous trails wind their way along the edges of the gorge, offering panoramic views of the snow-laden canyon and the Rhine River below.
For the more adventurous, the canyon is also home to a range of winter sports. There are tracks for snowshoeing and cross-country skiing, and the nearby Flims-Laax-Falera ski area offers excellent downhill skiing and snowboarding options.
If you're looking for a more relaxed experience, consider taking a train journey along the Rhaetian Railway, which snakes its way through the canyon. From the comfort of your seat, you'll witness the changing winter landscapes, steep cliffs, and the swirling Rhine River.
Aside from its winter activities, the Swiss Grand Canyon is also a geologically significant site. The area is a geological window into the Ice Age and offers an interesting learning experience for geology buffs.
In conclusion, the Swiss Grand Canyon, with its imposing cliffs, stunning winter vistas, and array of outdoor activities, offers an adventurous and scenic addition to your winter trip to Switzerland. Whether you're hiking its snowy trails, skiing down nearby slopes, or simply enjoying the view from the train, the Ruinaulta promises a memorable experience in Switzerland's winter wonderland.
15. The Castles of Bellinzona
In the heart of Ticino, the Italian-speaking region of Switzerland, the town of Bellinzona boasts a rich history, vibrant culture, and most notably, a stunning complex of castles that will transport you back to the Middle Ages. The Castles of Bellinzona — Castelgrande, Castello di Montebello, and Castello di Sasso Corbaro — are UNESCO World Heritage Sites and are a must-visit during your winter journey through Switzerland.
Cloaked in snow, the castles exude a unique charm during winter, their ancient walls and towers standing in stark contrast against the white landscape. Offering panoramic views of the town, surrounding vineyards, and distant snowy peaks, each castle presents a unique vista of the winter wonderland that Switzerland becomes in the colder months.
Castelgrande, the largest and oldest of the three, can be reached by a picturesque walk through the old town or a convenient elevator ride. Once there, you can explore the battlements, black tower, and on-site museum that houses artifacts dating back to the Roman era.
A short hike or funicular ride from the city center takes you to Castello di Montebello, located on a rocky hill. The castle is renowned for its well-preserved ramparts and enchanting courtyard.
At the highest point lies Castello di Sasso Corbaro. Although it's the smallest and most isolated of the three, it provides the most spectacular views of Bellinzona and the surrounding valley. It also hosts an interesting museum featuring a collection of crystal glass.
Together, these castles offer a fascinating insight into the region's past, making Bellinzona a paradise for history and architecture enthusiasts. And after a day of exploring, what could be better than indulging in the town's rich gastronomic scene, characterized by its fusion of Swiss and Italian cuisine?
Visiting the Castles of Bellinzona provides a rich historical journey combined with breathtaking winter scenery. They're an unmissable addition to your winter visit to Switzerland, promising a perfect blend of history, culture, and culinary delights.
16. Zurich
A trip to Switzerland in winter would be incomplete without a visit to Zurich, the country's largest city. Known for its perfect blend of urban life and natural beauty, Zurich has a rich history, diverse culture, and is home to some of the best Christmas markets in the country.
In winter, the city is adorned with lights, turning it into a veritable Christmas fairyland. The Christmas markets, the most famous of which is held in the old town (Niederdorf), offer a festive shopping experience. Here, you can browse a range of stalls offering artisan crafts, festive decorations, and a plethora of Swiss delicacies.
Don't miss out on the 'Wienachtsdorf' Christmas market held in front of the Opera House, where you can ice skate with a beautiful view of Lake Zurich. Another highlight is the 'Lucy' Christmas Lights that illuminate the Bahnhofstrasse, Zurich's main shopping street, creating a festive atmosphere that's hard to resist.
Zurich also boasts a wealth of museums and galleries, including the Kunsthaus Zurich, one of the most significant art museums in Switzerland, and the Swiss National Museum, which is dedicated to Swiss cultural history.
If you're an outdoor enthusiast, Zurich won't disappoint. The nearby Uetliberg mountain offers excellent hiking trails and a panoramic view of the city blanketed in snow.
Dining in Zurich is a gastronomic delight. From traditional Swiss cuisine to international dishes, the city offers a wide range of culinary experiences. Don't miss out on trying the local specialty, Zürcher Geschnetzeltes, a creamy dish made with sliced veal.
In conclusion, Zurich in winter is a dynamic city that offers something for everyone. Whether you're exploring the festive Christmas markets, delving into Swiss history in its museums, enjoying the winter vistas from Uetliberg, or dining in its diverse restaurants, Zurich guarantees an enriching and exciting experience when visiting Switzerland in winter.
17. Swiss National Park
Encompassing over 68,000 hectares of unspoiled natural beauty, the Swiss National Park is a gem in Switzerland's crown. Established in 1914, it's the oldest national park in the Alps and provides a sanctuary for a diverse range of flora and fauna. During your visit to Switzerland in winter, this park offers an unparalleled opportunity to immerse yourself in the country's stunning alpine wilderness.
In winter, the park transforms into a snow-covered wonderland, presenting a serene and picturesque landscape. This is a perfect place for winter hiking, snowshoeing, and cross-country skiing, with trails that wind through snow-laden forests, across icy streams, and along the edges of frozen alpine lakes.
The park is home to an array of wildlife that thrives during the colder months. If you're lucky, you may spot red deer, chamois, and ibex navigating the snowy terrain, or spot a golden eagle soaring against the clear winter sky.
If you're interested in geology, the park offers a unique insight into the Swiss Alps' geological history. The park's visitor center at Zernez provides a wealth of information about the park's ecology, history, and the various trails that crisscross the park.
Exploring the Swiss National Park in winter can be a challenge due to the colder temperatures and snow-covered trails. However, if you're adequately prepared and adhere to the park's regulations, it's a rewarding experience that will allow you to witness the tranquility and majesty of Switzerland's alpine landscape in its most pristine form.
The Swiss National Park offers a perfect escape for nature lovers and outdoor enthusiasts visiting Switzerland in winter. Its snow-covered landscapes, rich biodiversity, and serene environment provide a captivating and rejuvenating experience, making it a must-visit destination on your Swiss winter itinerary.
18. Rapperswil
Rapperswil, often referred to as the 'town of roses', is a charming historic city located on the eastern banks of Lake Zurich. With its picturesque old town, beautiful castle, and stunning lakeside views, Rapperswil is a delightful destination to explore during your winter trip to Switzerland.
Winter in Rapperswil offers a unique charm, with the cobblestone streets and medieval buildings of the old town dusted with snow. The centerpiece of the town is the Rapperswil Castle, perched on a hill and overlooking the lake. In winter, the castle and its surrounding rose gardens take on a serene beauty. A visit to the castle also offers panoramic views of the snow-capped Alps, the lake, and the old town.
The old town itself is worth exploring, with its narrow streets, colorful houses, and a variety of shops and restaurants. The Capuchin monastery, the town's oldest building, and the Parish Church of St. John are notable landmarks.
Despite the chill, winter is a great time to stroll along the town's lakeside promenade. The icy-blue lake, the snow-lined walkways, and the distant snowy peaks create a mesmerizing winter landscape.
Rapperswil also hosts some delightful Christmas markets in winter. The Christkindlimärt, held in the Fischmarktplatz, is a popular one, featuring beautifully decorated stalls selling traditional Swiss crafts, holiday goodies, and local delicacies.
In conclusion, Rapperswil, with its medieval charm, beautiful castle, and stunning lakeside location, offers a tranquil and picturesque retreat during your winter visit to Switzerland. Whether you're exploring its historic old town, enjoying the lake views, or shopping in the Christmas market, Rapperswil is sure to leave you with beautiful winter memories.
19. Saas-Fee
Known as the 'Pearl of the Alps', Saas-Fee is a charming alpine village nestled among the highest mountains in Switzerland. With its car-free streets, traditional chalets, and stunning natural beauty, Saas-Fee is a paradise for winter enthusiasts visiting Switzerland.
In winter, Saas-Fee becomes a hotspot for a range of snow activities. The village is surrounded by over 100 km of ski slopes, catering to both beginners and advanced skiers. There's also a snowpark for freestylers and numerous trails for winter hiking and snowshoeing.
One of the highlights of Saas-Fee is the Fee Glacier, where you can ski even during the summer months. The Ice Pavilion, a cavern inside the glacier, offers a unique opportunity to walk within millennia-old ice. You'll witness impressive ice sculptures, learn about glaciology, and feel the chilling thrill of being inside a glacier.
Take a ride on the Metro Alpin, the highest underground funicular in the world, to reach the Mittelallalin. Here, at over 3,500 meters above sea level, you can dine in the world's highest revolving restaurant and enjoy panoramic views of the snow-covered peaks.
Back in the village, take time to explore its charming streets. You'll find quaint boutiques, Swiss chocolate shops, and cozy cafes. Don't miss trying Raclette, a traditional Swiss dish, in one of the local restaurants.
Saas-Fee, with its snow-covered slopes, thrilling winter activities, and captivating alpine charm, offers an unforgettable experience for those visiting Switzerland in winter. Whether you're skiing on the glacier, exploring the village, or simply marveling at the alpine views, Saas-Fee is sure to leave you spellbound.
The Bottom Line
Experiencing Switzerland in winter is truly an unforgettable journey, where awe-inspiring alpine landscapes meet the warmth of vibrant, festive cities. Whether you're exploring the snowy peaks of the Alps, indulging in the cultural richness of Swiss cities, or savoring world-class Swiss cuisine, winter in Switzerland offers something for every traveler.
So, don't wait; pack your winter gear and get ready for the experience of a lifetime. Have any questions or want to share your Swiss winter experience? Feel free to leave a comment below. Let's continue the conversation about the spectacular beauty of Switzerland in winter.
Frequently Asked Questions (FAQs)
Q1: What are the best places to visit in Switzerland in winter?
A: The best places to visit in Switzerland in winter include Zurich for its delightful Christmas markets, St. Moritz for world-class skiing, and the Jungfrau region for breathtaking alpine scenery.
Q2: What activities can I do in Switzerland in winter?
A: Switzerland in winter offers a range of activities such as skiing, snowboarding, ice skating, sledding, and winter hiking. You can also visit Christmas markets, explore Swiss castles, or enjoy a scenic train ride on the Glacier Express.
Q3: What should I pack for Switzerland in winter?
A: For Switzerland in winter, pack warm clothing including thermal layers, a good quality winter jacket, snow boots, gloves, and a hat. Don't forget sunscreen and sunglasses for the snow glare, and if you plan to ski, bring appropriate gear.
Q4: Is Switzerland expensive to visit in winter?
A: Switzerland is known to be quite expensive compared to other European countries. However, costs can vary depending on your travel style. Planning ahead and budgeting can help manage expenses without compromising the winter experience.
Q5: Is it safe to drive in Switzerland in winter?
A: Yes, it's safe to drive in Switzerland in winter, but you need to be prepared. Snow chains are often necessary in mountain areas, and it's important to check weather conditions before setting off. Always adhere to speed limits and be aware of winter driving regulations.