Why is Jungfrau so famous? The Bernese Oberland is a very popular destination for tourists in Switzerland, and Jungfrau is one of the highlights.
The Jungfrau region is filled with huge mountains, alpine meadows, lovely walking trails, small scenic villages, and cable cars from which you can see everything from above.
Visiting Jungfrau, Switzerland, is a must if you want to experience the whole Swiss package in one go, and this article will help you find what you're looking for.
20 Best Things to Do In Jungfrau, Switzerland
Is Jungfrau worth visiting? Let's find out by delving into some of the best activities and locations near the region of Jungfrau, what they mean to local people and how you should get the best out of your trip.
Jungfraujoch
Jungfraujoch is Europe's highest railway station. It is built in the middle of mountains Mönch and Jungfrau, a location that is a UNESCO Natural World Heritage property. You can get there by either hopping on a cable car or a cogwheel train. Whichever model of transportation you choose, it will be a spectacular trip. Although some think this excursion is expensive, it is truly unique and will be worth the money.
Harder Kulm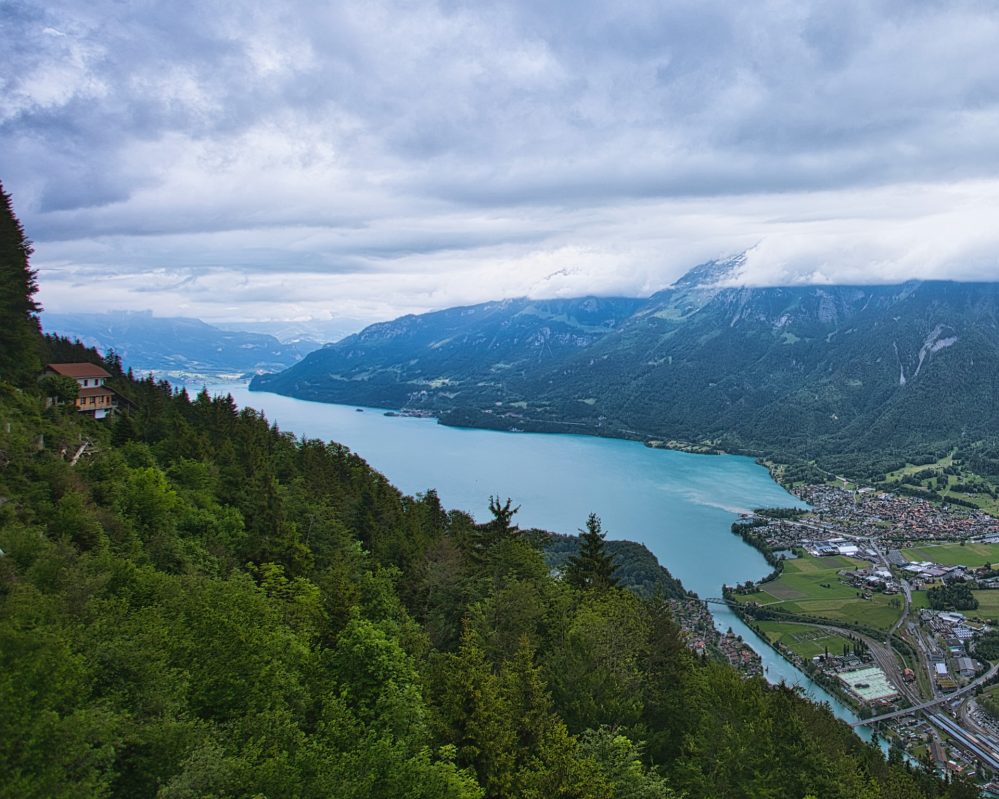 Harder Kulm is a mountain near Interlaken, and once you get on top, you'll be spellbound by the view of the Bernese Alps. The gorgeous Swiss Alps will come into view after the funicular ride, which lasts about 10 minutes.
In front of you will not only be the mountains Mönch, Eiger, and Jungfrau but also views of lakes Brienz and Thun. There, you can enjoy the view from the viewing platform, eat something delicious at the restaurant or start one of the many hiking trails that begin in Harder Kulm.
Lauterbrunnen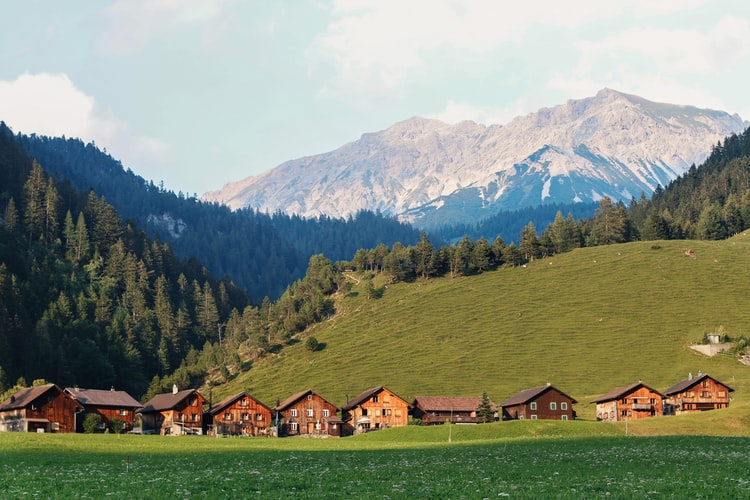 Lauterbrunnen is located between giant rocks and mountain peaks in an impressive U-shaped valley deep in the Alps. It's full of waterfalls, 72 to be exact, and spread around secluded valleys, colorful alpine meadows, and near traditional mountain inns.
The name 'Lauter Brunnen' means many waterfalls, self-explaining the magnificence of this landscape. The Lauterbrunnen Valley is not only pretty but also one of the most significant nature conservation areas in Switzerland.
Gimmelwald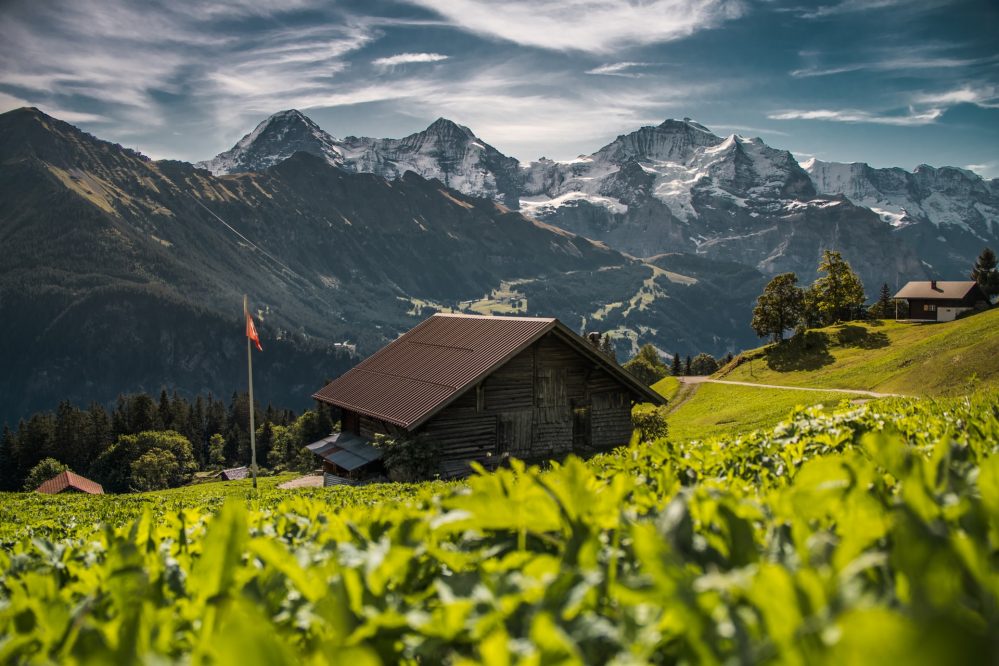 The small, picturesque village of Gimmelwald is located in the Bernese Oberland at the height of 1,367 meters, near the "Jungfrau-Aletsch-Bietschhorn" UNESCO World Heritage Site. Gimmelwald is located in the middle of the Swiss Alps and is one of the last car-free villages.
Wooden houses full of flowers, cheese stores, and plenty of farm animals characterize the village. It also offers a breathtaking mountain panorama, untouched natural beauties, and countless opportunities and methods to discover it. And the ride on the cable car? Simply spectacular!
Männlichen and Kleine Scheidegg
The hike from Männlichen to Kleine Scheidegg is among the most popular in the Jungfrau region. The effortless downhill trail offers impressive views of Eiger, Mönch, and Jungfrau mountain peaks. If you'd like to see the Lauterbrunnen Valley from above, the mountain of Männlichen is an excellent spot to go to.
If you plan to visit Jungfraujoch, you must pass through Kleine Scheidegg. Kleine Scheidegg is a high mountain pass located near Jungfrau and Eiger. Because its location is so high up in the mountains, you have an incredible opportunity to look at views across the Lauterbrunnen Valley to Mürren and Gimmelwald.
Bachalpsee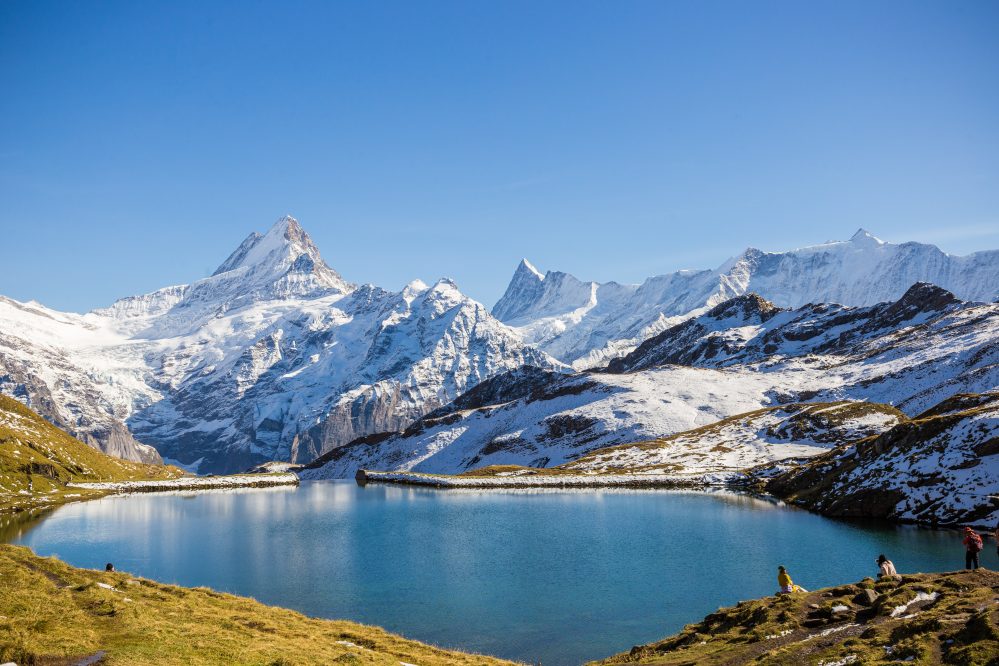 The hike to the Bachalpsee lake near the village of Grindelwald is a popular choice by Jungfrau visitors. It captures the special Swiss feeling, offering visitors mountain views, the Grindelwald cliff walk, mountain scooters, zip lines, and fun playgrounds for kids. Because it's one of the easiest hikes in this region, families and casual hikers, tend to fill up the trail.
The roundtrip to Bachalpsee and back lasts 2 hours, so it's easy to fit into tourists' schedules and leaves people with enough time to do something else in the evening.
Wengen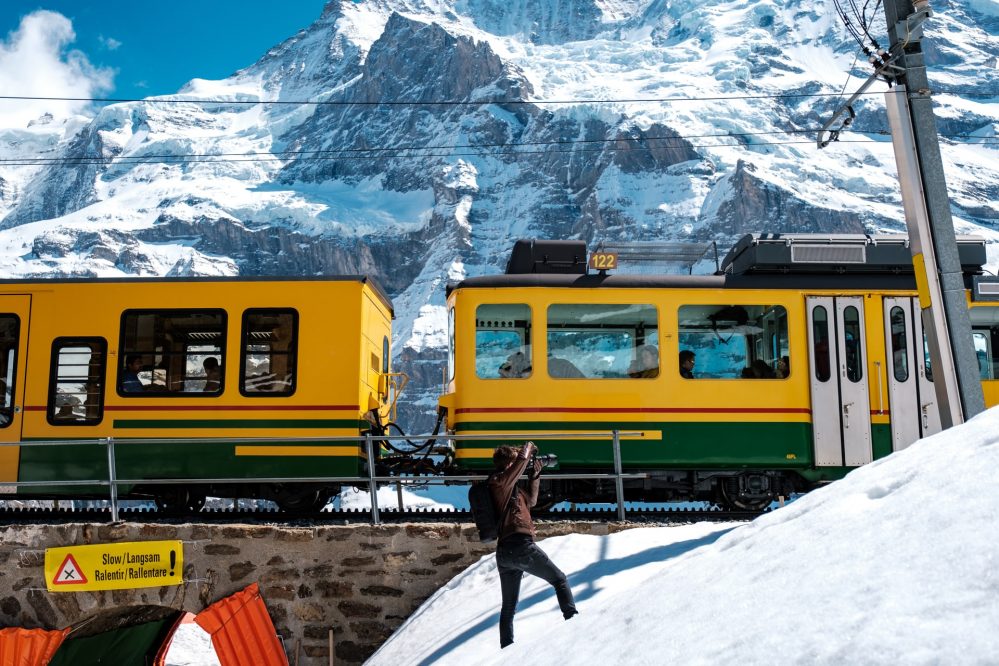 Wengen is a car-free Swiss village perched on a sun terrace 400 meters above Lauterbrunnen valley. It is located in the Bernese Highlands and is around 1,274 meters above sea level. The village is very close to the Jungfrau mountain, constantly giving you something nice to look at.
Wengen has good hotels that welcome you warmly, restaurants with the most delicious food, and shops all over that have everything you need. The entire region around Wengen and alongside the Aletsch Glacier has been established as a UNESCO World Heritage Site since 2001. It's a captivating place to visit, where you might even decide to stay for a couple of days if you like to.
Grindelwald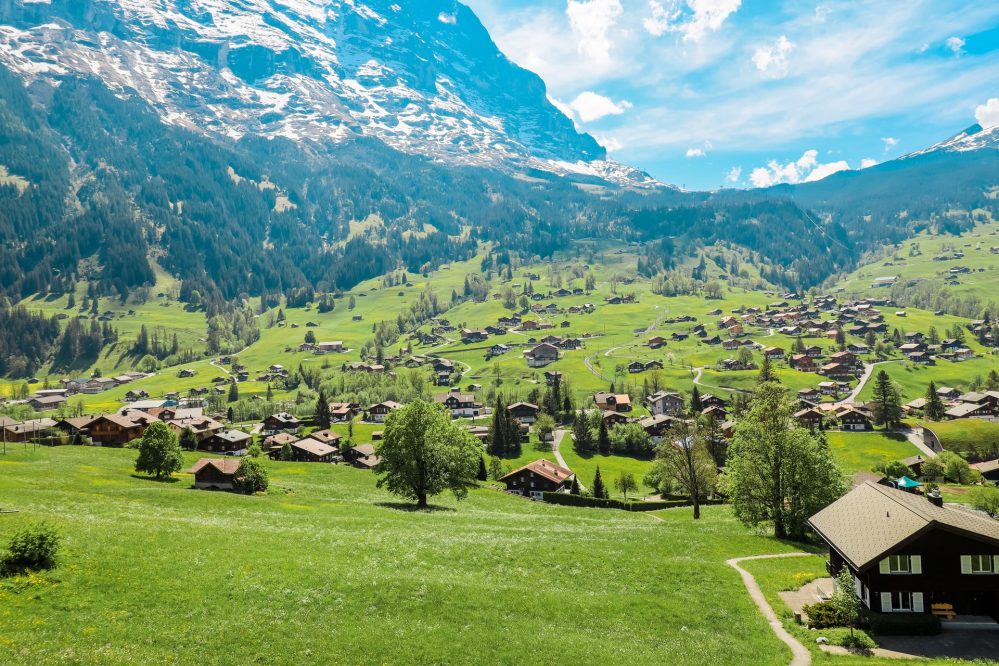 If you've ever thought of spending time in a dream-like village surrounded by mountains and green valleys, Grindelwald is the place for you. Grindelwald was built under the famous North Face of mountain Eiger, a sight that inspires and intimidates you at the same time. This part of Eiger was first climbed in 1938 and attracted hundreds of visitors yearly who battle the rock and try to conquer it.
Grindelwald's alpine pastures are blissful, and with the help of cable cars, it is easy to hit the trails and find mountain lookouts, the Grindelwald Glacier, and lakes.
Mürren
The canton of Bern has plenty of fabulous classic villages, yet none are as high up as Mürren. This one is a former settlement whose design remains recognizable today from the unchanged houses and the Mürren dialect.
Mürren is situated on a sun terrace 1,650 meters above the Lauterbrunnen Valley. A cableway that runs from Stechelberg, near turbulent waterfalls and rock faces, takes you right into the center of this car-free village.
Mürren is a bit isolated, but it's still perfect for an excursion to the Schilthorn. For other hikes, you may have to descend to the valley to begin.
Schynige Platte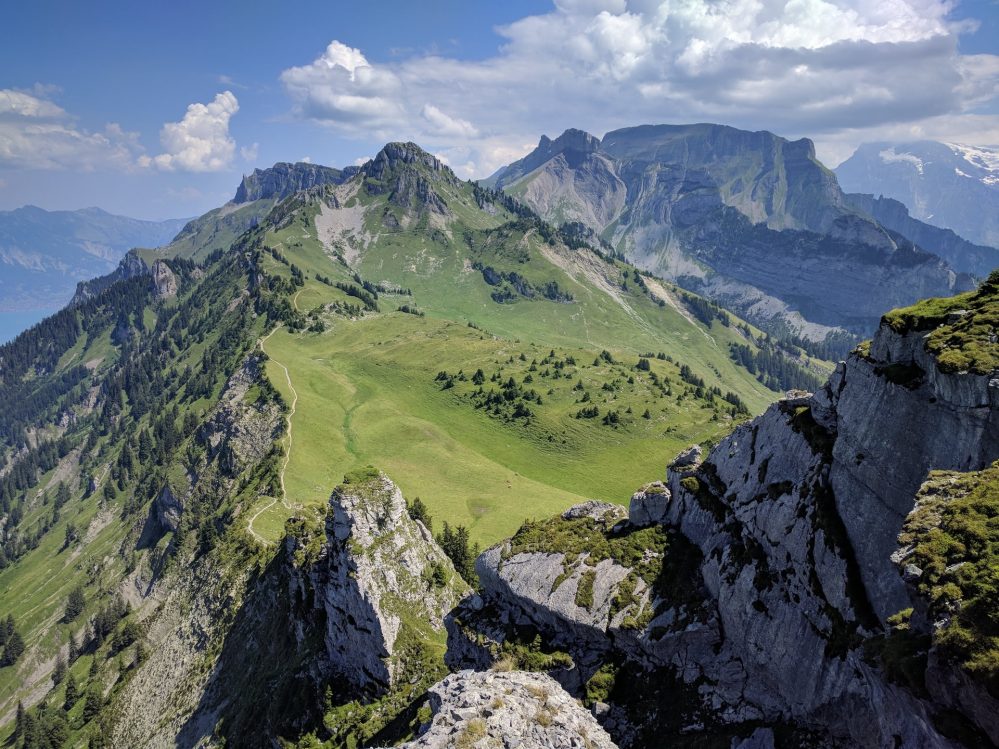 The small mountain of Schynige Platte is surrounded by so many impressive sights that, even though the hike is short, you'll never arrive at the top in time. You'll be sticking around the trail to take pictures and admire everything around you constantly.
It's one of Jungfrau's most easily accessible mountain spots, perfect for families and experienced hikers. The old-fashioned railway that takes you up to Schynige goes through magical (not literally) forests, meadows, flowers, and a landscape that will give you a sense of calmness.
Schilthorn and Piz Gloria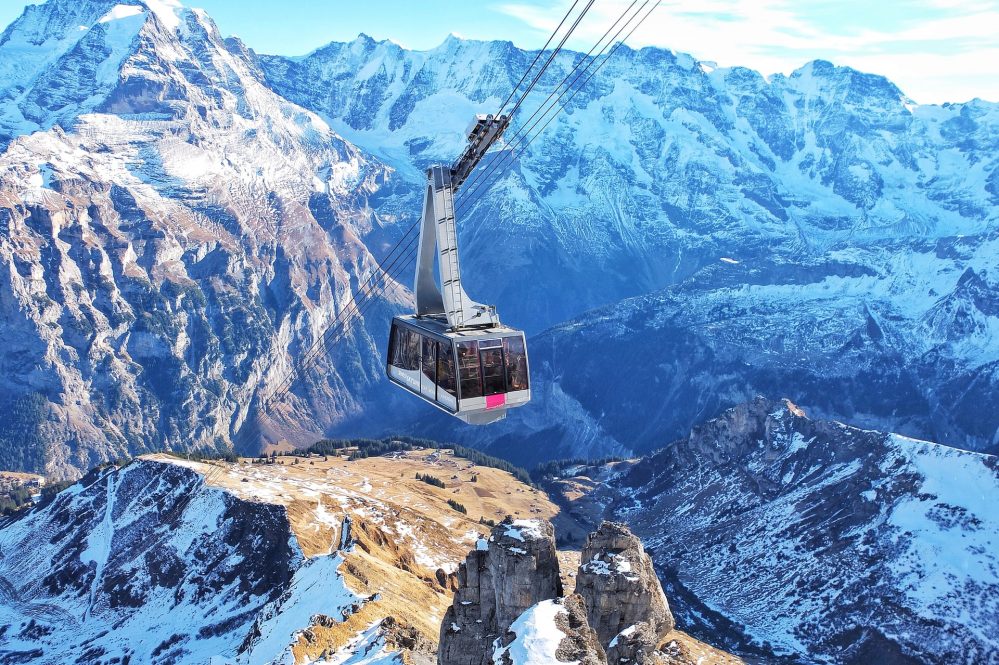 The Schilthorn is a mountain in Switzerland standing at 2,970 meters above sea level. On top of it and surrounded by more than 200 alpine peaks, the Piz Gloria stands proudly. It is one of the highest revolving restaurants in the world, allowing you to look at the glorious Swiss Alps from the comfort of your restaurant table.
Let your eyes wander over spellbinding views of the Eiger, Mönch, and Jungfrau on one side and the blue waters of Lake Thun on the other, all as you eat delicious food and spill your wine, dazed by the beauty surrounding you. And if the weather is clear enough, you can even see the Black Forest in Germany or the Mont Blanc in France.
Walk the Northface Trail
Murren as a whole is a fantastic place to visit, with the Northface Trail being a tourist favorite. It has everything a visitor may need: mountain views (duh), small villas and wooden houses spread amidst the mountains, colorful alpine meadows, and pastures filled with cows and their ringing bells.
This looping walking trail starts from Mürren and goes through some perfect outlook points. You'll see Monch, Eiger, Jungfrau, as well as the Sprutz waterfall. The course is well marked throughout, and you'll simply need to follow the signs placed at junctions.
Hike the Hardergrat Trail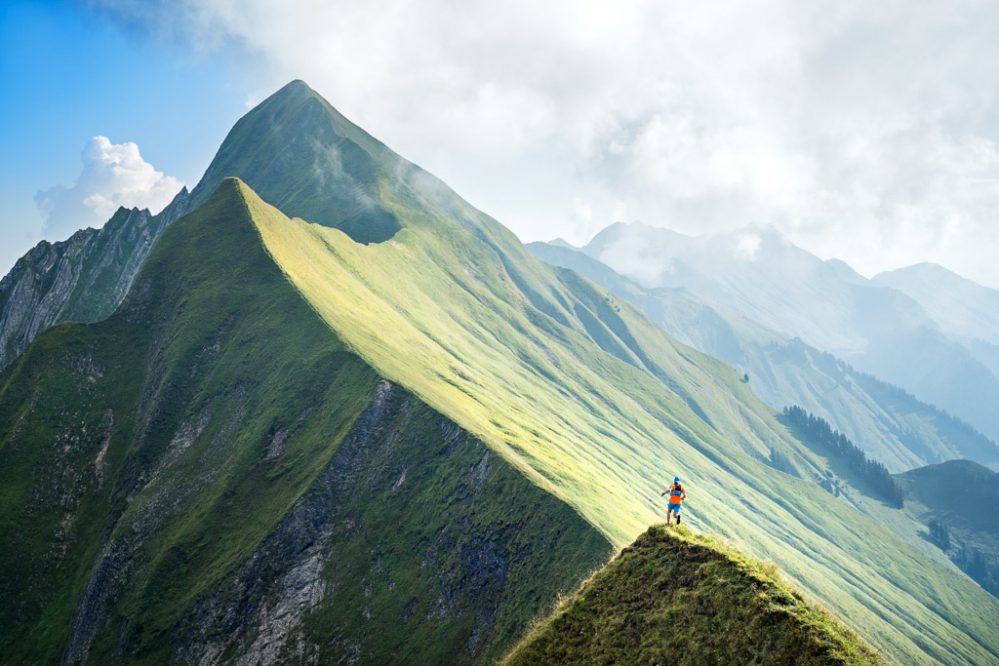 The Hardergrat is one of those trails that looks impossible but is absolutely worth it. Although the trail is long, it provides nonstop geographic features to look at, making it exciting until the end. It has become a classic, and anyone who visits this region knows that the Hardergrat is a must.
Like in all high-altitude places in this region, you'll get yet another view of Eiger, Monch, and Jungfrau, and this time Schreckhorn and Finsteraarhorn as well.
But, the 25km trail is not for those scared of heights since, most of the time, you'll be walking alongside sharp drops that can go up to 1,500 meters deep.
Hike the Blumental Panorama Trail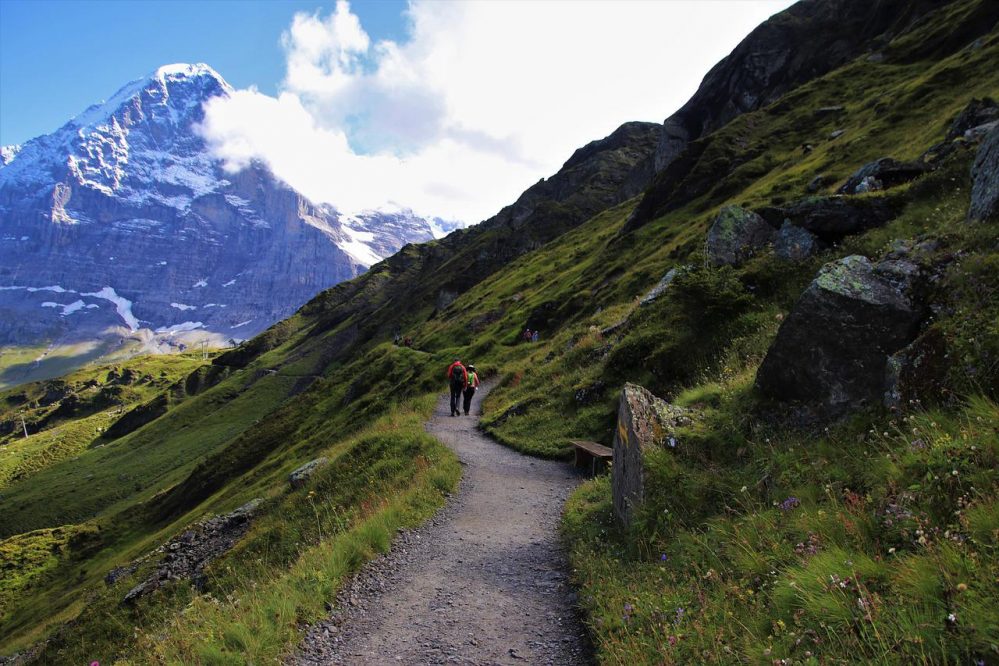 The Blumental Panorama trail is excellent for beginners, especially families who want a pleasant walk or those who aren't that athletic. However, there's a trail for the more experienced climbers that'll take you right to Schilthorn's top. Along the easier way, you'll cross the Murrenbach falls, where you can dip your toes for a refreshing break.
You'll pass through woods, small wooden bridges, go through gates, and finally find yourself in a meadow, face to face with cows and some pigs, strolling and grazing happily in the fields.
Thrill Walk, Birg
The Thrill Walk at Birg leads down into the vertical walls of the imposing cliff. It includes a crawl-through tunnel, glass-bottomed floor (don't worry, you won't fall down), rope and cattle grid, all this for an additional amount of thrill and adventure. The steel structure clings to the rock before going under the observation deck and ends below the cable car station.
First Cliff Walk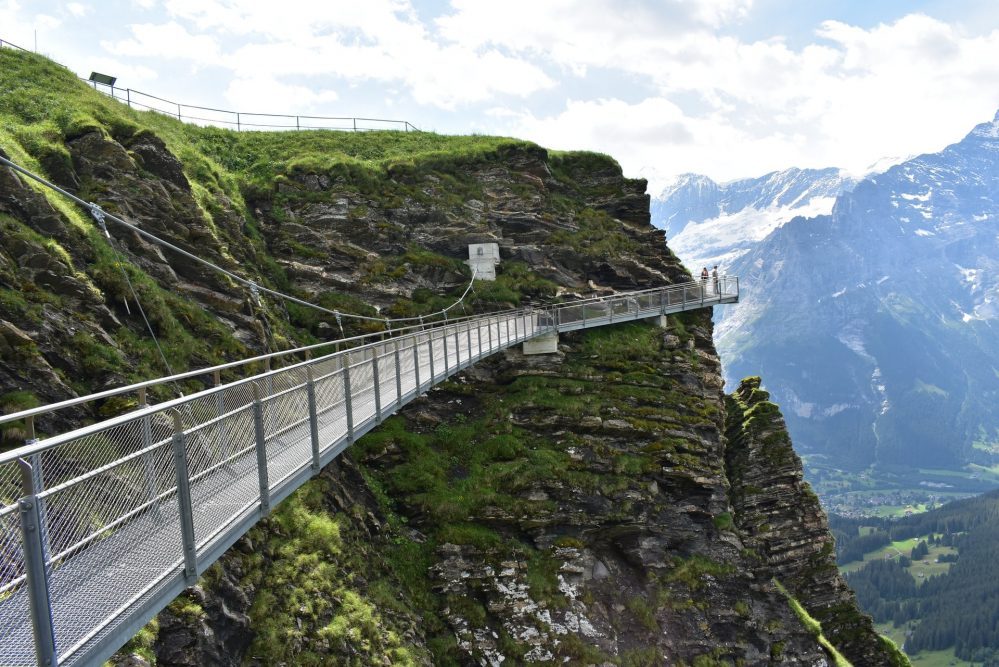 The First Cliff Walk in Grindelwald is an elevated walkway over 2,000 meters high. It's located on the side of the mountain and is one of the greatest attractions Jungfrau has to offer. Not only will you be scared to your core, but the adrenaline will also be unforgettable.
Although some say that the First Cliff Walk is for thrill-seekers only, it's a great experience for everyone; young people and families go there quite a lot to conquer their fear of heights and remember the fantastic experience for the rest of their lives.
The Eiger Trail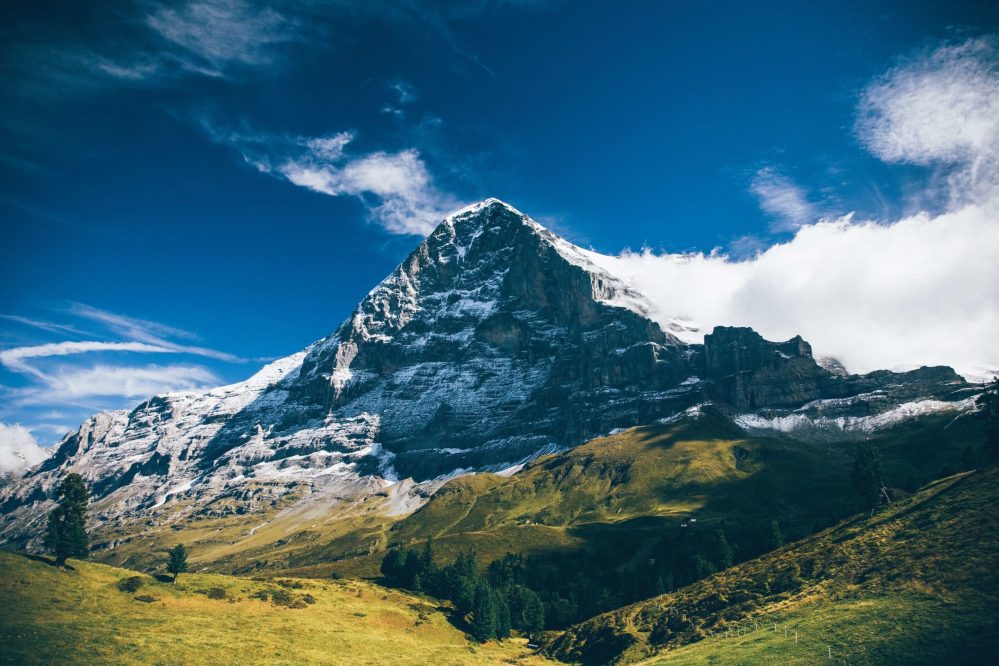 If you haven't gotten enough thrill from our previous suggestions, maybe you should try the Eiger trail. Those who dare to tackle the mesmerizing north face of the Eiger have a trail explicitly made for them.
You'll be climbing metal ladders and walking on hour-long trails, with the difficult sections secured with rope. Your eyes will light up looking at otherworldly views such as the Wetterhorn and the Grosse Scheidegg.
Try Paragliding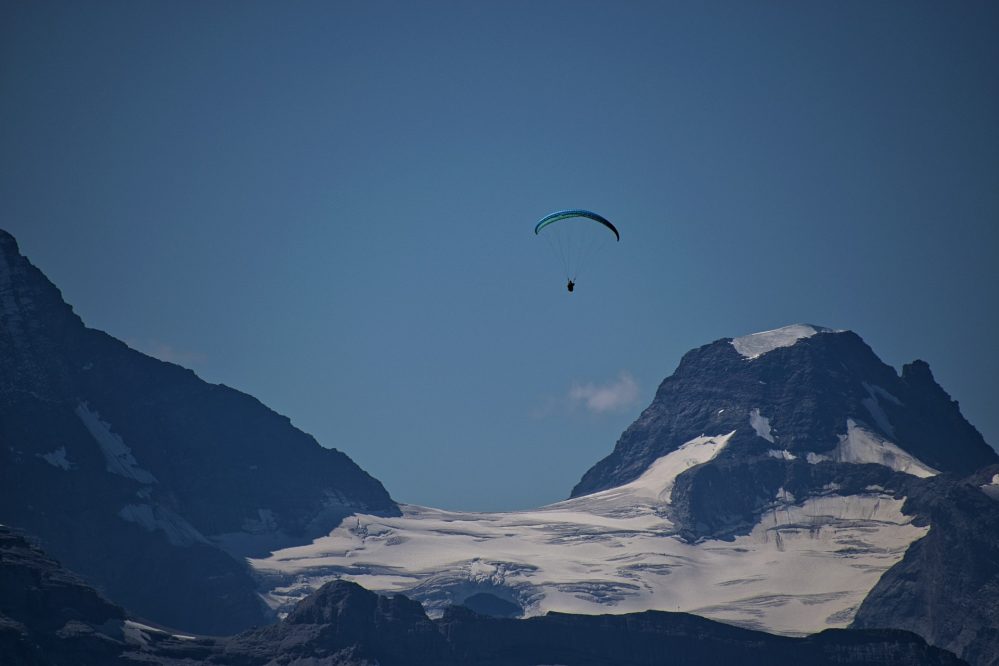 Paragliding in Jungfrau is done by professional pilots who want to share with all non-experienced people the extraordinary sensation of flying. Those who try it once can never forget the feeling, so be careful not to get too addicted to the adrenaline and exhilaration.
Every pilot is fully qualified and has years of experience, so you won't have to be scared at any point during the flight. You can try this once-in-a-lifetime experience with Paragliding Jungfrau or with First Glider. Here's all you need to know about paragliding in Switzerland.
Visit Trummelbach Falls
The Trummelbach waterfalls are genuinely unique, not just in Switzerland but in all of Europe. There are ten glacial waterfalls inside the mountain, all accessible by tunnel lift, and each one is prettier than the other.
The Trümmelbach falls drain the enormous glacial walls of mountains Eiger, Mönch, and Jungfrau at 20,000 liters of water per second. They are also part of UNESCO World Natural Heritage and are protected by Swiss law.
Click here to discover more Swiss waterfalls that you must visit.
Meiringen: Reichenbach Falls & Aare Gorge
The Reichenbach Falls are beautiful, and visiting them is worth it, especially if you're taking the funicular. It was built in 1899 of wooden wagons and gives each person a feeling of nostalgia as it goes nearer and nearer the falls' spraying water. You can also hike up to reach the falls, which takes about 30 minutes.
Another reason people visit Reichenbach is because the famous author Arthur Doyle chose this exact waterfall as the place of death for Sherlock Holmes, the famous detective. If Sherlock Holmes is one of your favorite book/movie characters, then this place is worthwhile as it has plenty of gift shops surrounding Holmes and his many adventures.
The Bottom Line
We have gone through some vital information, locations, and routes of the Jungfrau region, and, as we can see, it's a fantastic place. There are enough activities here to make up for the rest of Switzerland, as you have a little bit of everything in a relatively small area.
From hikes to famous villages, waterfalls, and even mountain tops, visiting Jungfrau is one of the best decisions you could make. However much experience you have and no matter what sort of things you like, you'll find yourself in Jungfrau and have the time of your life.
Frequently Asked Questions (FAQs)
Q: What is the Jungfrau region?
A: The Jungfrau region is an enchanting tourist destination nestled in the Swiss Alps. The region is renowned for its breathtaking alpine landscapes, and the Jungfrau itself is one of the primary peaks in the Bernese Alps.
Q: How can I reach the Jungfrau peak?
A: The most common way to reach the Jungfrau peak, or Jungfraujoch, is via the Jungfrau Railway. The journey starts at the Kleine Scheidegg mountain pass, known for its picturesque views.
Q: What is there to do at the top of Jungfrau?
A: At the top of Jungfrau, or the Jungfraujoch, there are several exciting activities. Visitors can enjoy panoramic views from the Sphinx observation deck, explore the magical Ice Palace, or embark on an adventure along the area's many hiking trails.
Q: What kind of clothing should I wear when visiting Jungfrau?
A: Given the high altitude, it's recommended to dress warmly. Layered clothing, a warm jacket, sun protection, and sturdy footwear are necessary, even in the summertime.
Q: Are there any dining options available at the top of Jungfrau?
A: Yes, Jungfraujoch offers a selection of dining experiences. There are several restaurants that not only offer a range of cuisines to choose from, but also provide unforgettable views of the surrounding peaks.
Q: Can I stay overnight at the top of Jungfrau?
A: Overnight accommodations are not available at the Jungfraujoch. However, numerous accommodation options are available in nearby towns, such as Grindelwald, Lauterbrunnen, and Wengen.
Q: Is the Jungfrau region child-friendly?
A: Yes, the Jungfrau region is very accommodating for families. Activities such as sledging, skiing, and kid-friendly hiking trails make it an excellent destination for visitors of all ages.
Q: What's the best time to visit the Jungfrau region?
A: The Jungfrau region is appealing all year round. The summer months are perfect for hiking and sightseeing, while the winter offers excellent conditions for skiing and snowboarding.
Q: Are there any safety precautions I should be aware of when visiting the Jungfrau?
A: As with any high-altitude destination, visitors should be mindful of potential altitude sickness. Dressing appropriately for the weather is also crucial, and it's always a good idea to check the weather conditions before heading out.
Q: Are guided tours available to the top of Jungfrau?
A: Yes, many tour operators provide guided trips to the Jungfraujoch. These tours often include transportation, a knowledgeable guide, and sometimes even meals, making the experience hassle-free and enriching.