Lauterbrunnen is a U-shaped valley in the Alps with some of Switzerland's most magnificent views. Known as the valley of the 72 waterfalls, Lauterbrunnen is a place of journeys and adventures. Combining the sound of waterfalls with the majestic sights of the mountains Jungfrau, Eiger, Schilthorn, and Monch creates a jaw-dropping experience.
With more than 200 skiing slopes, plentiful hiking trails, magical villages, and numerous adrenaline-pumping activities, visiting Lauterbrunnen is life-changing for anyone who discovers it. Here's an extensive list of all things to do in Lauterbrunnen.
Jungfraujoch Excursion
A trip to the Jungfraujoch is full of ice, snow, and unforgettable moments. At 3,454 meters altitude, the mountain offers visitors the chance to see Europe's longest glacier, 365 days of snow, and a mesmerizing ice palace.
Additionally, you'll experience the mountain as you journey by train or by the tri-cable gondola, hike across the glaciers, and watch a multimedia tour of Jungfraujoch's beautiful history.
Schilthorn Excursion
The Schilthorn mountain stands at 2,970 meters and offers visitors a panorama filled with more than 200 mountain peaks. The whole Jungfrau region can be seen and admired from the Observation Deck, where your camera lens can even capture views of German mountains on clear days.
There are skiing areas, winter and summer hiking opportunities, and a 360-degree restaurant with exquisite food.
Grindelwald Day Trip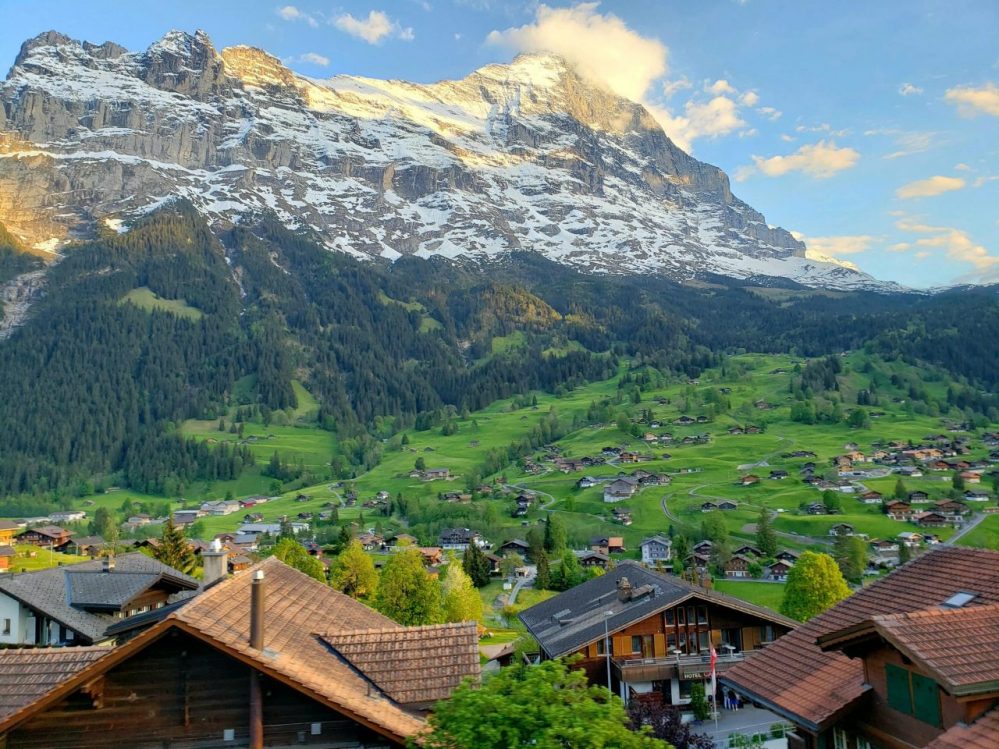 Grindelwald is a small and beautiful town surrounded by the Jungfrau mountain region. Like most mountainous places in Switzerland, Grindelwald is filled with tourists interested in skiing or hiking.
Grindelwald's cable car takes you up the mountains, stopping at Bort (1,570 meters), then at Shreckfeld (1,955 meters), and the third stop is, ironically, mountain First (2,168). There are plenty of activities throughout the ride, with cliff walks, gliding, and hiking being some of the most fun.
Staubbach Falls
As one of the tallest falls in Switzerland, Staubbach Falls stands at about 300 meters and compliments most of your Lauterbrunnen photos. It has a unique falling pattern that can turn into spray and mist that spreads in all directions during the summer.
Staubbach can be reached through narrow pathways and a rock balcony, giving visitors a view from the back of the falls.
Trümmelbach Falls
The ten Trummelbach falls are located inside the mountain and carry the meltwater from the glaciers of mountains Eiger, Monch, and Jungfrau. The water carries boulders around and makes the mountain rumble and thunder.
To reach Trummelbach, the hiking trail will lead inside the mountain, where there's a system of tunnel lifts and platforms that head straight to the falls, which can be seen from small balconies.
Lauterbrunnen Village
The small Lauterbrunnen village is a magical place with around three thousand residents. It's attractive and charming, with shops, takeaway coffees, breakfast diners, and traditional German food restaurants.
The village itself can be explored in a short time; however, it offers some of the most outstanding views in the world. From waterfalls to gigantic mountains, and hiking trails, your eyes will be blessed by the beauty, and you won't wait to explore what nature has to offer.
Wengen Village
Wengen village is a relaxing, car-free, and gorgeous little place in the middle of the Alps. Everything about it is dreamy and fantastic, from the moment you get on a cogwheel train and reach the village full of cute houses and hotels.
In Wengen, everything beautiful about Lauterbrunnen is close by, from the great mountains to viewpoints, paragliding, and fun in the snow.
Mürren Village
Murren is another car-free town at an altitude of 1,650 meters, offering jaw-dropping photography opportunities. As the cable car takes you up to this mountain village, you will feel like the main character in a movie, especially when you see the iconic wooden houses.
In Murren, there are a lot of sun terraces where you can first feast your belly on traditional Swiss food and a cup of coffee and then feast your eyes on the otherworldly mountains.
Iconic Yellow Train to Wengen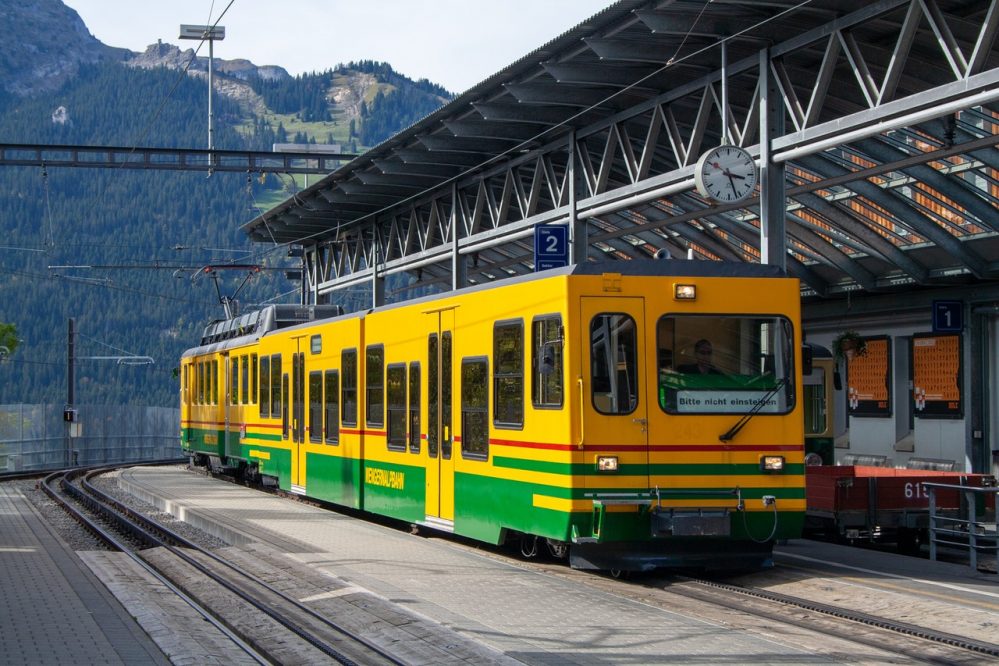 Wengernalpbahn started choo-ing away back in 1893 and is still functional to this day. Its memorable green and yellow colors can be seen from afar as it travels from Lauterbrunnen to Wengen, and from Wengen, it continues to Jungfraujoch's Top of Europe station.
From Lauterbrunnen to Wengen, the trains depart every day of the year every half an hour until evening comes.
Hiking in Lauterbrunnen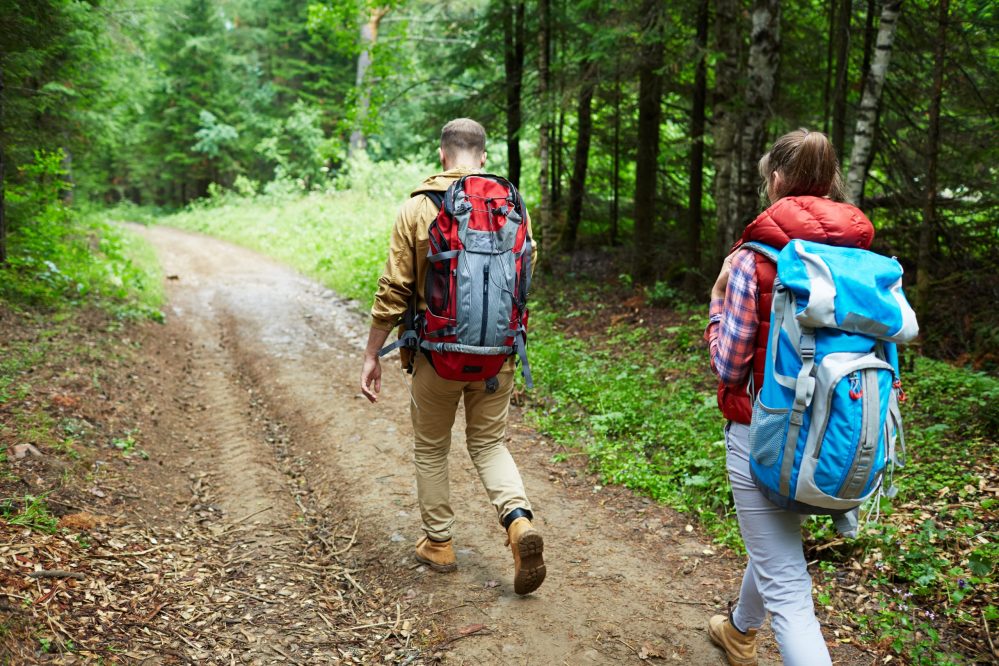 What is Lauterbrunnen known for? If you want your legs sore and your lungs full of clean air, Lauterbrunnen is the perfect place to hike in. There are plenty of exciting trails that will show you Switzerland's rigorous yet rewarding mountains.
Some of the best trails in Lauterbrunnen are: the Tanzbodeli Overlook, Mountain First to Schynige Platte, Männlichen to Wengen, Lauterbrunnen to Trummelbach Falls, Obersteinberg Loop, and the Chilchabalm Loop.
Do Mountain Biking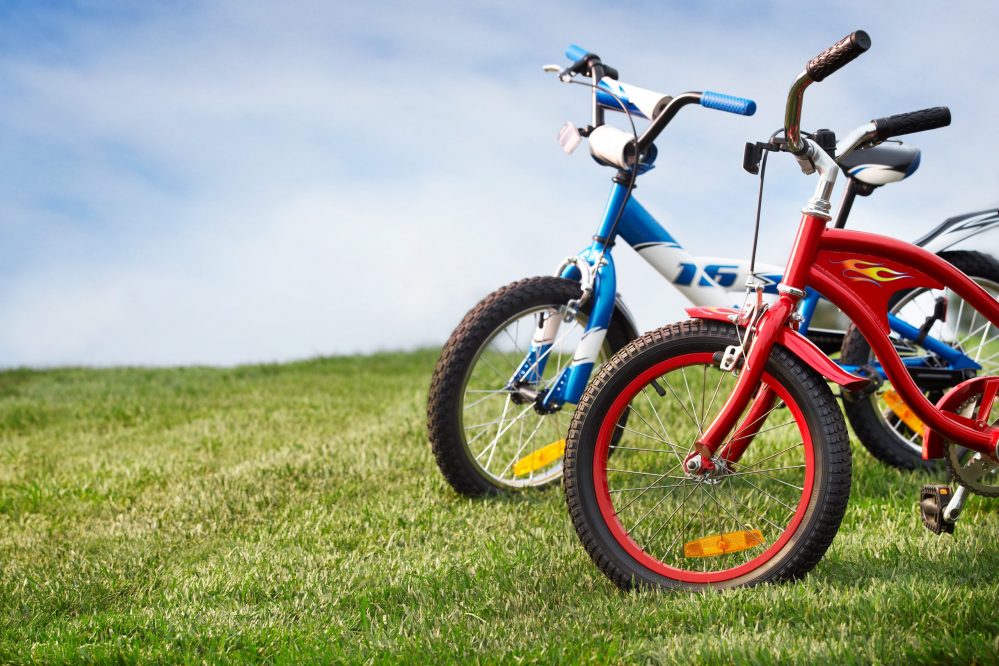 If you don't actually want sore legs and want to vroom-vroom your way around Switzerland's mountains, look no further: you've got plenty of mountain biking routes in Lauterbrunnen.
Some of them are the loops of Winteregg-Murren, Murren-Lauterbrunnen, Lauterbrunnen-Staubbach Falls, and Winteregg-Lauterbrunnen, all accessible from different points and available for all skill levels.
Paragliding and Skydiving in Lauterbrunnen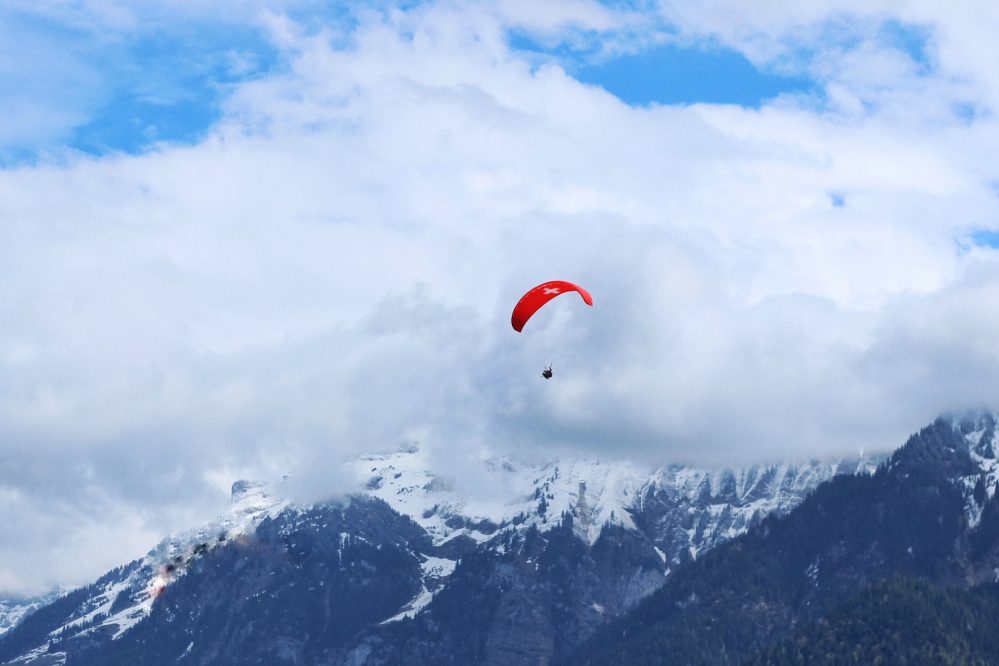 For the people that want to experience Lauterbrunnen's mountain from a different perspective, there are plenty of options to see it from above, as you're falling down or gliding across the air.
Skydiving in Lauterbrunnen is done from helicopters that offer you a scenic 10-minute ride through the mountains and up to 4,000 meters. After the jump, you'll have an adrenaline-rushing 45 seconds of free-falling until your parachute opens and you safely land in the Lauterbrunnen valley.
Paragliding in Lauterbrunnen is possible 365 days a year, with longer flights during the summer. You'll experience the gorgeous valley of the waterfalls and its surrounding peaks from a bird's point of view, as an overwhelming sense of freedom and joy conquers you.
Experience the Skyline Walk at Birg
If you like adrenaline and have no fear of heights, the Birg skyline walk is your ideal experience. It's a horizontal platform built on a very steep, vertical cliff, where it feels like nothing is holding you, and you'll fall at any moment. No worries, you (probably) won't fall. No, really, it's actually very safe and makes for some excellent pictures.
Mürren to Gimmelwald via Ferrata
This is a 2.2-kilometer journey through an iron walkway, tightrope, and cliff wall, going over the Lauterbrunnen valley and its rushing rivers. If you smiled at this terrifying idea, you're probably an ordinary person who likes normal activities (not).
This odyssey is open from June to October and lasts approximately three hours. You'll need equipment, such as hiking shoes, a helmet, and a pair of gloves to be completely safe and sound throughout the entire walk.
30-Minute Scenic Helicopter Over Lauterbrunnen & Jungfraujoch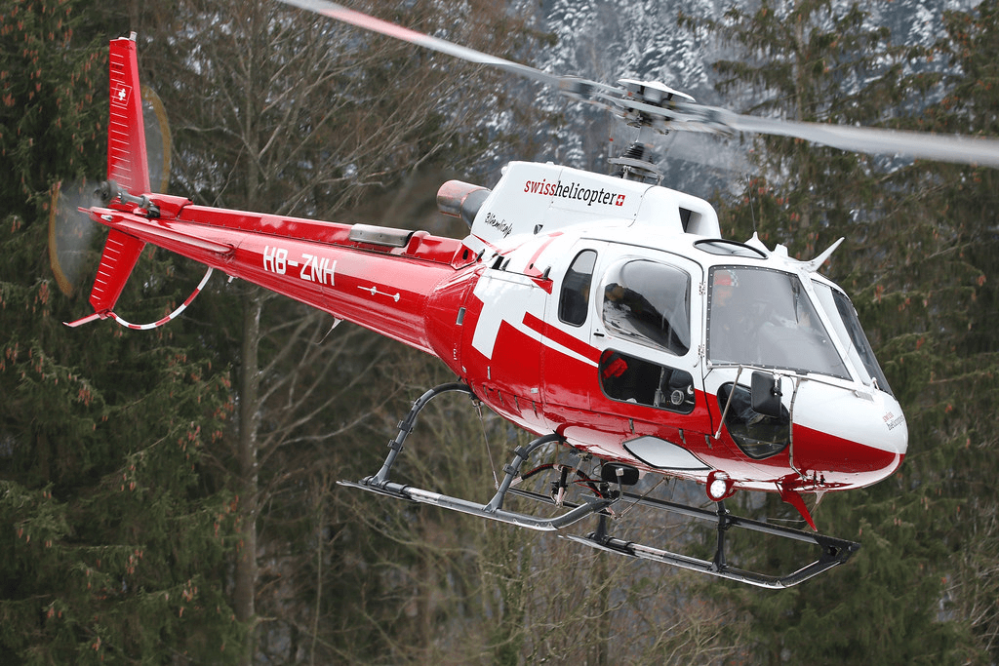 If you can't get enough of the Alps near Lauterbrunnen, another way to see them closely is with a helicopter ride taking you across the highest mountains in the region.
The 30-minute ride takes you from Lauterbrunnen over the Eiger, Monch, and Jungfrau mountains, the Aletsch and Petersgrat glaciers, mountain Schilthorn, and then back to Lauterbrunnen.
Discover the Hamlet of Isenfluh
The charming Isenfluh settlement stands 400 meters above Lauterbrunnen; a short walk away from the hiking trails and reachable by car or bus. Standing at an altitude of 1,085 meters above sea level, Isenfluh is the perfect getaway from the noise of tourists. In this small village, you'll enjoy the panorama, the quiet, and the true Alpine nature of Switzerland.
Ride the Rack Railway to Schynige Platte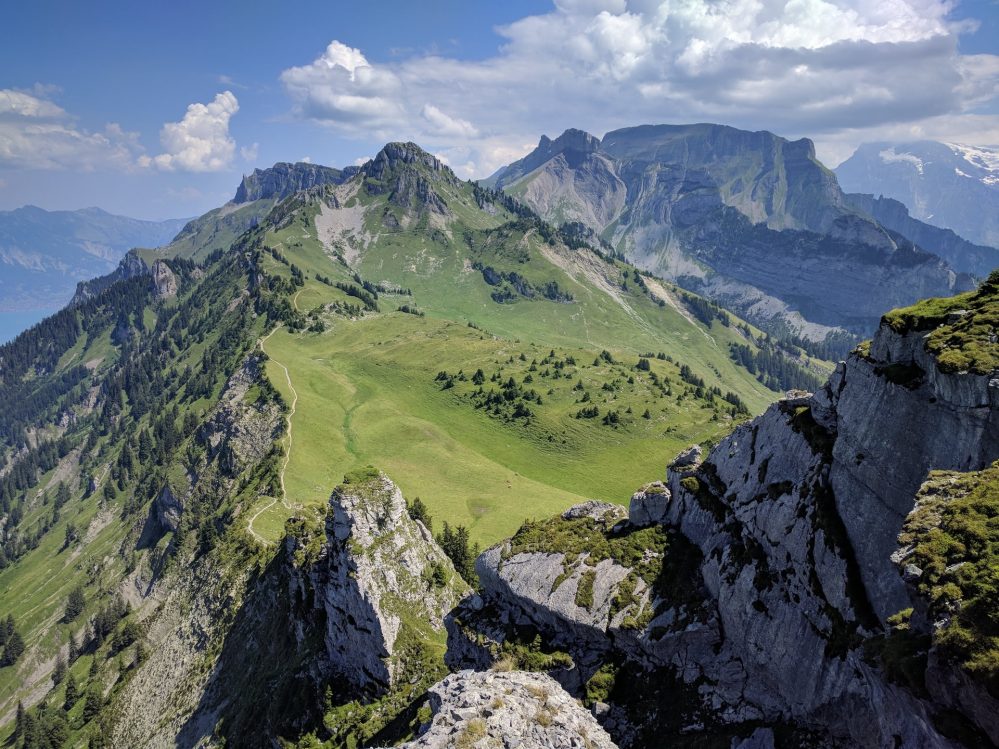 Built in 1893, the cogwheel railway taking people from Wilderswil to Schynige Platte is still a superb manner of experiencing the Swiss Alps, specifically the Eiger, Monch, and Jungfrau mountains.
With a length of 7,2 kilometers and a height of up to 1,420 meters, the rack railway goes through forests, pastures, and stunning lakes that look straight out of a movie.
Visit Interlaken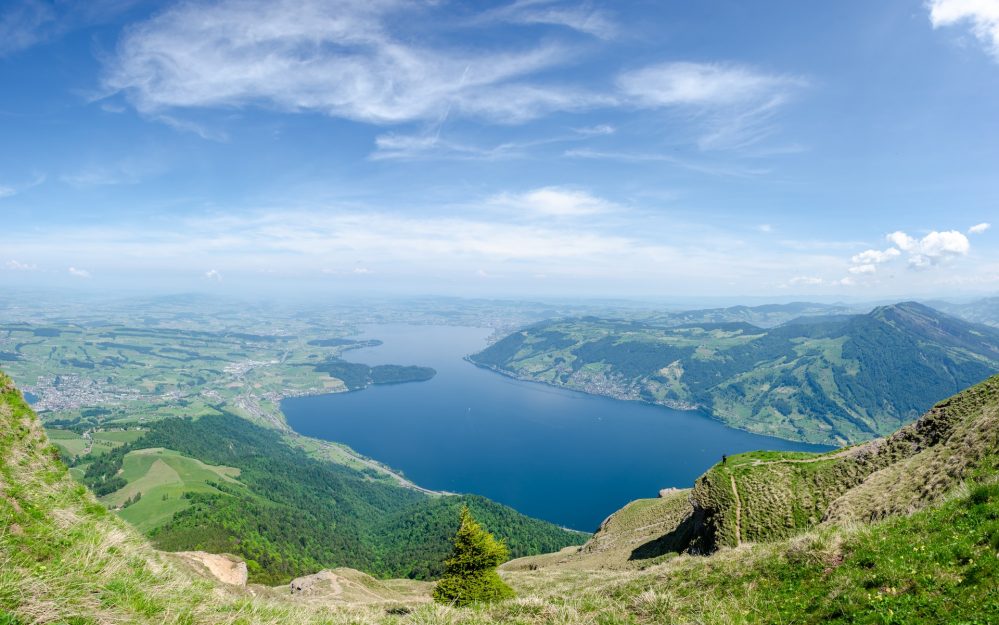 Interlaken is an exquisite location near Lauterbrunnen that offers the ultimate Swiss experience. Based between two lakes, Thun and Brienz, and with the Jungfrau, Monch, and Eiger mountains in the background, Interlaken is the place for holidays.
It's an ideal starting point for trips, excursions, hikes, and skiing with all the central tourist locations nearby. Additionally, you can explore the villages and towns of Beatenberg, Habkern, Wilderswil, and Harder Kulm and learn more about traditional Switzerland.
Visit the Iconic Lauterbrunnen Church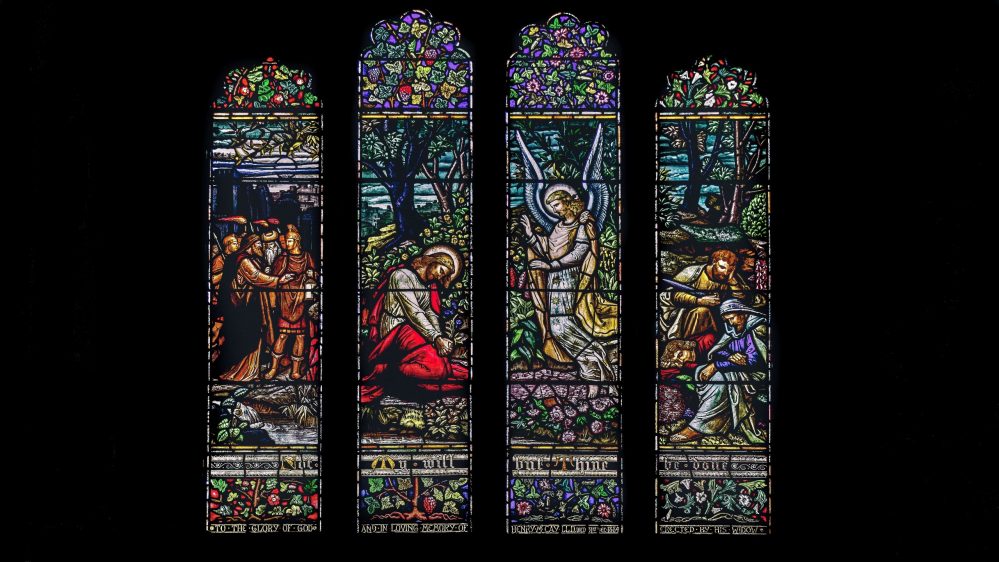 The Lauterbrunnen Church is a significant landmark of the village, with a symbolic alpine build and a charming but modest look. You can hear the bells toll through the valley, and it appears in most Lauterbrunnen pictures. The church is quite vital to the community, and it adds character and essence to the little town.
Bottom Line
There are certain positive moments and places that stick with us for the rest of our lives. We cherish and remember them any time we get the chance and hope to go back and experience them once more.
Lauterbrunnen gives this exact feeling to hundreds and thousands of people worldwide with all that it has to offer. A village located in a beautiful valley, Lauterbrunnen has utilized all the gifts of nature and has become a tourist destination like no other.
If you also want a life-changing experience or just something nice to look at, visit Lauterbrunnen and you won't regret it, ever.