Welcome to our newest blog post, where we're journeying to the heart of Europe to delve into the 'best places to live in Switzerland.' Home to unparalleled natural beauty, historic charm, world-renowned gastronomy, and high living standards, Switzerland boasts an abundance of picturesque towns and vibrant cities that consistently rank among the best places to live globally.
From the tranquil lakeside settlements to bustling urban centers, our exploration across the Swiss landscape will reveal the charm, opportunities, and lifestyle that make these places unique. So whether you're dreaming of a serene mountain retreat, a lively cosmopolitan lifestyle, or the perfect balance of both, our guide to the 'best places to live in Switzerland' promises a comprehensive and insightful look into what these stunning locations have to offer.
Join us as we explore the rich tapestry of Swiss life and uncover the myriad reasons why Switzerland could be your perfect home.
The Best Places To Live in Switzerland
Deciding on which city to live in Switzerland might be a challenge, but thankfully you have a variety of choices depending on your preferences. The fact that four cities of Switzerland were ranked in the top 50 best cities for expats made identifying the best cities a lot easier.
Since Switzerland is one of the safest places to live and visit, each city is highly secure and has a high quality of life. So, before moving to your new life abroad, make sure you get all the information about the best places to live in Switzerland.
Geneva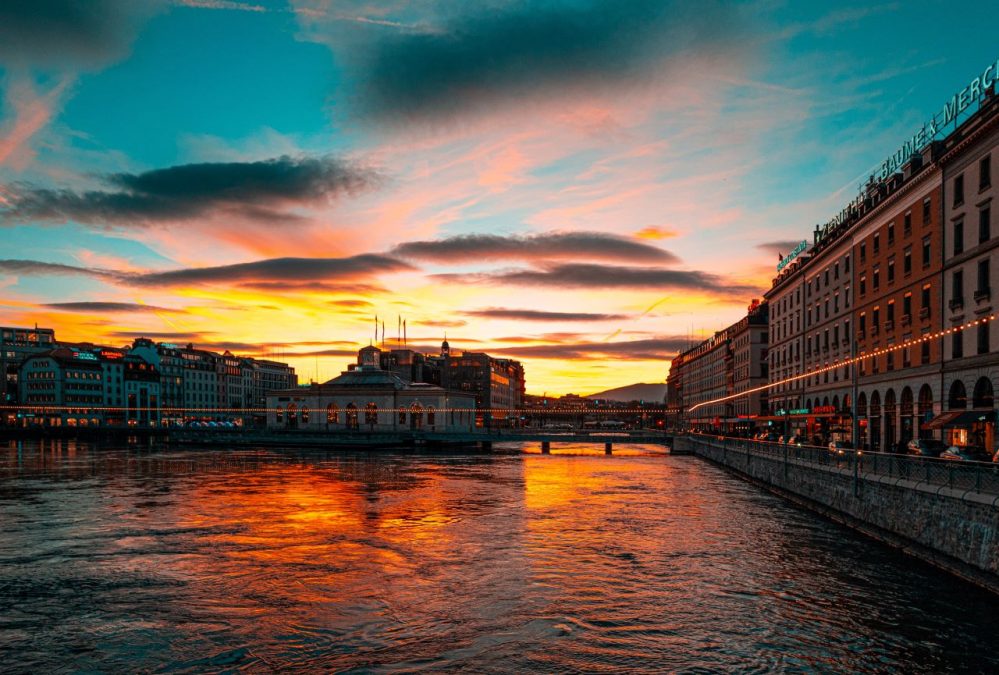 Geneva, the second-largest city in Switzerland, is home to 203,856 residents. It is stretched along Lake Geneva, and it is one of the most cosmopolitan cities globally. Another characteristic of this French-speaking city is that it is home to the world's most well-known organizations such as the United Nations (UN), World Health Organization (WHO), and Red Cross, accounting for the large number of diplomats and officials there.
Considering that Geneva is a big city, the cost of living is also high. According to the World Economic Forum, Geneva is the seventh most expensive city globally. Foyers and residences will charge you between CHF 300 to CHF 600 per month. But you can save money on rent by finding a roommate to share an apartment with.
Zurich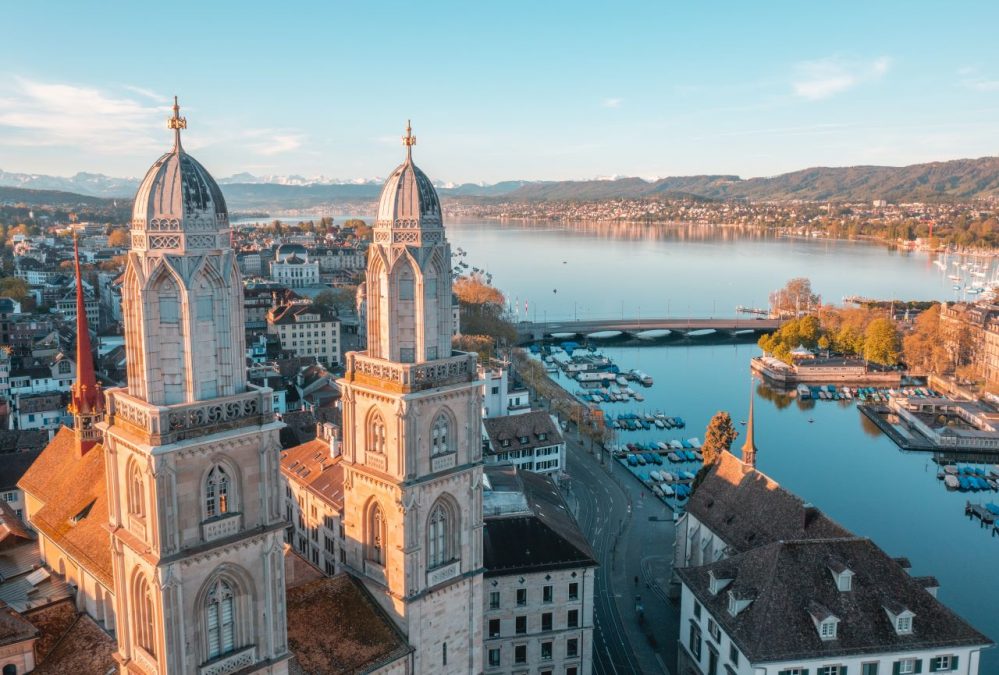 Zurich, the biggest city in Switzerland, is home to 434,335 residents. This German-speaking town is known for its excellent links to the most significant cities of Europe and for being home to the largest communities of expats in Switzerland.
Generally known as a financial epicenter of Switzerland, Zurich is also popular for all the cultural and entertainment opportunities during summertime and wintertime, such as visiting the old town, enjoying the nightlife, or swimming in Swiss lakes and rivers. Moreover, you can ski on the resorts not far from the city, visit museums, or indulge in Swiss cuisine during wintertime. All these come at a cost; after all, Zurich is one of the most expensive cities in Europe. So you can expect to pay a total of CHF 182,698 for rent and other monthly expenses.
Winterthur
This German-speaking city has one of the largest expat populations in Switzerland. The sixth-largest city by population is home to over 110,000 residents. Winterthur is also a cultural city known for its museums and art galleries.
Many expats choose to relocate to Winterthur since it is in the Zurich canton and is only 20 minutes away from Zurich, not to mention that the rental house and house prices are lower than in Zurich.
Lugano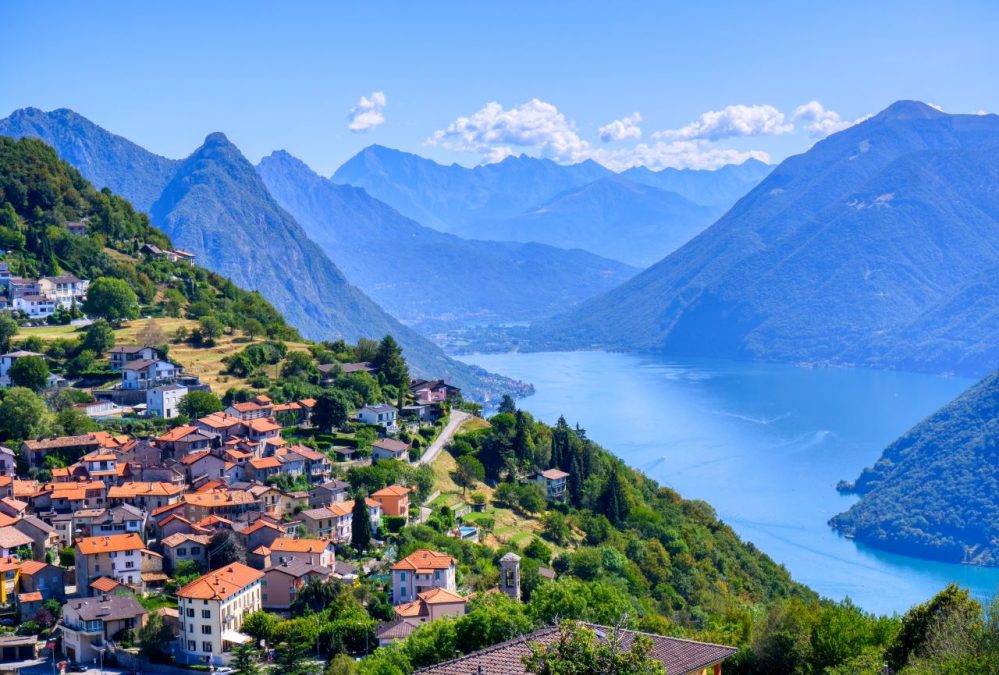 This Italian-speaking city is just one hour away from the Italian border. It is home to 62,315 residents, 35% of which are expats. The town sits on the beautiful Lake Lugano, surrounded by the Lugano Prealps mountains. It is the most popular destination since the landscape attracts tourists, making it the third most important financial and business center in Switzerland.
Naturally, the cost of living in this city is relatively high. A single person's monthly expenses are around CHF 1,426, plus an extra CHF 2,350 for renting an apartment in the city center.
Bern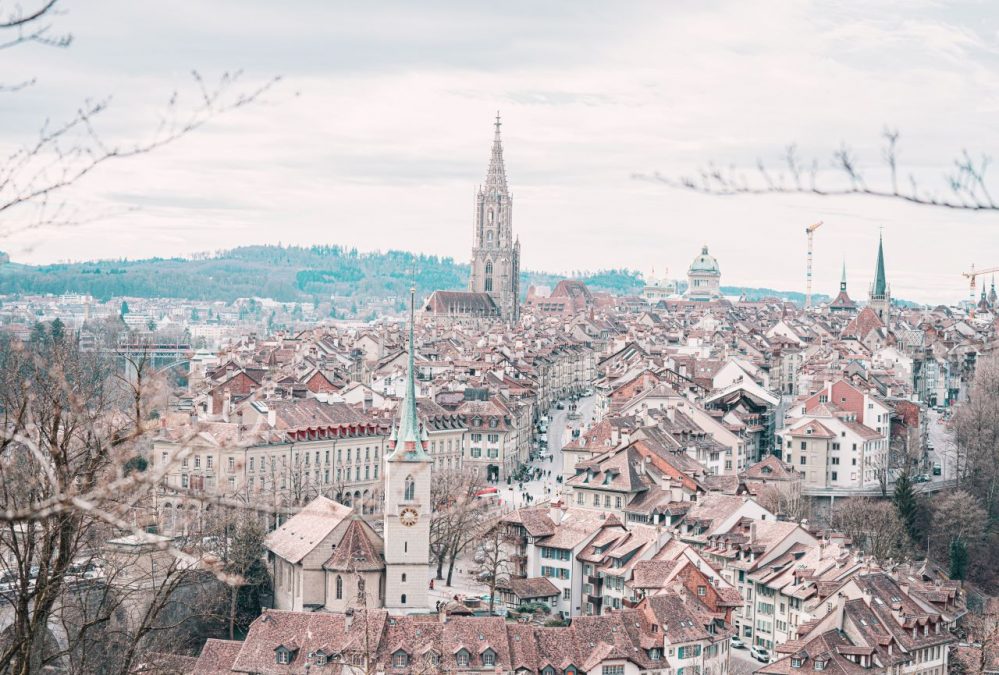 Bern, Switzerland's capital, is home to 144,000 residents, 17% of which are expats. The city lies on the Swiss plateau, between the Jura and the Alps.
Bern's beauty and uniqueness make the city very popular and visited by tourists and shoppers. If you happen to relocate to Bern, you will have many fun things to do; Bern's Old Town (Berner Altstadt) should be the first thing on your list. Afterward, visit Barenpark, from where the city gets its symbol (the bear), then move to Einstein House, Parliament building, Botanic Garden, and don't forget to see Bern's spooky side.
The capital of Switzerland is an expensive city to live in. A single person's monthly costs are CHF 1,366 without the cost of the rent. Whereas renting a three-bedroom apartment may cost around CHF 2,375.
St. Gallen
St. Gallen is home to 167,000 residents. The city is known for the highly-rated University of St. Gallen, the best business school in Europe. It is located near the German border, where Swiss-German is the most commonly spoken language.
St. Gallen is a great city to live in for expats working in Zurich because of the lower cost of living. The apartment rent in the city center might cost you around CHF 1,917 per month.
Basel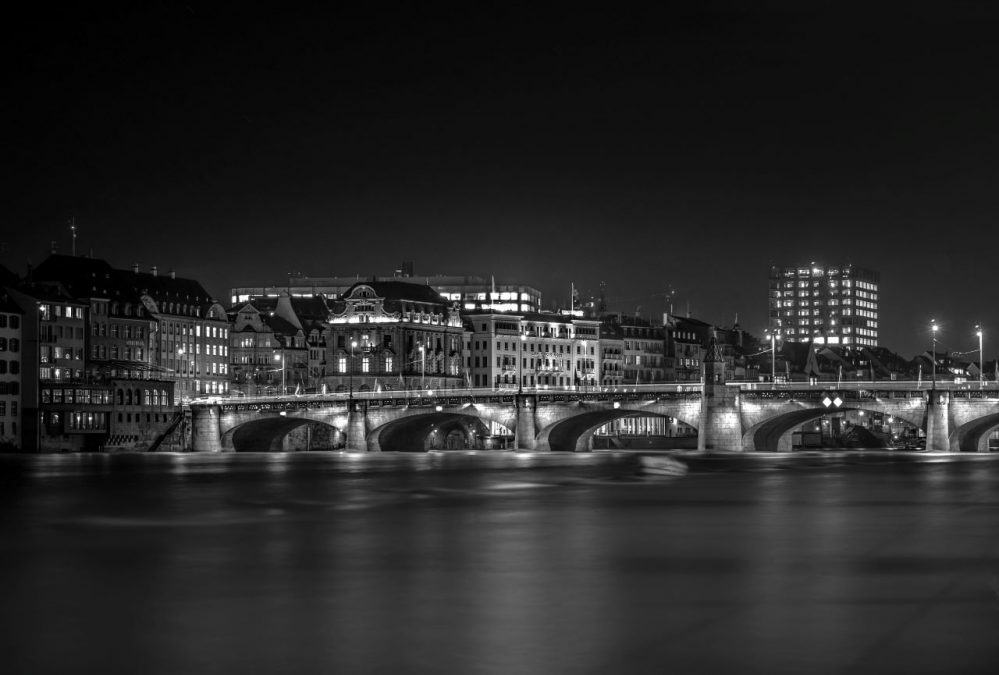 Basel, the third most populous city in Switzerland, is home to 175,000 residents with a large student population. The town sits near the French and German border, which is attractive to most people because they have the opportunity to go shopping in France, live in Germany, or work in Switzerland. The official spoken language in Basel is German.
There are plenty of things to do in this city for people who live there. The city has many great bars, restaurants, and boutique shops. You can also visit the old town, Basel's zoo, or make a wish in Basel's wish book.
However, Basel is an expensive city to live in. A single person's monthly costs are about CHF 2,542 for rent and CHF 1,544 for other monthly expenses. As for the crime rates in Basel, they are meager, and you are safe at any time as the police are strict about any violation.
Zug
The multicultural city of Zug is home to around 30,000 residents. It has access to larger cities as well as the Swiss countryside since it is located between Zurich and Lucerne, thus offering people alternatives.
Although house prices are increasing in the area, the cost of living in Zug is higher than the average but cheaper than most big cities. You can expect to pay about CHF 5,343 for your monthly expenses, including rent. And rest assured, Zug is a very safe place to live in with a low level of crime.
Lucerne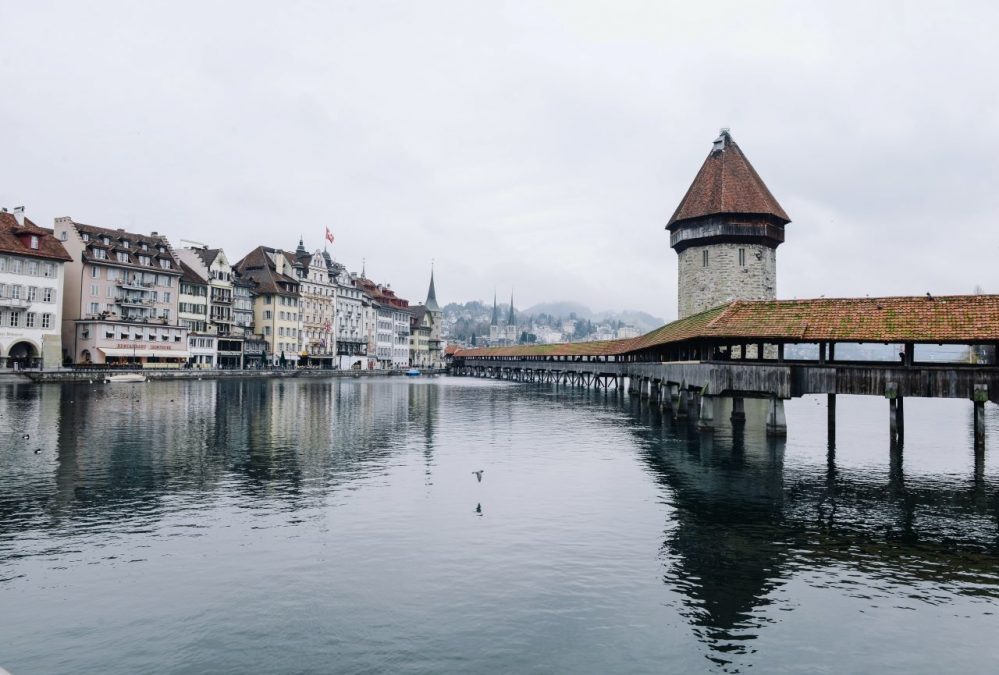 Lucerne, the German-speaking city, is home to around 82,000 residents. It is known for its beautiful lakeside locations, clean water, and mountains surrounding the city. These characteristics attract expats and tourists who have come for Alpine hiking, boating on one the lake, or visiting the world-famous The Chapel Bridge, a wooden bridge that dates back to the 14th century. Lucerne is known for many other activities, like taking "The Dragon Ride," walking around the old town of Lucerne, going to see the lion monument, and experiencing the Queen of the Mountain.
Living in Lucerne is very expensive. A single person's monthly expenses are about CHF 3,945, including rent. However, Lucerne is an extraordinarily safe and friendly place, and the crime rate is meager.
Lausanne
Lausanne, another lakeside city, is home to about 420,000 residents. The French-speaking city is located 62 kilometers northwest of Geneva. It is known as the smallest city globally with its metro system, and it is home to several international corporations. It is an attraction to expats because of the town's famous jazz festival.
Unfortunately, living in Lausanne is not cheap either. A single person's monthly expenses are CHF 1,434 and an extra CHF 2,953 for rent per month.
Sion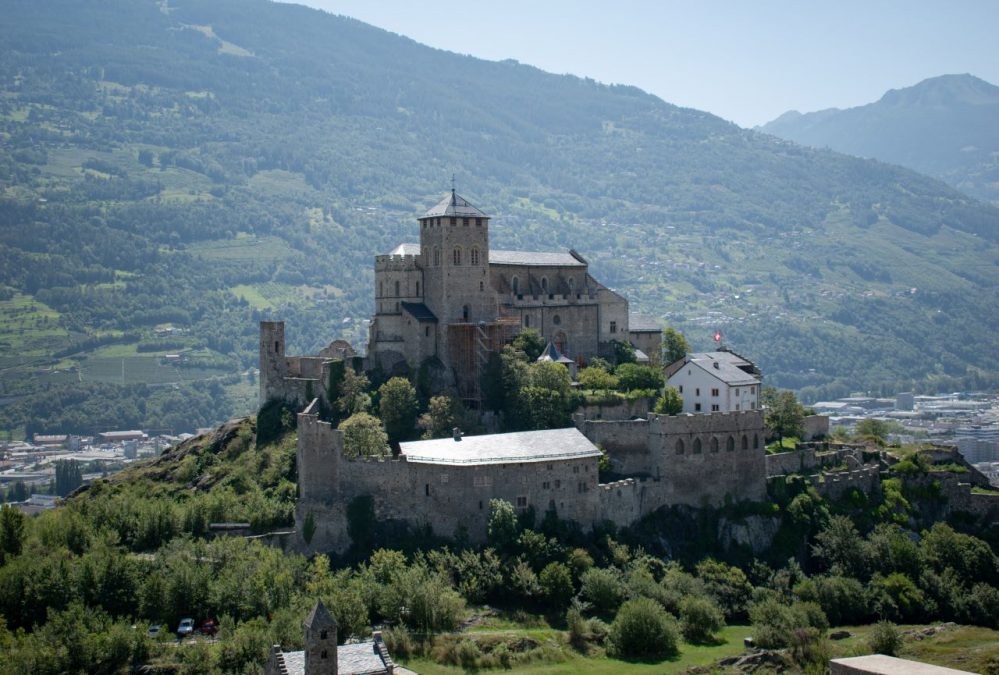 This French-speaking city is surrounded by huge mountains and two castles and is home to 34,978 residents. The railway station of Sion connects you to bigger cities like Zurich and Bern, but tourists usually prefer exploring the high mountains rather than the big cities.
You can find the most famous ski resorts outside Sion, such as Zermatt, that attract many tourists to Sion. But the cost of living in Sion is pretty high; expect to pay up to CHF 1,787 on rent for a three-bedroom apartment.
La Chaux-de-Fonds
La Chaux-de-Fonds, the fourth-largest city in the French-speaking part of Switzerland, is home to 36,915 residents. It is located in the Jura mountains, a few kilometers south of the French border. Hence the town's most common language is French.
The town is characterized by a chessboard, designated as a UNESCO World Heritage Site in 2019, created after a catastrophic fire. It also has a watch museum, "Musée International de L'Horlogerie," dedicated to the history of time measurement. Thus, attracting a lot of visitors.
One person's average cost of living in La Chaux-de-Fonds is about CHF 3315 per month, including rent. However, the crime levels in this city are low, so you will most likely be safe. However be aware of your goods, just in case.
Conclusion
Each one of these cities has its own unique characteristics of Swiss life in its own multilingual and safe way. However, the most common feature among these cities is that the cost of living is noticeably higher than the most global expat destinations. So, keep that in mind, and start saving money before moving to Switzerland.
FAQs – Best Places to Live in Switzerland
What criteria were used to determine the "best places to live" in Switzerland?
We evaluated several key factors, including safety, job opportunities, quality of education, healthcare facilities, cost of living, natural beauty, recreational activities, and overall quality of life. Our goal was to provide a comprehensive overview of the most desirable places to live in Switzerland.
Are the listed places suitable for expats and foreigners?
Absolutely! Switzerland is known for its international appeal, and the places mentioned in our blog are well-suited for expats and foreigners. Many Swiss cities and towns have diverse and welcoming communities, making it easy for newcomers to integrate into Swiss society.
Which city offers the best job opportunities in Switzerland?
While Zurich and Geneva are known for their strong job markets, other cities like Basel, Bern, and Lausanne also have thriving industries and employment opportunities. The choice ultimately depends on your field of work and personal preferences.
How do I find accommodation in these places?
Finding accommodation in Switzerland can be competitive, especially in popular cities. Online platforms, such as local real estate websites, and networking through expat groups can be helpful. Engaging a reputable real estate agent can also ease the process.
Is Switzerland an expensive country to live in?
Switzerland is known for its high living costs, particularly in major cities. While salaries are generally higher to offset these costs, it's essential to budget and plan accordingly. Smaller towns may offer a more affordable lifestyle.
Do I need to learn the local language to live in these places?
Switzerland has four official languages: German, French, Italian, and Romansh. While many Swiss residents speak English, learning the local language will significantly enhance your experience and integration into the community.
What is the healthcare system like in these areas?
Switzerland has an excellent healthcare system, with both private and public options available. Major cities and towns offer top-notch medical facilities and specialists. Expats are generally required to have health insurance to access healthcare services.
Are these places family-friendly?
Switzerland is known for its family-friendly environment. The listed places offer good schools, parks, recreational activities, and a safe atmosphere for families with children.
How is the public transportation system in these areas?
Switzerland boasts an efficient and extensive public transportation network, including trains, trams, and buses. You can rely on public transport to commute within cities and explore the stunning Swiss landscapes.
Are there any expat communities in these places?
Yes, most of the cities and towns mentioned in our blog have well-established expat communities. You can easily connect with fellow expats through social events, clubs, and online platforms to make your transition smoother.
Remember, the "best place to live" is subjective and depends on individual preferences and priorities. Conduct thorough research, visit the locations if possible, and consider your personal needs before making any decisions. Happy exploring and best of luck with your move to Switzerland!