Basel — the city of art lovers. Forty museums spread around the city show how much its residents love and appreciate art. This number of museums makes Basel the city with the highest density of museums in the country.
With the Rhine river that goes through the city, it makes the city scenic and appealing, making it difficult for people to turn their eyes the other way. Fortunately for the city, Basel is in the center of the triangle where three states meet. Germany and France are just across the border for everyone that might get tempted to visit them.
Basel is one of the three largest and oldest cities here, and this makes it worth visiting as you'll have plenty of things to do. So, if you plan on paying it a visit, here are the ten best things to do while in Basel.
1. Make Your Own Paper at Basel Paper Mill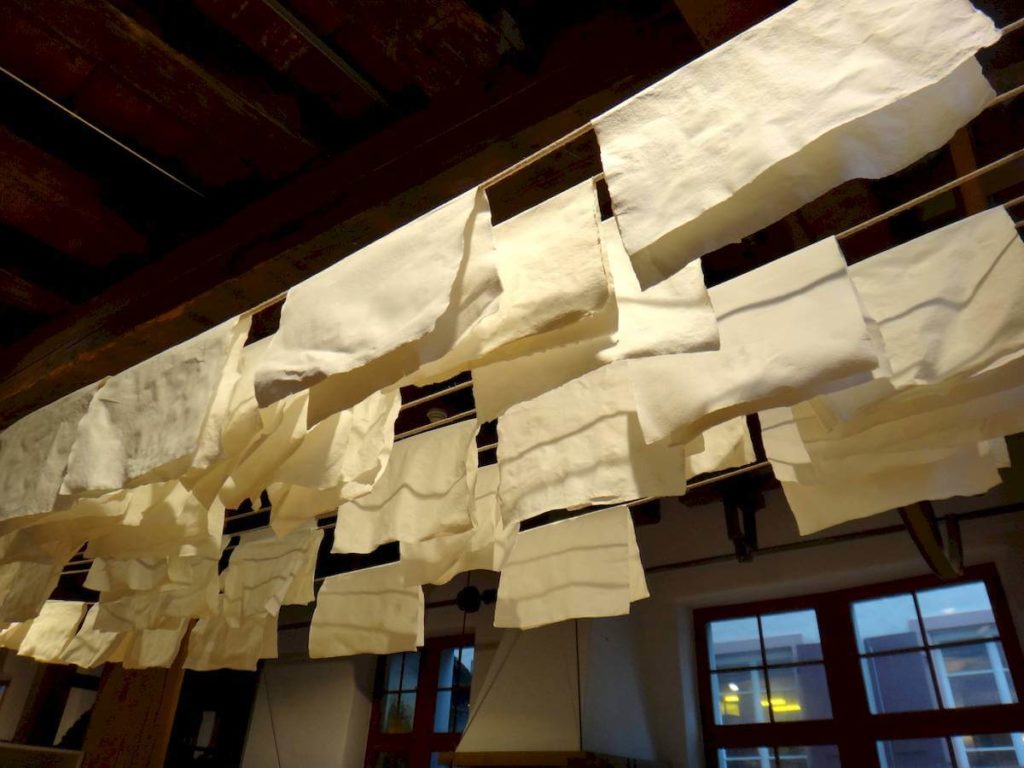 One tourist attraction that you should go and visit for yourself is Basel Paper Mill or as it is known locally Basler Papiermühle. Situated on a four-floor medieval mill, the museum is full of informative sessions where you can get informed and see for yourself the papermaking and printing processes from the different printing devices of different eras. Something that makes this museum special is that you, too, as a visitor, get to make paper and take it with you as a souvenir.
A visit to the Basel Paper Mill will take you an afternoon, but we're sure that those three or four hours will fly by when you get in there. Prices range from CHF 9 for kids, CHF 13 for students, and CHF 15 for adults. The Paper Mill opens its doors for visitors from Tuesday to Sunday from 11:00-17:00.
2. Indulge Your Sweet Tooth in Basel Chocolate Shops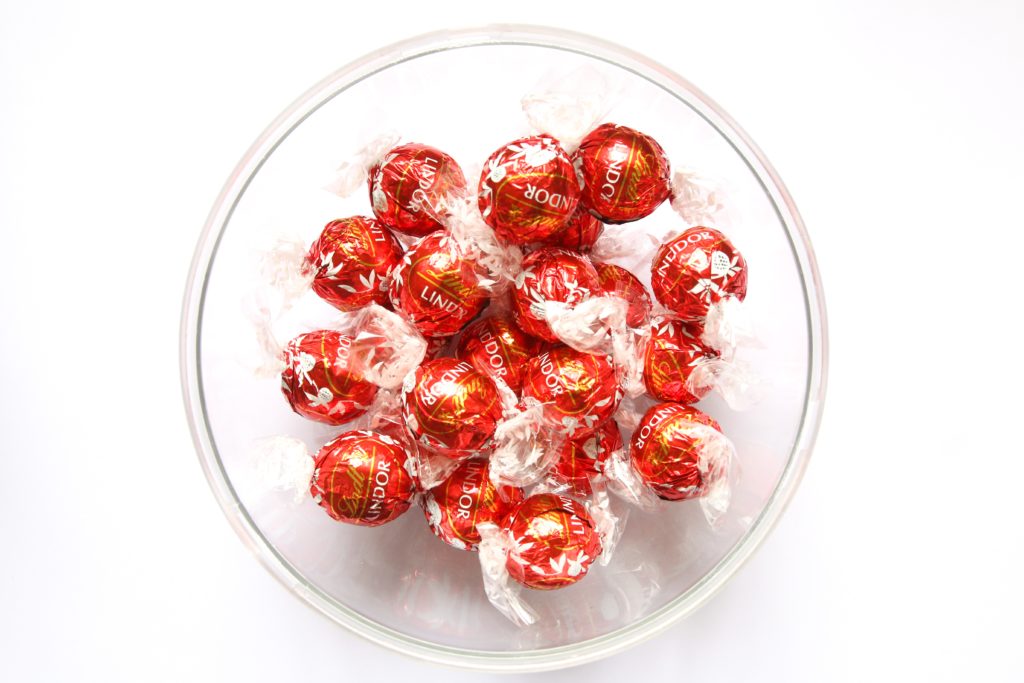 Calling all chocolate lovers: Don't leave Basel without having a taste of the chocolates there. All those that had the chance to do so confirm that there is something about Swiss chocolate that you can't find anywhere else. The number of chocolates you can savor is entirely up to you. So, make sure you find some time when in Basel to visit some of the most famous chocolatiers in the city. In chocolatiers such as Confiserie Sprüngli, Läckerli Huus, Confiserie Brandli, or Confiserie Bachman, you can find what can only be described as sweet chocolates that melt in your mouth.
3. Have a Walk in the Old Town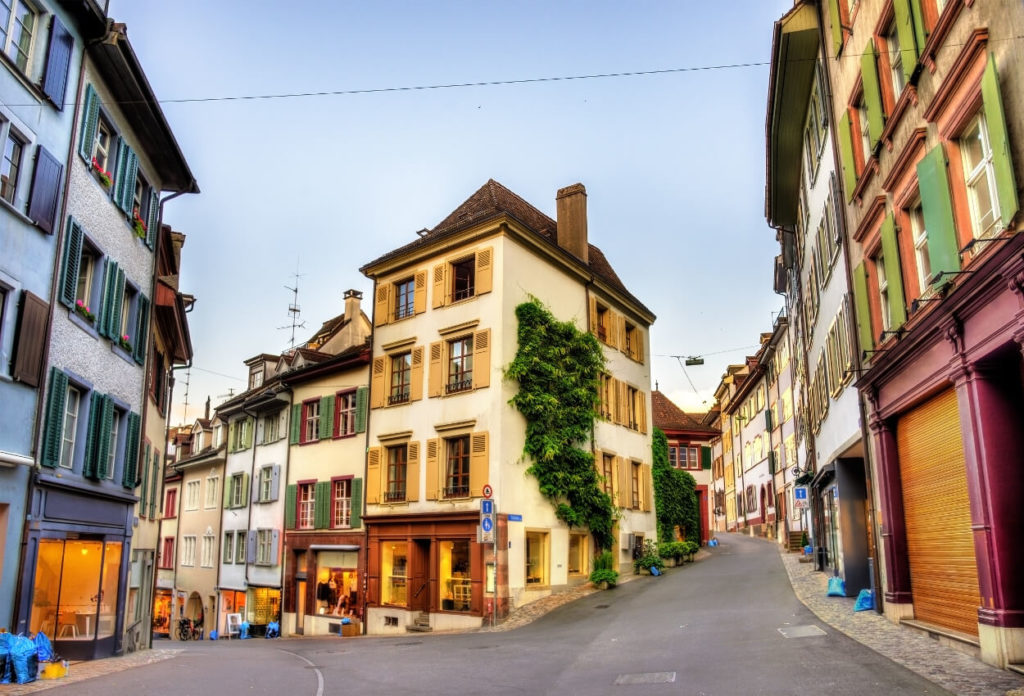 Altstadt in Basel is characterized by architectural diversity. Once you put step on its roads, you'll see buildings that belong to different periods of time, starting from the 15th century to the present times. Despite the diversity of the buildings, you'll notice that there's harmony between them.
There are five tours of the old town marked with blue signs which you can follow to experience the town. Since Altstadt isn't that big, you can discover it on foot. The tourist office suggests you take walks around Grossbasel and Kleinbasel located on the left bank, respectively, on the right bank of the Rhine river.
As you walk through the town, keep in mind that you're walking on the same streets once walked by Erasmus, the famous Dutch scholar.
4. Go and See the Tinguely Fountain
The unique fountain in Basel is named after its creator, Jean Tinguely. He was a famous Swiss sculptor, mostly known for his kinetic art. At the center of his art was his work with the machines. Everything about them was appealing to him. That's why he created a water fountain with machines in the place where the old town's theatre used to be. There he put nine different machines powered with low-voltage currents, giving people the feeling that they're playing and talking to each other in the water just as the actors and dancers did on the very same stage years ago.
5. Grab a Bite or Two of Basler Läckerli
In case you're ever in Basel, grabbing a bite of the Basler Läckerli is a must. Basler Läckerli is a hard, spiced Swiss biscuit made with almonds, hazelnuts, honey, candied orange, lemon peel, and Kirsch. Those cookies are a specialty of Basel going back to the Middle Ages. They're mostly known as Christmas cookies; however, you can find and buy them throughout the year.
6. Visit the Basel Zoo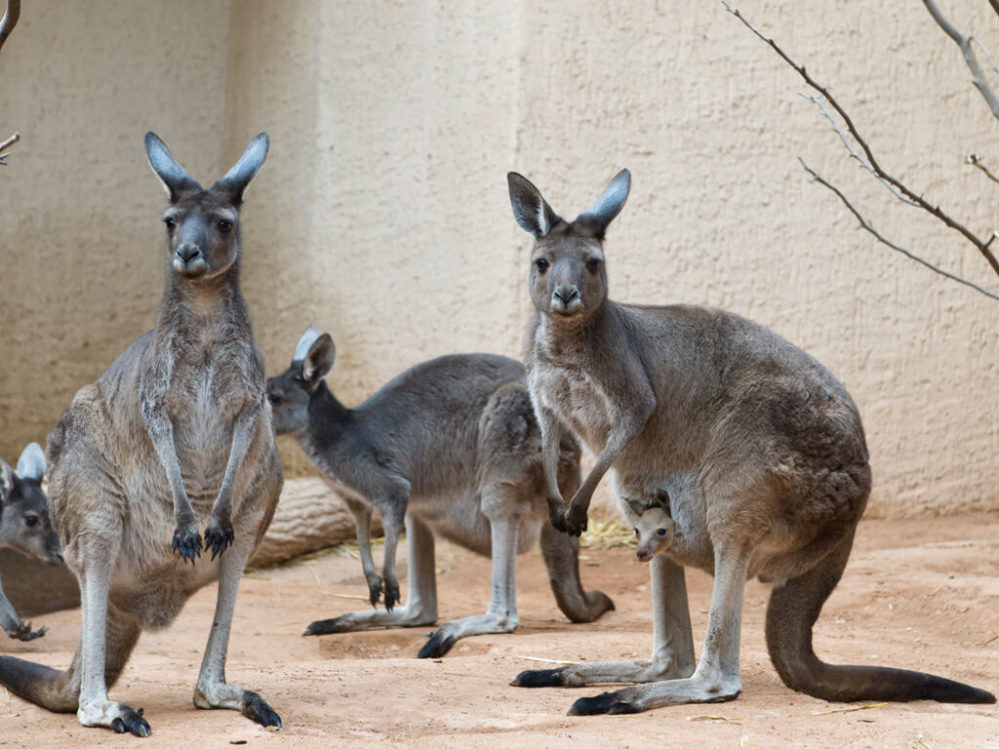 While there may be many zoos in Switzerland, none can come close to the high diversity of Basel's zoo. It's the oldest and largest one in the country. In this zoo, there are 640 species for you to look at. You're allowed to take pictures and videos if they're going to be used for non-commercial purposes.
Some of the activities there include watching the staff feeding the species in the aquarium, sea lions and pelicans, watching the penguins walk in the garden during the winter, and many other activities.
Basel's zoo requires its visitors to pay an entrance fee. The prices range from:
CHF 10 for children from 6-15 years old
CHF 15 for young people from 16-24 years old
CHF 21 for adults until 61 years old
CHF 19 for people from 62 years old
The zoo opens its doors daily for visitors from 8:00 to 17:30. The closing hours differ from month to month. While in the winter, the zoo is available until 17:30, in spring and summer, the closing hours may extend to 18:00 and 18:30.
7. Make a Wish on the Basel's Wish Book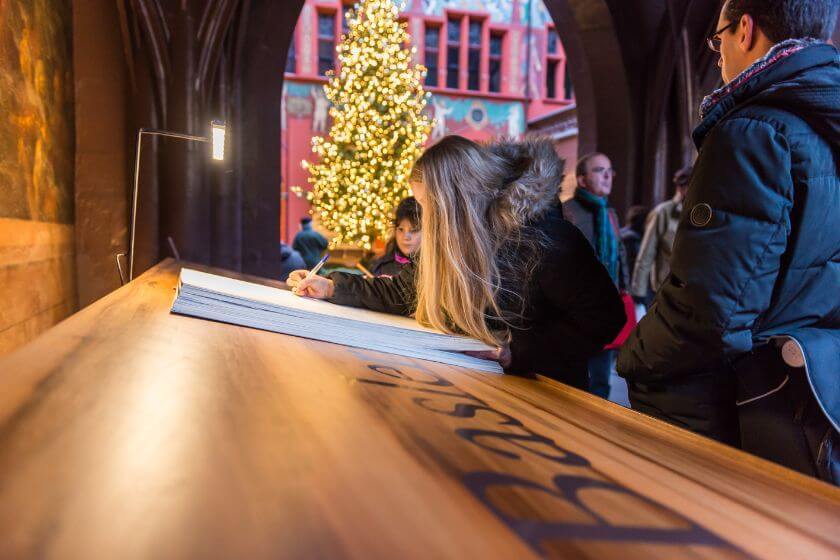 Basel's wish book, or as it's known locally Basler Wunschbuch, is a part of the city's Christmas celebrations. From the 28th of November until the 2nd of January, the book is available for you and all other visitors in the inner courtyard of the Town Hall to express your most private innermost wishes. The book's format is of medieval codex filled with thousands of big and small needs and wishes. The wish book in Basel was the first of its kind in Switzerland for a while, and then this practice started to be used in several other Swiss cities.
8. Hop in the Christmas Ferry
Being in Basel at Christmas time and not hopping on the Christmas ferry? No way. The Klingental Ferry transforms itself into a Christmas ferry with its decorations and enchanting festive atmosphere. You'll need to pay a low price in exchange for a ride on this ferry from Grossbasel to Kleinbasel. Only CHF 0.80 for children, dogs, and strollers, and CHF 1.60 for adults. The boat is available to you at Christmas time and throughout the year from Monday to Friday from 11:00-17:00.
9. Visit the Art Collections at Kunstmuseum Basel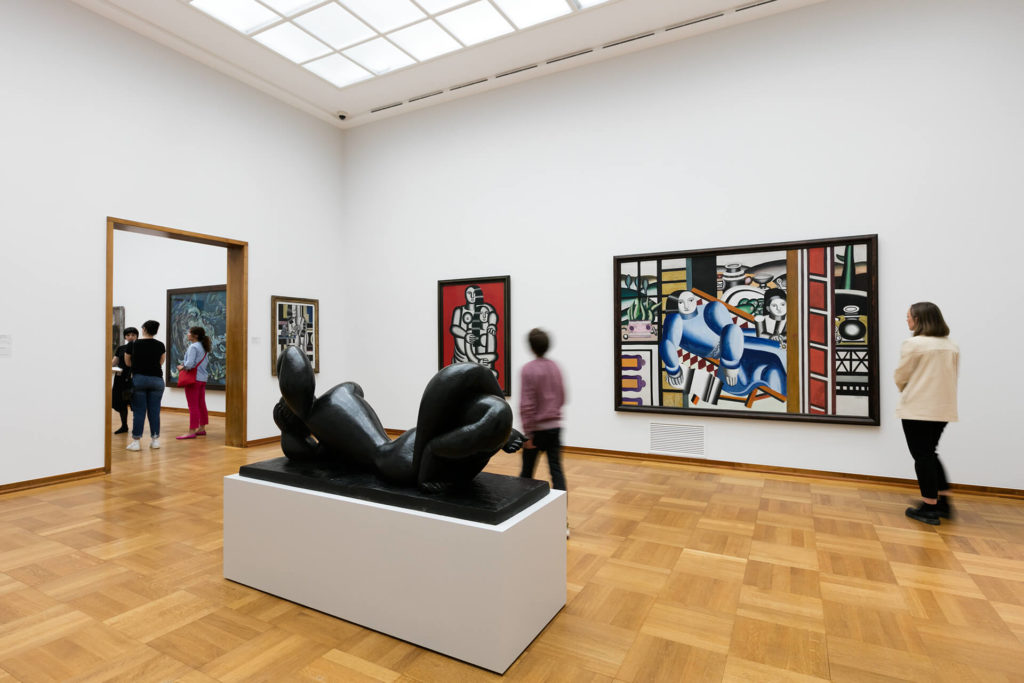 All art lovers that want to see a mixture of art collections in one place, Kunstmuseum Basel, is the place to go. There you'll have the opportunity to see art pieces from different periods in art. Starting with the period of Renaissance and its representatives: Konrad Witz, Lucas Cranach the Elder, and Hans Holbein. Pieces from Dutch artists such as Rembrandt, Brueghel the Elder, and Rubens are also available for you to see there. An array of pieces from the 19th century by Van Gogh, Monet, Cezanne, Manet, and Gauguin are all there for you to admire. A room in Kunstmuseum is reserved only for the pieces of Picasso. The 20th century is represented quite well in Kunstmuseum by Giacometti, Klee, Franz Marc, Braque, and Chagall.
Kunstmuseum's opening times are from Tuesday to Sunday from 10-18. You can buy tickets online or at the ticket counter at the building. Prices range from CHF 16-CHF 26 for the all-in-one special exhibition, including collection and exhibition. Free of charge are those that accompany children under 12, those that accompany disabled people, etc.
10. Join the Autumn Fair in Basel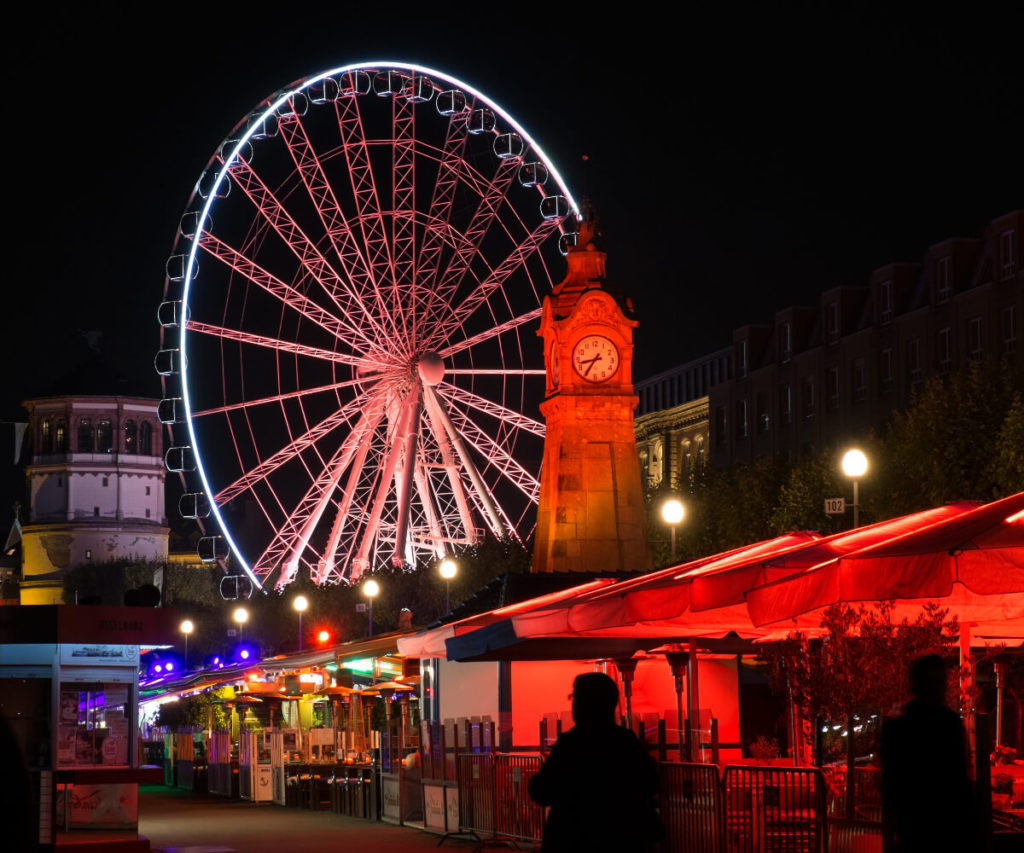 Basel's Autumn Fair is far from your average fair. It's the biggest and the oldest one in the whole of Switzerland. It starts on October 24th and lasts until November 10th. This fair draws more than one million people to Basel. This fair is very popular among the neighboring states, attracting them to join it too. This event is all about food and drinks and having lots of fun. The fair takes place in five different areas of town.
All funfair rides enthusiasts will have plenty to do in this fair. Many rides, such as Drop Tower, will carry you that high in the sky where you'll feel dizzy while also rewarding you with a panoramic view of the city and then dropping you down, giving adrenaline-craving people what they need.
The fair is the ideal place for chocolate and sugary-treat lovers. Almost every stand you'll walk by will have something to offer you. From Massmogge candy, roasted almonds, and Magenbroot cookies to Beggeschmutz chocolates, you can find everything at this fair.
Now that you know what you're going to do when embarking in Basel, there's only one thing left for you to do. Pack your bags, travel there, and have fun as never before.