Swiss public transport is efficient, reliable, clean and most importantly safe. However, the quality does come with a price, and the tickets are not low-priced. Switzerland's approach to integrated land use and the use of public transport has led to the country being ranked amongst the top countries in the world for quality of life. With such an advanced public transport it is easy to see why one of the main characteristics of Swiss people is punctuality.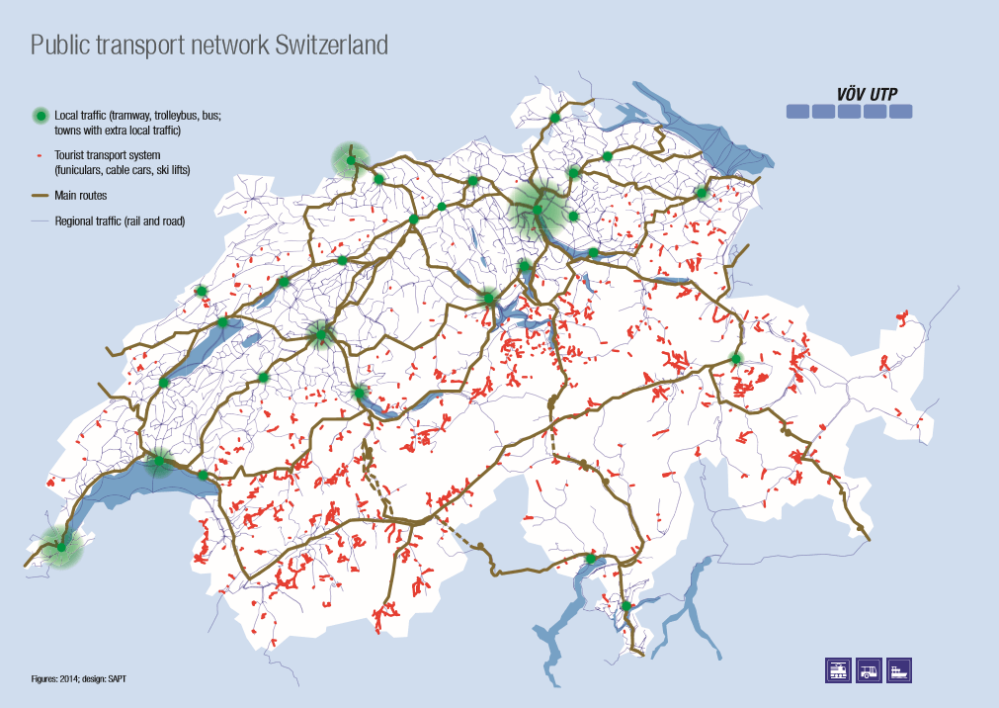 Source: Verband öffentlicher Verkehr
One of the reasons why Swiss public transport is so successful is the fact that Swiss citizens are part of the decision-making process concerning the fundamental issues of their public transport. Here are some of the most frequently used Swiss transport systems.
Trains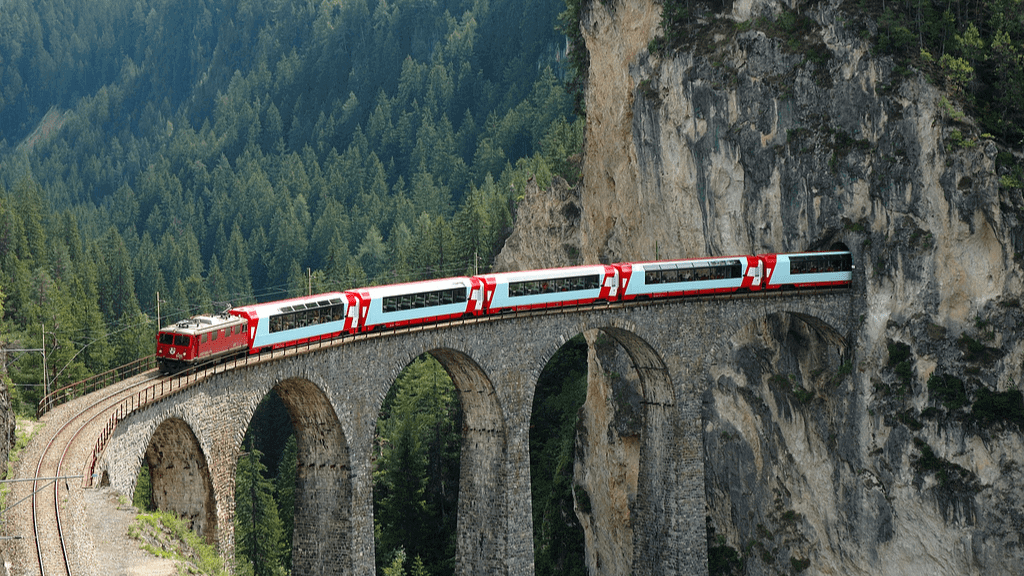 The fastest and most convenient way to get around Switzerland is by using trains. If one were to sum up all the railway tracks running across the country, they would end up with over 5.200 kilometers.
The biggest state-owned railway company in Switzerland is called Swiss Federal Railways. It is referred to differently in three Swiss languages; SBB in German, CFF in French, and FFS in Italian. SBB is not the only train company; apart from it, there are over twenty more private and partially private-owned train companies that complete Switzerland's dense network.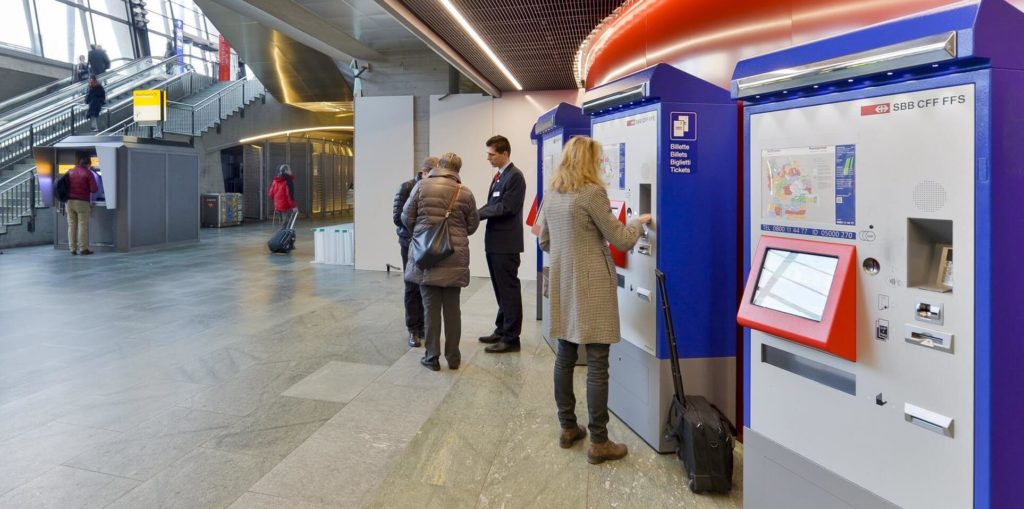 Train tickets in Switzerland are of two types; first class and second class tickets. One important thing to know is that you can't buy tickets on the train. Therefore, you should be careful to purchase them on the SBB ticket machines at the train station before getting on.
The railway network in Switzerland is very well developed. To meet the growing demand, SBB continually upgrades its rolling stock. Currently, its rail network reaches rural areas and there are connections between cities that operate every hour or half-hour. There are many different types of trains in Switzerland, from long-distance trains (how they're commonly called) to regional trains (how they're commonly called).
Trams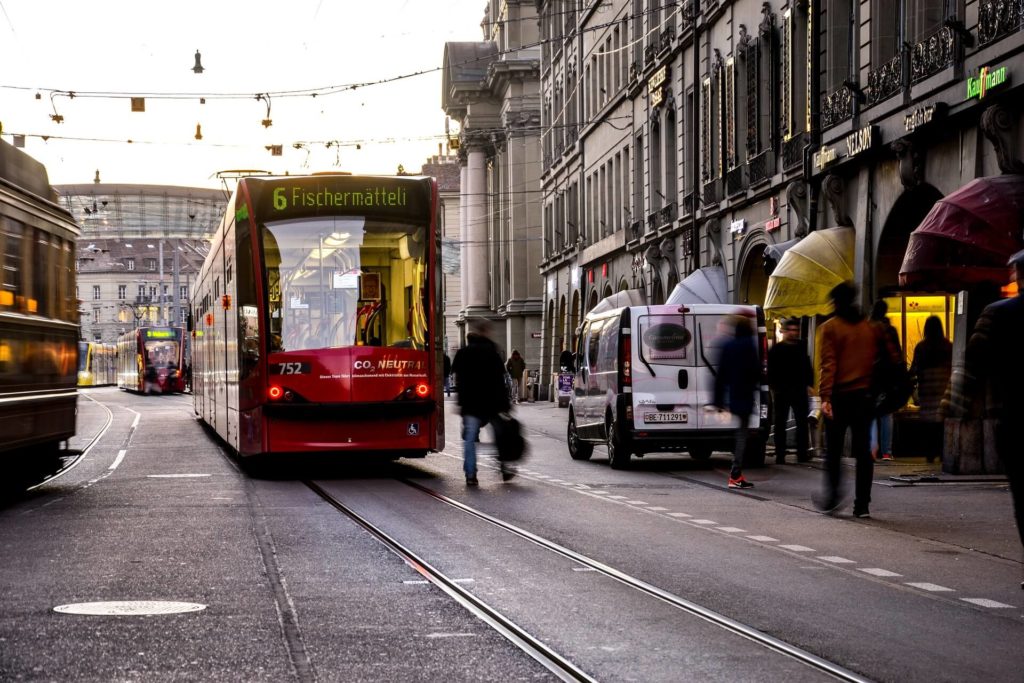 Trams are not a widely used means of transportation in Switzerland. However, some of the major cities—including Zurich, Geneva, Basel, and Bern—still have functioning tramways. For instance, Geneva had let go of the idea of trams towards the end of the 20th century, but made a decision to bring them back due to environmental concerns.
Another city known for its use of trams in Zurich. Although trams aren't used as much as trains and buses in this Swiss city, they are still a frequented part of the public transport system. Similar to Zurich, Basel and Bern also offer dense tramways and great services.
Buses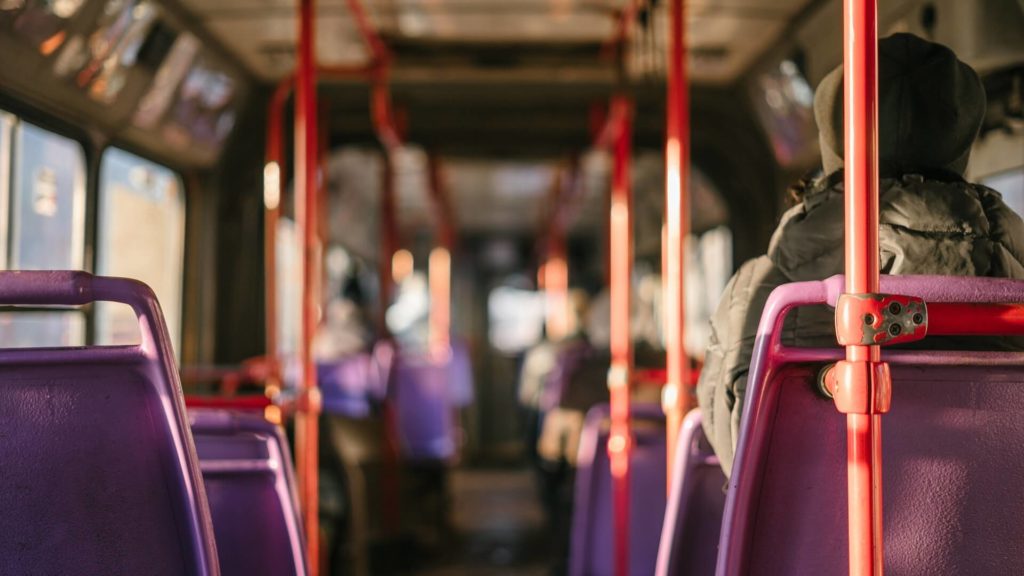 In Switzerland, buses are not commonly used as a means of transport. People usually use buses to reach places that they cannot reach by train. Even though they're not much used, buses in Switzerland are in good shape; they have air conditioning and, depending on the bus company, they have wi-fi as well. Communication won't be a problem since bus drivers speak at least one foreign language.
The prices of bus tickets vary and depend on the company that is providing the transport. Some companies offer discounts for certain groups of passengers like students, seniors, children, or dogs (yes, you read that right). If you don't have a pass, you can buy a ticket from the ticketing machine, at ticket offices in bus or train stations.
In most cases, you will have to buy a ticket before you board the bus, however, some buses in rural areas don't have machines and ticket offices. In these cases, you can buy a ticket from the driver or conductor. While in some cases, bus tickets may be cheaper than train tickets, buses take a lot longer to get to the destination. When buying a bus ticket you will be tied to a specific service limiting the opportunity of you spontaneously traveling at a different time.
Hand luggage is normally free when traveling by bus. However, if you have luggage that you need to carry with you, you will have to contact the bus company you're traveling with to check the prices and policies of that company.
Taxis
Using taxis in Switzerland is quite expensive, and it's difficult to hail one in the streets. Therefore, if you plan on taking a taxi, it is advisable you take one at a public taxi stand. The initial charge for a taxi is an average of CHF 6.50. In Switzerland, the city with the highest taxi fares is Zurich.
However, Swiss taxis remain a good option, especially when looking to arrive somewhere quickly. As far as tipping your taxi driver in Switzerland goes, it isn't necessary. Although it does show you enjoyed their services, so you can opt for rounding up the total sum of your trip.
Cable cars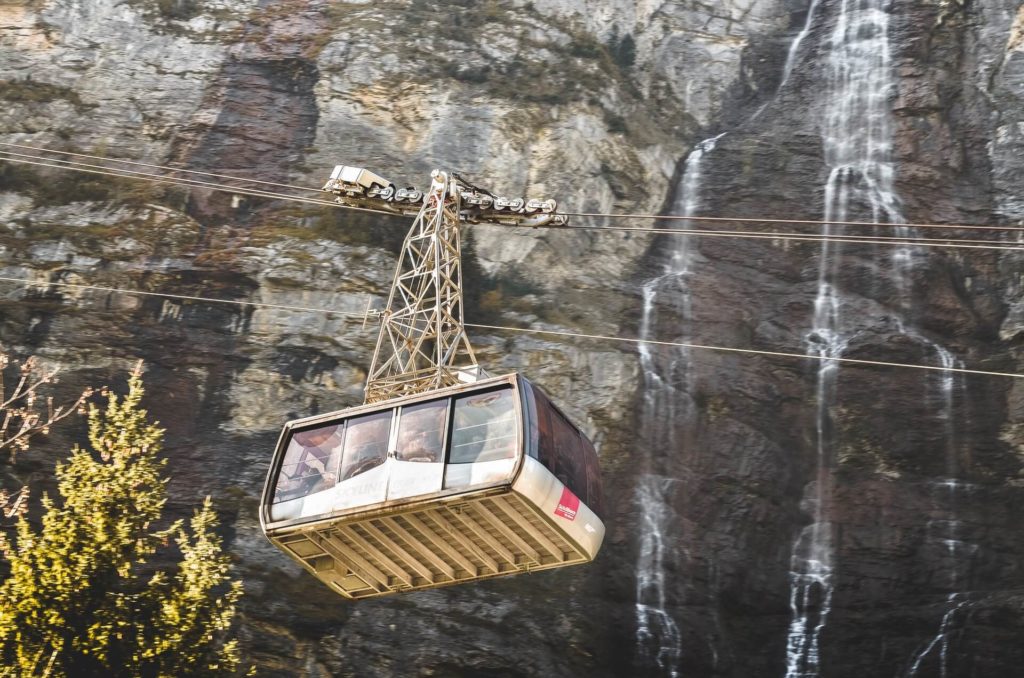 Even though cable cars are not part of the public transport system, it might be good to know that you have a lazy alternative to climb every mountain top. Cable cars are often suggested to visitors as part of having the full Swiss experience.
In Lucerne, the Stanserhorn Cabrio cable car is the first cable car with a roofless upper deck in Switzerland. Its cabins can carry 30 people on top and 30 in the lower section.
Boats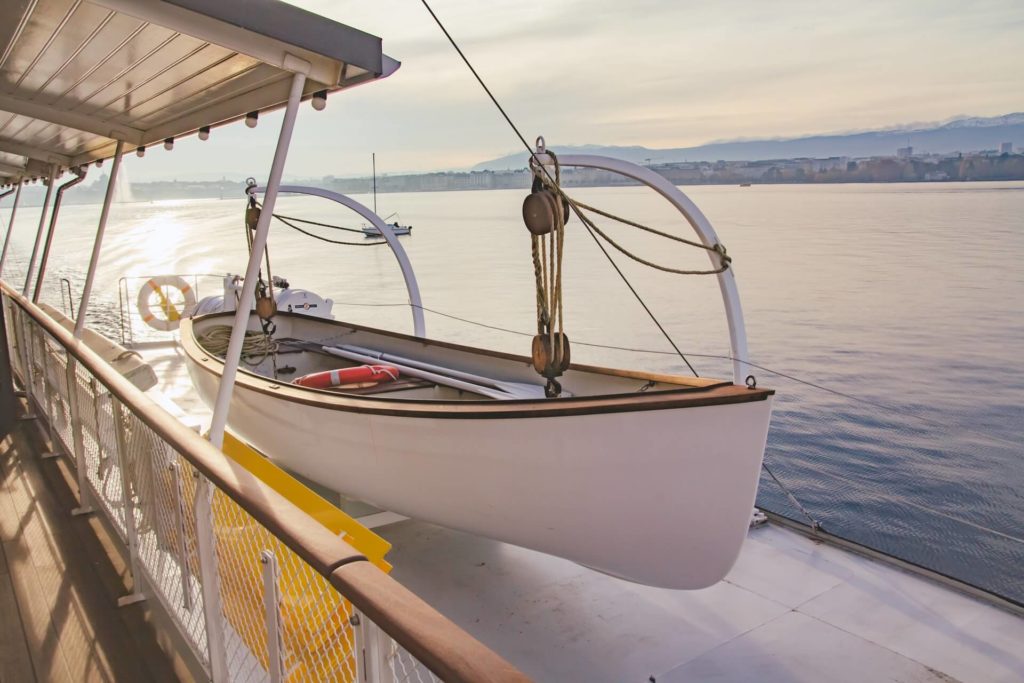 Switzerland's lakes and rivers give an opportunity to another means of transport and that is boats and ships. Some would argue that some of Switzerland's most scenic places are best when seen from a boat. Some of the best lakes to swim in Switzerland are simultaneously the most panoramic views to see from a boat.
Boats are not merely used for transport in Switzerland, many tourists see them as a fun activity. You'll find that most lakes in the country have ferris, passenger ships, cruise ships, and steamers. Similar to buses and trains, Swiss boats also run on a regular schedule.
Helicopters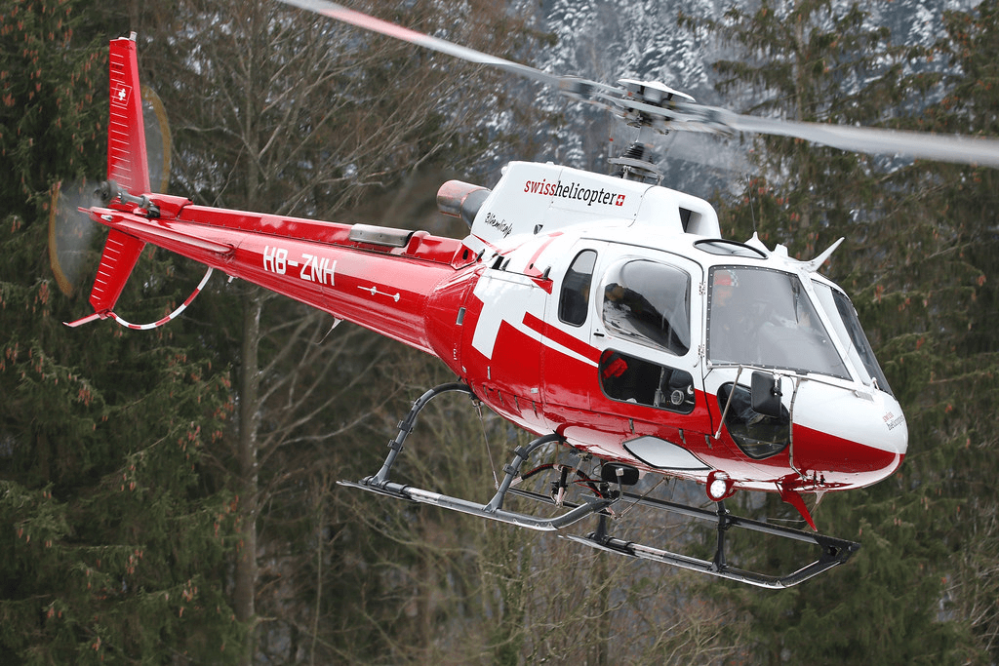 Although they do not fall in the public transport category, helicopters in Switzerland are used for a variety of things. For instance, they can be used for rescue, transportation, rentals, sky-diving, sight-seeing, etc. The most common use being sight-seeing.
One of the most famous Swiss helicopter companies is called Swiss Helicopter. They offer passenger flight, heli-ski flights, transport flight, and practically any helicopter flight you can think of. Additionally, the company also has a flight school, where people can learn to fly helicopters. Apart from Swiss Helicopter, there are many other companies that provide a range of different tours around the country.
Travelcards for Public Transport in Switzerland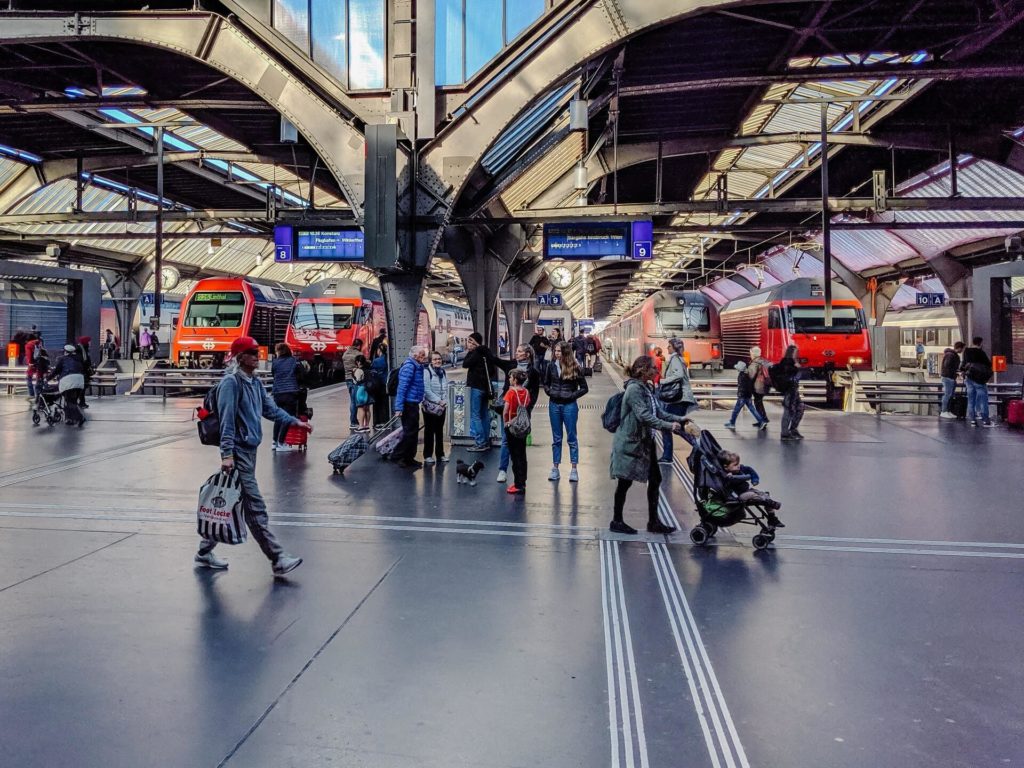 Apart from being known as a country with roughly 29.000 kilometers of the public transport network, Switzerland is also known for its remarkable assortment of tickets for foreign visitors. Some of the tickets, used for both locals and tourists, are listed below.
Half-fare pass
The half-fare pass gives you the opportunity of traveling with a half-price on the entire Swiss public transport network including boats, buses or trams. With the half-fare pass, you can benefit from discounts on urban transport as well as other attractive services.
The annual cost for a half-fare travel card is CHF 185. When buying a half-fare travel card you take out an indefinite contract, which is automatically renewed you can take advantage of the loyalty price of CHF 165. The same goes for people aged 16 to 25, who pay CHF 120 for the half-fare travel-card the first year, after its renewal they get a discount and pay CHF 100.
In case you want to cancel your travel card, you receive an invoice two months prior to the automatic annual renewal. This will give you enough time to cancel your Half-fare travel card by calling the SBB Contact Center at 0848 44 66 88 (CHF 0.08/min) or at points of sale.
The General Abonnement pass (GA)
The GA pass often referred to as an AG (French, abonnement général) entitles the holder of the card to a year of unlimited traveling using means of public transport. If you're a tourist visiting Switzerland for a short period of time it is best to use a one-day travel pass.
The Swiss Pass
The Swiss Pass is a plastic card with two electronic RFID chips. These chips do not store any consumer data but are used to store your personal Swiss Pass number in order to check your name and travelcard. This pass replaces the GA or half-fare pass and is valid for 3 to 15 consecutive days.
Depending on the option and duration you choose its cost ranges from 240 to 890 CHF. You can either travel in the first or second class. A Swiss Pass can be purchased at any railway station in Switzerland. The benefits of a Swiss Pass include:
Free public transport.
Traveling from one city to another without worrying about any language barriers.
Free entrance to over 500 museums in Switzerland.
50% off on cable cars and funiculars.
This pass will make your transport in Switzerland quite easy if you plan to travel for several days in a row and you don't want to worry about buying tickets. After getting your Swiss Pass your only task would be to show the pass to the conductor. Additionally, there are tickets you can buy if you're traveling in groups if you're traveling for a long-distance and a variety of other options.
Whether you'll be traveling by train, bus, boat, or taxi, Switzerland is one of the best places you can visit. If you're already planning a trip to the country well-known for its delicious chocolate, scenic nature, and high quality, you'll find that Switzerland has many must-visit places, and a great public transport system to help you visit them all.