Countries with the Largest Number of Museums & Most Visited Museums
Museums—our very own Tardis'—allowing us to revisit antiquity, revel in that that once was, and go back to the present by stepping out. Seeing as how museums sustain and exhibit our past, it's only natural that they draw a large number of people who wish to go on a time-travelling adventure.
There are 95,000 museums in the world today. It goes to show how humanity has progressed, learned, created, and preserved all of it.
Whether it is art, culture, history, technology, science, or education, there are always people bustling in such institutions, fascinated by how much has happened and been created before them. So many are intrigued by museums, that the Louvre museum in Paris alone attracts more than 9 million visitors annually.
So, to help those on a quest for a time to go back to, we've gathered data on countries with most museums, museums, and visitors to pinpoint the best country to time travel to.
Note: People now can attend museums provided they have a Covid certificate which indicates that they have been vaccinated, have a negative test result within the past 24 hours, or have recovered from Covid-19 during the last six months. Masks are mandatory!
Countries with the most museums
Now, many countries take pride in their cultural history and put it on display for tourists and locals alike to see. Countries do this in the form of museums. However, some countries have more of these cultural exhibitions than others, and some have less.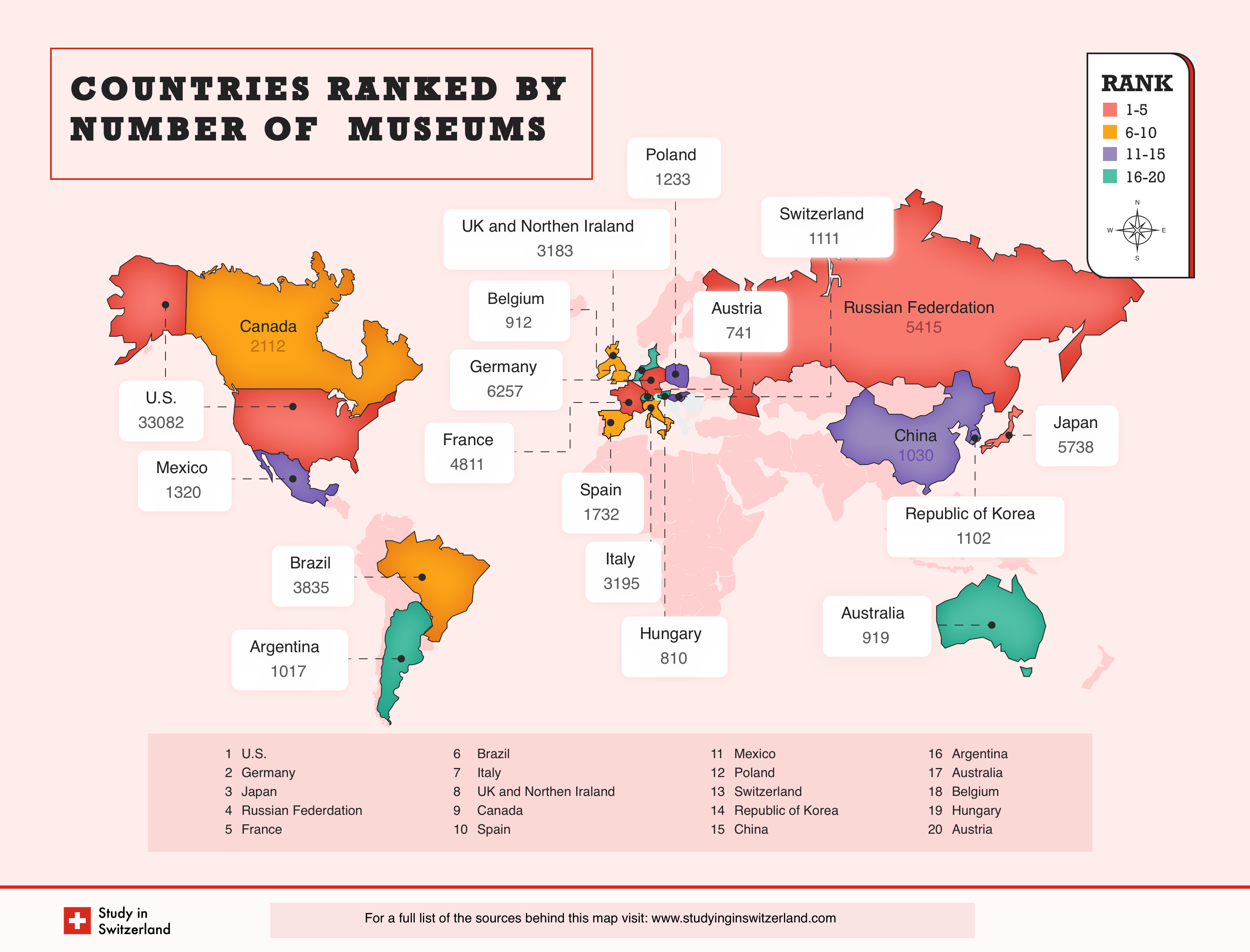 So, here are some countries that have the highest number of museums in the world.
The US
The US tops the list of countries with the most museums with a total of 33,098 museums, which is an impressive number even when we take its size into account. If someone were to visit them all, they'd gain knowledge of modern art, dinosaurs, World War Ⅱ, Renaissance, and many others.
Whether it's New York, Washington D.C., California, Florida, or any other state, there is much to explore from both the past and the future. Apart from museums such as the Metropolitan Museum of Art and the Museum of Modern Art (widely known as MoMA), many hidden gems are placed in smaller countries throughout the US.
Japan
Japan comes in third out of the countries with the highest number of museums in the world. With 5,738 museums in total, there is much to explore in Japan's rich cultural heritage. Fans of traditional art, contemporary art, history, science, railways, even those intrigued by natural disasters will surely find their interest in the display of Japanese museums.
Japan is home to the Ghibli Museum—a heaven-sent to anime, manga, and Ghibli film lovers. This is not the only anime/manga-themed museum in Japan; however, it is one of the most famous ones.
France
France might come fifth on this list with 4,811 museums, but the fascinating and most-visited museum in the world is located in the very heart of the country, Paris. If we're being honest, simply walking through France feels very similar to that of strolling through a Renaissance museum.
And when in Paris, Mona Lisa is not the only beauty to be admired. The city is also where Musee D'Orsay is stationed, having been built right on the ashes of Palais D'Orsay, to this day giving life to 19th & 20th-century art.
Italy
The 7th country to populate this list is none other than Italy. The country in and of itself feels like one huge museum. Italy has 3,197 museums throughout the country.
Colosseum—the largest amphitheatre ever built— is but one of many attractions that Italy offers in terms of museums. Other than Rome, other cities in Italy that attract millions of visitors are Turin, Milan, Florence, and Naples among others.
Countries with the most visited museums
A high number of museums does not necessarily equal the highest number of visitors. Here we've decided to compare countries on who brings in the most visitors per year in accordance with the 20 most visited museums in the world.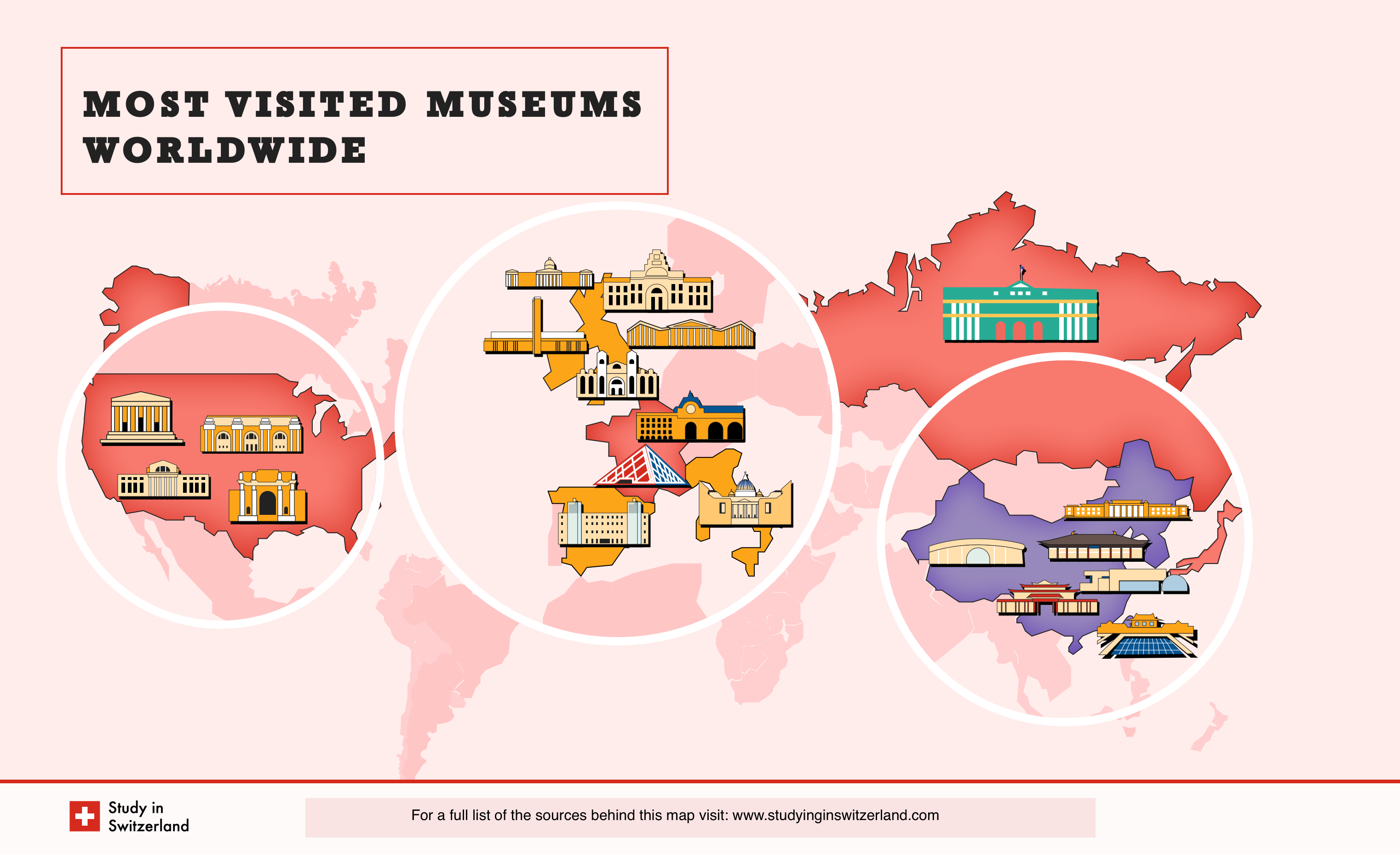 If you've found yourself wondering what country it is that you would most like to time travel to; here's what other people have decided.
China
China has a rich history and culture to showcase, so it's no surprise that it's at the top of this list. Its five museums located in Beijing, Shanghai, Nanjing, and Zhejiang bring in over 24 million visitors per year, and the National Museum of China in Beijing alone brings in almost seven and a half million.
Shanghai Technology and Science Museum, Nanjing Museum, Zhejiang Museum, and China Science Technology Museum also belong on the world's most visited museums list. With that, we can see that science and technology are something that really makes people flock to China. After all, the country is known as a technology leader in the world.
The UK
The UK, second on the list of the countries that have the highest number of visitors for its most visited museums, and it's home to five museums that belong on that list.
The five most visited museums in the UK are British Museum, Tate Modern, National Gallery, National History Museum, and the Victoria & Albert Museum, all located in none other than London. With that many museums that bring in millions, it seems that there's a lot more to London's historical nature other than Buckingham Palace.
The US
The US comes in third on this list. Along with the Metropolitan Museum of Art in New York, which attracts more than six and a half million visitors annually and is the fourth most visited museum in the world, the US also hosts the 9th, 13th, and 16th most visited museums in the world.
Together, the Metropolitan Museum of Art, the American Museum of Natural History, National Museum of Natural History, and the National Gallery of Art, bring in more than 20 million visitors annually. It's no surprise that the country with the most museums in the world brings in an abundance of people interested in them.
France
It's worth noting that although France is fourth on this list, this country is placed so high due to two museums—the Louvre and Musee D'Orsay. The Louvre alone brings in almost ten million visitors annually, and with good reason; however, more on that later.
Paris, the country's capital, is the place that attracts the most visitors (even without the museums, everybody wants to visit the city of love!). Although not featured on the list of most visited museums, Musee national D'art moderne, Musee du Quai Branly, Musee de L'Armee, and Musee Carnavalet deserve an honourable mention due to each of them bringing in more than a million visitors a year.
The most visited museums
We've talked about countries and touched on museums. It is known that the most visited museums mostly belong to the largest cities in the world; thus bringing in millions of humans each year to appreciate either the historical, cultural, artistic, or scientific artifacts they display.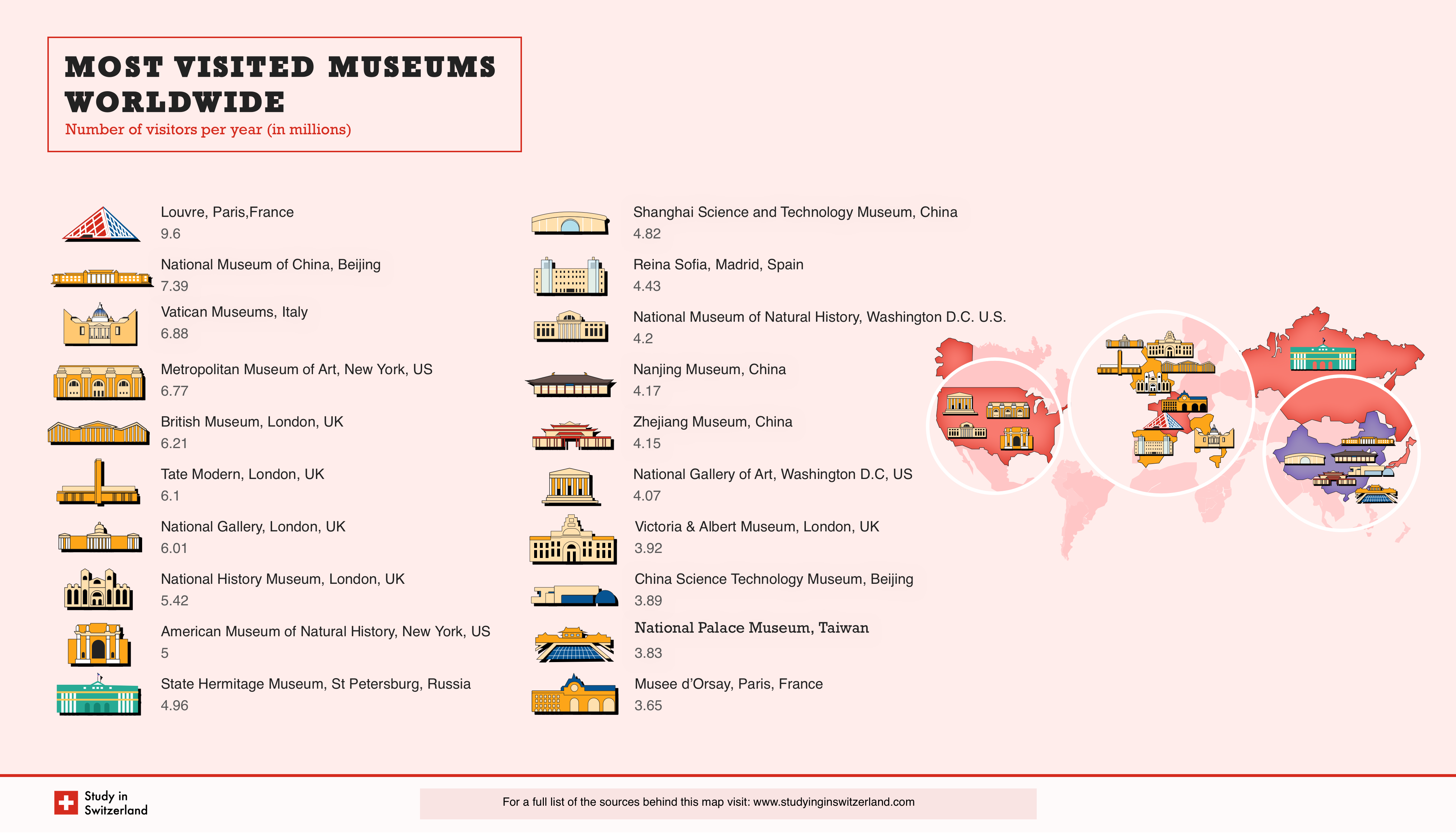 Many of us are familiar with the Louvre, the world's most famous and visited museum; however, here are some other interesting choices that deserve their place on a bucket list.
Louvre (Paris, France)
The Louvre, the world's most visited museum, has artwork and objects exhibited across 72,735 square meters, making it also the largest museum in the world.
The history of the Louvre begins on August 10th in 1973, when the museum first opened with an exhibition of 537 paintings. Since then, the Louvre has gathered 380,000 objects and 35,000 works of art, with many of them being on a permanent exhibition.
The Louvre is also known for exhibiting the largest Leonardo Da Vinci exhibition in the world, having displayed over 100 items, from paintings to notebooks, and drawings.
National Museum of China (Beijing, China)
The second most visited museum in the world is a museum that was established in 2003 by merging two Chinese museums, the Museum of the Chinese Revolution and National Museum of Chinese History; thus, making the National Museum of China.
This museum hosts over a million items, which attract more than 7 million visitors annually.
Many permanent items found on the museum's display are so rare that they are not only the only ones in China but the world as well.
One of the most important items in the National Museum of China is the world heaviest bronzeware Simuwu Ding weighing in at 832.84 kilograms.
Vatican Museums (Vatican City, Italy)
Third on this list are Vatican Museums located in Vatican City.
The Sistine Chapel belongs on the visitor of Vatican museums route and it contains the famously decorated by Michelangelo ceiling. The museums themselves contain around 70 hundred pieces, 20 hundred of which are on display.
The museums, famous for the world-renowned Roman sculptures and Renaissance masterpieces, celebrated 500 years of existence back in October 2006.
Metropolitan Museum of Art (New York City, New York)
Now, we've all heard of the Met Gala, which is hosted at the Metropolitan Museum of Art, namely the Costume Institute wing. However, there is much more to the history and items that belong to the fourth most visited museum in the world.
The Met is also the largest art museum in all of the US. This museum contains a surprising two million items in its permanent collection. Most notably, the museum contains a high number of period rooms, along with work from Ancient Egypt to modern and American art.
From a non-geographical viewpoint, the Met contains an abundance of weaponry, costumes, and musical instruments, and photographs, among others.
British Museum (London, UK)
Fifth on the list of the most visited museums in the world is the British Museum, with over six million visitors annually. This museum is often regarded as the most comprehensive exhibition of history, culture, and art in the world as it contains more than eight million pieces on permanent display.
The museum is known for its ownership of numerous famous objects which originate from other countries. Apart from that, the British Museum is always famous for its ginormous online database of museum objects, clocking in two million objects entries, with many of them illustrated..
Covid-19 Impact on Visitor Abundance in Major Museums Worldwide
As with most institutions, the Covid-19 pandemic has affected museums as well, namely the number of visitors they've had in 2020. Due to this, museums have gone through a financial nightmare, some barely hanging on to the capacity to pay their employees' legal wages.
Overall, the Louvre in Paris, France, has seen the largest decrease in 2020 with over 2.7 million visitors. In 2019, it had around 9.6 million visits. With 1.6 million visits in 2020, the National Museum of China in Beijing was ranked second for the largest decrease.
Here's how other major art museums were affected by closing their doors due to safety reasons.
Countries to time travel to, virtually
Although museums are now open, they are still struggling to adapt their business models to this emergency situation. If for any reason you cannot attend museums in person, you're still in for a treat – art lovers can view thousands of paintings, sculptures, and other installations, in minute detail, ONLINE!
While taking tours in person is beyond comparison, virtual touring allows art lovers to experience unrestricted, uninterrupted, and intimate views of the artwork. Here are the most visited museums in the world, waiting to be explored (for free, no less) through the screen.
[CLICK ON THE IMAGES TO VISIT THE MUSEUMS VIRTUALLY]
From Paris, to Beijing, New York, and London—there is a lot this world we live in (and the past) has to offer. Our world has existed for thousands of years, and through those years a lot has been brought into being and preserved through arts, monuments, objects, and writing among others. Here we've shown you the largest collections of such items in the world and the ones that attract the most attention.
Whether it is the Louvre's Mona Lisa or the National Museum of China's bronzeware, our past is worth seeing, and especially in a day and age when everything seems so distant.