The village of Grindelwald is among the Alpine beauties of Switzerland, located in the Bernese highland southeast of Interlaken, with its southern end covered by the three high mountains of Wetterhorn, Mettenberg, and Eiger. In the past, the region was mainly used as pastoral land for the livestock of wealthy aristocrats. Nowadays, the region is mostly famous for its glaciers and serves as a mountaineering, summer, and winter resort. As you'll read in this article, there are so many things to do in Grindelwald, and this guide aims to make it as easy as possible for you to decide how to spend your time.
Jungfraujoch Excursion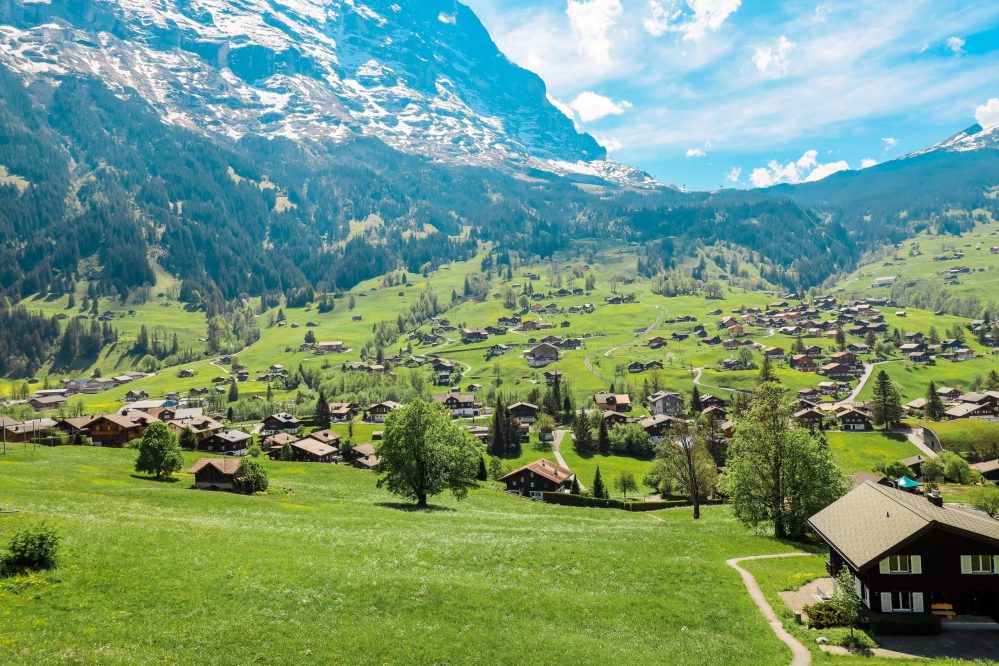 The Jungfraujoch excursion allows you to travel and see some of Grindelwald's most stunning views. The trip includes a visit to the Jungfrau-Aletsch protected area, the world's first Alpine UNESCO world heritage site. As the area is located over 3500 meters above sea level, it has ice and snow 365 days of the year.
From the specially built Sphinx terrace, you can observe the longest glacier in the Alps, the Aletsch Glacier, which stretches for 24 kilometers and covers an area of 171 square kilometers. You can also visit the unique Ice Palace (YES, it is made entirely out of ice), consisting of ice sculptures of different animals such as penguins, bears, etc.
Eiger Trail
If you are a young mountaineer looking for a challenge, the Eiger Trail is the ideal thing for you. This hiking trail has attracted many people worldwide who wish to challenge themselves. This trail had its roots in 1853 when three mountaineers conquered the Eiger mountain peak. However, you will not try to reach the mountain peak during the course. Instead, this is a point-to-point trail starting at Eigergletscher (Eiger Glacier Station) and ending in Alpiglen. The route is six kilometers long and can reach 2,348 meters above sea level at its highest point. Besides being a sportive challenge, the course is also known to offer its travelers some of the most stunning views of the surrounding mountains, glaciers, and Grindelwald.
Hike to Bachalpsee
Another popular choice for mountaineering and hiking enthusiasts visiting Grindelwald is the hike to Bachalpsee Lake. Unlike Eiger, Bachalpsee is known to be relatively easy and can be walked by regular people without a hiking background. The hike lasts about an hour on both ascend and descend, and it offers beautiful views of the surrounding landscapes and the crystal clear water of the heavenly Bachalpsee Lake. Bachalapsee has become famous worldwide, and you probably have seen it in pictures, but its true beauty can only be realized by visiting it yourself.
First Mountain Grindelwald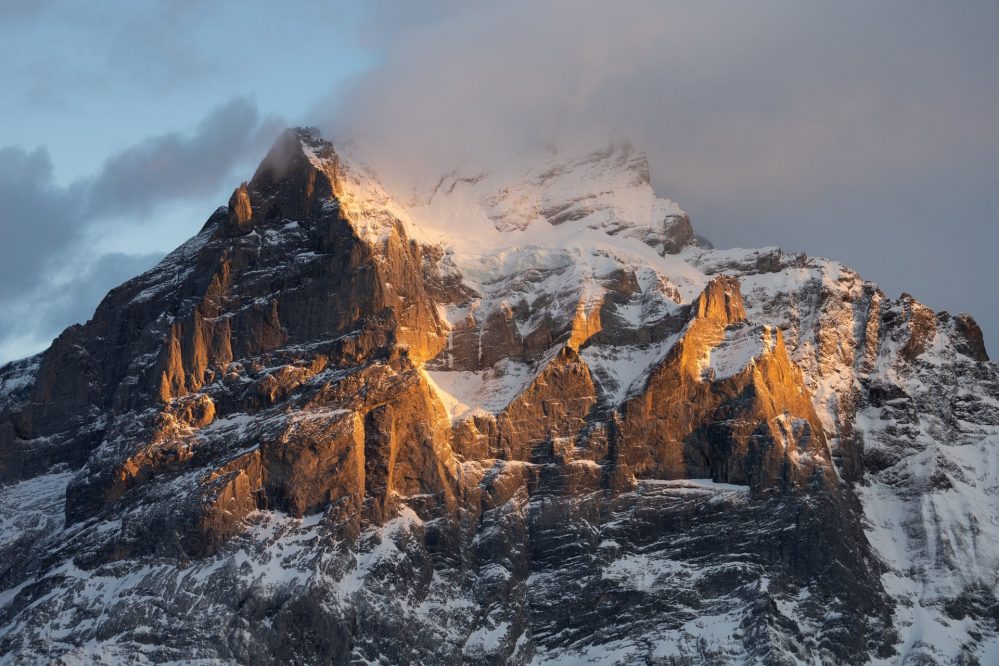 Towering above Grindelwald is one of the most beautiful viewpoints, the First Mountain. The place has become a favorite for families and friends because it offers many activities such as ziplines, scooters, and cart rides down the mountain. The mountain also has a hiking-friendly terrain, making it quite popular among hikers.
The mountain top is located at 2,137 meters of altitude and allows for a 360-degree view of the surrounding landscape on a clear day. There is also a restaurant with a terrace and a viewing platform where you can relax and enjoy the view. Since the mountain has a hiking-friendly terrain besides its family-friendly activities, it is also famous for its hiking activities.
First Cliff Walk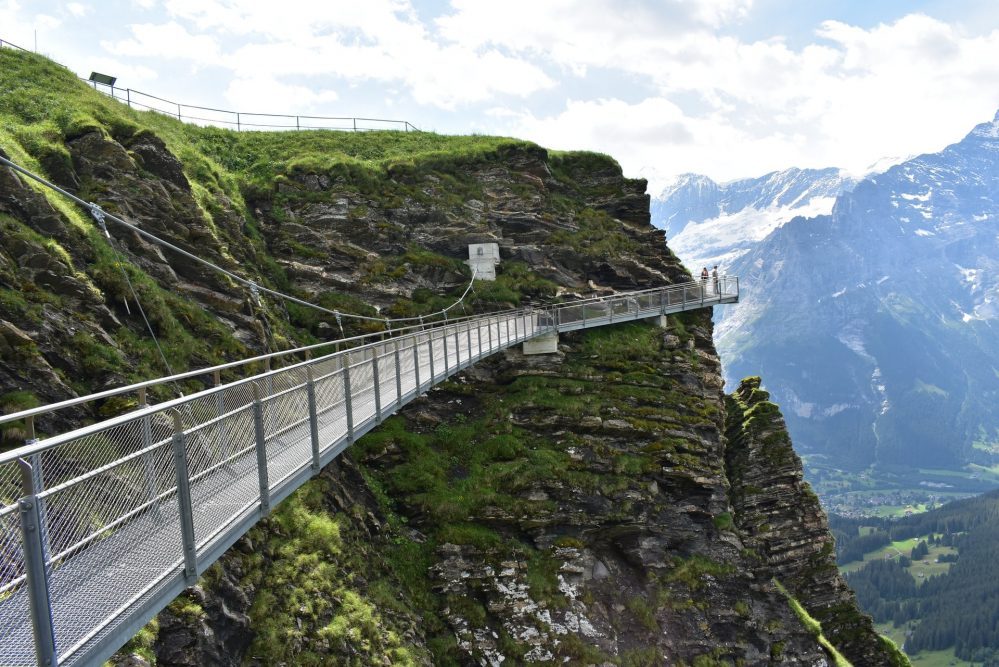 You might also want to try the First Cliff Walk when you reach the First Mountain. This thrilling experience involves walking through a specially built metal walkway and suspension bridge built around the cliff of the First Mountain. It also involves an elevated viewing platform created specifically to give walkers access to the most stunning views of First Mountain and Grindelwald. The platform attracts many visitors and has become one of the most significant landmarks of Grindelwald.
First Flyer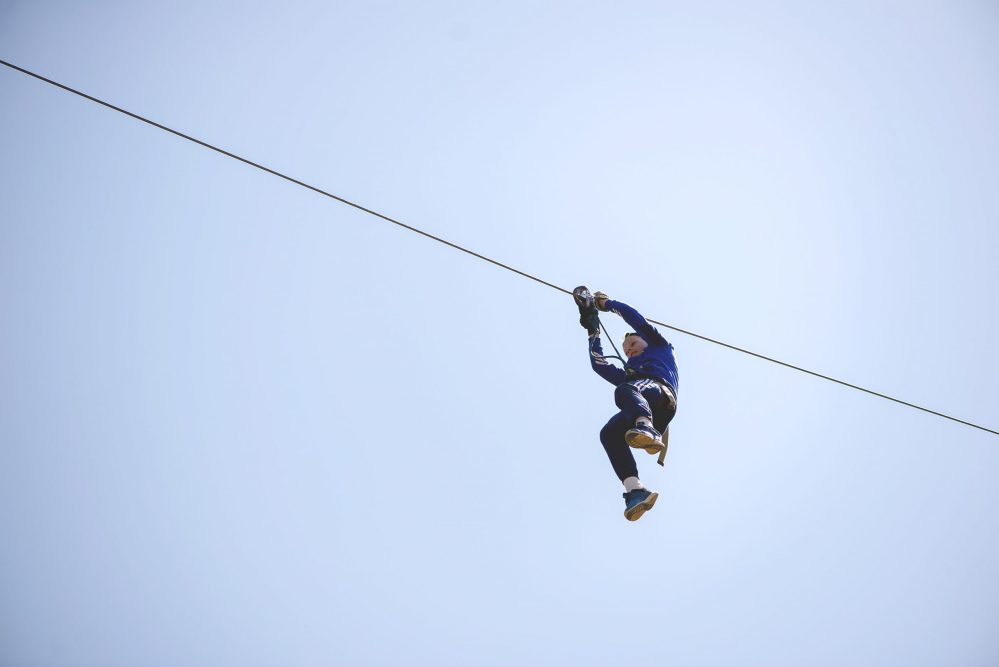 Next on the list of First Mountain's attractions is the First Flyer. This 800 meters long zip cable ride can give you the thrill of your lifetime. It allows you to "fly" at 84 km/h speed from the top of First mountain, over the ski run, and to the Schreckfeld Intermediate Station. The ride can be enjoyed by up to 4 people simultaneously on the two parallel cables available.
First Glider
Another amazing experience not to miss on the First Mountain is riding its unique glider. This eagle-shaped glider can give you and at most three of your companions a thrilling ride above the sky of Grindelwald and enable you to see the region and its beauties from a bird's perspective. So after you are done seeing the First Mountain from land and water, you should definitely see it from the air too.
First Mountain Restaurant
After doing all these activities, you will probably feel tired and need a place to rest, relax and enjoy a good meal; Berggasthaus First is the ideal place for hungry stomachs and thirsty throats. This restaurant offers a wide range of food and drinks from Swiss cuisine as well as new creations. The restaurant also has a perfect location that allows you to take in the beautiful views of Grindelwald's landscape while enjoying your meal.
Mountain Carts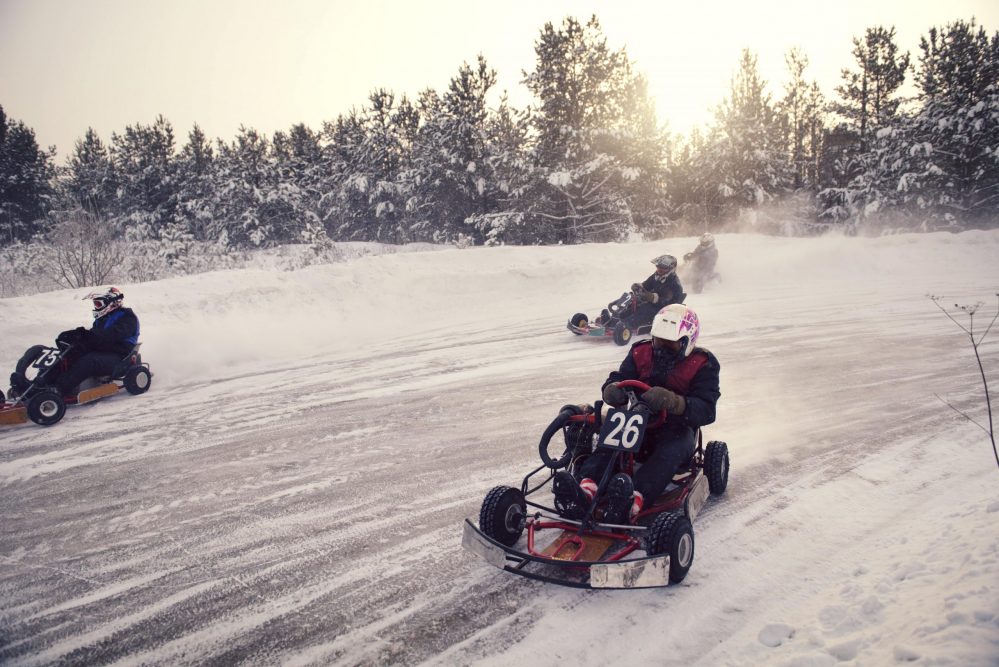 Fun activities are held all year round in the First Mountain. One of these entertaining activities is Cart Riding. People who love sledding but happen to visit Switzerland in summer when there is not much snow to sled can still enjoy the pleasure of riding down the mountain. These carts are specifically built to be as safe as possible and have all the necessary for easy maneuvering. The ride is a not-to-miss opportunity, especially for the younger visitors.
Trotti Bikes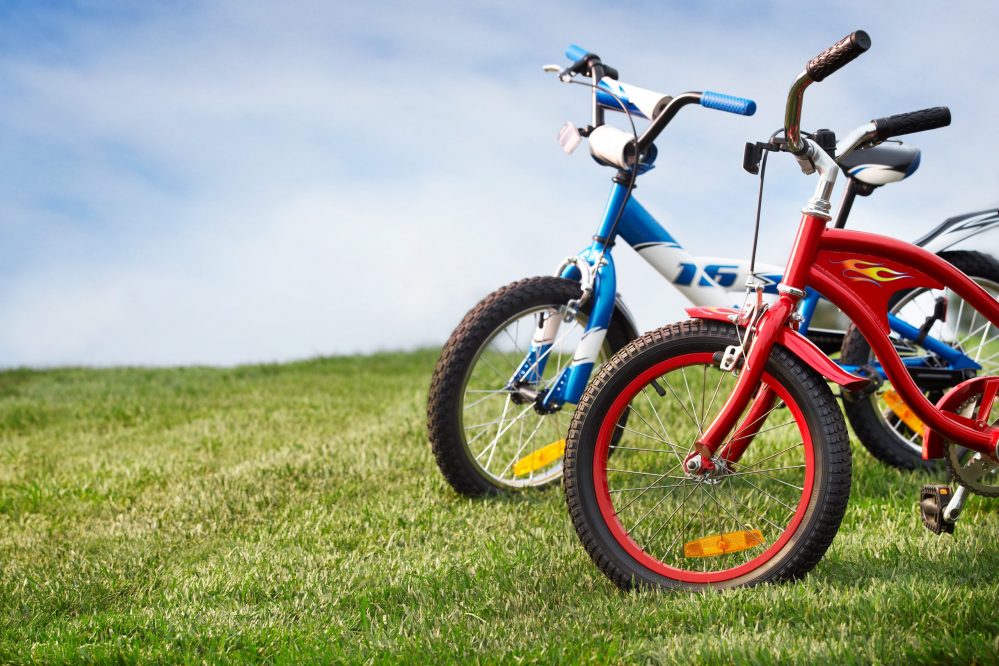 Another attraction for extreme sports fans is riding Trotti bikes. A Trotti bike is a crossover between a bike and a scooter and is specifically built to withstand harsh mountainous terrain. These vehicles have a special suspension and braking system, as well as thick tires to avoid accidents and make your ride as comfortable and safe as possible. There are also mini-Trotti bikes for the younger visitors who want to enjoy the thrill.
Pfingstegg
Besides First Mountain, Pfingstegg is another majestic Alpine attraction. It is located at the northern foot of the 3,104-meter high Mättenberg; despite its height, it can be accessed very easily by the mountain rail line from Grindelwald. This Alpine area is definitely one of the most favorite locations for family amusement and hiking and mountaineering activities.
Grindelwald Glacier Canyon Walk
This narrow natural corridor of the Lower Grindelwald Glacier is an impressive phenomenon that attracts tourists' attention. The Grindelwald Glacier Canyon is formed through two 300 meters high rock walls separated through a kilometer-long gorge filled with rock galleries and tunnels. The noises of the streaming water and the smashing wind offer a thrilling sensory experience to the visitors. The overall tour is unique while also being very safe through the protective engineering measures that the administrative company takes.
Grindelwald Canyon Swing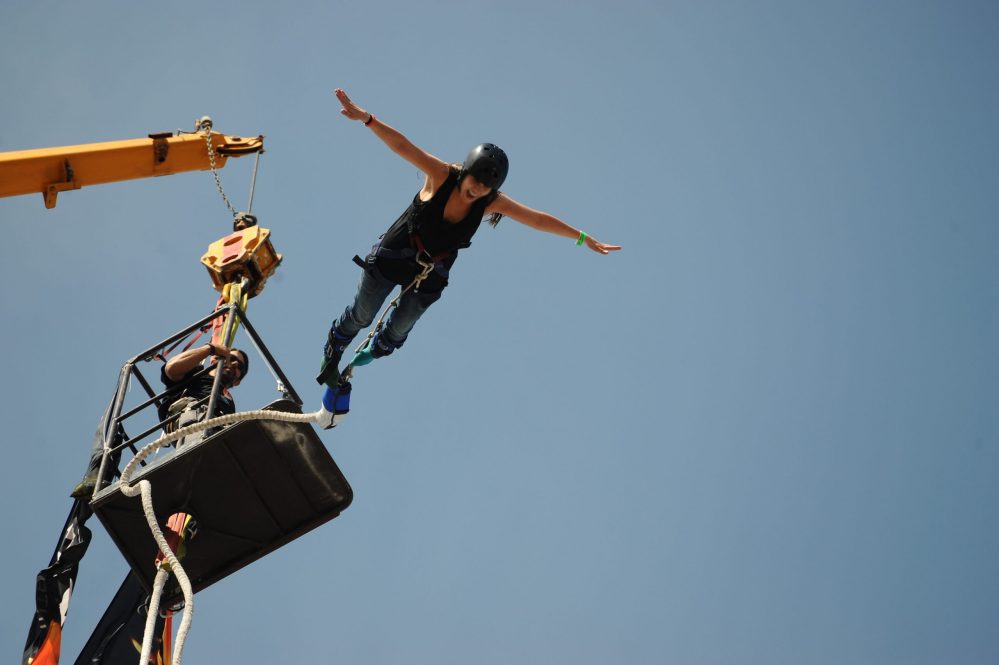 If the thrill of going through the canyon was not enough for you, jumping through its swing will definitely give you the adrenaline rush you need. This swing is located at the top of the 90-meter-tall canyon and enables you to jump 50 meters down the canyon at a speed of 120 km/h. The jump requires a lot of courage and is challenging for most people, but if you decide to do it, remember to book in advance.
Hiking in Grindelwald
Grindelwald offers limitless choices for hiking enthusiasts, such as the hikes around First Mountain to Bachalpsee, the Wanderung Hochmoor, the exhausting Grauseeli Loop, and Gelmersee Circular hike. Hikers have praised the region for its surreal beauty and pleasant walks.
Generally, the hikes in this region are not very hard and can be completed by inexperienced hikers. In addition to its natural features, the area is also well equipped with all the necessary facilities and proper administrative management to ensure the safety of the hikers and the preservation of the trails.
Downhill Skiing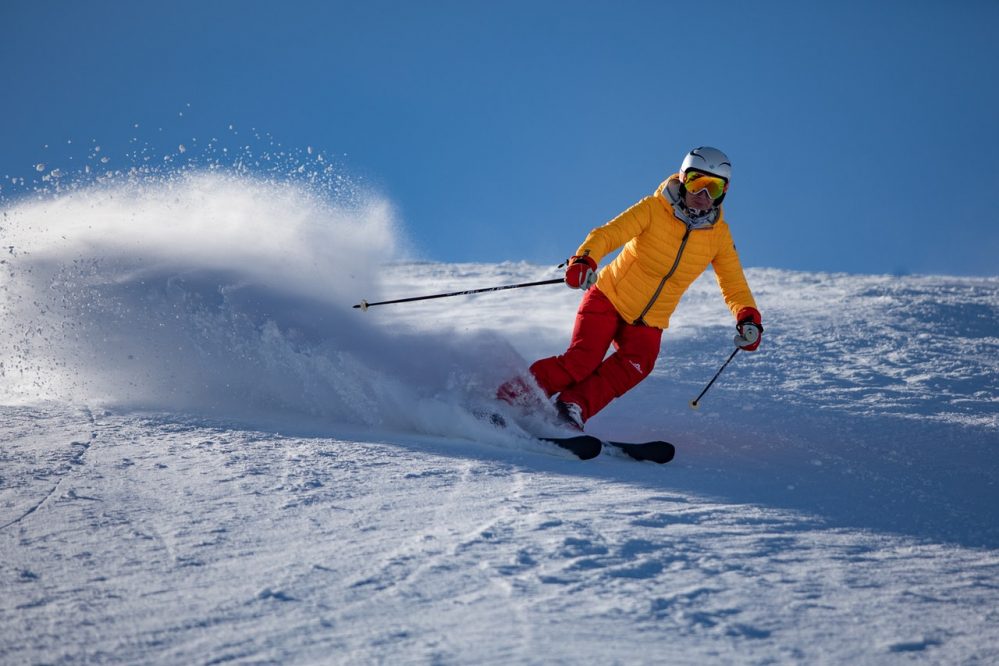 Besides hiking, the Grindelwald-Wengen ski resort is also famous for its terrain, suited chiefly for beginner and intermediate skiers. It is also known for the Lauberhorn downhill ski run, a very steep section of the resort, making it attractive to downhill skiing enthusiasts. Contrary to what you may have heard, not everyone there skis like James Bond, and these magnificent mountains are not just for experts; the resort also has more gentle slopes for beginners that are still learning how to ski. So, no matter your skills, don't leave Switzerland without skiing in its spectacular mountains.
Mürren-Schilthorn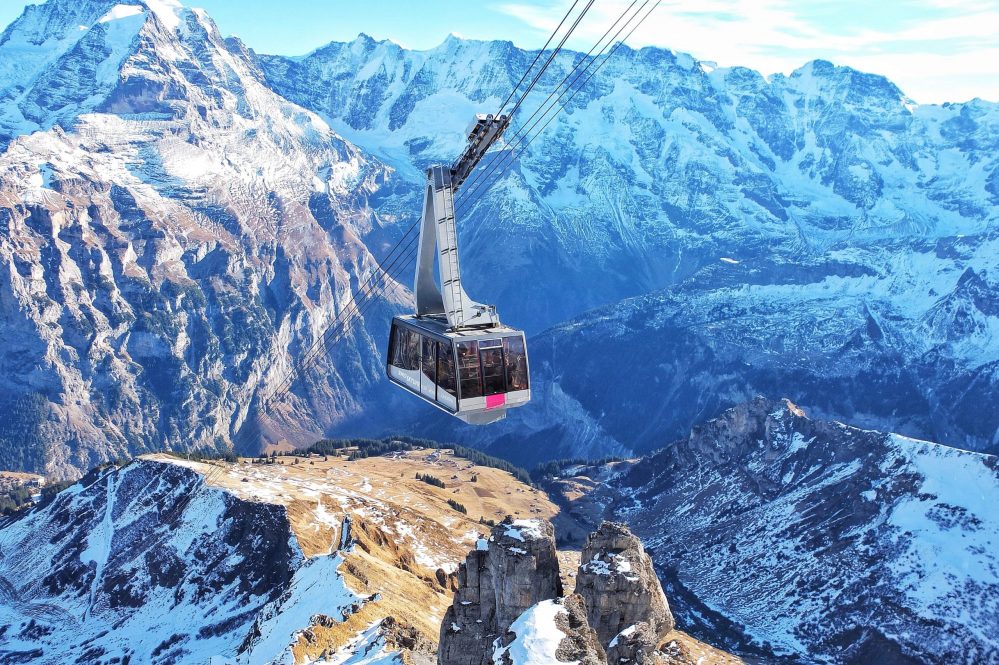 This ski area is located at the highest altitude among all other resorts in the Bernese highland. It has a restaurant with a 360 degrees view, a ski school for beginners who want to learn skiing, a snow park with all the necessary tools for extreme freestyle tricks, and a toboggan safari. All of these attractions located inside the resort, together with the resort's high and varying skiing terrain, have contributed to it becoming one of the most visited resorts in Switzerland.
Grosse Scheidegg
The Grosse Scheidegg is a mountain pass between Schwarzhorn and Wetterhorn mountains. This passing route is located between a road that connects Grindelwald with the town of Meiringen. The pass used to be an important trade and transport route before the invention of modern transport vehicles. Now that the course is not used for transport, it is a major tourist attraction for hiking and mountaineering activities. At the summit of the pass, the Berghotel and restaurant are located, offering their services through all seasons.
Spas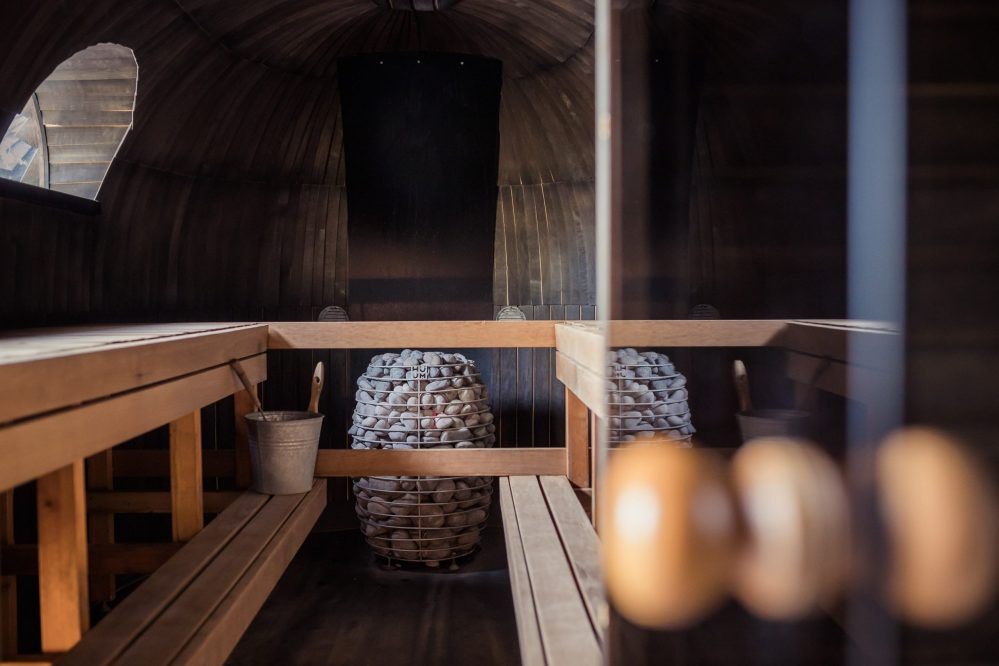 Besides its mountains, Grindelwald is also known for its spa hotels and resorts. Spas are popular among Swiss people, and they are seen as the best self-care service one can buy. Among Grindelwald's most notable spa centers are:
Hotel Belvedere's Antigua wellness center
The Selfness oasis in Hotel Eiger
Grand Hotel Regina's spa
Hotel Sunstar's wellness oasis
These spa centers offer a variety of services such as massages, baths, pools, and saunas. These services can be perfect after a long, tiring hike.
Bottom Line
As you can see, the small village of Grindelwald is surrounded by majestic and unique attractions. Grindelwald offers many opportunities to enjoy your vacations; it is a place where people go to have fun, relax, and challenge themselves. We can undoubtedly say that Grindelwald offers the ideal Swiss Alpine experience, so if you're planning a trip to Switzerland, this is a must-visit destination.