Switzerland, a country synonymous with picturesque landscapes and a rich cultural heritage, transforms into a veritable paradise during the summer months. The term Switzerland in the summer conjures images of lush green meadows, crystal-clear lakes, and majestic Alpine peaks bathed in golden sunlight.
With a delightful blend of outdoor activities, cultural events, and culinary indulgences, Switzerland in the summer offers an unparalleled experience that captivates the hearts of travelers from across the globe.
Whether you are an adventurer seeking thrilling escapades in the mountains or a leisure traveler looking for serene beauty and relaxation, Switzerland in the summer caters to every inclination. So pack your bags and get ready to embark on a journey that promises to be nothing short of magical.
When Is Summer in Switzerland?
Summer in Switzerland officially spans from June 21 to September 23. This period ushers in the warmest and brightest days of the year, allowing locals and tourists to fully enjoy the country's scenic beauty and outdoor activities.
The highest temperatures in Switzerland are usually recorded between June and August, with July being the warmest month. During these summer months, daily average temperatures can reach or exceed 25°C at lower altitudes, providing the perfect weather for a plethora of outdoor activities, be it hiking, swimming in the lakes, or simply strolling through the vibrant Swiss cities.
This generous stretch of warm weather and extended daylight hours make the Swiss summer a perfect time to experience the country's diverse landscapes, from the serene lakes to the lofty Alpine peaks, all while enjoying the delightful gastronomy Switzerland has to offer.
What To Wear in Switzerland During the Summer?
When packing for a summer trip to Switzerland, keep in mind that the weather can vary significantly between different regions and altitudes. Despite the warm temperatures, it's a good idea to prepare for occasional rain showers and cooler evenings.
Here are some clothing essentials for a Swiss summer:
Lightweight Clothing: The days can get quite warm, so pack breathable, lightweight clothing like short-sleeved shirts, shorts, and summer dresses.
Swimwear: With numerous pristine lakes and public swimming pools, you'll definitely want to bring along a swimsuit or trunks.
Comfortable Footwear: Whether you're strolling through city streets or hiking up the trails, comfortable shoes are essential. Consider packing a pair of sturdy walking shoes or hiking boots along with more casual options.
Layered Clothing: As temperatures can drop in the evening, especially in mountainous areas, it's wise to bring some layers. Pack a lightweight jacket, a sweater, or a fleece for those cooler moments.
Rain Gear: Summer in Switzerland can also mean occasional showers, so don't forget your rain jacket or umbrella.
Sun Protection: The sun can be strong, especially in the mountains. So pack a hat, sunglasses, and high SPF sunscreen.
Remember, the key to packing for a Swiss summer is versatility. Be prepared for a range of weather conditions and activities, and you'll be well-equipped to enjoy everything Switzerland has to offer in the summer.
Things To Do in Switzerland in the Summer
Switzerland in the summer is a playground for a multitude of activities. Whether you're an adventure enthusiast, a nature lover, or a cultural explorer, Switzerland offers a diverse array of experiences to make your summer unforgettable. Here are some things you can do:
Hiking: With the snow melted, summer unveils numerous hiking trails across the country. From easy walks along flower-filled meadows to challenging treks in the Swiss Alps, hiking is an excellent way to immerse yourself in Switzerland's spectacular landscapes.
Cycling and Mountain Biking: Switzerland boasts an extensive network of cycling routes. From leisurely rides around tranquil lakes to thrilling mountain biking on Alpine trails, there's something for cyclists of all skill levels.
Boating and Swimming: The country's pristine lakes offer various water activities, including swimming, boating, and paddleboarding. Or you can simply relax on a lakeside beach and enjoy the sun.
Attend Summer Festivals: Swiss cities come alive with cultural festivals in summer. From music concerts to food festivals, these events provide an opportunity to mingle with locals and experience Swiss culture firsthand.
Paragliding: For adrenaline junkies, paragliding over the Swiss Alps can be an exhilarating experience. Soar like a bird and enjoy panoramic views of the spectacular landscapes below.
Visit Museums and Castles: Switzerland is home to numerous museums and historic castles. Summer is an ideal time to explore these cultural treasures and learn about the country's rich history.
Alpine Train Rides: Enjoy scenic train rides, like the Glacier Express or the Bernina Express, that traverse spectacular mountain landscapes and quaint towns.
Try Swiss Cuisine: Don't forget to try the delicious Swiss cuisine. Summer brings fresh, local ingredients to Swiss tables, and there are countless food festivals and farmers' markets to explore.
These activities offer just a glimpse into the multitude of experiences that Switzerland in the summer has in store. Whichever you choose, you're sure to create memories that will last a lifetime.
10 Best Places To Visit in Switzerland During the Summer
Switzerland in the summer is a treasure trove of mesmerizing beauty and exhilarating activities, and choosing the top places to visit can be quite a task. This list of the 10 best summer destinations in Switzerland serves as your guide to experiencing the country's diverse and captivating charm. From the sun-kissed peaks of the Swiss Alps to the culturally vibrant cities and the tranquil lakeside towns, each destination offers its own unique blend of experiences that truly epitomize the Swiss summer. So, let's embark on this journey and explore the stunning destinations that make Switzerland a quintessential summer paradise.
1. Zurich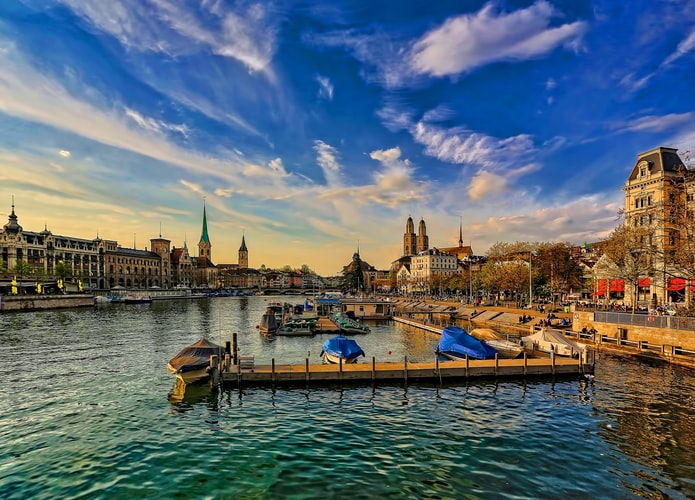 The city with the best quality of life in Europe is our top recommendation if you want to visit Switzerland during the summer. On this season, Zurich buzzes with life while its citizens enjoy Lake Zurich's promenades, in town squares, or garden terraces.
Things to do in Zurich
Swimming
Sailing
Strolling along the blue waters of Zürichsee
If not doing these activities, visitors (and natives alike) will probably be sitting in the numerous park spaces and having picnics on a summer day. On the other hand, if you're searching for quiet and relaxing mornings, you can make that happen on the east side of the lake – all this while still having a fantastic view of the Alps from Bürkliplatz or Zürihorn.
2. Basel
This quaint historic city located in the northern part of Switzerland is indulged in art. Basel is a city of vibrant history, countless exhibits events, and the home of several festivals that amaze tourists all over the world. In the art world, it is best known as the home of Art Basel – an international art fair.
Things to do in Basel
Explore the unique architecture of the old town
Enjoy the stunning views of the Rhine river
Visit the open-air cinema, cool bars, and annual dances by the river
3. Verbier

You may know Verbier as one of the most famous Swiss winter playgrounds, but this beautiful location in the Alps has so much more to offer than just that. It is also a top destination to visit during the summer season as the perfect spot for a break or retreat. This beautiful Swiss Alps village is located in the south of Switzerland and perched on a south-facing plateau 1500m above sea level.
Things to do in Verbier
Canyoneering
Hiking
Biking along the trails of Verbier Bike Park, which has a vertical drop of around 700 meters.
Dine in the village at Namaste or La Marmotte
This Swiss canton is the largest wine-producing region in Switzerland, so if you enjoy fine wine, do not forget to grab some while you're there.
4. Lugano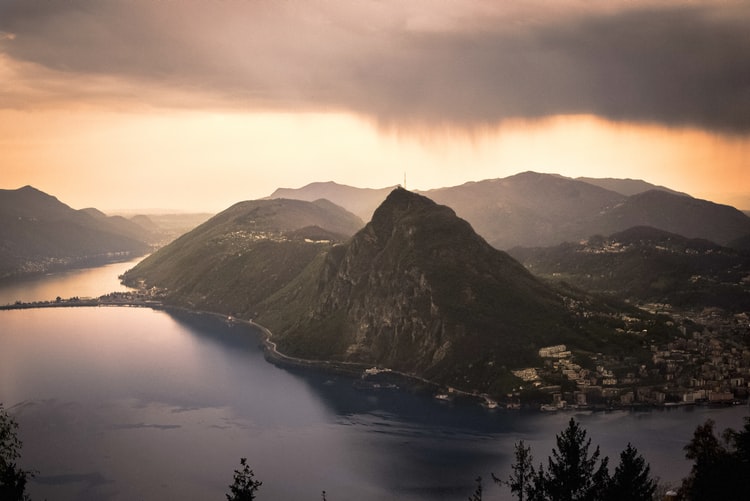 Located in the heart of Europe, Lugano is the largest town in the holiday region of Ticino which joins together the best of both Switzerland and Italy. The reason why this city is mostly visited during the summer is because of its micro-climate, which makes Lugano one of the sunniest places in Switzerland.
This town is a world-class city, combined with flowers, sacred buildings, and villas. Lake Lugano makes certainly the largest summer attraction for many people (especially well-known celebrities), because of its views and refreshing waters. Considering the Italian influence in this region, you'll bet that there will be plenty of food and shopping choices to seek.
Visit the Hermann Hesse Museum
Visit the Alprose Chocolate Museum
Hiking
Windsurfing
Enjoy the climate in Switzerland's Sonnenstube which stands for "sunny room"
Eat at the Restaurant Gallery Arté al Lago – a restaurant in an art gallery
Go shopping at Via Nassa
5. Lungern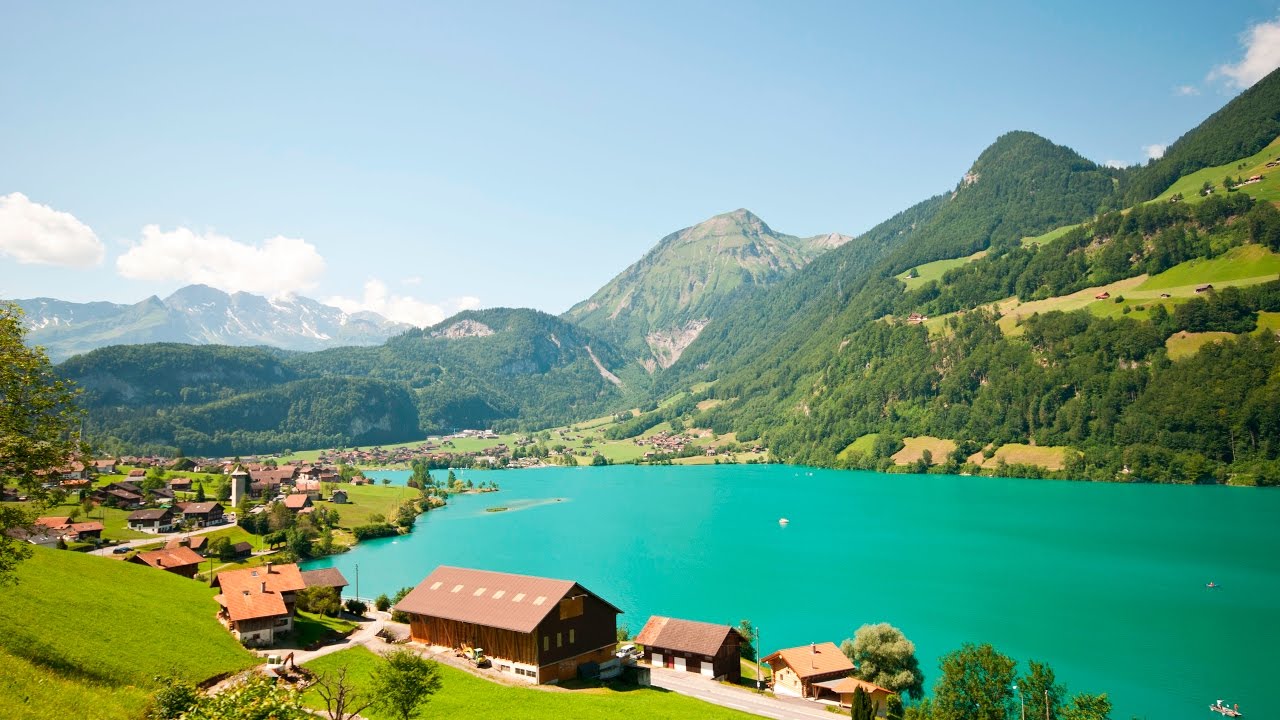 The mountain town of Lungern is located between Luzern and Interlaken. This place is more than worthy of our top 10 list of the best places to visit in Switzerland during the summer, because of the amazing turquoise lakes and rolling green pastures.
This natural paradise, surrounded by mountain trails, is the perfect destination for nature lovers and hikers. And just like almost every valley in Switzerland – Lungern also has its own beautiful lake known as Lungernsee. You can take advantage of the town's perfect climate and go into the lake for a memorable summer bath.
Benefiting from the town's pleasant climate, the lake is perfect for swimming in summer.
Swimming in Lungern Lake
Hiking
Mountain biking
Experience the magical Butterfly Trail through lush flowery meadows
6. Geneva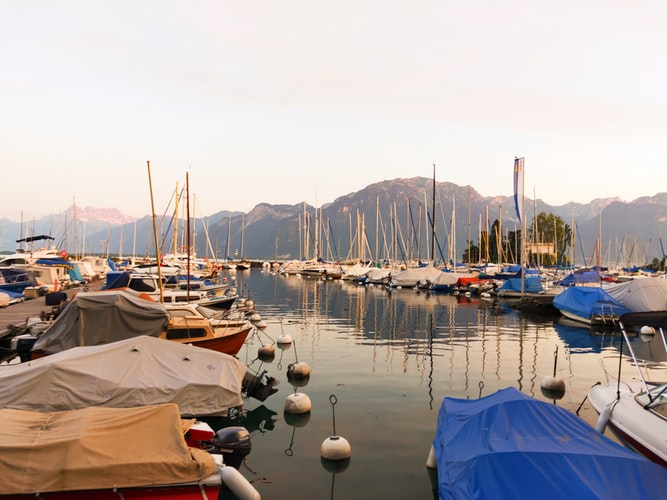 The city of Geneva offers visitors some must-experience cosmopolitan feels. There is a variety of things you can do in this beautiful city, and one of them is enjoying the famous boat excursions at Lake Geneva. There are countless daily cruises that offer you the chance to discover the most beautiful shores of Lake Geneva.
The boats date from the early twentieth century, and while you're cruising, you'll notice that vintage and nostalgic feel. And of course, you cannot go by not visiting the Geneva Water Fountain (Jet d'eau de Genève). The fountain is a historic and symbolic icon of the city.
Things to do in Geneva
See Geneva's Italian side
Explore the Old Town
Hiking
Paragliding
Summer tobogganing
Mountain biking
Paddleboard on Lake Geneva
Visit the Red Cross and Red Crescent Museum
7. Bern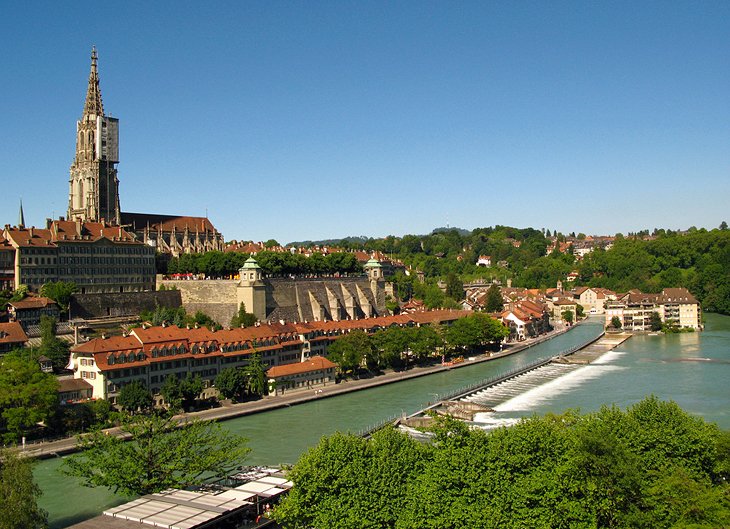 Bern is undoubtedly a beautiful capital and possibly one of the most beautiful ones in the world. And if there's one reason you should visit Bern in summer, then that should be the atmosphere of the Aare river. During this season, it's like Aare river becomes the soul of the city.
With temperatures rising and the sun showing its face, that's where you'll find so much joy and spirit. Summer in Bern is all about the Aare, and if you want to get to know this relaxed city, that's where you should turn to.
What to do in Bern
Rafting
Swimming
Floating
Surfing
8. The Rhine Falls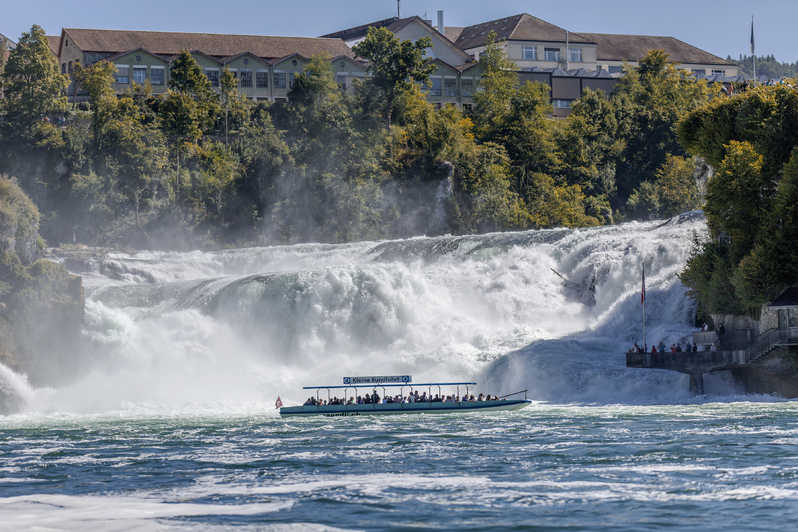 Europe's largest waterfall – the Rhine Falls is mostly recommended to visit during May, June, and July. That is the time when the water density peaks, and you'll surely get a spectacular view from any standpoint nearby.
It is known as an incredible experience from tourists worldwide, who say to feel the roar and the vibration of the water flowing over their entire bodies. The falls lie in the northernmost part of Switzerland near the town of Schaffhausen. By ship one can reach castles, the Rhine Falls Basin and the mighty rock right in the middle of the waterfall.
What to do in the Rhine Falls
Boat trip
Sightseeing
Picture taking
9. Interlaken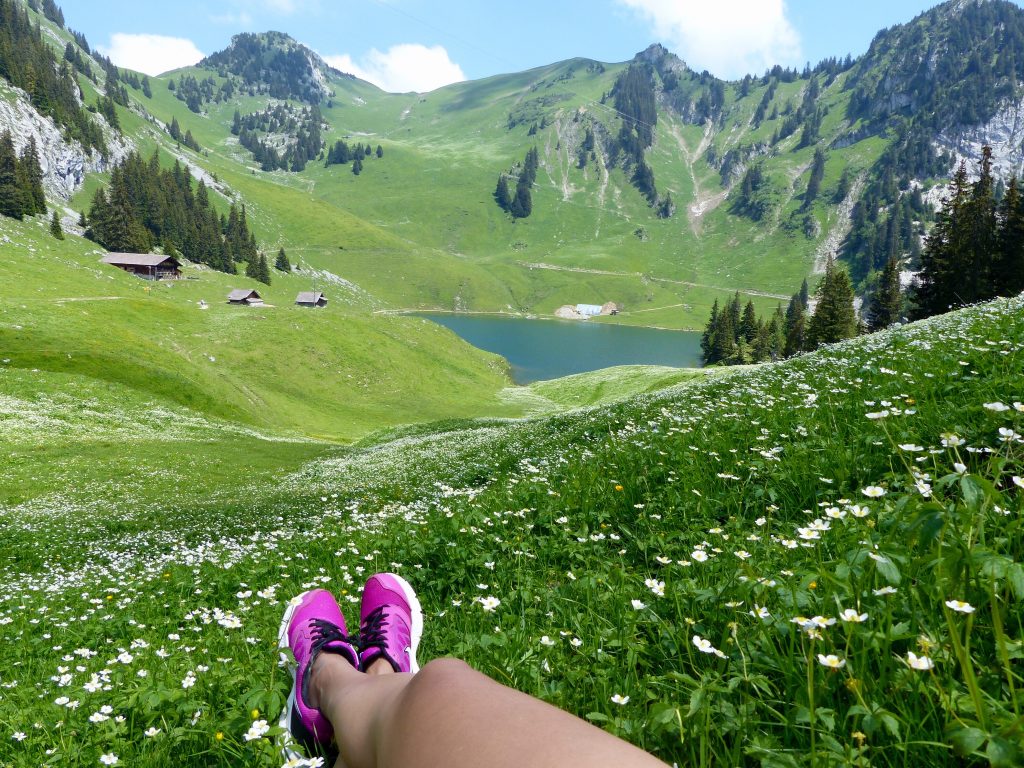 Interlaken is a beautiful town in the heart of Switzerland attracting thousands of tourists from all around the world that want to see the wonderful Jungfrau region with their own eyes. Interlaken is utterly magnificent in both seasons, winter and summer, so in this case, it depends on what type of person you are and what you prefer to do while traveling.
Enjoy the fresh air
Outdoor sports
Enjoy the crystal clear blue water lakes surrounded by majestic mountains
10. Furka Pass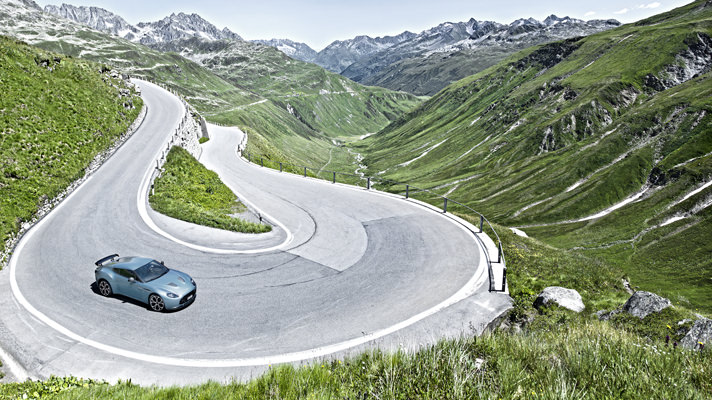 Furka Pass is the legendary Swiss mountain pass that gained fame after it was featured in a car chase scene in the James Bond movie "Goldfinger" from 1964. An Aston Martin DB5 and a Ford Mustang climbed this scenic driving road, located in the Uri/Valais region of Switzerland.
More than 50 years later the landscapes have remained almost the same, and this is most certainly a road in the Alps that those in search of the best driving roads in Europe should experience. Furka Pass provides a truly scenic ride – panoramic views with its height, twists, and turns – so it's definitely worth paying a visit.
Things to do in Furka Pass
Rafting
Climbing
Drive in a panoramic view
How To Visit Switzerland in the Summer?
Planning a summer trip to Switzerland involves several key considerations, from choosing the right travel dates to planning your itinerary and booking accommodations. Here are some steps to ensure a smooth and enjoyable Swiss summer holiday:
Choose the Right Dates: As we've established, summer in Switzerland runs from June 21 to September 23. July and August are generally the warmest months and attract a lot of tourists. If you prefer a quieter time, consider visiting in June or September.
Plan Your Itinerary: Switzerland offers a plethora of attractions and activities in summer. Identify your interests, be it hiking, city tours, cultural festivals, or culinary exploration, and plan your itinerary accordingly.
Book in Advance: Summer is a popular time for tourism in Switzerland, and accommodations can fill up quickly. It's advisable to book your hotels and any specific activities or tours in advance.
Pack Appropriately: Pack lightweight clothing for warm days, but remember to include some layers and rain gear for cooler temperatures and unexpected showers. Don't forget your comfortable footwear for exploring cities and hiking trails.
Get a Swiss Travel Pass: The Swiss Travel Pass offers unlimited travel on the Swiss Travel System network, which covers trains, buses, and boats. This pass can be a cost-effective and convenient way to travel within Switzerland.
Learn Some Local Customs: While English is widely spoken in Switzerland, learning a few words in the local language (German, French, Italian, or Romansh) can enhance your experience.
Prepare for the Altitude: If you're planning to visit higher altitudes, remember to stay hydrated and take time to acclimate to prevent altitude sickness.
Respect the Environment: Switzerland is known for its pristine natural beauty. Wherever you go, remember to respect nature, dispose of your trash properly, and adhere to marked trails when hiking.
Planning ahead will ensure that your visit to Switzerland in the summer is as enjoyable and memorable as you've dreamt it to be. Happy travels!
Conclusion
There's no denying the allure of Switzerland in the summer. The stunning landscapes come alive under the warm sun, offering endless opportunities for adventure, relaxation, and cultural exploration. Whether you're navigating the picturesque hiking trails, immersing in the festive summer events, or simply marveling at the breathtaking beauty of the Swiss Alps, a summer trip to Switzerland promises an unforgettable experience.
So pack your bags, plan your journey, and get ready to create lifelong memories in the heart of Europe's enchanting summer haven – Switzerland.
Frequently Asked Questions (FAQs)
What should I pack for a summer trip to Switzerland?
For a summer trip, pack lightweight and breathable clothing for the warm days. Include swimwear, comfortable footwear for walking or hiking, and layered clothing for cooler evenings. Also, pack a rain jacket or umbrella for occasional showers and sun protection items like a hat, sunglasses, and sunscreen.
What activities can I do in Switzerland in the summer?
Summer in Switzerland offers a range of activities like hiking, cycling, boating, swimming, attending summer festivals, paragliding, exploring museums and castles, taking scenic train rides, and trying Swiss cuisine at food festivals and farmers' markets.
How can I travel within Switzerland?
Switzerland has an extensive public transport network, including trains, buses, and boats. The Swiss Travel Pass offers unlimited travel on the Swiss Travel System network, making it a convenient option for tourists.
Can I visit the Swiss Alps in the summer?
Yes, summer is a great time to visit the Swiss Alps. The snow melts away to reveal green meadows, and the hiking trails become accessible. You can also partake in mountain biking, paragliding, and other outdoor activities.
Is it necessary to book accommodations in advance for a summer trip to Switzerland?
Yes, summer is a popular time for tourism in Switzerland, and accommodations can fill up quickly. It's advisable to book your hotels and any specific activities or tours in advance to avoid any last-minute inconveniences.