Switzerland is a paradise for most cycling enthusiasts worldwide. From its harsh mountains to peaceful valleys, every millimeter of Switzerland has that special something. With so many jaw-dropping sights, the hardest part will be choosing where to begin your bike ride.
Which country is best for bike riding, you may wonder? For thrill-seekers and nature lovers looking for an unforgettable vacation, a cycling tour in Switzerland should be a priority. We'll be going over some of the best mountain passes and roads in Switzerland where you can ride a bike and enjoy the magnificent Swiss nature.
Best Cycling Routes in Switzerland
Cycling routes in Switzerland range from relatively short to long routes, some of which can be done by almost anyone and some suited for more experienced bikers.
We'll be going through a list of Switzerland's most famous cycling routes and what to expect during your journey, other than mesmerizing mountains.
Col du Grand St-Bernard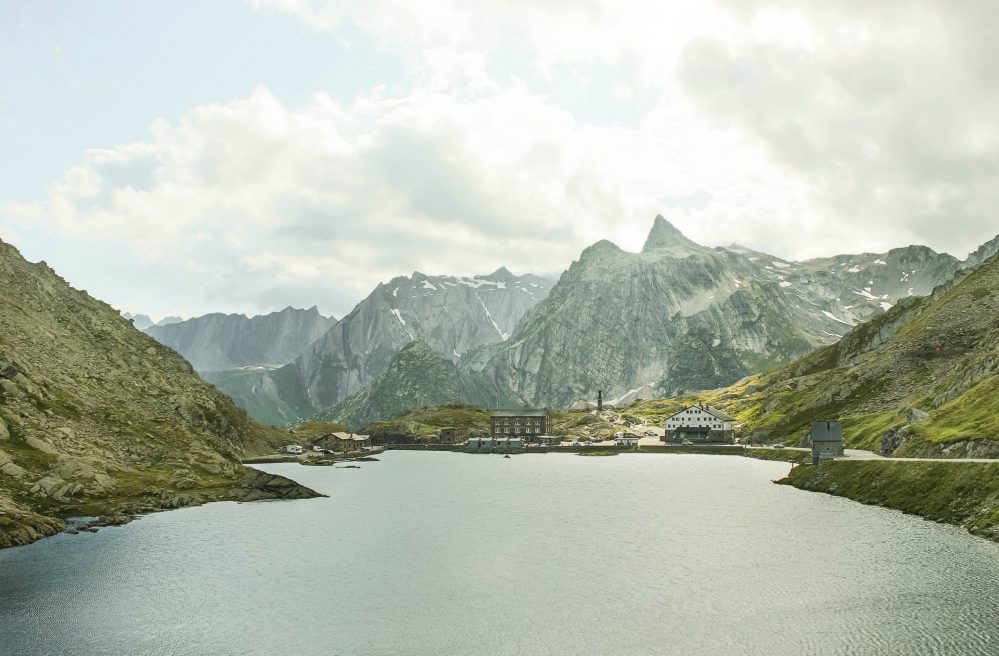 The St-Bernard pass is an unmissable stop if you happen to be in the Swiss mountains. It's the third-highest paved road in Switzerland and an absolute delight to ride through. At the height of 2,468 meters, this col is one of the highest cycling routes in Switzerland.
The iconic ride to the summit provides plenty of challenges during the last 6-7 km. It's a pass located in the high alpines, so the altitude will be as tough to handle as the gradient.
Starting at 1,931 meters, you'll experience the Swiss Alps' unique charm as you go higher and higher in altitude. It's a relatively tricky ride to the top, requiring quite a bit of stamina and experience. No worries, though, as you'll be able to rest whenever you want and feast your eyes on the never-ending green pastures of Switzerland.
Grosse Scheidegg Loop
The Grosse Scheidegg loop is located in the Canton of Bern. It's everything a cyclist wishes for: a great, steep route alongside astonishing mountain views and calming cow bells. The road is almost entirely car-free, and there are many coffee shops throughout the path where you can pause and have a relaxing time looking at the mountains Eiger and Engelhorner.
The length of the Scheidegg loop is approximately 82 kilometers from start to finish, with the ride's peak being about 2,000 meters. As you descend, you'll see the shores of Interlaken and Lake Brienz and the breathtaking village of Grindelwald.
Col de la Croix Loop
The Croix route is a 22km climb from the valley to the top at approximately 1,778m.
You'll pass lovely villages on your way up, where you can rest, grab a drink and absorb the rural culture of Switzerland. As you go higher, the road gets quieter and much more manageable, with a gradient of 1%, making it possible for you to ride and enjoy the breathtaking views simultaneously. The descent is fast and continues to the valley floor.
Col du Sanetsch Loop
Col du Sanetsch covers a total elevation gain of 2,450m, and it's fascinating all the way through.
You start in the valley surrounded by the smell of vineyards, and the road continues by separating through forests. The upper part of the route is very Swiss, with green pastures, wooden houses, cows, and snow-capped peaks. Although it is technically a loop, there's no road down to go back to the valley, and you'll have to ride a cable car.
As your bike is hanging outside the gondola, you'll see incredible views of the Rhône valley until you reach the small village of Gsteig.
Nufenen Pass, San Gottardo, and Furka Pass Loop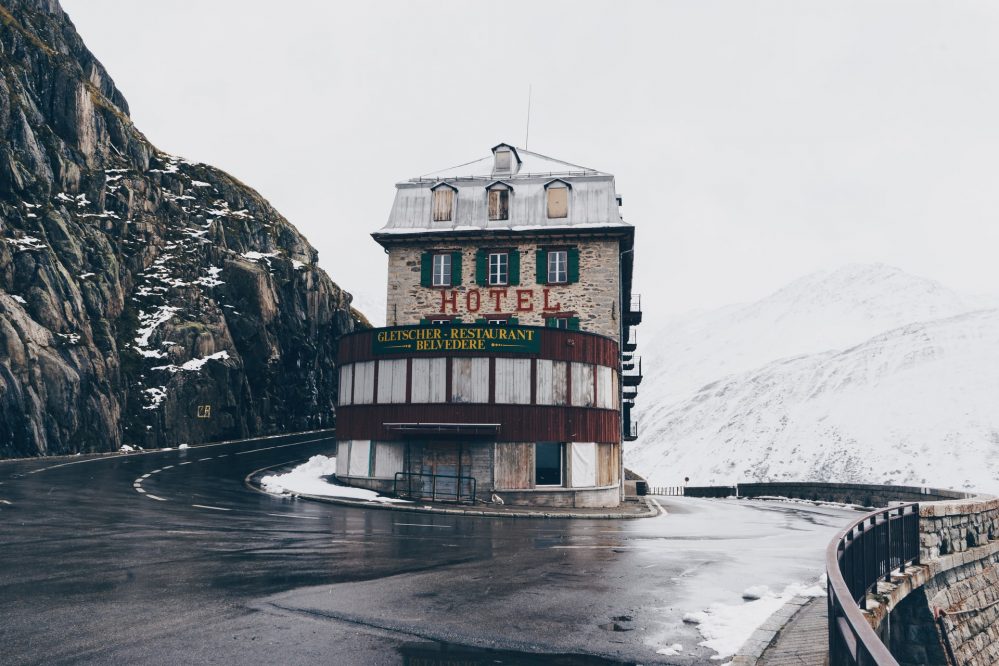 This combination of passes is considered one of the best 100km loops in Europe. It's a stunning cycling loop that includes a bit of everything Swiss.
It starts with the Nufenen Pass, the second-highest paved road in Switzerland. It's also a beast of a cycling route: it climbs 1,108m in less than eight miles. While this makes an average of 8.5% gradient, there are several sections above 10%, making this a challenge even for real bicycle riders.
The loop continues into the San Gottardo, and crossing this pass is considered an adventure no matter how you choose to travel it. For those who love a bit of exercise, it's a unique bicycle experience.
On the north side of the Gotthard Pass, you'll find yourself climbing the Furka. It's the fourth-highest Swiss pass and is known chiefly for the views and the stone pillars which you can see throughout the ride.
You'll be rewarded with a relaxing descent to the start, and the climbing will feel worthwhile.
Derborence
Derborence is a high-altitude pass in the Valais region that offers a gorgeous ride through a natural Swiss paradise and is a favorite among many cycling fanatics.
Derborence is actually a dead-end road, a quiet one that goes through vineyards, a series of tunnels cut into the rock, and finishes off with a naturally formed glacial lake. This hardly-matched cycling experience is around 86 kilometers long and has an elevation gain of 1,350 meters.
Emosson Dam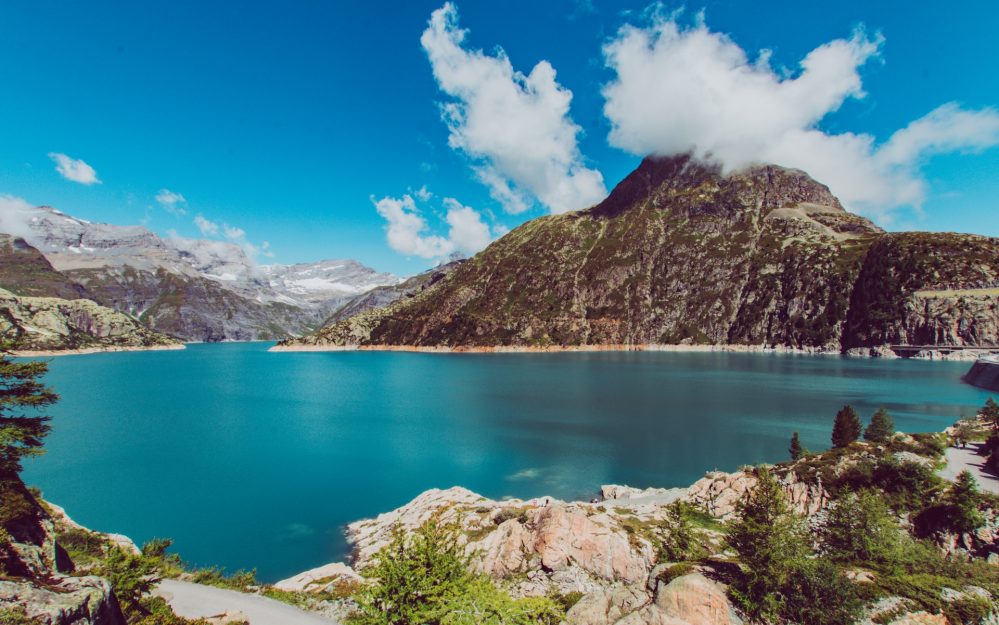 The Emosson Dam route is a 32-kilometer road with Tour de France history. It was the finish of one stage in the 2016 Tour de France, so if you'd like to ride where other professionals have gone before, this is the place for you.
The route starts in the vineyards of the town of Martigny and gives cyclists two options: the classic road following the Tour de France or the steep road towards the Col de la Forclaz. Whichever way you choose, the ride is wild and unrelenting to the top, going through the Emosson Dam and dinosaur tracks imprinted millions of years ago.
At the top, you'll take a breath after a tiring journey and see the stunning Mont Blanc.
Furka Pass, Susten Pass, and Grimsel Pass Loop
Last but not least, the combination of the Furka Pass, Susten Pass, and Grimsel Pass makes it one of the most impressive loops in Switzerland. These three together make a route so ruthless that it intimidates even those more experienced.
The route begins with the Furka pass road, which connects canton Uri with Valais, and was built for the military between 1864 and 1866. The pass was also used for transportation of goods since at least Roman times.
Next, you'll get on the Susten mountain pass. Today's Susten road is relatively young: it was built during World War II, this one too for strategic reasons.
Ending this incredible route is the Grimsel pass, which connects the cantons of Bern and Valais. The pass was used for transport way back in the 14th century, with the modern road we ride today being built in 1894.
Because it's a dazzling 142 kilometers long, the route can be finished in a day or two, depending on your stamina and fitness.
Tips For Cycling in Switzerland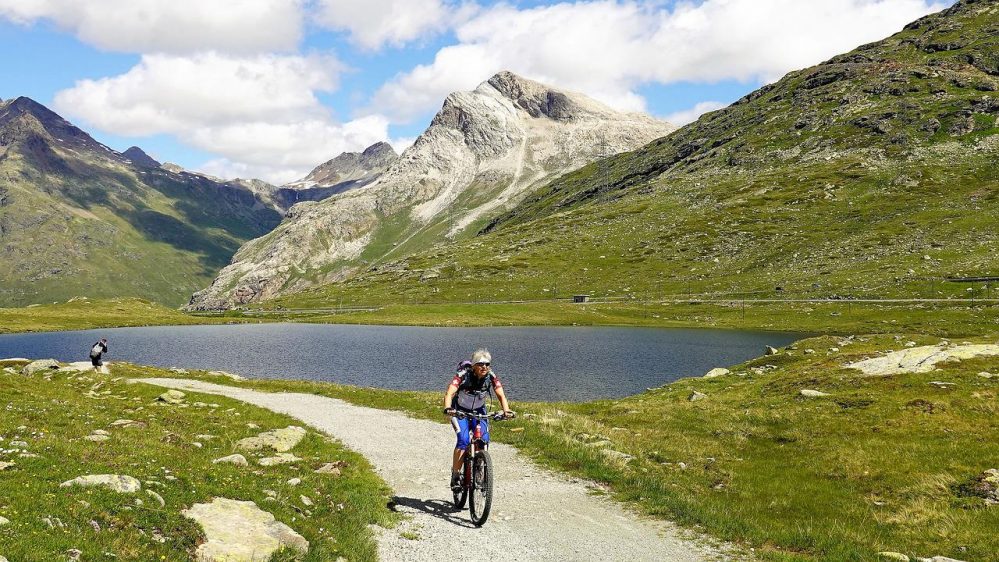 Riding a bike in Switzerland is a truly fantastic experience. But, it's important to stay responsible and prepare beforehand to enjoy it even more. Here are some tips for cycling in Switzerland that will surely improve your ride.
Find the correct route for you: Before starting your ride, you'll have to select a path that fits your capabilities and experience. Beginners obviously have to choose short, steady rides that don't go much high up. However, the Swiss terrain can be unmerciful and punish even the most experienced cyclists, so be careful what you choose.
Prepare for some slopes: No matter what route you pick, there will 100% be slopes and hills, so make sure you can make it by preparing and training at least a little beforehand.
Check your bike: Even if you feel like your bike is operational, make sure to take it to a professional (or do it yourself) to change what needs to be changed and fix any hidden issues.
Pack everything you need: Whether it is canned food, warmer clothes, or a flashlight, you need to have every little detail thought out just in case of an emergency.
Find places to stay between rides: If you plan to ride on some of the longest routes, don't feel bad about resting through the night. Additionally, you must find places to stay if you want to ride different passes, so plan and make reservations in advance.
Follow the path: No matter how fun unexplored paths may seem, they're unexplored for a reason. Make sure always to follow the route you're on and not go into dangerous terrain.
Stay well-fed and hydrated: You'll be burning off plenty of calories on your rides, so make sure to eat and drink water as often as possible to stay energetic and healthy throughout.
The Bottom Line
We've gone through some of the most significant Swiss cycling routes, given details for each of them, and told you all you need to know before going for a ride.
Switzerland is a magical country that keeps people entertained for the entire duration of their stay, and cycling is one of the favorite activities for everyone visiting.
The mountains, the cows, the trees, and the breeze will accompany you everywhere you ride through, so you will never be lonely. All you need (besides a bike) is preparation, lots of energy, and a positive attitude, and you'll conquer the longest of Swiss passes!