Going to Chillon Castle would be like visiting a magical castle; instead, it's a real-life castle with a fascinating history. So if you're in Lake Geneva in Switzerland, don't miss out on Chillon Castle, the Chateau de Chillon – one of the most beautiful medieval castles.
A Visit to Chillon Castle (Château de Chillon)
A visit to Chillon Castle is more than just stories told by people. There's real history involved there, and we'll go through a step-by-step guide to help you understand everything you need to know about this castle.
A short history of Chillon Castle
Chillon Castle is one of the most visited places in Switzerland, and for a good reason. The beautiful Chateau de Chillon castle dates back to the 12th century and can be seen from the promenade of Montreux. So it's been standing like a rock for almost 1000 years. However, some excavations show that this castle had been inhabited since the Bronze Age.
The castle is made up of 100 independent buildings connected with moats and high towers. The current form was built in the 13th century by Pierre II of Savoy and was initially constructed as a fortress, only to become a summer home for the Savoy family at the time. Gradually, the castle was expanded over the centuries, serving as an arsenal and prison.
Additionally, there are three main eras in its history:
The Savoy Era from the 12th century until 1536
The Bernese Era from 1536 until 1798
The Vaudois Era from 1798 up to today
After the Savoy family, the Bernese habitants took over the castle, invading it in just two days, until 1978, when the Vaudois Revolution began. The castle's ownership was passed on to the Canton of Vaud, and that's how artists and writers became fascinated with it, and that's how it became one of the most romantic castles.
Since the castle is near the Switzerland-France border, the French-speaking people on Lake Geneva removed the German-speaking Bernese during the French Revolution in 1798. Until today, the court has served as a tourist point, winery, prison, hospital, warehouse, and royal residence.
How to get to Chillon Castle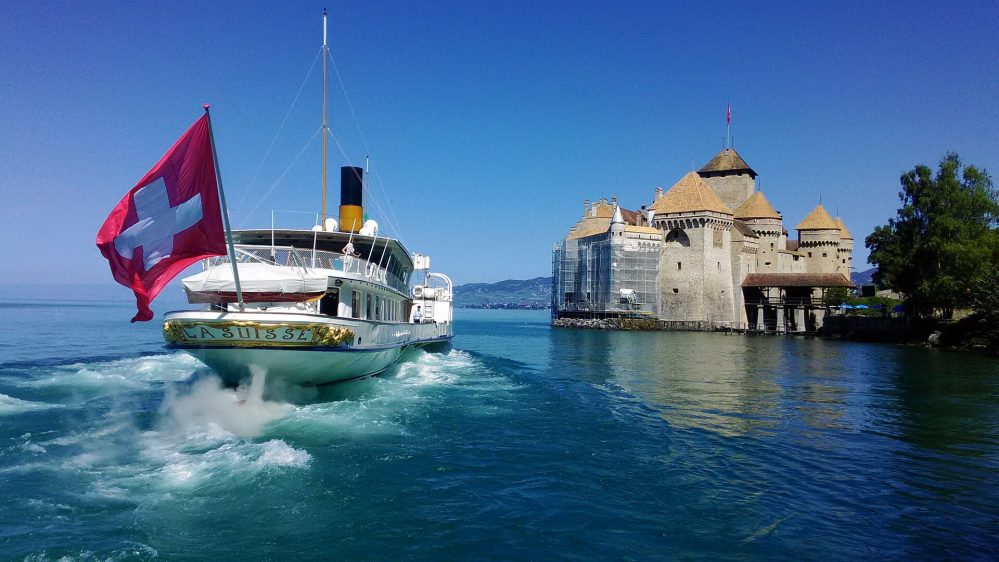 Chillon Castle is easy to access. Many ways can take you to Chateau de Chillon, whether you want to walk, take a bus, train, or boat. Below we will explain every way how to get to Chillon Castle.
Via train
Traveling by train is one of the easiest ways to get to Chillon. You can travel by the local Swiss train that starts from Montreux, or you can travel from Villeneuve. Taking the train from Montreux will take around 3 to 4 minutes, and once you arrive at the train stop, you have another 5 minutes to walk to Chateau de Chillon.
If you're taking the train, Chillon is 4 kilometers from Montreux station and has a beautiful lake view that you can enjoy. From there, you can also take a regional train to Veytaux-Chillon.
Via bus
If you're a bus person, you can easily take one from Montreux, but if you're not there, there's also a bus from Villeneuve or Vevey. From Montreux, there's a 15-minute bus ride to the castle. Once you take bus number 201, you stop at the bus stop called Chillon. You have to walk 2-3 minutes to reach the Chateau de Chillon.
Via boat
Getting to the castle by boat is one of the loveliest experiences, especially during the summer. You can start your trip from Montreux, Lausanne, or Villeneuve, and it only takes 2-3 minutes to walk from the boat dock to the entrance of Chillon. However, we don't recommend traveling by boat during the winter because it's very chilly and the water is not so lovely.
What is the best time to visit Chillon Castle?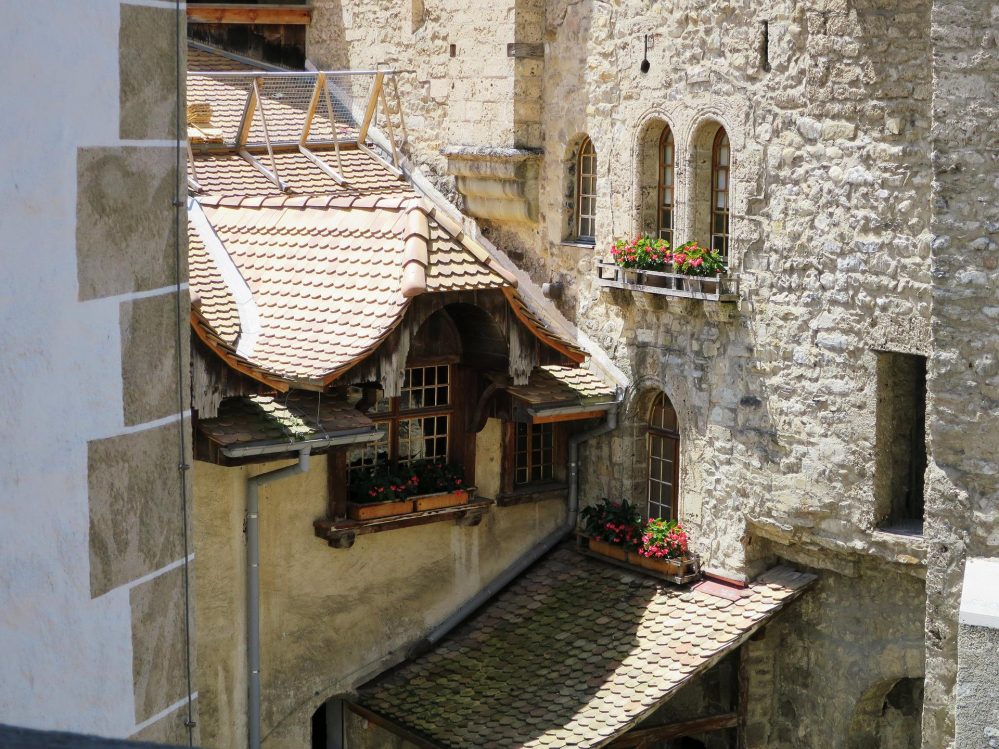 Since Chillon castle has more than 350,000+ annual visitors, it's best to visit early in the morning to avoid crowds. As with any tourist point, Chillon is also expected to be more crowded during midday.
The ideal time to visit Chillon would be spring or autumn because of the mild temperatures. During summer, the castle stays open until late, which is excellent for evening tours, and you can also enjoy sunsets that reflect on the lake. We love plenty of beautiful viewing points, but the castle's last viewpoint might be the best yet.
Opening hours of Chillon Castle
The opening hours are from 10.00 am – 6.00 pm every day. Your visit will primarily take place indoors so that the whole visit can take half a day or even an entire day. But if you want a quicker tour, you can finish the visit in 2-3 hours.
Based on your preferences, you can explore the castle by yourself, use an information brochure along the way, or rent an audio guide if you want to learn more about Chillon's background stories.
If you want a view from Google maps, here's the address.
Tickets for Chillon Castle
Lucky for you, tickets don't cost much, especially for children and students. However, the prices might change during themed days or special events at Chillon Castle. You can also buy a ticket at the castle or book beforehand on their website.
Currently, the costs for a ticket to Chillon castle are:
Children (6-15 years old): 6 CHF
Students: 11.5 CHF
Adult: 10.5 CHF
Senior: 11.5 CHF
What is there to see in Chillon Castle?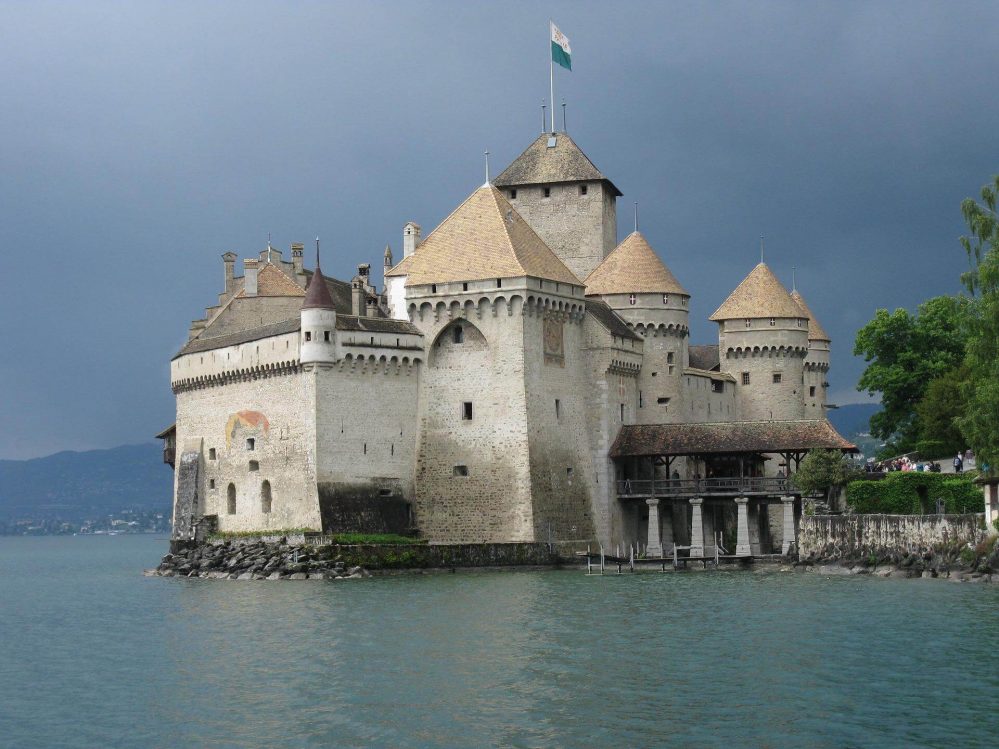 What is there not to see would be a better question. The historic Chillon Castle was built on a rocky island; never once did any war or natural disaster ruin it.
People visit Chillon to admire the irregular octagon shape of the castle, which gives it a fairytale-like appearance. One thing is for sure; you won't get bored walking around the castle because various exhibits and dark jokes follow you around.
The castle consists of two circular walls, 25 buildings, and three courtyards. First, the beautiful wall paintings date back to the 14th century. Then, there are the underground vaults and the parade halls, but a unique sight in the castle is the bedroom which never changed.
Although many of the interiors are unfurnished, they are artfully done in the best way possible. There's a gallery of historic trunks, high windows, and gothic arches that give cathedral vibes.
Speaking of gothic, the cellar of Chillon Castle with stout pillars that look like trees is one of the most terrifying sights. Also, a crucifixion scene from the 15th century is drawn in charcoal on one of the walls in that room.
The Great Halls used for banquets by the Savoy family is also a sight you don't want to miss. There's also the Weapon's Room, the Petter II Room, and the castle defenses, which contain exhibits about the history of the Savoys.
Is Chillon Castle worth visiting?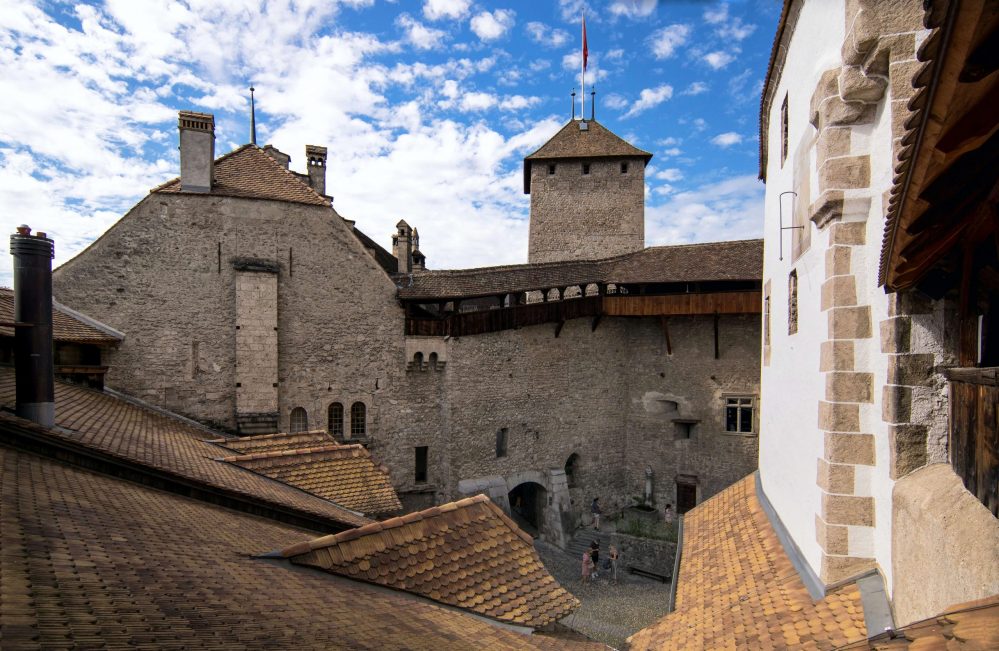 The short answer to this would be a big fat YES. No other castle from this region compares to the Chateau de Chillon. It's a fun and exciting place to visit because it offers a variety of things to see. Overall, the castle is an interesting piece of history, with a very strategic location that makes your experience all the more exciting.
The castle is charming as it rises from a rocky island and connects to the land by a wooden bridge. It's the epitome of what a medieval castle should look like. It's a pure, authentic attraction of Switzerland.
The Bottom Line
Chillon Castle is a beautiful place to visit, and there's no doubt about it. The best part about it is that it's easily accessible because there are many routes you can take to go there. The wonderful wall paintings and the extraordinary views make this castle worth it.
So if you want to go back in time and imagine what living in medieval times and castles was like, Chillon Castle will offer you just that.