Compared to other places in Europe, where artificial landscapes are common, architecture in Switzerland takes a high dose of particularly scenic beauty and natural picturesqueness. From fairytale fortresses, mighty castles, renaissance chateaux, in vogue buildings, Switzerland has a rich and deep-rooted tradition of architecture.
Lakes and mountains accentuate every other aspect of traditional architecture sustaining both local cultural identity and attracting foreign visitors. But history fans are not the only ones to indulge their taste in such unique architectural displays. In contemporary times, the country has also produced some of the most expensive and luxurious ephemeral treasures.
Traditional Swiss Architecture
That such a small, landlocked country is home to some of the most impressive architectural wonders is a testament to over 200 years of peace and many historical and cultural treasures that are preserved to date. The atmosphere is palpable as soon as one enters the Swiss borders; entire towns and villages have maintained most of their original architectural structure, showing a mix of Italian and French influences. This remains most visible in the city of Berne—deemed to be the "Cultural Heritage of Humanity" by Unesco.
Well-defined wide streets, sandy limestone buildings dating back from the 18th century, houses supported by arches and arcades, medieval secular and religious buildings are fit to captivate everyone.
Traditional architectures worth visiting include the Swiss Chalets, Santa Maria Degli Angeli Chapel, Chillion Castle, and San Gottardo Guesthouse, among others.
Check out this list of famous Swiss architectural attractions that are both majestic and traditional.
Swiss Chalets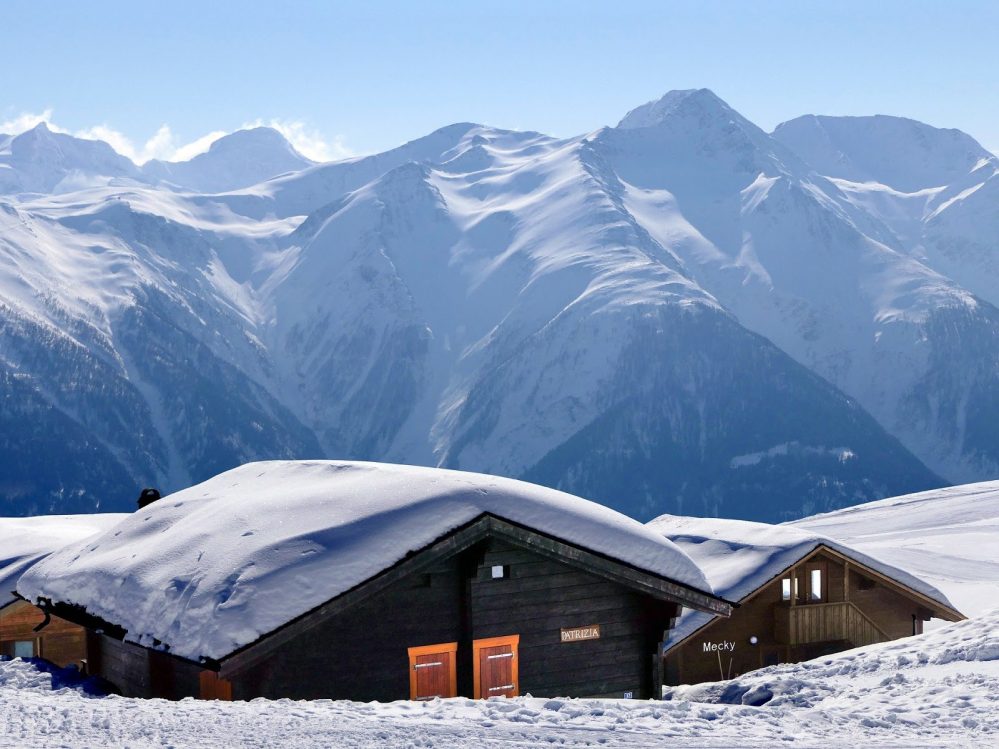 How many times have you seen a house that cooperates so closely with nature and seems a part of its general surroundings? There's something about Switzerland's traditional chalets that exude such an aura of cozy and peaceful bonhomie. Maybe it's the gabled roofs with overhanging eaves, the decorative brackets, the carved "ginger-bread" ornaments, the outdoorsy feeling, or maybe that perfectly rustic aesthetic—whatever the appeal, the Swiss chalets are pure bliss.
While many of today's chalets have become larger and more modern by adding contemporary artwork, the traditional chalets were constructed from wood and more wood. Fireplaces, big comfortable sofas, ottoman-like rugs, throw blankets and pillows, all work in harmony to give you that emotional tug of nature and fill you with nostalgia. Even though nowadays, they have become popular all around the world, chalets illustrate a unique local characteristic that is typically Swiss.
San Gottardo Guesthouse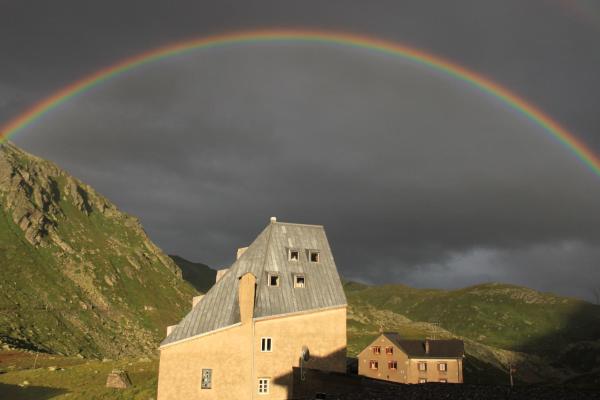 Source: alpen-paesse.ch
The St. Gottardo Guesthouse was first built in 1623. It was almost completely destroyed by rocks that fell down from the side of the mountain in 1774 but then was refurbished by architects Miller and Maranta. Trusted with great responsibility, they had to maintain a delicate balance between retaining its historic meaning and creating a long-lasting modern building with an optical focus on the Alp.
The wood-scented rooms still retain their almost monastic atmosphere and archaic beauty. Each room is named after famous poets and dramatists that visited the place from the past: Goethe, Count of Cavour, Honore De Balzac, and Petrarch, among others. These days, the rooms attract a whole new range of tourists such as alpinists and mountaineers.
Chillon Castle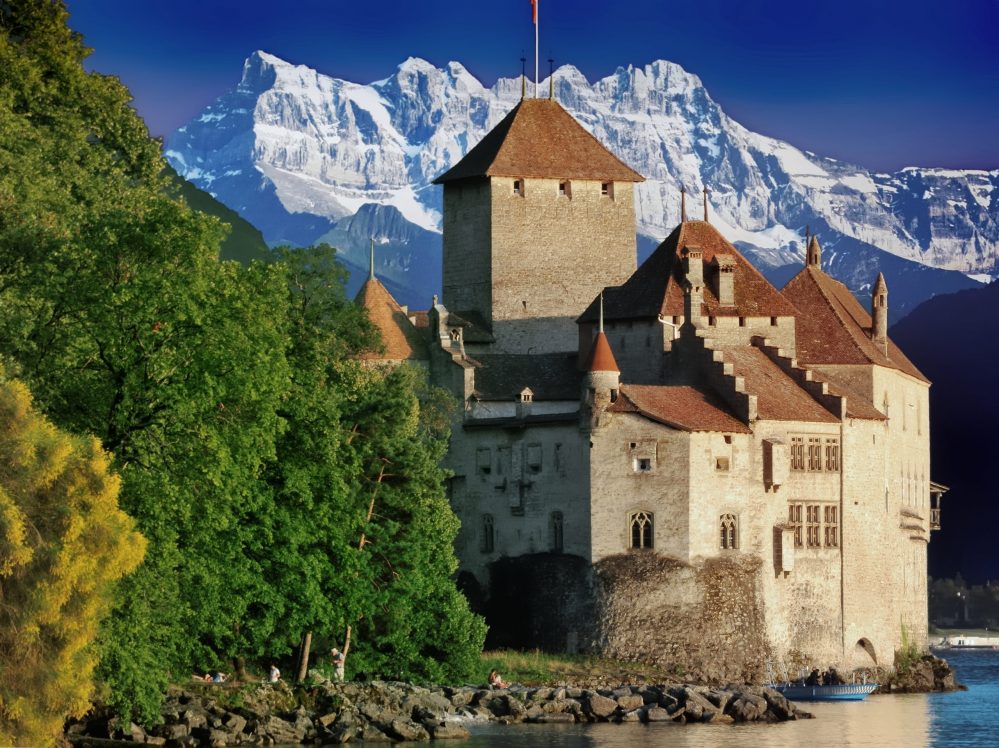 What is really thrilling about the Chillion Castle is that it has been around for over 1000 years and has never been seized or captured. It was primarily used as a prison with dungeons carved out of rocks. This fairytale castle has an oval-shaped form surrounded by water into the Lake of Geneva. Constructed from outer walls, towers, and buildings, the castle was used as a defensive spot with fortifications going back to Roman times. Today, the Chillion Castle is one of the most visited attractions in Switzerland with over 330,000 tourists every year.
Bâtiment des Forces Motrices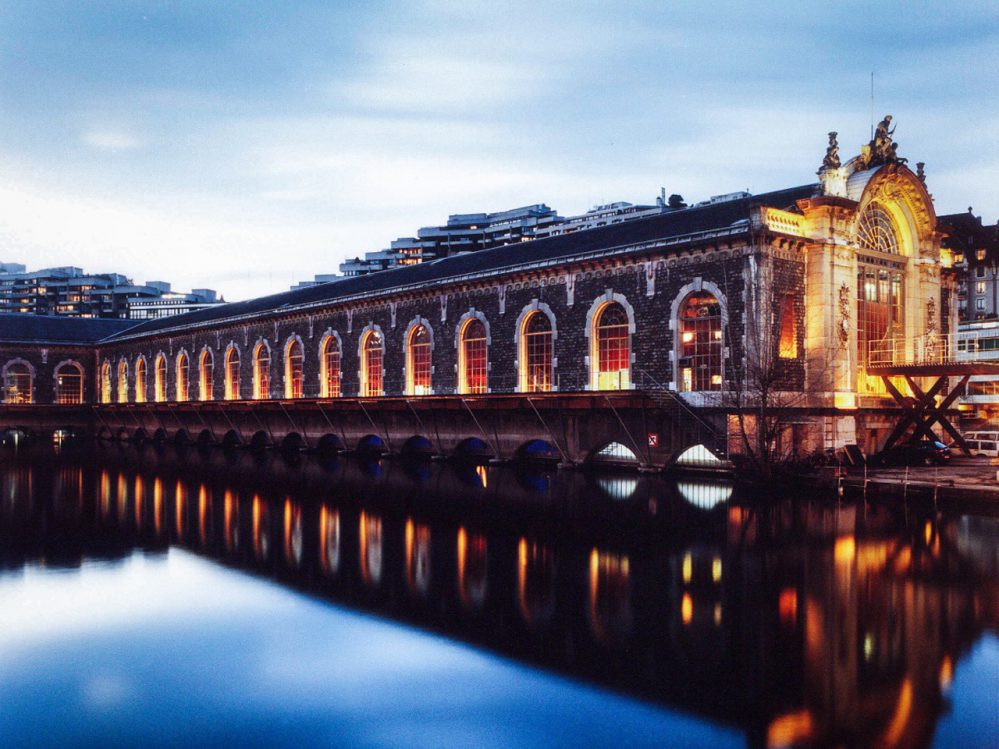 From French "Power Plant Building," the Bâtiment des Forces Motrices looks like an enormous ship sailing into Rhone's harbor. It was originally used as a hydroelectric power station to supply the fountains, houses, and factories of Geneva with water from the river of Rhone.
From an architecture point of view, the Bâtiment des Forces Motrices strikes a balance between being traditional and industrial, with a neo-classical façade of concrete and stone. In the front, you can see the statues of Neptune, Mercury, and Ceres. The building was classified as a historic monument but now it is transformed into a Fine Arts Center used as a cultural venue.
Modern Swiss Architecture
When it comes to architectural culture, Switzerland has been in the limelight for over a century. Although compared to other European countries, the scale of innovative and large buildings is more modest in Switzerland, they are skillfully blended in context by world-renowned architects.
Basel Exhibition Centre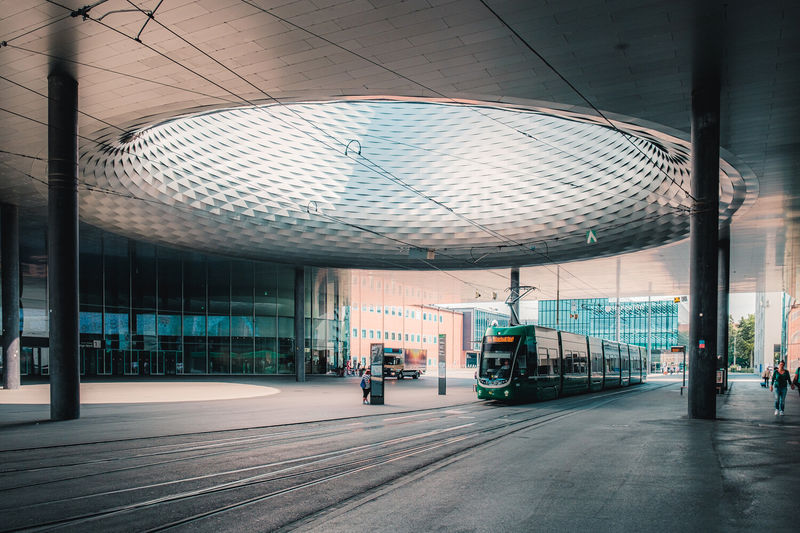 If you have an exhibition or conference that you will be attending in Basel, most probably it's in Basel Exhibition Centre, which has become one of the most famous exhibition centers in Europe. It was built in 2013, designed by renowned architects Herzog and de Meuron and it is a perfect combination of practicality and aesthetics.
The uppermost part of the construction has two overlapping walls with a view of the city streets. The ground floor has a perfect layout, space, and facility to achieve spatial transparency where people can move freely. The atrium is called "a window to heaven" by the architects that make the building special and stand out.
Studio Monte Rosa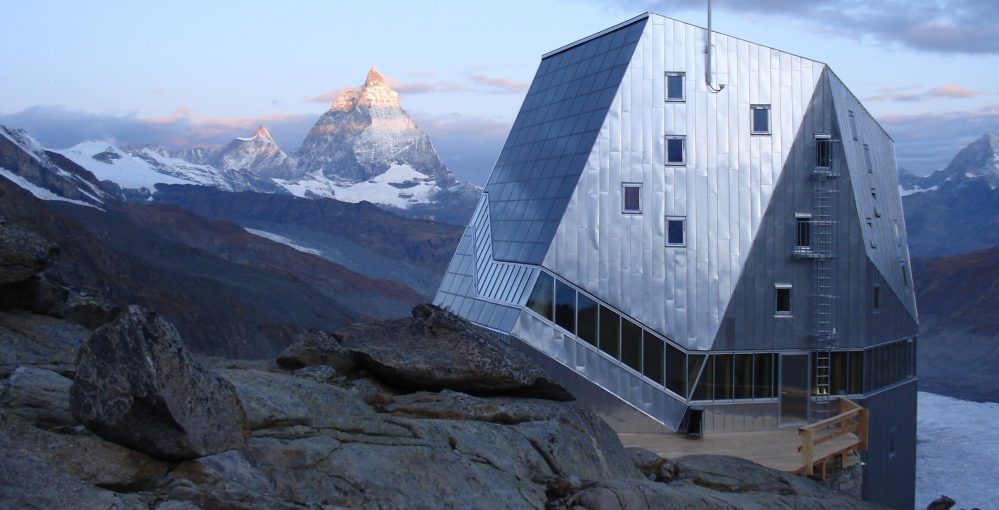 Source: holcimfoundation.org
Monte Rosa is located over 2,500m at the highest peak of the Swiss alps with astonishing views of the Gorner, Matterhorn, and Grenz glaciers. Wrapped in a glittering aluminum facade, Monte Rosa reflects the light and landscape of its environment.
Imagine the challenges and difficulties of constructing a building in such high-altitude and harsh environments. It takes a few days to adjust to the thinness of the air and temperature extremes at such an altitude, let alone the difficulties of transporting building materials to the site. What is particularly interesting is that the building supplies its own energy and recycles water.
Santa Maria Degli Angeli Chapel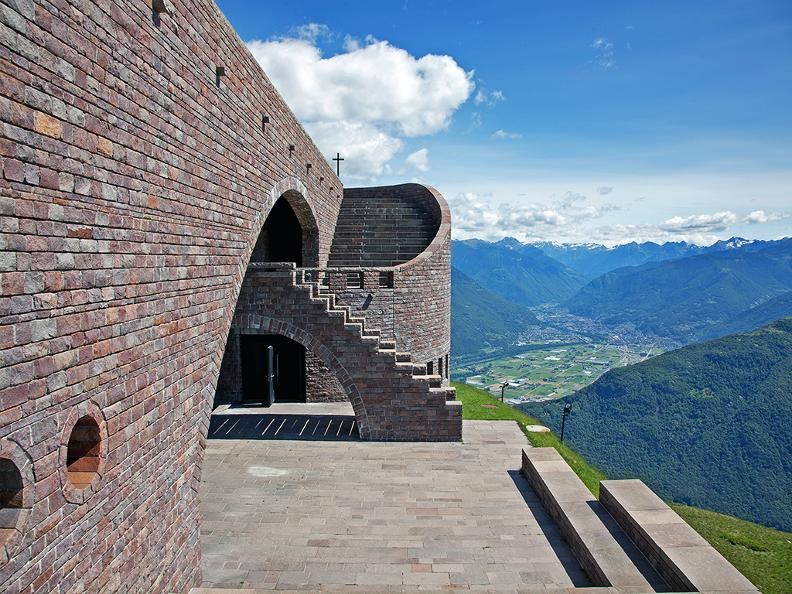 Source: ticino.ch
The Santa Maria Degli Angeli chapel was built during 1992-1996 and is considered one of the most poetic works of contemporary architecture. Hanging at an altitude of 1.5k meters, it was built using the strong materiality of reddish-purple rocks and is located on the edge of the mountain from where you can witness a breathtaking view from the cliff into the valley.
Architecturally, the church resembles a labyrinth with infinite paths to allow space for thought and meditation, and its bridges offer an unlimited view of the surroundings. Although constructed as a primitive-like space, this artistic intervention is considered one of the greatest buildings of contemporary architecture. At such a time when people are engrossed in technology, it is satisfying to see an architectural design that reminds us of our roots and harkens back to our connection with nature.
In sum, Switzerland being a landlocked country has a trove of fascinating architecture. As we've seen, from Swiss chalets and medieval castles to modern and trendy buildings, Swiss architecture excels in every aspect.