The teeny-weenie old town of Baden, not to be confused with Baden-Baden in Germany, is located on the left bank of the river Limmat in the canton of Aargau. Known as "Aquae Helveticae" in its heyday, Baden has lived up to its name as a spa resort and an oasis of calm and tranquility.
Positioned at the gateway to Zurich, the town offers a distinctive culture and a set of values all of its own. From colorful buildings and cobblestone streets to its historic center of the city and beautiful sceneries, Baden's star attractions are fascinating. International festivals, riverside museums, theatres, old castles, and the Grand Casino are other attractions which add further appeal to this beautiful town.
Things to Do in Baden
Whether you're just cruising through for a quick trip from Zurich or you're just not a big fan of large cities, Baden's hidden gems will make you set up a whole itinerary of stops. Check them out below.
Spend a perfect day at the Spa
Baden is a spa town whose mild climate and hot springs have attracted visitors since Roman times. The very name of Baden means "bath" or "to bathe". Romans built their first baths in Baden after discovering that the thermal water is mineral-rich and has healing properties.
In fact, the entire town of Baden is a hub of wellness and thermal spas. They are located in wonderfully panoramic views and are a perfect spot to unwind and take a break after a long day of cruising and sightseeing. There's nothing more refreshing and satisfying than immersing (soaking) your body in a warm thermal bath where you can literally feel the soft fizzy waters filling your body with good health and energy.
It is demonstrated that thermal spas are good for reducing stress and anxiety, renewing your skin and hair, and other boundless healing benefits.
Get around
There are many places to wander about in Baden that highlight the key sights of the town. The heart of the town is rather small and you can just walk around through cobblestone shopping streets and waterfront sidewalks. Ideally, you might want to take a tour advisor to tell you stories about the city and give more details about each particular area.
Swim in the Limmat
The river crosses the entire center of the city which makes it unique and very enjoyable to swim. During summer, you will see crowds of people wallow on the riverfront, jumping, diving, and sunbathing in the bright sunlight. The river is clean and safe except on cold and rainy days when the current is too strong.
Gamble at the Grand Casino
If you are feeling lucky, prepare for a night at the Grand Casino for a variety of games and a relaxed atmosphere. The casino is highly professional, nice, and clean. The staff is friendly and very helpful.
Hike in the Lägern
If you like hiking, you should definitely climb the Lägern mountain, which takes around 4-5 hours to do the 13km that leads all the way to Dielsdorf and Regensberg. This challenging hike will reward you with impressive views of the alps and the black forest in Germany. You can also hike in the opposite direction, starting from Regensberg and ending the excursion in Baden.
Go to the theater
The Kurtheater in Baden is located in the center of the city and offers around 50 guest performances in the field of drama, music, dance, and plays for children. The theater has around 590 seats which makes it the largest theater in the canton.
Things to See in Baden
In the following list, we have put together some of the things to see in Baden.
Take a leisurely walk by the Stein Castle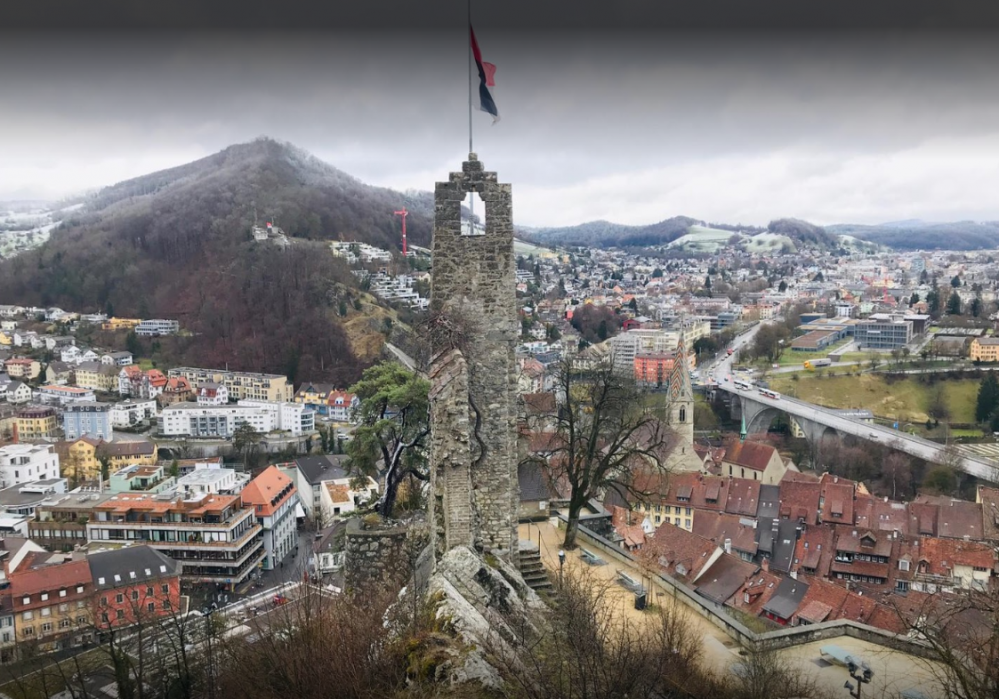 Accessed from the old town, there are stairways that take you up to the top of the hill which lies the ruins of the Stein Castle. From there you can witness the glorious panorama of the town and see as far as Zurich and Üetliberg mountain.
Visit the Historic Museum, Bailiff's Castle
When a museum is tucked right next to the flowing river, in an old and historic castle such as Bailiff's, wondrous scenery and rich history are to be expected. If you want to learn more about how those magical baths and thermal spas were created, along with a full historical overview of the industrial revolution that shaped today's Baden, this historic museum is worth the visit.
Opening Hours
Tuesday, Wednesday, Friday, Saturday 1.00 p.m. – 5.00 p.m.
Thursday 12.00 p.m. – 7.00 p.m.
Sunday 10.00 a.m.– 5.00 p.m.
The Holzbrücke-Covered wooden bridge
How about a lovely walk through a 39-meters covered wooden bridge that connects two banks of the river Limmat? The bridge was built as early as the 13th century and was constantly destroyed by acts of nature and war. Today's bridge was built in 1809 and it has served as the main traffic axis ever since. Designed by the famous architect, Blasius Balteschwiler, this wooden bridge is such an architectural gem.
Lion's Fountain
Have a nice afternoon by Lion's Fountain located in Limmatau, close to Stadtturm. The fountain is surrounded by souvenir shops, old bars, and taverns.
Where to Eat in Baden
If you find yourself starving after visiting all of the above places, you're in for a treat in Baden.
Manito
If you want to try the best burgers in Baden, and maybe in the whole of Switzerland, head to Manito. Small place in the city center, quick and friendly service, tasty burgers, homemade mayo, homemade ice tea, all for a very modest price.
Il Gallo
Head to Il Gallo for amazing, genuine (Neapolitan) Italian Pizza in a small, nice place. If you're up for some pasta, try the Carbonara with guanciale e pecorino. 
Restaurant Hirschli
Whether you go for a drink or dinner, with friends or family, this restaurant is always a good choice. Creative cooking, delicious menu, excellent service, cozy atmosphere with outdoor terrace are among other things that you will find at this restaurant.
In sum, reasons to visit Baden are plenty. Whether you prefer to immerse yourself in a thermal spa, have a quick day trip around the town's key sights, visit old museums and castles or have a tasty lunch or dinner, there's something for everyone in Baden.