Welcome to our latest blog post, "How To Become a Notary: A Comprehensive Guide to Starting Your Notary Career." In today's fast-paced world, notaries public play a crucial role in ensuring the integrity and authenticity of important documents. From real estate transactions to legal affidavits, notaries are responsible for witnessing and verifying signatures, thereby preventing fraud and building trust in countless transactions.
If you've ever considered a career as a notary public or simply wondered about the process, you're in the right place. In this article, we will walk you through the steps to becoming a notary, discussing the qualifications, education, and training required.
Whether you're looking to add valuable skills to your current profession or embark on a new career path, becoming a notary public can offer numerous opportunities and benefits. So, without further ado, let's dive into the world of notarization and learn how you can become a trusted, impartial witness in this essential legal service.
Understanding the Requirements
Before embarking on your journey to becoming a notary, it's important to understand the requirements and qualifications that are involved in this process. While specific criteria may vary slightly depending on your jurisdiction, the following list outlines some general prerequisites and guidelines for becoming a notary public:
Age: In most jurisdictions, you must be at least 18 years old to become a notary public.
Residency: Typically, you need to be a legal resident of the state or jurisdiction in which you wish to practice as a notary.
Background Check: A clean criminal background is often a requirement for becoming a notary. Some jurisdictions may disqualify applicants with certain felony convictions or misdemeanors related to dishonesty or fraud
Education: Some states mandate a notary education course that covers the role, responsibilities, and legal aspects of notarization. These courses can often be completed online or in-person, depending on your preference.
Exam: In certain jurisdictions, you must pass a notary public exam to demonstrate your knowledge of notarial laws, procedures, and ethics. Be sure to check your local requirements, as not all states require an exam.
Bond: Notaries are often required to obtain a surety bond, which serves as a financial guarantee that protects the public from any potential misconduct. The bond amount and duration will vary by jurisdiction.
Application: Once you've met the above requirements, you'll need to submit an application to your state's notary commission or equivalent agency. This usually involves providing personal information, detailing your qualifications, and paying an application fee.
Oath and Commission: After your application has been approved, you'll need to take an oath of office and receive your notary commission, which is your official authorization to perform notarial acts.
Supplies: As a notary public, you'll need to purchase essential supplies such as a notary seal or stamp and a record book to document your notarizations.
Remember, it's crucial to research the specific requirements for your state or jurisdiction, as they may differ slightly from the general guidelines provided above. By understanding these prerequisites, you can ensure a smooth and successful transition into your new role as a notary public.
Notary Education and Training
Notary education and training are essential components of becoming a competent and knowledgeable notary public. Though requirements may vary depending on the jurisdiction, many states mandate some form of education or training for aspiring notaries. The purpose of these courses is to familiarize candidates with the legal, procedural, and ethical aspects of notarial acts. Let's explore the key components of notary education and training:
Notary Courses: Notary education courses are designed to provide a comprehensive understanding of notary laws, procedures, and best practices. They may cover topics such as:
The role and responsibilities of a notary public
Types of notarial acts (e.g., acknowledgments, jurats, oaths, and affirmations)

Proper identification of document signers

Detecting and preventing fraud

Maintaining a notary journal

Ethical considerations and confidentiality
Course Format: Notary courses can be offered in various formats, including in-person classes, online courses, or self-study materials. Some states have approved education providers that offer state-specific courses, while others may accept more general notary education courses.
Examination Preparation: In states that require a notary examination, the notary education course will often include materials and practice exams to help you prepare for the test. Make sure to review these materials thoroughly and take advantage of any additional resources provided by your course.
Continuing Education: Some jurisdictions require notaries to complete continuing education courses during their commission term. These courses serve to update notaries on changes to notary laws, refresh their knowledge, and ensure they remain competent in their role.
Networking and Professional Development: Notary associations and organizations often provide opportunities for networking, professional development, and additional training. Becoming a member of such organizations can help you stay informed, expand your knowledge, and connect with other professionals in your field.
By investing time and effort in your notary education and training, you'll build a solid foundation of knowledge and skills that will help you excel in your new role. Remember that being well-prepared and knowledgeable is crucial to maintaining the trust and confidence of the public in the important work you do as a notary public.
Taking the Notary Exam
Taking the Notary Exam can seem daunting, but it's actually a fairly straightforward process. The exam typically consists of a written portion that covers topics such as notarial laws and procedures, as well as an oral component where you will be asked to demonstrate your knowledge of notarial acts.
To help you prepare for the exam, many states offer study guides and practice exams. Additionally, some states may offer seminars or workshops to provide additional guidance on the material covered in the exam.
When taking the Notary Exam, it is important to be well-prepared and to arrive early with all necessary documents and materials. Be sure to read all instructions carefully, take your time when answering questions, and ask any questions you have prior to beginning the exam.
Finally, make sure you understand what is required before signing any document or agreeing to any terms associated with the Notary Exam. With proper preparation and attention to detail, taking the Notary Exam should be relatively stress-free!
Preparing for the exam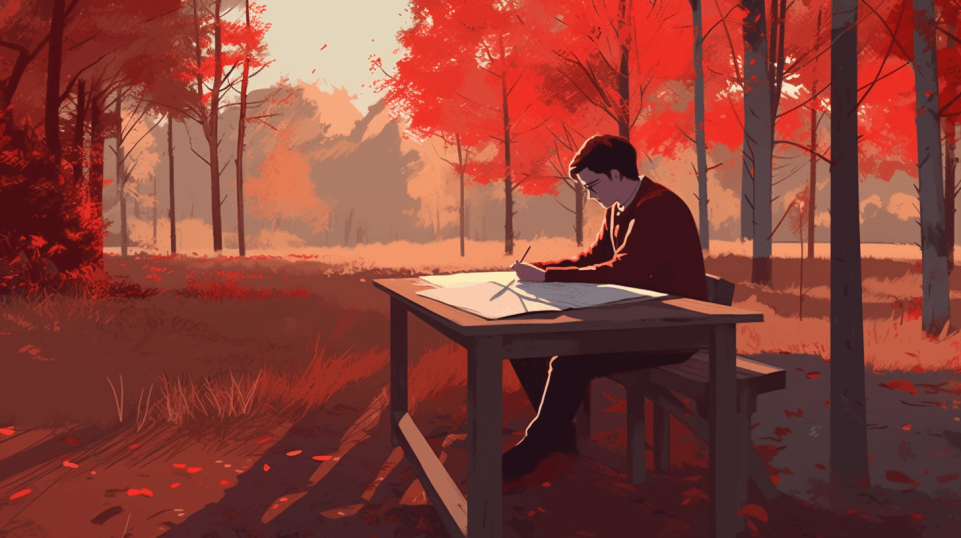 Preparing for the Notary Exam is an important step in becoming a notary. Taking the time to study and review the material covered in the exam can help ensure you are successful on test day. Start by familiarizing yourself with the material that will be tested, such as notarial laws and procedures, as well as understanding what types of notarial acts you may be asked to demonstrate during the oral portion. Additionally, many states provide study guides and practice exams to help you prepare for the Notary Exam.
When studying for the exam, it's important to remain focused and organized. Make sure to break up your studying into manageable chunks over a period of time and use various methods to keep track of what you've learned so far. Consider using flashcards, practice tests, or other online resources to stay on top of your studies. Finally, don't forget to take breaks throughout your studying process so that you can relax and recharge your brain before continuing! With these tips in mind, you should feel confident on test day!
Registering for the exam
Now that you've done the hard work of preparing for the Notary Exam, it's time to move on to registering for it. Depending on your state, the process can vary slightly but typically involves completing an application and paying a registration fee. You will likely have to provide information such as your name, address, date of birth, and any relevant background information.
Once you've submitted all the required materials, you will receive a notification from your state notary office with instructions on how to proceed with scheduling your exam. Most states allow you to take the exam online or at an approved testing center in your area. Be sure to double-check that all of your paperwork is up-to-date before registering for the exam—you don't want anything holding you back! With everything in order, you should be ready to take the next step toward becoming a notary!
Exam day: What to expect
The big day is almost here! You've studied hard and prepared for the Notary Exam, and now it's time to take the test. Here are some tips to help you make sure you stay calm and focused on exam day:
First, arrive at the testing center a few minutes before your scheduled exam time. Make sure you bring all of your required materials (such as photo identification) with you so that you can check in quickly and easily.
Once you're inside the testing center, read through the instructions carefully and make sure you understand everything. During the exam, focus on answering each question thoroughly and accurately. There may be some tricky questions, but don't get discouraged—your hard work will pay off!
Finally, remember that this is just one step towards becoming a notary. After successfully passing the exam, you will still need to apply for a commission from your state notary office in order to receive your official notary seal.
Applying for a Notary Commission
Applying for a Notary Commission is the next step in becoming a notary after you have successfully passed the Notary Exam. Most states require that you fill out an application and submit it to their office of the secretary of state. This process can seem a little intimidating, but with some preparation, you can make sure your application is complete and accurate.
First, make sure to review your state's specific requirements for becoming a notary. Each state has different criteria and forms that need to be completed and submitted. After you have gathered all of the necessary documents, double-check them to make sure everything is accurate and up-to-date before submitting your application.
Next, contact your local Secretary of State office or their website if they offer online applications. Ask any questions you may have so that you know exactly what information they need from you before submitting your paperwork to them. Once your application is received, processing times may vary depending on the state, so be patient while waiting for the results!
Once your application has been approved, congratulations—you will officially become a notary! Make sure to keep copies of all documents related to becoming a notary in case there are any issues down the road.
Assembling your application packet
Applying for a Notary Commission is the first step in becoming an official notary, but it can be daunting to put together all the paperwork you will need. Don't worry—as long as you take your time and double-check everything, putting together your application packet should be a breeze.
The most important thing to remember when assembling your packet is to make sure all documents are up-to-date and accurate. You may also need to include additional forms depending on your state's requirements, so do some research before submitting your documents. Once everything is in order, double-check each form again to make sure nothing was missed or incorrect.
You may also need to include a self-addressed stamped envelope if mailing in your application. When in doubt, contact the Secretary of State's office or their website for specific instructions on what needs to be included with your application packet.
Take your time going through each step of the process, and you will have no problem putting together an exceptional application packet!
Fees and payment options
Becoming a notary doesn't have to be expensive! When researching the cost of applying for your Notary Commission, you'll usually find that application fees are fairly low. Depending on your state, this fee is typically between $10 and $50. The good news? You may even be able to pay these fees online with a credit card or electronic check.
In addition to the application fee, you may also need to pay a processing fee if submitting your application through an independent vendor. This fee can range anywhere from $30-$50, depending on the provider and location.
Remember that most states will require you to purchase a Notary Seal and/or Bond when applying for your commission as well, so take those expenses into consideration before submitting your application.
Overall, becoming a notary is surprisingly affordable! As long as you plan ahead and budget accordingly, you should have no trouble meeting all the required fees associated with becoming an official notary in the United States.
What to expect after submitting your application
Once you submit your application to become a notary, the process typically takes anywhere from 2-4 weeks. During this time, you may be asked to go through a brief background check by your state's Notary Commissioning office or agency.
You'll also need to find out where and when you can take the required exams (if applicable in your state) and take steps to obtain the necessary supplies for your new role, such as an official notary seal and/or bond.
After your application has been processed, you'll receive notification of its approval by mail or email. This notification will include important information on what's next in becoming an official notary, including when and where to pick up any necessary supplies, such as a stamp or seal.
Once all of these steps have been taken, you'll officially be ready to begin your journey as a notary!
Acquiring Notary Supplies
As a notary public, you'll need to acquire certain supplies to perform your notarial duties effectively and professionally. These supplies are essential for ensuring the legality and authenticity of the documents you notarize. Here is a list of key notary supplies that you should obtain:
Notary Seal or Stamp: A notary seal or stamp is used to imprint or emboss your official notary information on documents, signifying that you have performed a notarial act. Depending on your jurisdiction, the seal or stamp will include specific information such as your name, commission number, commission expiration date, and state or jurisdiction. Be sure to comply with your state's requirements regarding the type of seal or stamp (inked or embossed) and the information it must contain.
Notary Journal or Record Book: A notary journal is an essential tool for maintaining a chronological record of all notarial acts you perform. It helps you keep track of your notarizations and serves as an invaluable reference in case of future disputes or audits. Your notary journal should include detailed information about each notarization, such as the date, type of notarial act, document title, signer's name, identification method, and any relevant notes. Some states mandate the use of a specific type of journal or have guidelines for the information that must be recorded.
Ink Pad (for Embosser): If you use an embosser as your notary seal, you may need an ink pad to create a visible impression of the raised seal on documents. This is particularly important for documents that will be scanned or photocopied, as the embossed seal alone may not be easily discernible.
Notary Public Sign: A notary public sign can help identify your services and attract clients. While not required, a professional sign can lend credibility to your notary business and make it easier for potential clients to find you.
Notary Guidebook: A notary guidebook provides a handy reference for notary laws, procedures, and best practices. It can be an invaluable resource, especially for newly commissioned notaries, helping you navigate complex notarial situations and ensuring compliance with your jurisdiction's requirements.
Errors and Omissions (E&O) Insurance: Although not technically a supply, obtaining E&O insurance is highly recommended for notaries. This type of insurance provides protection against financial loss due to errors, omissions, or negligence in the performance of your notarial duties.
When purchasing notary supplies, make sure to choose a reputable vendor that complies with your state or jurisdiction's requirements. Investing in high-quality, reliable notary supplies will help you perform your duties effectively and professionally, instilling trust and confidence in your clients.
Marketing and Building Your Notary Business
Once you've gained your notary public certification, it's time to start building your notary business. Marketing yourself as a notary is a key part of this process and can help you get your name out there and start receiving clients.
One great way to begin marketing your services is by developing an online presence. Creating a website or social media account allows potential customers to find and connect with you easily while also giving them the opportunity to learn more about what you do and how you can help them.
You can also reach out to local businesses, lawyers, real estate agents, banks, or other organizations who might need your services. Additionally, attending networking events in your area is a great way to introduce yourself and make connections in the community that could lead to more business opportunities down the road.
Finally, don't forget about word-of-mouth marketing! Ask existing clients for referrals or reviews on websites like Google My Business or Yelp. This will help build up trust with potential customers and ensure that they are comfortable working with you when they need their documents notarized. With these strategies in place, you'll be sure to gain the recognition you need as a notary public!
Staying Compliant and Up-to-Date
Staying compliant and up-to-date with notary laws is an essential part of being a successful notary public. It's important to stay informed about the rules and regulations in your state, as each one is unique and can change from time to time. Your local library or government website are great resources for staying informed about notary laws in your area.
You should also be sure to renew your commission each year, as this will ensure that you remain a qualified and legally recognized Notary Public. Additionally, it's important to keep thorough records of all of your notarizations, as this will help protect you in the event that any questions arise down the line.
Having an understanding of the law and maintaining accurate records are key components of a successful notary business. Working hard to stay compliant and up-to-date will help you keep clients satisfied while protecting yourself from potential legal issues.
Conclusion
Becoming a notary is an exciting and rewarding career choice that allows you to make a difference in your community. Whether you choose to become a notary for personal or professional reasons, it's important to stay informed about the laws and regulations in your state.
Additionally, having an understanding of the law and maintaining accurate records are key components of a successful notary business. Working hard to stay compliant and up-to-date will help you keep clients satisfied while protecting yourself from potential legal issues.
With the right information, dedication, and commitment, you can become a successful notary public in no time!