With Switzerland being one of the countries with the largest number of international students, Swiss universities have had to adapt their curriculums to include English courses and degrees. Currently, most of the universities in Switzerland offer their Master and Doctorate programs in English. As for Bachelor programs, most courses are given in German, but English is present, too, even though in lower numbers than for post-graduate studies.
Life in Switzerland
While you might think of Switzerland as an unknown country, adapting to its culture might be easier than you think. The fact that ⅓ of the population comes from outside of Switzerland makes this country very diverse. Considering that there are 4 national languages, English is taught from childhood, and people from foreign countries bring their own language and culture. Switzerland is a really diverse and welcoming country. This is why it makes such a great home for international students.
Home of diversity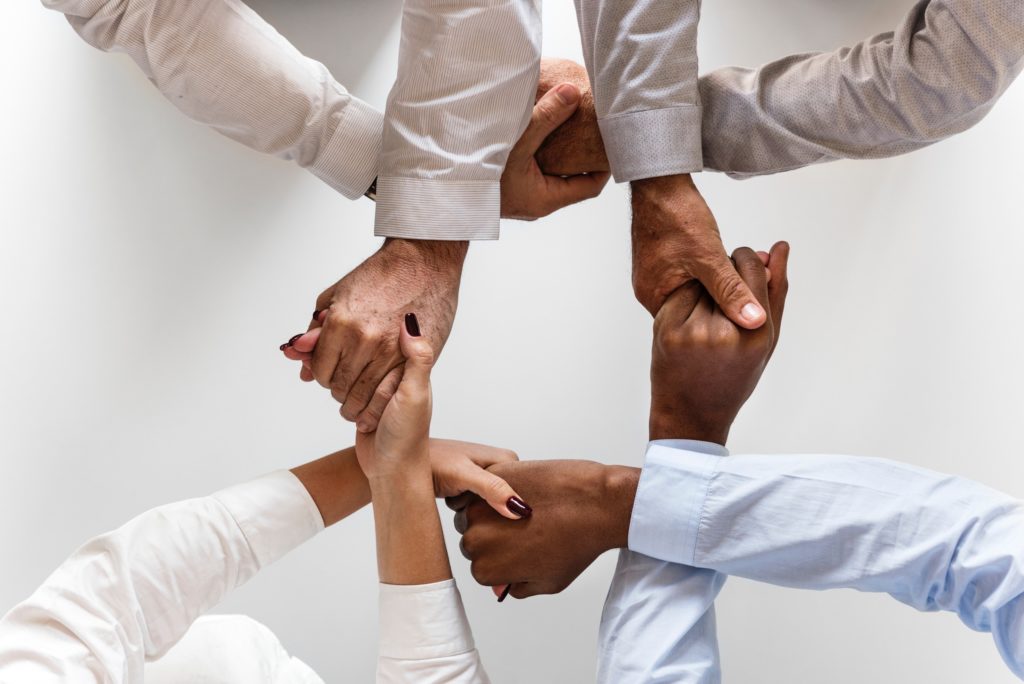 Nowadays, more people than ever are deciding to study abroad, to gather experiences and perspectives. Switzerland is, without a doubt, the choice for many of these students. That's because it has a long history in many fields, allowing students to learn from the best. Students can find a wide range of Swiss university programs, from international politics to hospitality, banking to the culinary arts.
The living costs in this country are slightly higher than in most countries due to the higher living standard, but education in Swiss universities is an investment, not an expense.
No matter the cost, life in Switzerland as a young person, is an unforgettable experience. This is a country of four different national languages, 25% of the population is foreign, and there is quite a mix of cultures.
English universities in Switzerland
Swiss universities are very welcoming to international students. With their adapted programs in English and language learning courses they offer, they make the right choice for your studies. But the fact is that not all universities in Switzerland have adapted to English courses. The biggest number of English programs is on the maters and doctoral level. Only some universities offer all of their bachelor, masters, and doctoral programs in English.
Disclaim: The following lists of higher education institutions do not represent a ranking.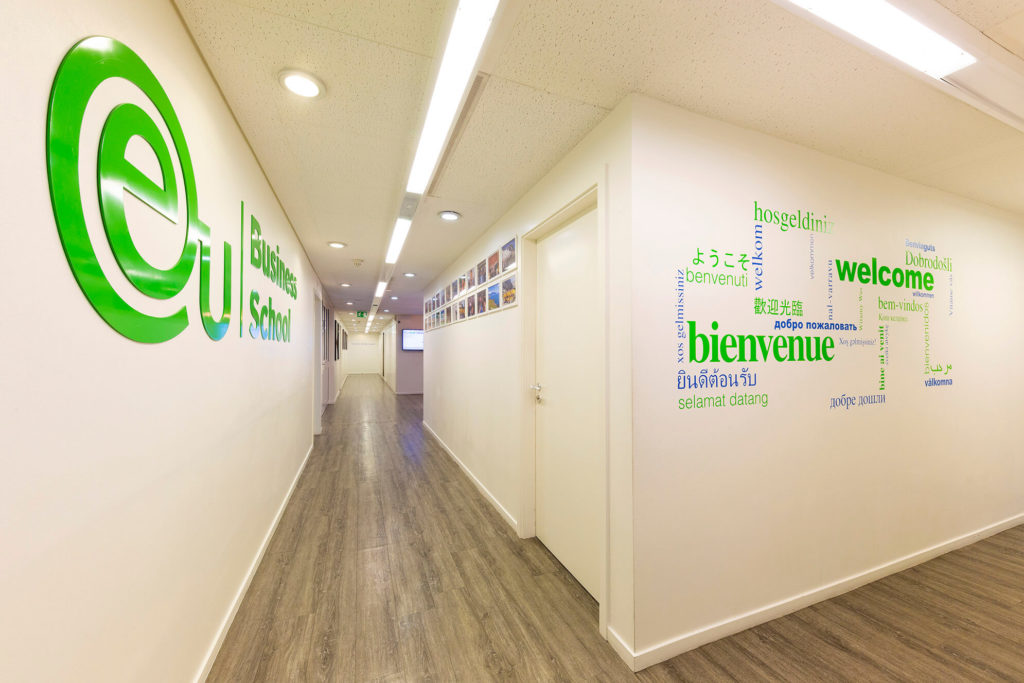 Established in 1973, the EU Business School is an institution that offers foundation, bachelor's, master's, MBA, and doctoral programs in subjects that cultivate entrepreneurship, innovation, and leadership.
With its global network, the school encourages students to partake in exchange programs, both within Europe and with partner institutions worldwide. EU Business School also offers two English preparatory programs that may only be taken as a precursor to their degrees.
Language: All the courses are taught in English.
Tuition: Bachelor – CHF 13,800 (per semester); Master – CHF 9,600 (per term)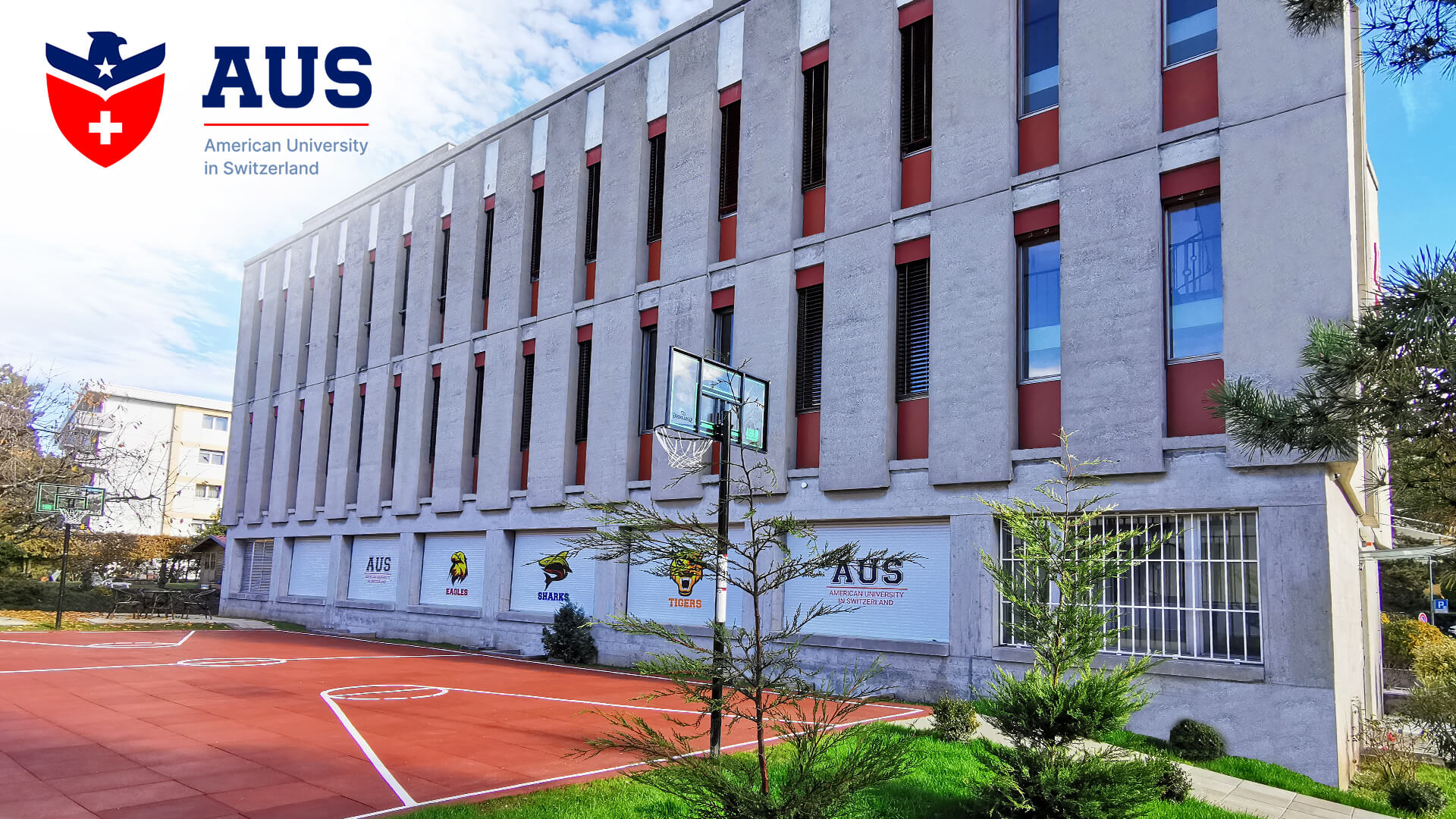 Established in 1963 (originally under the name American College of Switzerland), the school changed its name to the American University in Switzerland to display its growing international education status. This international university offers bachelor's, master's, and doctorate business degrees and a summer program.
AUS is a Higher Education institution that prepares students for 21st-century business challenges while thriving within an ever-changing environment. Its programs provide students with transferable skills in a multicultural and progressive environment, where cutting-edge theory interlinks with practical experience.
Language: All the courses are taught in English.
Tuition: CHF 18,000/year for undergraduate, CHF 15,000/year for graduate, and CHF 20,000/year for postgraduate.
International University in Geneva

The international university of Geneva is a non-profit Swiss Foundation of Higher Education founded in 1997. It is one of the top ten business schools in Switzerland, and with its graduate and undergraduate programs, it is an ideal institution for international students.
The programs are specially designed with theoretical and practical instruction to prepare students for international business practices. Their exchange program enables students to study at universities worldwide. All undergraduate programs lead to a double degree: students graduate with a specialized degree from the International University in Geneva and a BSc (Hons) in Business Management from the University of Plymouth (UK).
Language: They are one of the few schools whose courses are taught in English.
Tuition: Total tuition per program is 36,400 CHF (in total)
Business and Hotel Management School of Switzerland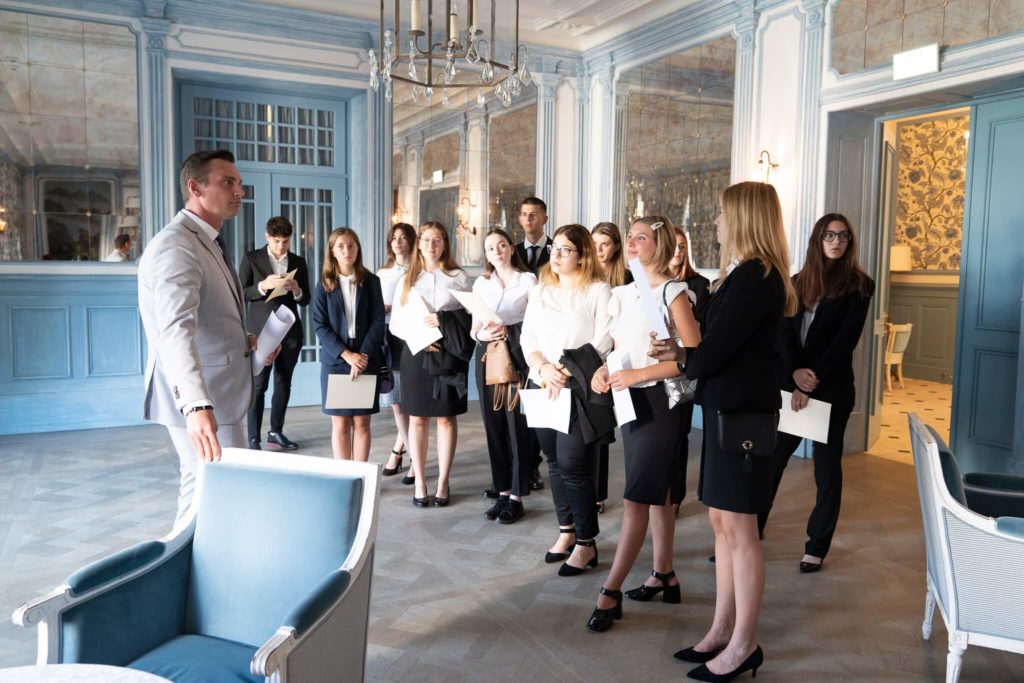 BHMS is one of the worlds leading hospitality schools. Its distinctive quality is that it has designed the fastest BA degrees without compromising the education quality. What they have done is that they've combined 18 months of studying with an 18 month paid internship.
The institution also has a Preparatory English Program to ensure students maximize their development before starting a full academic program. The students at the Luzern campus have the opportunity to prepare for their future management roles in the hotel and hospitality industry. BHMS has students from 65 countries.
Language: All the courses are taught in English.
Tuition: 23'100 CHF (in total)
Montreux Business University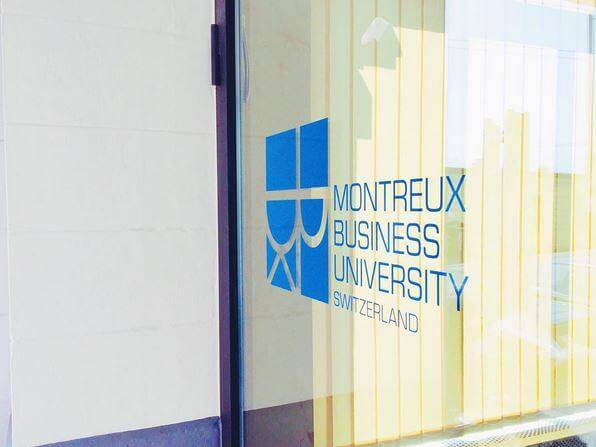 This university offers programs designed for students to learn the fundamentals of business and have the opportunity to use the knowledge for further personal development. These programs enable students to enter the workforce armed with both hard and soft skills of business.
The professors are real-life business professionals, bringing their own experience into the classroom, allowing them to learn from their experience and mistakes. The classes are small-sized for a more effective learning environment.
Language: All the courses are taught in English.
Tuition: Undergraduate – CHF 24'000 (international students); CHF 18'000 (EU & Swiss students)
Graduate – CHF 35'500 (international students); CHF 30'000 (EU & Swiss students)
Universities offering English courses
While not all universities offer their courses in English, some of them have a number of them in English and offer support in German, French, or Italian for the rest of the courses. While some might look at this as a disadvantage, it is actually a blessing in disguise. At these universities, you get to study at a world-class institution and perfect your foreign language knowledge.
Although the bachelor programs in these universities are not completely in English, most of their masters and doctoral degrees are. This is why these universities are so well known internationally for their masters and doctorates.
University of Geneva
This research university, located in Geneva, was founded in 1559. Its long history and legacy make it one of the best places to be studying in the world. University rankings have ranked this university in the top 100 universities.
The university's main missions are research, teaching, and services to the community. Today, it is the third-largest university in Switzerland by the number of students, 40% of which are international.
Language: The courses are taught in French and English.
Tuition: 500 CHF (per semester)
University of Bern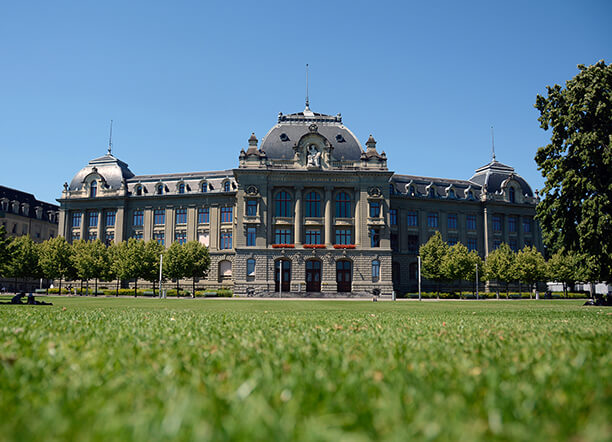 Being located in Switzerland's capital, the University of Bern benefits from the city's diversity, cultural heritage, and development. With Bern being located in a German-speaking canton, this language is required for a full-degree program.
The World University Rankings ranks this university in 113th place. The university is welcoming to international students, with their engagement in exchange programs like Erasmus, ISEP, and bilateral agreements with other international universities.
Language: The courses are taught in German and English.
Tuition: 950 CHF (per semester)

University of Applied Sciences Northwestern Switzerland FHNW
FHNW is one of Switzerland's preeminent universities of applied sciences and arts, involved in teaching, research, continuing education, and service provision in both innovative and practice-oriented approach.
The institution offers specific English modules in the fields of Computer Science, and Engineering, and Management, and two different international tracks, a special project-based program, and a master's degree program.
Language: The courses are taught in German and English.
Tuition: depends on the degree of choice.
University of Basel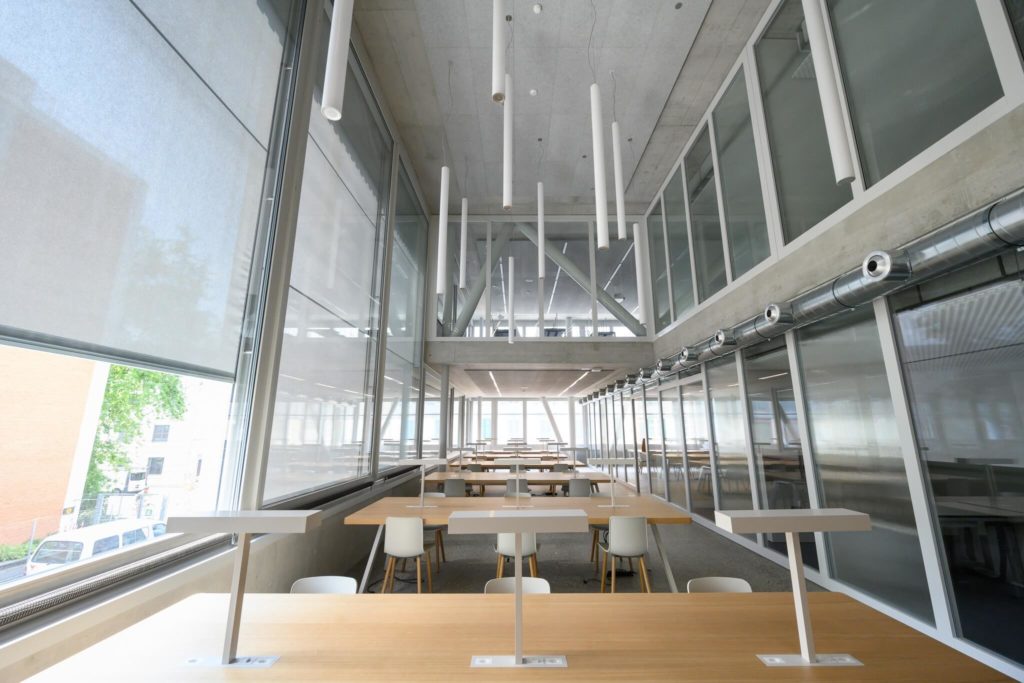 Founded in 1460, the University of Basel is the oldest in Switzerland and has a history of success going back over 550 years. Thanks to its research achievements, the University of Basel is ranked among the world's top 100 universities.
The institution has seven faculties covering a wide spectrum of academic disciplines. At the same time, it is amidst the international competition of five strategic focal areas, including Life Sciences, Visual Studies, among others. While some courses are taught in English only, students must have knowledge of C1 in German.
Language: The courses are taught in German and English.
Tuition: 850 CHF (per semester)
University of Lausanne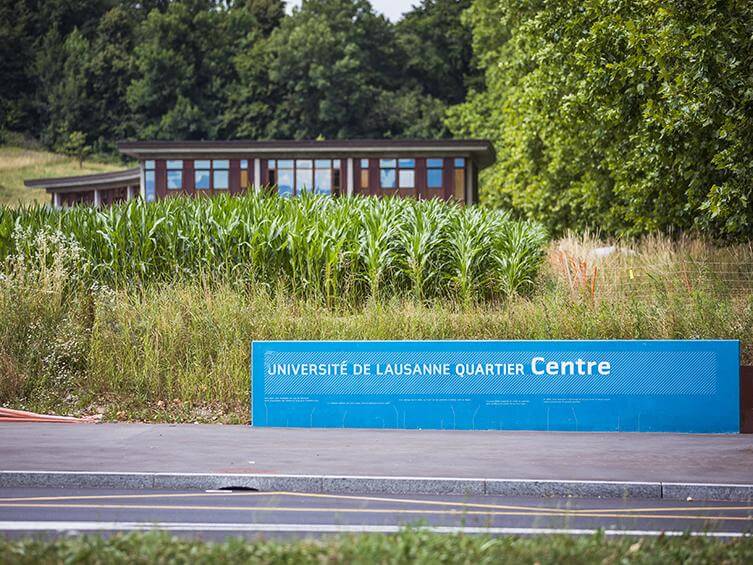 The University of Lausanne was founded as a theology school, turned into a university. It is around 450 years old, and approximately ⅕ of its student body is international students. The CWTS Leiden Ranking 2019 ranks the University of Lausanne 50th in Europe.
The institution also has a wide range of continuing education and interdisciplinary courses, among other cultural activities such as language and IT courses. The university has 190 research units that work on genomics, aesthetics of cinema, environmental law, and criminalistics.
Language: The courses are taught in French and English.
Tuition: 580 CHF (per semester)
University of Zurich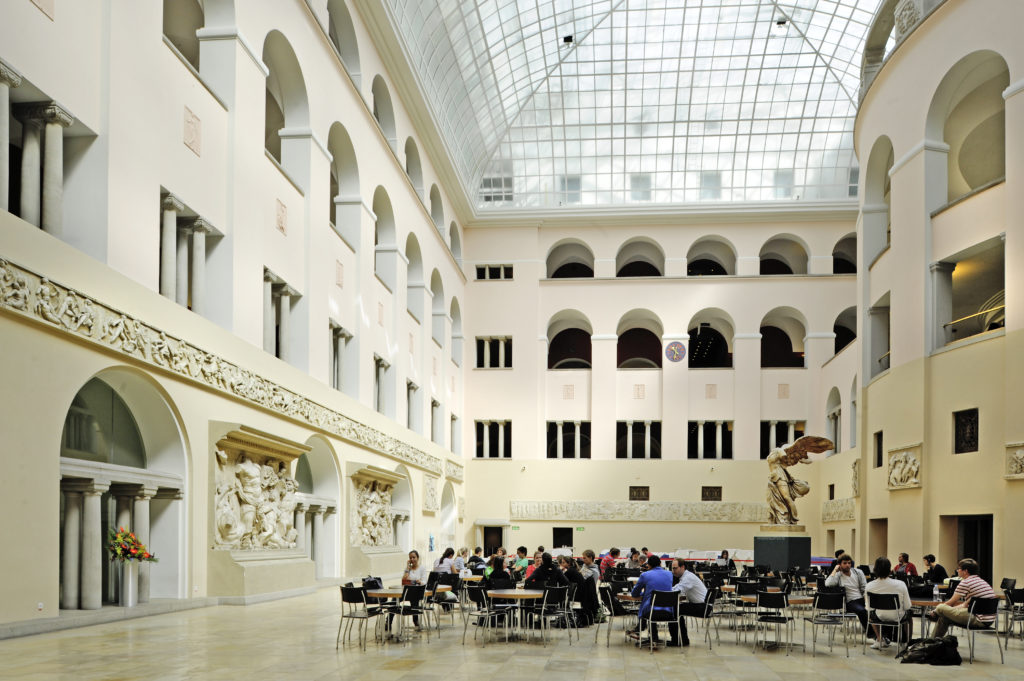 The University of Zurich is one of the best universities, not only in Switzerland but also in Europe. Its location in one of Switzerland's largest cities allows it to be home to many Swiss and international students.
It has achieved ranking as the 90th best university in the world, and it is a member of the League of European Research Universities. As an institution, it is committed to gender equality, diversity, and sustainability.
Language: The courses are taught in German and English.
Tuition: 1,220 CHF (per semester)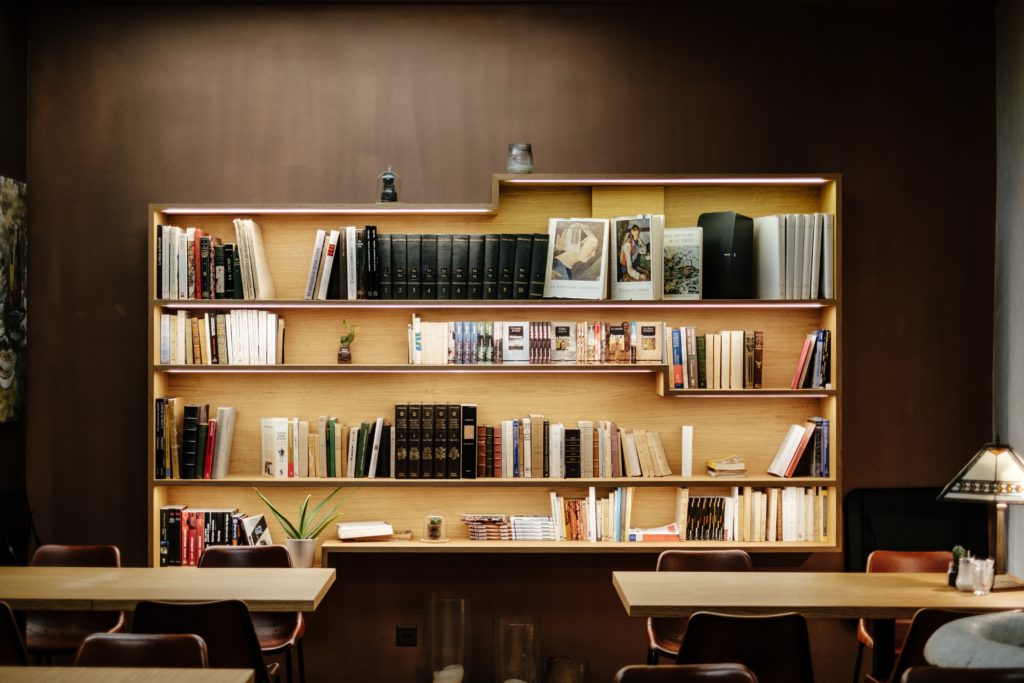 Other universities in Switzerland offer a few English programs, such as the University of Fribourg, with two English study programs. Other universities offer a few English courses, such as the University of St. Gallen or programs in several different languages-University of the Arts Bern.