Switzerland is one of the most beautiful countries in Europe. It is famous for its high standard of education and ground-breaking research. Switzerland seems the type of country that excels at everything.
Swiss Universities
Switzerland has some amazing universities, with its education system being ranked very high and international students flocking to its programs like it's the promised land. Depending on your area of study, Switzerland offers a variety of worldly-acknowledged universities that welcome international students. A total of 10 universities from Switzerland are ranked in the overall Times Higher Education World University Rankings.
Language of Instruction in Swiss Universities

When it comes to higher education, the language of instruction depends on the canton and their main language. For undergraduate students, even though English has increased in later years, it is important to know the local language of the university they are planning to apply to. Depending on the university and the language they speak, some have language centers to help students improve their foreign language skills. For some courses, great English skills are required. During the summertime and wintertime, there are vocational courses for students whose first language is not French.
Bachelor Programs in English in Switzerland
Disclaim: The following list of education programs does not represent a ranking.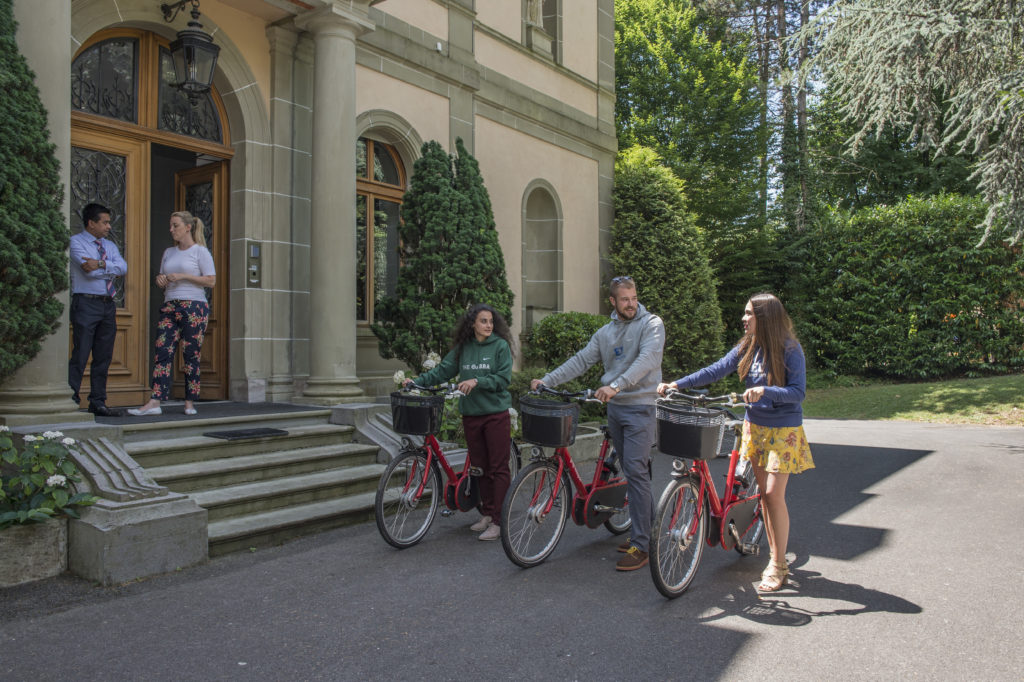 In the Bachelor of Science in Business Finance program students will gain a thorough understanding of financial instruments and institutions. During this program, students will:
Prepare accounting reports to support planning and decision making for senior management
Demonstrate an understanding of major marketing strategies commonly used by international financial corporations
Interpret and apply the legal terminology used in tax regulations
| | |
| --- | --- |
| Program Duration: | 3 years |
| Credits: | 210/240 ECTS |
| Teaching Language: | English |
| Schedule: | Full-time |
| Cost: | 13,800 CHF/semester |
Through this Digital Business, Design, and Innovation program from EU Business School, tomorrow's entrepreneurial innovators will develop the skills, adaptability, and curiosity to keep up with technological advances and be innovative in their thinking and drive change as they move forward in their careers. During this program, students will:
Establish an overall understanding of the multimedia world.
Gain in-depth knowledge of the financial and logistical elements of media.
Develop a business plan for a media firm.
| | |
| --- | --- |
| Program Duration: | 3 years |
| Credits: | 210/240 ECTS |
| Teaching Language: | English |
| Schedule: | Full-time |
| Cost: | 13,800 CHF/Semester |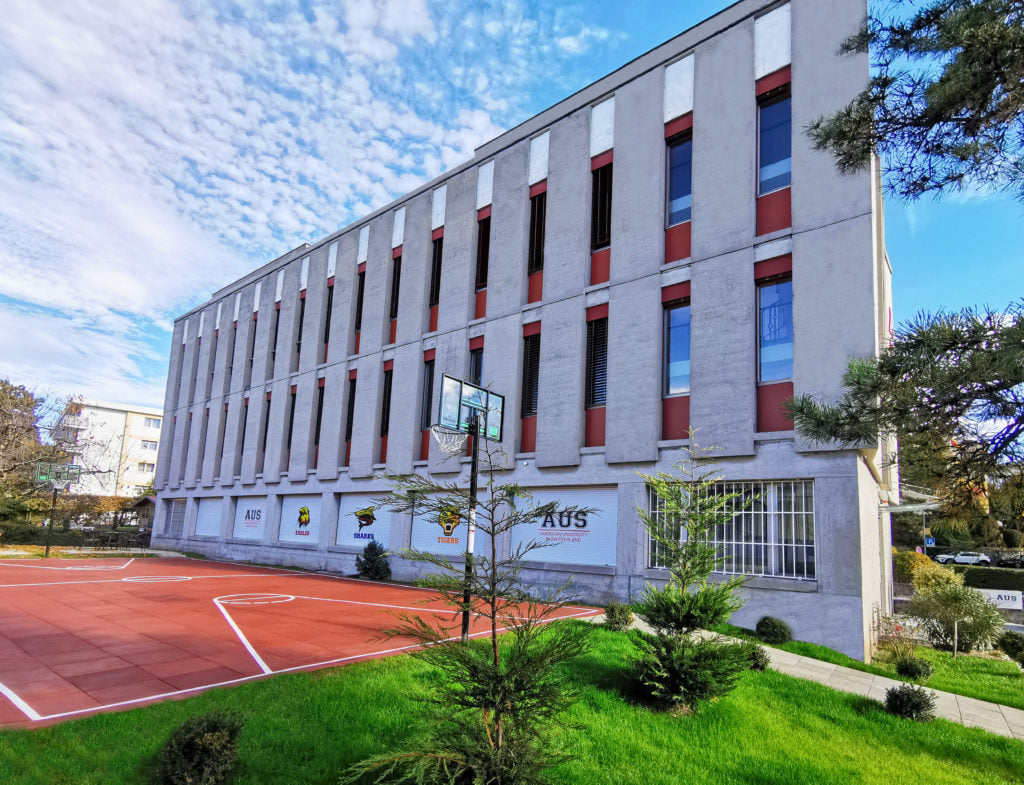 This program provides students with hands-on experience and helps them master hard and soft skills that business leaders need to make data-driven decisions and make them better collaborators. The learning methods promote and develop the Fourth Industrial Revolution (4IR) skills.
Whether students aspire to manage a leading company, have their own business, or work for a family-run business, AUS provides the tools to follow the desired career path. Some key modules of this program include International Relations, Human Resources Management, Management for Sustainable Development, among others.
| | |
| --- | --- |
| Program Duration: | 3 years |
| Credits: | 135 CH/180 ECTS |
| Teaching Language: | English |
| Schedule: | Full-time |
| Cost: | 6'000 CHF/term |
International Hospitality Management, B.Sc., EHL (Ecole hôtelière de Lausanne)

Source: EHL
This program will teach you to run a hospitality business from the ground up, covering everything from operations to key management tools and business strategy and planning. The degree offers two pathways, academic and professional, offering you a choice of two different learning experiences and more or fewer internships. Both pathways include real-world business consultancy projects in the final semester on the Lausanne campus and deliver the same recognized hospitality business degree.
As a student on the bachelor's degree program in hospitality, you will benefit from a unique learning experience that does much more than just teach you the theory of hospitality management.
Program Duration:

4 years (including one year of work experience)

Credits:

180 ECTS

Teaching Language:

English, French

Schedule:

Full-time

Average Yearly Fee:

CHF 41,000 for International Students
CHF 20,000 for Swiss citizens and HES-SO eligible students
Bachelor of Business Administration, B.B.A., SBS Swiss Business School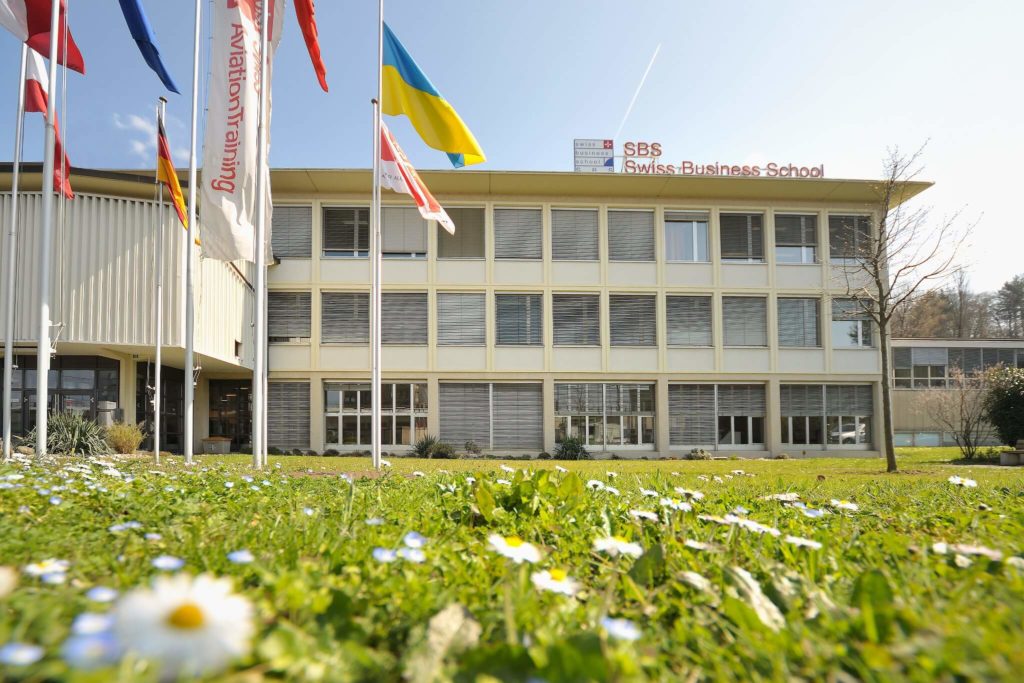 The SBS Swiss Business School's Bachelor of Business Administration is the program that will open the door to the international career opportunities that you have dreamed of by preparing you for the world of global business.
Students can choose one of the following majors:
International Management
Marketing
Entrepreneurship
Program Duration:

3 years

Credits:

180 ECTS

Teaching Language:

English

Schedule:

Full-time

Cost:

For the 1st & 2nd semester, it costs CHF 8'500.- per semester.
Through the 3rd to 6th semesters, it costs CHF 10'000 per semester.
Business Information Technology, B.Sc., FHNW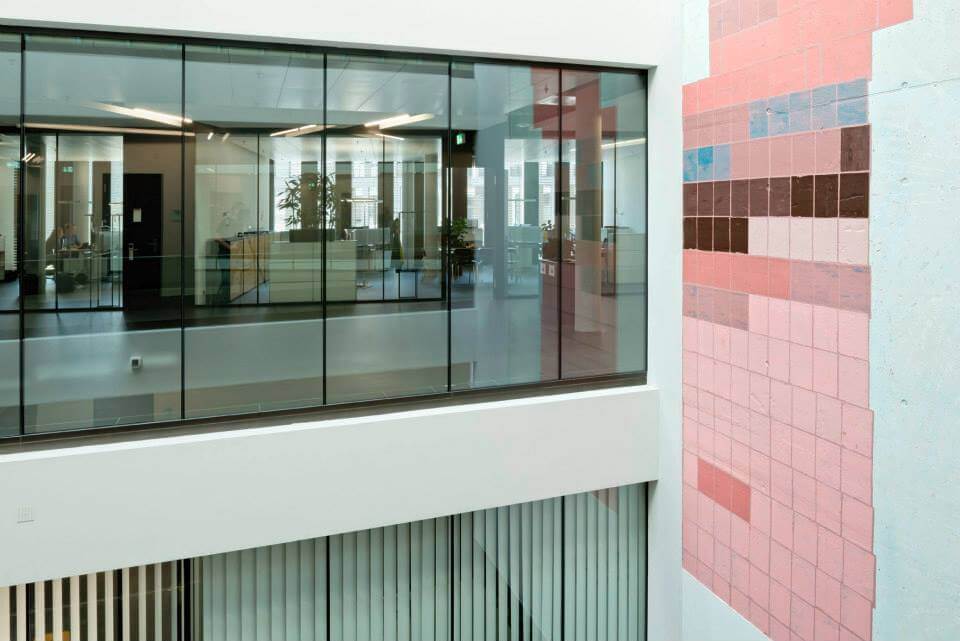 As a business information technology specialist, you will find broad opportunities for varied roles in IT services and consulting or in the IT departments of companies and public administrations. Your studies at the University of Applied Sciences and Arts Northwestern Switzerland will equip you with the ability to systematically analyze big data within an organization and actively shape business processes.
| | |
| --- | --- |
| Program Duration: | 3 years |
| Credits: | 180 ECTS |
| Teaching Language: | English |
| Schedule: | Full-time |
| Cost: | 1,262 EUR/year |
Informatics, B.Sc., Università Della Svizzera Italiana (USI)
This program focuses on the fundamentals of the discipline: software design and architecture, modeling and analysis of complex systems, the theory of the latest technologies, and the development of system thinking. The program is structured around ateliers where students apply theory to real projects, interacting directly with the professors.
| | |
| --- | --- |
| Program Duration: | 3 years |
| Credits: | 180 ECTS |
| Teaching Language: | English |
| Schedule: | Full-time |
| Cost: | 7,334 EUR/year |
International Business Administration, B.Sc., Montreux Business University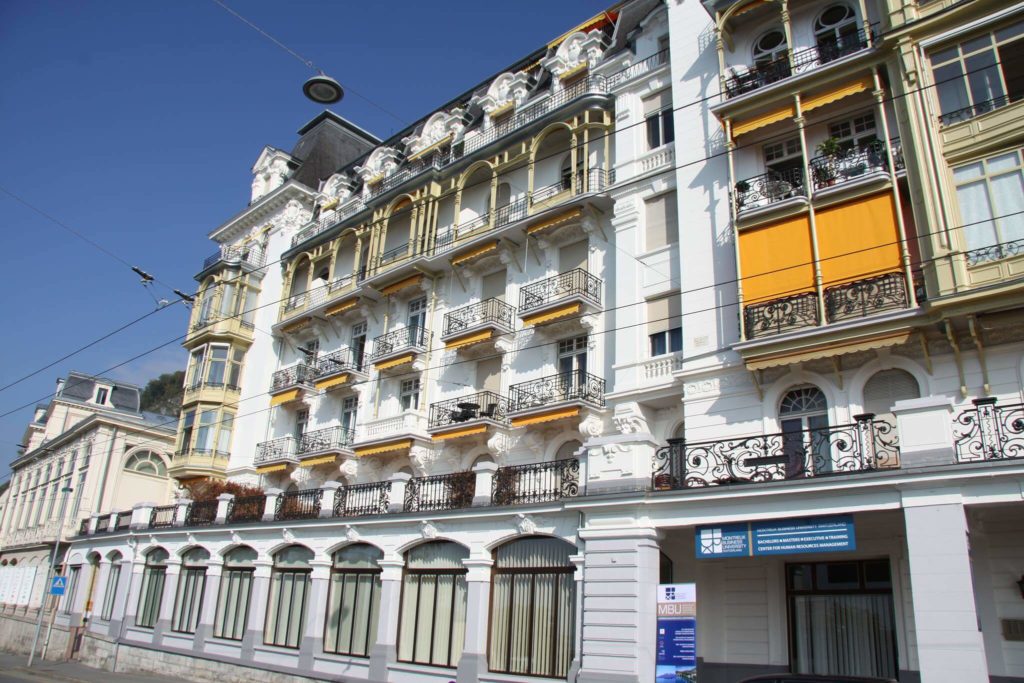 This program will help students to master business competencies and human behavior, understand the value of learning about current topics from professors who bring their real-world practical experience into the classroom and prepare them to be the global leaders of tomorrow.
| | |
| --- | --- |
| Program Duration: | 3 years |
| Credits: | 180 ECTS, 120 alternative credits |
| Teaching Language: | English |
| Schedule: | Full-time |
| Cost: | 24,421 EUR/year |
Chemistry and Business Studies, B.Sc., University of Zurich
This program is a practical combination of science and business studies. It gives students the opportunity to acquire the comprehensive scientific and business background needed to be competitive in the employment market – all within a short period of time and without the need for expensive, time-consuming additional study.
| | |
| --- | --- |
| Program Duration: | 3 years |
| Credits: | 180 ECTS |
| Teaching Language: | English, German |
| Schedule: | Full-time |
| Cost: | 1,360 EUR/year |
Natural Resource Sciences, B.Sc., ZHAW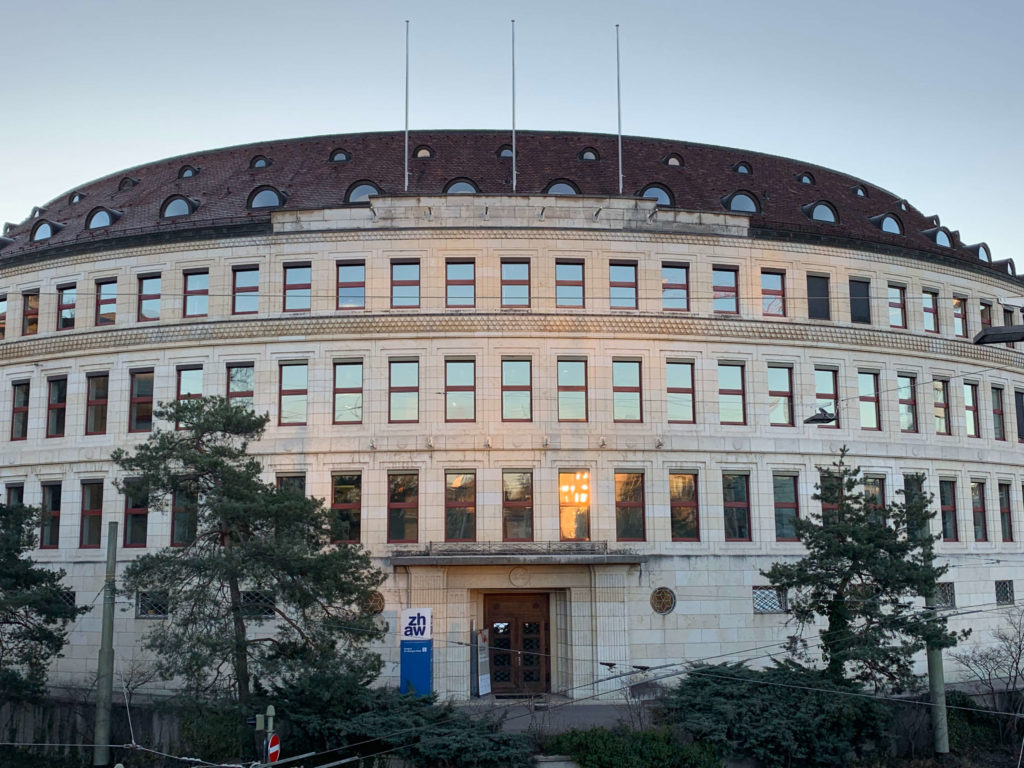 This program leads to a professionally recognized qualification and prepares students for a wide variety of new professional fields in sustainable development. Natural resource scientists develop innovative solutions for the careful handling and sustainable use of natural resources. The central focus is on respect and holistic concern for people and the environment.
| | |
| --- | --- |
| Program Duration: | 3 years |
| Credits: | 180 ECTS |
| Teaching Language: | English |
| Schedule: | Full-time |
| Cost: | 2,248 EUR/year |
International Business Management, B.Sc., HES-SO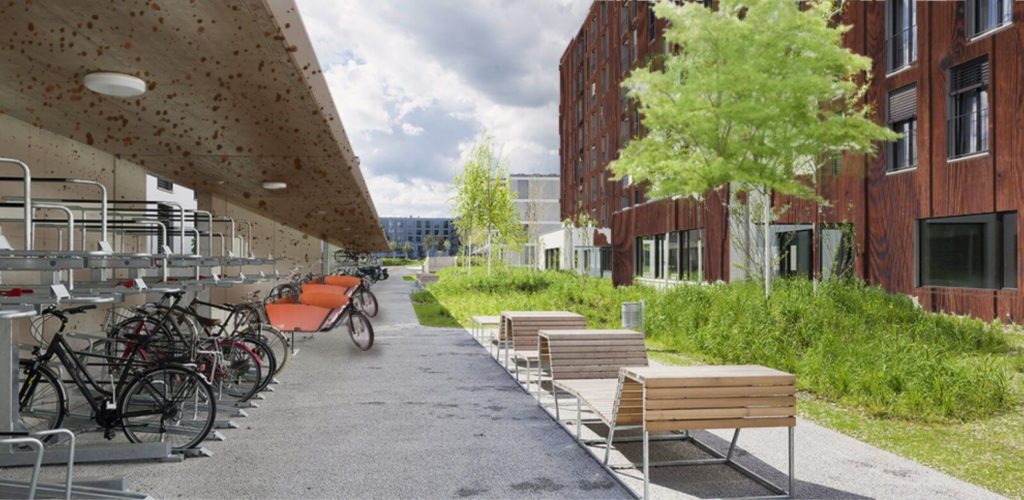 This program includes studying fundamental business management topics (Management, Leadership, Political economy, Marketing, Human resources management, Communication, Law, International accounting, or Finance) while exploring the international dimensions of these subjects.
| | |
| --- | --- |
| Program Duration: | 3 years |
| Credits: | 180 ECTS |
| Teaching Language: | English |
| Schedule: | Full-time |
| Cost: | 932 EUR/year |
Admission Requirements for Swiss Universities
This is the admission Criteria of the Swiss Universities to the bachelor level, valid for the academic year 2020/21, compiled by the Committee on Admission and Equivalency of swissuniversities.
It is up to the applicants themselves to provide evidence that they fulfill the demanded admission criteria.
A foreign upper secondary school-leaving certificate must correspond substantially to the Swiss Maturity Certificate regarding school subjects, number of hours, and length of schooling. Specifically:
It must be the highest possible upper secondary school-leaving certificate in the issuing country,
It must entitle the holder to general access to university studies,
It must – as a rule – be attained in an unabridged course of schooling in a school class,
It must be in one of the following streams: classical languages, modern languages, humanities, and social sciences, or mathematics and natural sciences,
It must qualify as general education.
Foreign school-leaving certificates are considered to be general education if the last three years of schooling include at least six general education subjects, independent of one another, in accordance with the following list:
First language (native language)
Second language
Mathematics
Natural sciences (biology, chemistry, or physics)
Humanities and social sciences (geography, history, or economics/law)
Elective (one subject from category 2, 4, or 5 or computer science or philosophy. Computer science and philosophy can only be chosen as a sixth subject)
If requested by the Swiss university, the applicant must provide evidence:
that the desired study program in Switzerland could also be studied, subject to no stricter requirements, in the country that issued the certificate,
that a place at a university was granted to the applicant,
the applicant was not disqualified or expelled from another university because the applicant failed examinations or for other reasons.
The universities reserve the right to require language skills exams. Further information is supplied by the university itself.
Accepted English language certificates
Improve your English through an English-language prep course: If you're attending a degree program in Switzerland, you will need to prove that your language skills are good enough to participate in the classes and understand the lectures.
If you don't hold a language certificate, you can take a language test at the university, and they can decide if your level is sufficient for you to complete your studies. This option is not available in all universities, so always check with the institution!
All universities usually require a language certificate proving you know the language of instruction. In most cases, you'll need to know the respective language at a minimum C1 level. Some of the widely recognized certificates are:
For English – IELTS with a score of 7, TOEFL with a score of 600 or 100 (paper-based or online) and Cambridge CPE or CAE
For German – Goethe Certificate C1 or TestDaF with TDN 4
For French – DALF (Diplôme approfondi de langue française) C1
For Italian – CELI (Certificazione Italiano Generale) C1 or PLIDA (Progetto Lingua Italiana Dante Alighieri) C1
Tuition Fees in Switzerland
The cost of education in Switzerland for international students is relatively lower than in some other European countries and maybe a drop in the bucket if you're coming from North America or the U.K.
The fees for higher education institutions in Switzerland can vary, typically lower at public institutions
Tuition fees may depend on your nationality, program, or level of study. The average overall cost for a bachelor's degree in Switzerland sits around CHF 18,500 for the entire program. However, depending on your institution, that number can range from as low as CHF 5000 up to CHF 24,000.
Tuition at most public universities is the same for all international students, regardless of their nationality. However, there are some exceptions:
Université de Fribourg
University of Lucerne
University of Neuchâtel
University of St. Gallen
University of Lugano
University of Zurich
At these universities, you can encounter two situations:
Tuition fees are higher for non-EU/EEA citizens
Tuition fees are higher for all international students when compared to fees for national (Swiss) students.
How to Apply to a Swiss University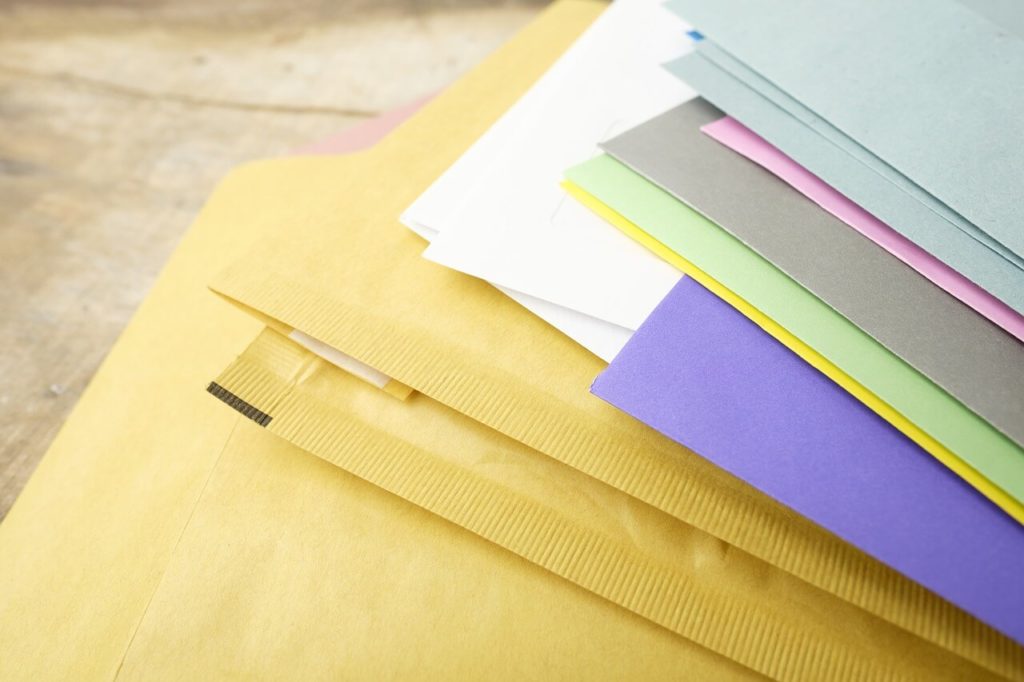 When it comes to paperwork, the amount someone will have to deal with is conditioned on their nationality. There are two ways it can go, dependent on whether they are from an EU/EFTA country or not. To obtain a student visa, the first thing a student will need to do is visit the local Swiss embassy or consulate.
Things to bring with you along with an application form are:
Proof that the personal and educational requirements for your study program are fulfilled
Proof that you paid the school fees and that you have means of support during your studies
A written guarantee that you will leave the country after finishing studies
Your CV
The documents need to be in either French, German, or Italian. If not, then a certified translation of them is needed. Bear in mind that Swiss authorities may follow up on the application with a language test to make sure the student is able to follow studies.
Scholarships for Bachelor Students in Switzerland
In Switzerland, higher education is established and valued immensely. And due to the high number of international students choosing this country as their destination for academic advancement, Switzerland has become generous throughout the years. For a guide into the scholarships offered, take a look at our complete list of Swiss scholarships.
Some scholarships are offered to international students who are excellent academically. Usually, if a certain university is offering the scholarship, you must be admitted into one of their programs in order to win it. The University of St.Gallen is one of the universities granting scholarships for bachelor students.
Student Life in Switzerland
Switzerland is very open to non-nationals, making them a country that blooms with diversity. When it comes to their on-campus lives, the Swiss are far from boring and only studying related. If a student is having trouble finding things to do in their free time, they offer a wide variety of extra-curricular activities.
Swiss campuses have plenty of options at your disposal for when you need a break. You will pretty much find a wide range of associations and campus facilities that can provide you with extra-curricular activities. From choirs to orchestras to dance workshops, writing clubs, or poetry.
The student unions organize regular social events and offer free tickets to different cultural events outside of campus. If you're the athletic type, you will get gym discounts on many campuses in Switzerland. You can also take advantage of reduced prices on railway day passes.
They focus a lot on students, not only on their grades but their well-being too. If a student is not feeling sure about their future, they can always seek an advisor, which most universities in Switzerland have. They can guide students through workshops or how to maintain work while studying. And if they're having personal difficulties, they can expect psychological support from most universities.
Costs of living
Even though the cost of living in Switzerland is high overall, it also depends on the canton/city you live in. An approximate total for monthly expenses could vary from CHF 1600 to CHF 2000.
Accommodation
Rates for accommodation in Switzerland are around 600 – 700 EUR/month, well above the international average of 300 EUR/month. The most common housing choices among international students in Switzerland are student halls of residence, where the cost goes between 450 and 800 EUR/month. The number of places is limited.
If you prefer sharing an apartment, average rent ranges between 700 and 1,200 EUR/month. It's one of the most popular accommodation options among students. You can reduce your costs by sharing the apartment with other students.
Food and transportation
You can expect to spend between 400 – 550 EUR/month on food. However, a good option is the university dining hall, where you would only pay 8 – 10 EUR per meal. When it comes to transportation, around 11% of students choose to get around by foot, 10% use the bicycle, and another 10% use public transport. A monthly pass for public transportation is around 55 EUR.
Extra costs
Monthly health insurance varies between 250 and 330 EUR. You might be exempt from paying this fee if you meet certain requirements. Books and supplies: 100 EUR/month, and with a student ID card, museum tickets should only cost around 6 – 7 EUR.
Costs of studying
The average fee for getting a Bachelor's degree is somewhere around CHF 18,500, but it's important to know that there are universities that charge only CHF 5,000 for a full program and ones that charge CHF 24,000. In Switzerland, tuition fees mostly depend on whether you plan to study at a Public or a Private Institution. Among the most affordable ones are publicly funded universities. Université de Genève and that of Lausanne are the universities with the lowest tuition fees, CH 500 and 580, respectively. Plus, this price is the same for non-CH/EU students.
The whole process of applying to study abroad might be a hassle, but considering the quality of education and programs that Switzerland offers, in the end, the investment is worth it.